Air Fryer Chicken Wings
Our Air Fryer chicken wings recipe is life changing. We thought we figured out the best way to cook air fried chicken wings without using the regular oven and deep fryer. It wasn't until we tried our first air fried batch that we were proven wrong.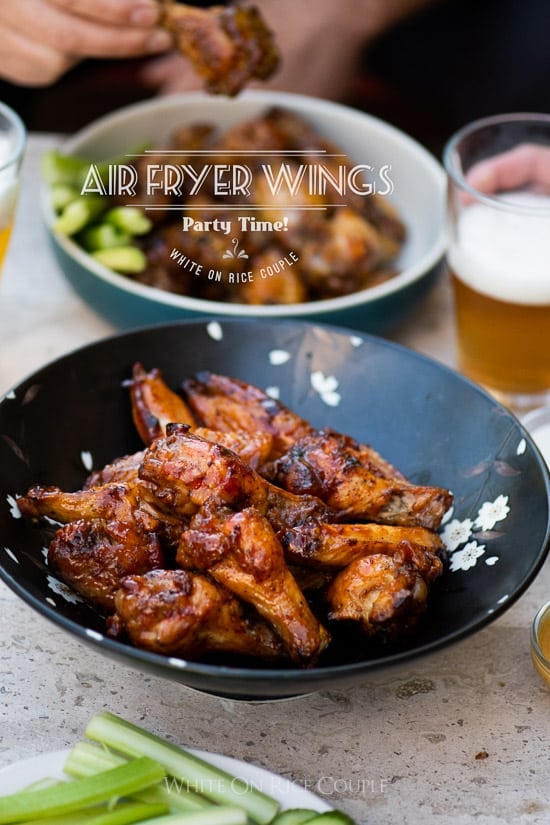 Air Fryer Chicken Wings Recipe
Wow, these air fryer chicken wings are incredible. These wings were quick to air fry and best of all, there wasn't any need for oil. They come out perfectly cooked with a nice crispy crust and when the sauce is added, the flavors are outstanding. Everything about these wings were fantastic and there really is one downfall. The one bad thing about this technique is that they are so easy to eat because they're so easy to make. Beware. Don't eat them as fast as you can cook them! In comparing the different ways to cook chicken wings, we still love traditional frying for plain wings, the crust just can't be beat. But if you are going to sauce the wings, Air Fryer all the way. We won't even bother cooking them in the oven after Air Frying them. The Air Fried chicken wings have a better texture, cook quicker, and is an easier cleanup.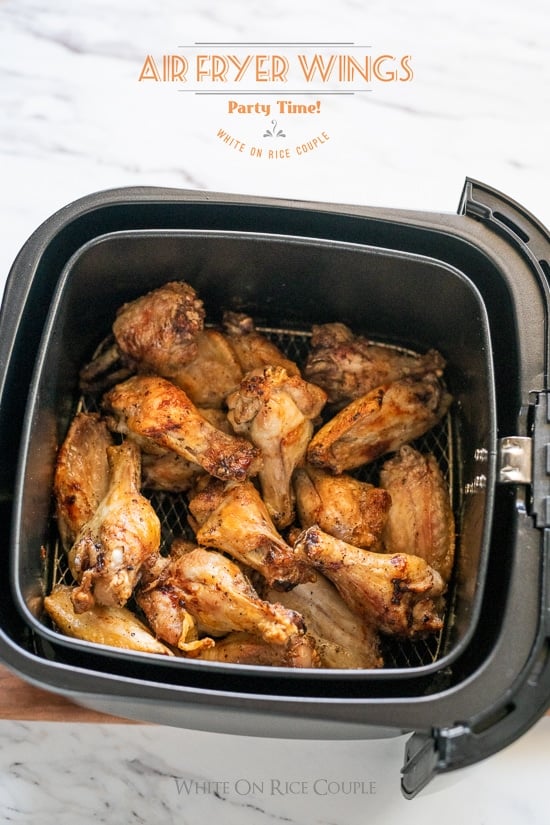 Here's our: Honey Mustard Chicken Wings Sauce recipe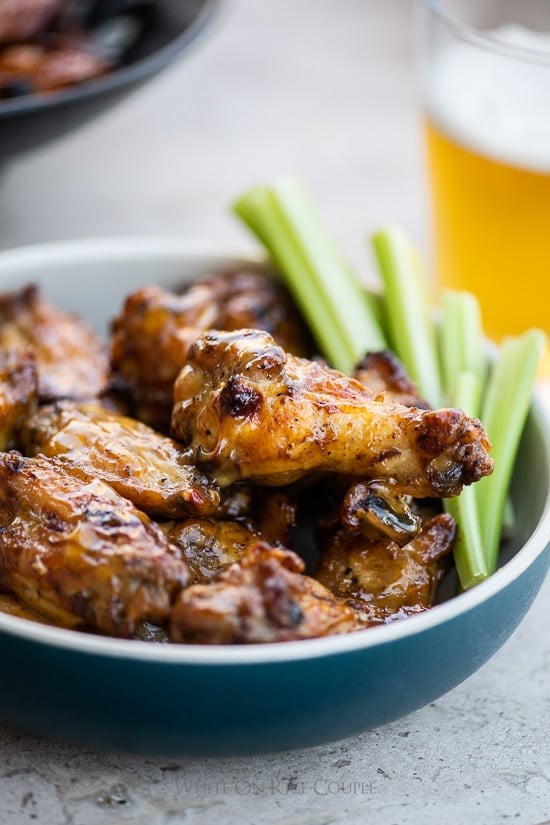 Video: Air Fryer Chicken Wings Recipe
If you haven't discovered the amazing cooking benefits to using the air fryer, you should give it a chance. Previously we wrote about cooking with the air fryer, along with pros and cons. From salmon and air fryer pork chops to vegetables like brussel sprouts and cauliflower, the air fryer cooks them perfectly. Air frying chicken wings has the same terrific results. With your favorite sauces handy, the possibilities are endless when you're craving chicken wings. Whether you want to have a big wing spread for your next Game Day party or just wings for two eaters, the air fryer can do the job. For larger group, you'll just need to cook in batches. But because the wings cook so quick, it's totally fine to cook in batches. You'll always have a hot and crispy batch ready for the hungry eaters.
Tips for sauces on Air Fryer chicken wings (homemade recipes)
Our collection of Great Air Fryer Recipes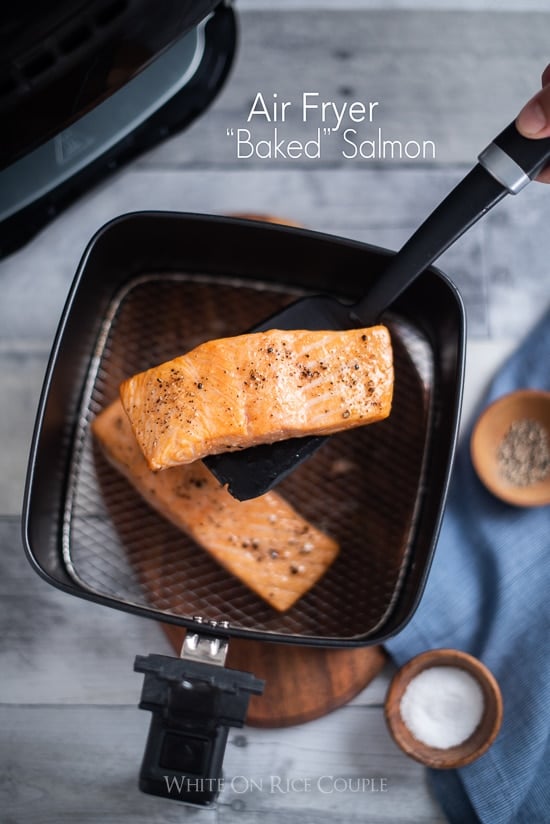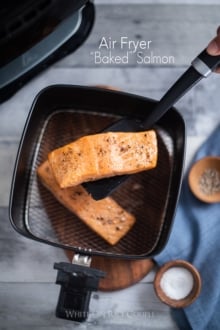 What is the Best Air Fryer?
We have three different air fryers, all different brands and we definitely have our favorites.
Size matters, especially if you're needing to feed a family of four to six hungry people.
We're mostly cooking for two during the busy weeknights and the 3 qt size fryers is great for us.
If you're wondering what size of air fryer to get, our recommendation is the 3-4 qt sizes for 2-3 people (or if you don't mind cooking multiple batches) and the 5-6 qt for families of 4-6 (you'll still cook somethings in batches, but not as much as the smaller air fryers).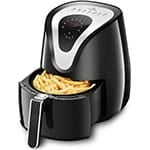 Tidylife 4.2 qt Digital Air Fryer – This is our favorite one to cook for 2-3 people. Texture for several dishes came out noticeably better than other brands.
We love the non-stick basket style (non-wire base) & smoothness of the basket tray (makes for easy cleanup).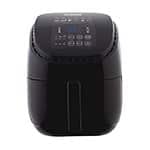 NuWave Brio 3 qt. Digital Air Fryer – We liked the NuWave Air Fryer too, just not quite as much as some of the other's we've used. The basket has wire base (which we found sticks a bit more) and it doesn't have the 1/2 way reminder beep of some other brands, however still cooks great.
It does have a lower temperature ability, allowing for more cooking options. The buttons are easier to see than on the some of the other's we've tested.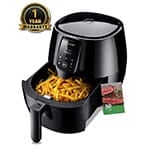 Tiluxury 5.8 qt. Digital Air Fryer – This is a good larger air fryer. Great for cooking bigger batches (ie 4 salmon fillets instead of 2 or 2 lbs of fries instead of 1). This is a nice choice for families & hearty eaters.
This 5.8 qt air fryer has the non-stick basket (non-wire base) we prefer. Makes for less sticking for delicate meals (ie baked fish fillets).
Oster Copper-Infused DuraCeramic 3.3 qt. Air Fryer – We love the copper infused ceramic coating on the basket.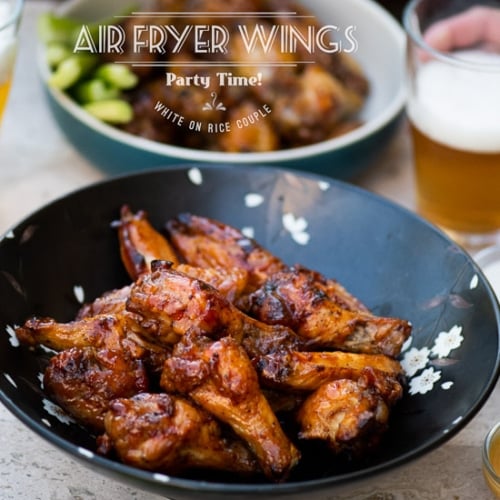 Air Fryer Chicken Wings
We cooked the 2 pounds of chicken wings in a 3.7 qt. Air Fryer. For that size of air fryer, 2 lbs. is about the most you can cook without overcrowding the air fryer. If you have a larger size of air fryer, you can up to about 3-4 pounds, depending on the air fryer. It is better to cook in smaller batches than to overcrowd.
Adjust cooking time for thicker or thinner chicken wings. Some brands of Air Fryers will cook slower or faster than others, adjust accordingly.
Ingredients
2 pounds (907 g) chicken wings
Kosher salt , or sea salt, to taste
fresh ground black pepper , to taste
garlic salt , optional
Instructions
Rinse and pat dry the chicken wings. Season to taste with salt, pepper, and optional garlic salt. For Salt & Pepper Wings, make sure to season them liberally.

Air Fry at 400°F for 30-34 minutes, shaking and turning the wings a couple times while cooking. If using a sauce, toss with a little sauce after 26-30 minutes, and then air fry for another 4 minutes (otherwise just cook for the 30-34 minutes or until the chicken wings are golden and cooked through).

After cooking, if using a sauce for the wings, toss the wings with extra sauce or serve with the sauce on the side for dipping.
Notes
No Oil Necessary. The wings have enough fat in them to air fry.
Shake and turn the wings 2-3 times for even cooking. Remember to set a timer to shake/flip/toss the wings.
Don't overcrowd fryer basket. 2 batches will cook better than 1 overstuffed batch. If cooking in multiple batches, the first batch will take longer to cook if Air Fryer is not already pre-heated.
If using a sauce, it is added in just at the end, otherwise it will usually burn before the chicken wings are cooked.
Nutrition Information
Calories: 271kcal, Protein: 22g, Fat: 19g, Saturated Fat: 5g, Cholesterol: 94mg, Sodium: 89mg, Potassium: 191mg, Vitamin A: 180IU, Vitamin C: 0.8mg, Calcium: 15mg, Iron: 1.2mg
We are a participant in the Amazon Services LLC Associates Program, an affiliate advertising program designed to provide a means for us to earn fees by linking to Amazon.com and affiliated sites.