Honey Mustard Chicken Wings & Thoughts On Fall
These honey mustard chicken wings are saucy, delicious and easily of our favorite easy chicken wings recipe.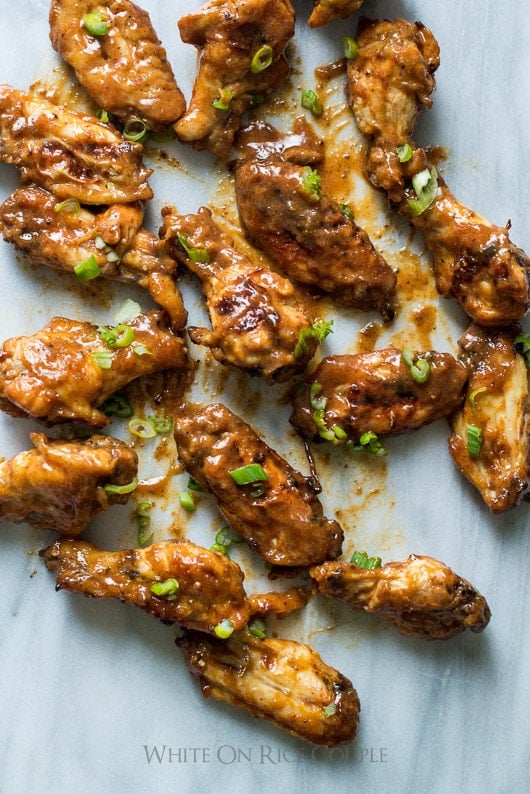 It always seems like this time of year we're swimming in seasonal cues: chicken wings and fall fruits. Though they're both in the food world, they're quite random when discussed in the same sentence. So why is it that our lives are consumed by wings, pomegranates and persimmons? Well, it's the season of baseball play-offs, football gaining momentum and our game-day weekends are always dotted with different types of chicken wings and lots of napkins. Sticky, sweet, tangy, spicy and filled with umami flavors are what our chicken wings are dripping with. Then there's the garden with a good handful of fall ripening fruit. We're consumed by everything pomegranates, persimmons, dragon fruit, asian pears and more exotics. Or maybe it's the other way around: fall fruit is consuming us, which isn't a bad thing.
Video: Honey Mustard Chicken Wings Recipe
fresh pomegranates!
persimmons
As soon as Summer ended, our chicken wing and fall fruit season came into full force. Every morning we're wandering though the garden and collecting fallen asian pears to add to our daily snacks. And then we're staring at our pomegranates that the birds pecked through and realized how much slower we are at eating the fruit. Then when the weekend arrives, we're following sports scores while munching on wings and beer. It's a great time of year we always look forward to.
Easy Honey Mustard Sauce for Chicken Wings
When it comes to chicken wing recipes, we're always addicted to different types of sauces and continually making homemade variations of our favorites and honey mustard is on top of our list. Tangy sweet, sticky and wonderful this is the sauce to have for honey mustard lovers and a great batch of honey mustard chicken wings.
The fun part about making chicken wings is that you can use different cooking techniques. We wrote about different ways to cook wings and how to make them healthier on our chicken recipe box site. Though everyone sauces them differently, either before baking or after or both, it's great to be able to have options on preparing them. The great thing about baking them before saucing is that you can easily make multiple sauces, and toss the chicken wings in whichever one the devourer prefers. For the fire-tongues, our Sriracha Chicken Wing sauce almost always needs to be present at our gatherings.
We even have a "healthy" version where you can pre-poach or pre-steam these honey mustard chicken wings before baking, which helps render much of the excess fat. You can still enjoy the wings without the guilt.
Hope you enjoy the honey mustard chicken wings, this cold season and celebrate another delicious start to a new year. And if you want an added appetizer bonus, you must try this buffalo chicken dip!
hugs,
diane and todd
bake until crisp, then toss in the scrumptious sauce
Here's all our Chicken Wings Recipes if you're hungry for more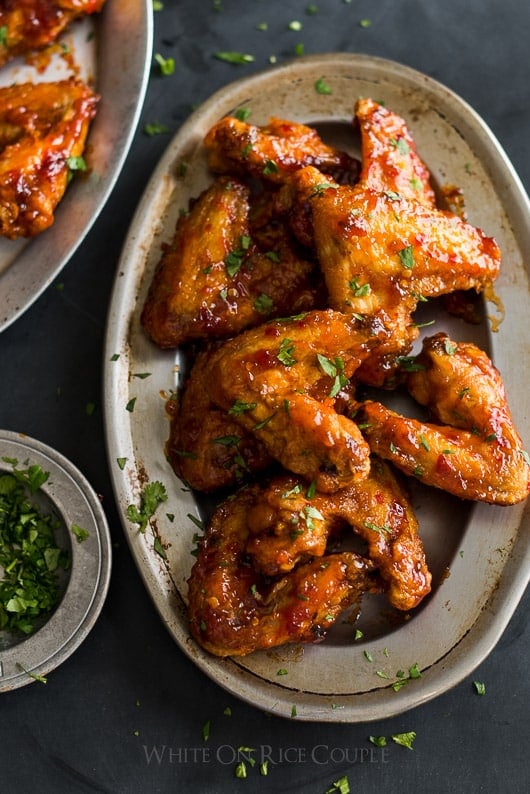 Honey Mustard Chicken Wings
Ingredients
2 pounds (907 g) Chicken Wings , rinsed & patted dry
Kosher Salt or Sea Salt
fresh cracked Black Pepper
Honey-Mustard Sauce
1/2 cup (83 g) Mustard , whichever your preferred type - Regular, Deli, Whole Grain, Dijon, etc...
1/4 cup (85 g) Honey
1/4 cup (30 ml) Mayonnaise or Sour Cream
2 teaspoons (10 ml) Worcestershire sauce or soy sauce
1/2 teaspoon (5 ml) Smoked Paprika
1/2 teaspoon (2.5 ml) Garlic Powder
1/4 teaspoon Cayenne Pepper , optional
fresh cracked Black Pepper , to taste
Instructions
Make the sauce:
In bowl, whisk together the honey mustard sauce ingredients (mustard, honey, mayo/sour cream, Worcestershire sauce/soy sauce, smoked paprika, garlic powder, cayenne pepper, and black pepper). Set aside.
Cook the wings:
Preheat oven to 425°F (220°C). Line a baking sheet pan with parchment paper.

On prepared baking sheet pan, spread chicken wings out in one even layer (we don't coat our wings with oil before baking, but you can if you want. We find that the oil just makes the wings greasier. The wings release enough fat already). Season chicken wings with salt and pepper.

Bake for about 45-50 minutes until golden brown, flipping the wings halfway through baking, after the first 25 minutes or so. (optional - when you flip the wings, toss the with about a 1/4 cup of the sauce to coat the wings. Return to oven and finish baking.)

After wings are done, toss them with the remaining sauce in a large bowl. Serve with plenty of napkins.
Notes
Crispy Wing Alternate Cooking Methods
Traditional Fry in Oil (uses about 1/2-3/4 cup of cornstarch to coat wings).
Toss the wings in cornstarch to coat, shaking off excess cornstarch.
Heat about 2-inches of oil in a large pot to 375°F. Fry in batches for about 8 minutes per batch, or until golden and cooked through. Make sure to turn the wings a couple times while cooking so they cook evenly. Season with salt & pepper.
Air Fryer Chicken Wings
(here's our favorite
Air Fryer
)
Season wings with salt & pepper.
Air Fry at 400°F for 25-30 minutes, flipping 2-3 times while cooking.
Toss with a little sauce, and then air fry for another 4 minutes. Different models and size
Nutrition Information
Calories: 242kcal, Carbohydrates: 14g, Protein: 15g, Fat: 13g, Saturated Fat: 3g, Cholesterol: 62mg, Sodium: 282mg, Potassium: 193mg, Sugar: 13g, Vitamin A: 320IU, Vitamin C: 1.2mg, Calcium: 20mg, Iron: 1.2mg
We are a participant in the Amazon Services LLC Associates Program, an affiliate advertising program designed to provide a means for us to earn fees by linking to Amazon.com and affiliated sites.