What is an Air Fryer?
What is an air fryer? We get this question so much that we wrote an air fryer resource and tips about this handy appliance. Everything from how to use it and to explain more about what is air frying.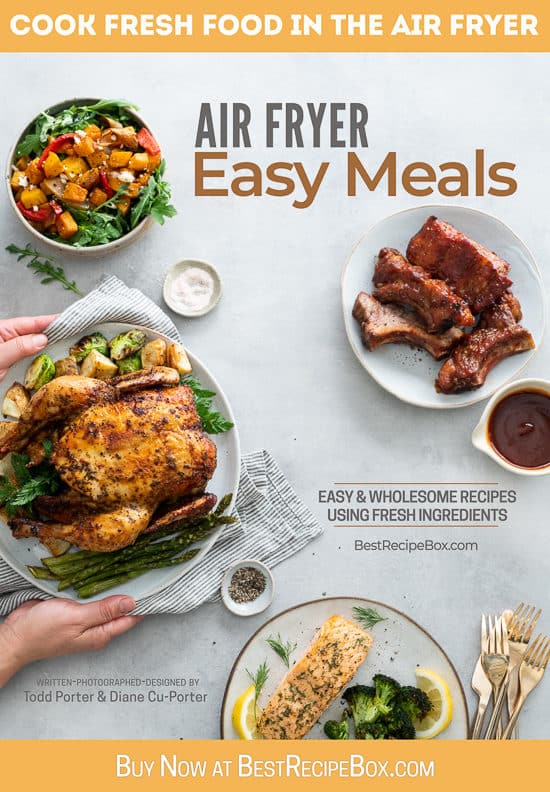 E-Cookbooks for Air Fryer Recipes
Hi Friends! We're super excited to share our latest project with you: two air fryer cookbooks! We've been in collaboration with AirFryerWorld.com, an easy recipe website for simple air fryer meals. We fell in love with air frying for a while now and it's been a great way to get dinner on the table for two. With so much great feedback from our air fry recipes, we decided create some air fryer ecookbooks with Air Fryer World.
With 10 air fryers in our test kitchens working non-stop, we had so much fun creating recipes with REAL INGREDIENTS for their fryer. Here's more information for all the air fryer cookbooks.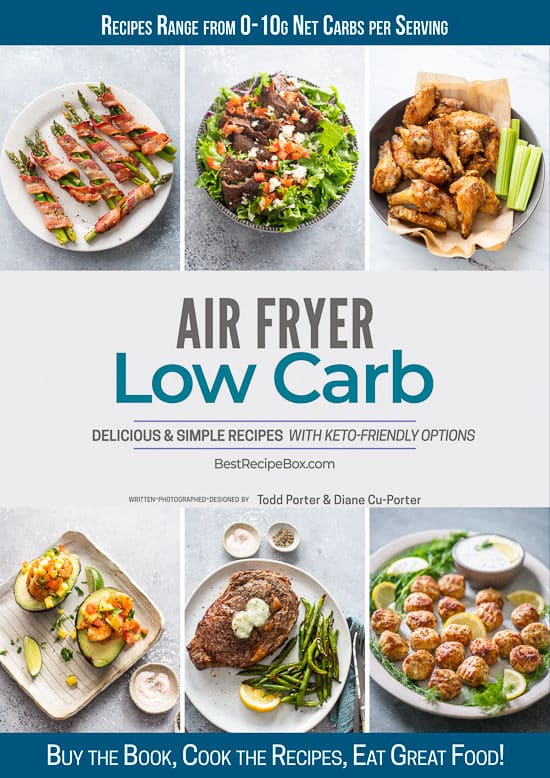 What is an Air Fryer and Air Frying?
Air fryers are basically mini counter top convection ovens with a heating element on top of the food and a strong fan. As it generates heat, the fan circulates the hot air to help the food cook evenly and crispy. When compared to regular deep fried foods, most air fried food textures have a very similar crunch without having to use a ton of oil or fat. In fact, we barely have to use any oil and the food still comes out crispy and delicious.
Most food also comes out like it's perfectly roasted in a convection oven with wonderful roasted flavors and textures. When breaded and sprayed with oil, food becomes crunchy and very similar to what you would cook in a deep fryer. For some dishes like chicken wings, they cook amazingly crisp without any oil. Overall, food is crispy roasted and crunchy without all the fat. Beyond thinking of air fryers as a substitute for deep frying, think of them as mini convection ovens and all of the sudden the possibilities become endless.
Why an Air Fryer Cookbook?
We wanted to let everyone know that air frying isn't about re-heating frozen convenience foods. Sure, it's great for heating leftovers and cooking quick frozen snacks. But you can totally cook fresh, healthy and wholesome recipes in the air fryer. FOR REAL. DON'T JUDGE. Honestly, we judged at first but after our first simple meal for 2 people in less than 20 minutes, we were hooked. Obsessed and out of control. Thus, the creation of super fresh and delicious recipes for the cookbooks.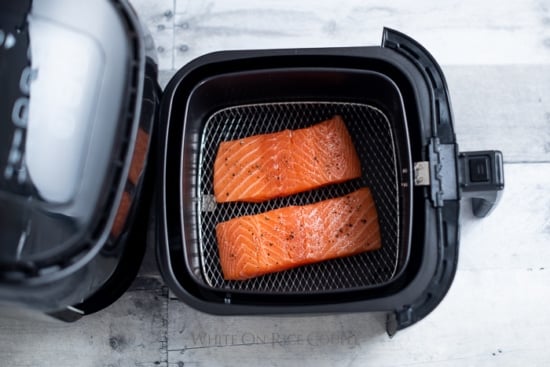 There are Step-by-Step photos for EVERY SINGLE RECIPE. How many cookbooks can say that? We care about you succeeding in each recipe so we made sure to capture lots of photos of before, during and final recipe phases. It's like we're in the kitchen with you! But you get to do the dishes, lol.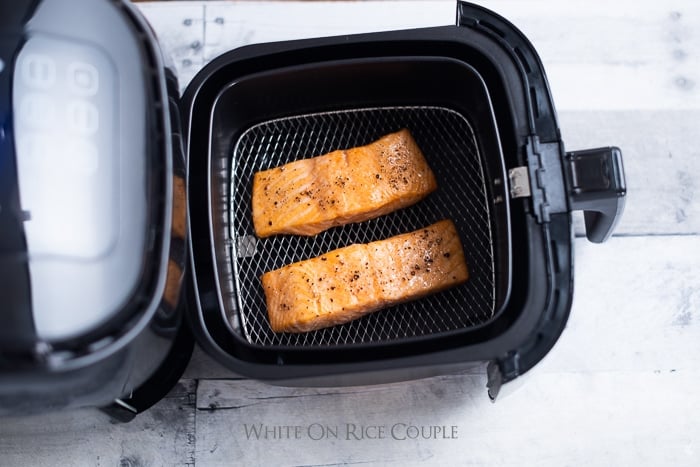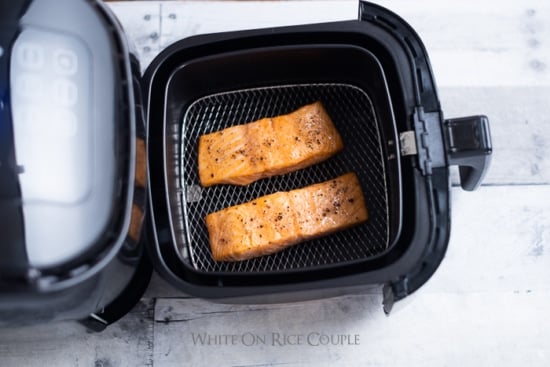 How to Cook Healthy Food in Air Fryer?
It's easy to cook healthy air fried foods because you don't need as much oil. The hot circulating heat crisps and roasts food wonderfully without the need for a lot of oil. So overall, yes air fried food can be healthier. Portion control is another important factor and if you eat more than one recommended serving, you've just blown the "healthy" out of air frying. Air frying is just one method to cook healthier food. How much you eat is obviously important too!
Pros and Why We Love Air Frying:
Perfect for two people or smaller portions. For more than 2 people, there's so many bigger models out there to cook larger portions. The possibilities are endless.
It's a healthier way to cooking fried or crispy foods. Overall, you can use much less oil to achieve crunchy and crispy textured foods.
The flavor of the food is wonderful because the heat gives a nice crisp and "char".
There's little clean up and less splattering of oil while cooking. Everything gets contained nicely inside the air fryer while cooking.
Food cooks crisp because of the smaller cooking area and the heating element is closer to the food.
Because of smaller baskets, the food cooked quicker when compared to ovens and no pre-heating is necessary
You don't have to heat up your house in Summer when you're craving something warm, roasted or deep fried
Great for cooking frozen foods without oil and great for re-heating foods.
Cons and Why It might Not Be For You:
You really can't cook big servings of food unless you buy the larger air fryers. Buying larger air fryers are a big investment and unless you use it enough, it might not be worth it.
If you want to cook a lot of food from small air fryer, you're going to have to cook in batches. That will take lots of time waiting for one dish to cook before you start the next one.
They aren't super cheap and some can be more hassle to clean, depending on the design and model. Some models are great and make clean up super easy. However other models are a little more work to clean.
You should have good ventilation in your kitchen because the hot rapid cooking releases lots of hot air. Some foods like bacon and chicken thighs might smoke because of the high fat content. There's ways to remedy the smoking too.
If you already have a little countertop convection oven and love it, you might want to stick to that, unless you're into really super low oil cooking.
Basic 101 when cooking Air Fried Foods:
Don't over crowd the baskets with food. Cook in batches if you need to (2 small-medium batches cook better than 1 large batch).
Don't forget to shake while cooking, but sometimes shaking the basket during cooking isn't enough. Gently toss the food with a rubber spatula so food doesn't break or tear.
The bottom of the air fryers can get hot while cooking. Make sure to place on a heat-safe surface or wooded cutting board.
Avoid using the high propellant cooking sprays because they can cause the interior lining of non-stick baskets to peel. Always use spritzer or pump-style oil sprays. Besides, it always tastes better when you can use real olive oil or quality cooking oil. You can buy great pumps to add your oil to. Like this one.
We have proof that air frying isn't about cooking frozen convince foods. Buy the book, cook the recipes, eat the delicious food! Buy Our Air Fryer eCookbooks Here For Easy Meals and Low Fat Recipes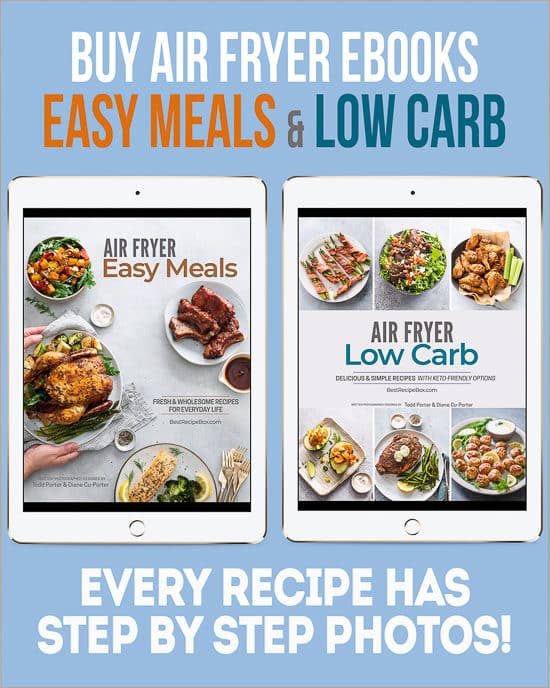 What is the Best Air Fryer?
We have ten different air fryers, all different brands and we definitely have our favorites.
Size matters, especially if you're needing to feed a family of four to six hungry people.
We're mostly cooking for two during the busy weeknights and the 3 qt size fryers is great for us.
If you're wondering what size of air fryer to get our recommendation is the 3-4 qt sizes for 2-3 people (or if you don't mind cooking multiple batches) and the 5-6 qt for families of 4-6 (you'll still cook somethings in batches, but not as much as the smaller air fryers).
Cosori 3.7 qt. Digital Air Fryer
– "That's a stylish Air Fryer" was said as we unboxed the Cosori. Beyond being stylish, it has cooked great. The basket is not as tall and wider than most in its size group, which is perfect. You'll have a lot better results in an air fryer with single layered, spread out foods, then with ones piled high and thick.
The non-stick basket style
(non-wire base)
& smoothness of the basket tray is also great for clean up.
Tidylife 4.2 qt. Digital Air Fryer
– We have been super pleased with the TidyLife Air Fryer. Texture for several dishes came out noticeably better than many other brands. This one tends to cook a little hotter and quicker.
The non-stick basket style
(non-wire base)
& smoothness of the basket tray is great for cleaning up.
Good Larger Air Fryers
Tiluxury 5.8 qt. Digital Air Fryer
– It's a good larger air fryer capable of cooking for larger families, especially when you need to cook more food. It's great for cooking bigger batches
(ie 4 salmon fillets instead of 2 or 2 lbs of fries instead of 1)
.
We like that this Tiluxury 5.8 qt has the non-stick basket
(non-wire base)
. Makes for less sticking for delicate meals
(ie baked fish fillets)
. And we like the digital interface
(easier cleaning)
.
GoWise 5.8 qt. Digital Air Fryer
– Another good larger air fryer. All the things we loved about the Tiluxury 5.8 qt, we love about this one too. Great size for families. Non-stick basket. Has a nice cooking range
(180°F-400°F)
.
We're super pleased with both this one and the Tiluxury. Choosing between the two is mostly up to which you like the look better.
This air fryer resource article was written in 2019 and re-published in 2021 with updated information. Check out some of our popular air fryer recipes:
We are a participant in the Amazon Services LLC Associates Program, an affiliate advertising program designed to provide a means for us to earn fees by linking to Amazon.com and affiliated sites.