Hello & Chaò
Hello & Chaò, we're Todd and Diane. Welcome to our world of food, photography, travel, gardening and life with our beloved pups: Sierra, the White Boxer and Lexi, the energetic Rhodesian Ridgeback. Lexi wasn't born yet when we made the above video, but we're hoping to make a new one soon. And who is Dante, whom this video was dedicated to? He was our first pup, a loving and devoted Rhodesian Ridgeback. He gave us 11 years of un-conditional love and taught us so much about life that we will never forget.
Why White On Rice Couple? We saw a funny play about a Vietnamese family and how they always stick together like "white on rice". That term stuck with us in the sense to describe how close we are together as husband and wife, best friends and co-workers. We feel inseparable as we work, live and play together. Thus, the "white on rice" really stuck, along with how it's a tongue-and-check reference to our heritages. When we needed a blog name way back in 2008, this made most sense. And we didn't take our selves too seriously when we started the blog back then and still, kinda, sorta take ourselves more seriously now. You can always ask our pups what they think of us!
We're full time commercial/editorial food, travel & lifestyle photographers, creative directors and filmmakers. Visit our portfolio of professional photography, film & cookbook photography :TDPhotographers.com
Our Photography & Work: By day we stay busy in our photo/multimedia studio and freelance on assignment. Clients include Taco Bell, Food & Wine Magazine, Fine Cooking Magazine, Thermador, KitchenAid, Nestle, Williams Sonoma, Whole Foods, Sunset Magazine. Partial client list here. We're recipe contributors to Food & Wine Magazine Here.
Personal Food Blog. And we're very busy cooks too. In our free time we share recipes and stories on our blog here, which is our happy little creative space. Our food blog here is a small slice of life that allows us to get away from our busy photography careers to just escape and connect with wonderful friends around the world. It's our delicious creative outlet.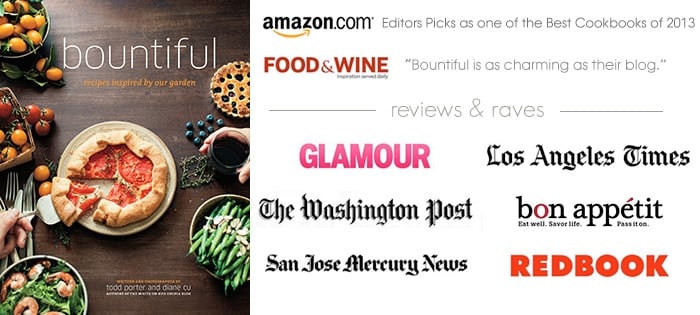 Our Cookbook: We wrote a cookbook called Bountiful . And washed every single dirty dish ourselves.
Love of Food, Culture, Kindness. Fueled by our love of local culture, people & rich heritage, we document powerful stories from around the world. Wether on assignment travel or working in our photography and event studio, we feel so lucky to be doing what we love.
We believe in celebrating kind people, good food, great conversation, green gardening and traveling. Our lives have always been about love, family, friends and sharing. Connecting with people through food, sharing stories and supporting one another to live our dreams is what inspires us to publish this blog. Memories from our childhoods inspires us to cook, consume and create what you see here on our personal blog. Todd was born and raised on a cattle ranch in Elgin, Oregon and Diane was born in Da-Nang, Viet-Nam. Although our backgrounds are vastly different, we know that what we have in common far outweigh our differences. After 25 years together, we're always continuing to evolve together as husband/wife and professional colleagues.
This site is our outlet to share our love of food, cooking, travel , adventure and friendship. Welcome and nice to meet you. We're based out of Los Angeles/Orange County , California.
Food Photography/Styling Workshops and Education:
Click Here for Our Latest Workshop Dates: Food Photography and Styling Workshop
Visit our main Workshop Website Here.
Want to license our photos or content? Email us in the contact form about what you want to license, where it'll be used and your budget. We'll have our legal team review the request and get back to you if it's a right fit. Thank you!
Some of Blog Press, Interviews & other mentions:
Speaking events and presentations at industry conferences/workshops:
Food Blog Forum, Orlando Florida 2015, Food photography
CreativeLive 2014, Seattle CA. Food Photography & Natural Food styling, 3 day workshop.
Food Blog Forum 2014, Food photography/food styling, Asheville, North Carolina
BlogHer Food 2013, Mobile Photography , Austin, Texas
IACP , Video Storytelling, San Francisco 2013
Food Blog Forum 2013 , Food Photography & Food Video, Orlando, Florida
BlogHer PRO 2012, San Francisco – Welcome Keynote Address: Bringing your best, authentic self to your business
BlogHer Annual 2012, NYC – Photo editing techniques
EVO- Evolution of Women in Multimedia 2012, Salt Lake City, Utah – Mobile photography & Food Photography/Food Styling
BlogHer Food 2012, Seattle: Keynote – Storytelling : Sharing your unique food story
Food Blog Forum, Orlando, FL 2012: Sharing your unique photographic story, voice & food styling, photo editing
Blissdom 2012, Nashville: Storytelling and Embracing Imperfection: Empower Your Visual Voice with Photography and Video
Creative Connection 2011, MN : Finding your voice & Story telling through multimedia, Food Photography and Food Styling
Evolution of Women in Multimedia 2011, Utah: Portrait Photography, Food Photography/Styling
Boston University 2011 : International Food Photography & Styling Conference: Video & Film Workshop
IACP, Austin, TX 2011 : Let there be light! Lighting & Photography
USC Creative Careers: University of Southern California, Los Angeles CA : Online publishing, blogging and integrating social media to achieving your online career
USC Creative Careers 2010: Achieving Success & Values in your career
Techmunch, Los Angeles 2011 : Video and Storytelling
Cancun Mexico, 2011: Food Blogger Camp : Hands on workshops for food photography, lifestyle and photojournalism.
London, 2011 : Food Blogger Connect: Finding Your Niche
Food Blog Forum, Nashville, TN 2011 : Storytelling, Food Photography & Food Styling
USC Creative Careers 2011: University of Southern California, Los Angeles CA : Online publishing, blogging and integrating social media to achieving your online career
USC Creative Careers 2010: Achieving Success & Values in your career
The Art of Food and Light Workshop, Boulder, CO 2010, 2011- Natural and artificial light workflow, food styling and hands-on workshop
Blog World and New Media Expo, Las Vegas 2010– Food Photography
BlogHer Food Conference 2010, San Francisco, CA – Food Photography for Food Bloggers
Food Blogger Camp 2010, Ixtapa Mexico : Multimedia Presentation- integrating video, podcasts and other forms of new multimedia to building your best blog
Food Blog Forum, Los Angeles, CA 2010– Food Photography, Workflow and Equipment
Food Blog Forum, Atlanta, Georgia 2010– Food Styling, Food Photography
BlogHer Food Conference 2009, San Francisco, CA – Principles of Photography
We love hearing from all of you!
But with the flood of emails that we get on a daily basis, we are unable to answer each and every inquiry. That's great to send us a quick line and "hello!" but if you're expecting an answer, please know we try to best to respond and it won't be right away.
If it's a recipe, technique or ingredient related question, please ask it on the comment section of the post so that everyone can benefit from the information. We like to share all recipe related questions to all our readers. xoxo Todd and Diane
Email: Contact us at "td (@) whiteonricecouple (dot) com"
Disclosure Statement:
Todd and Diane White On Rice Couple is a participant in the Amazon Services LLC Associates Program, an affiliate advertising program designed to provide a means for sites to earn advertising fees by advertising and linking to WhiteOnRiceCouple.com . This website also has partnerships with other independent online retailers through affiliate links that allow readers to purchase merchandise mentioned or recommended through WhiteOnRiceCouple.com . The small amount of comission that is generated through those affiliate partnerships are used to maintain this website and help pay for groceries for all the great recipes!