Healthy Air Fryer "Baked" Salmon
Air Fryer Salmon is amazing. Last night we came home after a long day on-set and were debating whether to eat out or dirty the kitchen to cook dinner. The thought of cleaning another kitchen was exhausting. This healthy air fried salmon came to dinner rescue.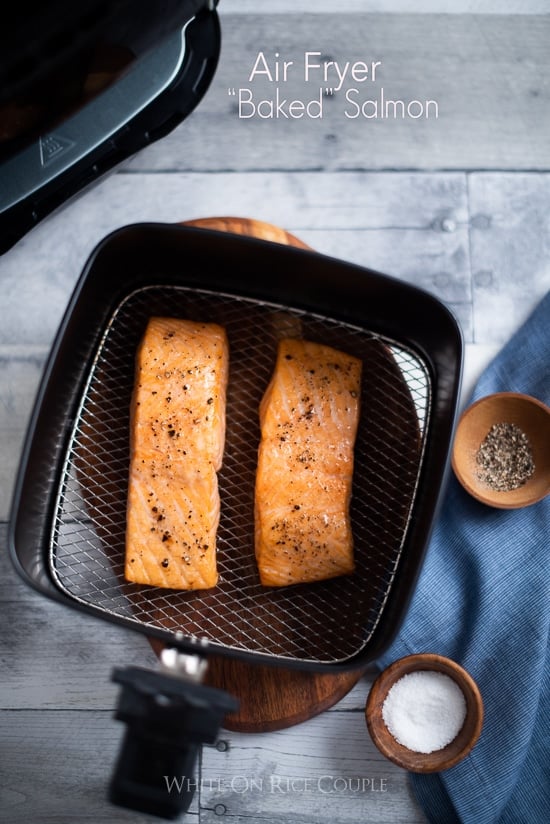 Air Fryer Salmon Recipe
After photographing sweets all day we were sugared-out and craving a clean dinner. This healthy air fried salmon came to the rescue and it definitely did not disappoint. We're still overwhelmed at how quickly and perfect salmon can cook in the air fryer. In fact, almost anything cooked in the air fryer always has come out wonderful. After our air fryer brussels sprouts recipe tests, we started experimenting more with this fantastic way to cook. It's a great way to get dinner on the table, especially for two after a long days work.
Video of Healthy Air Fryer Salmon Recipe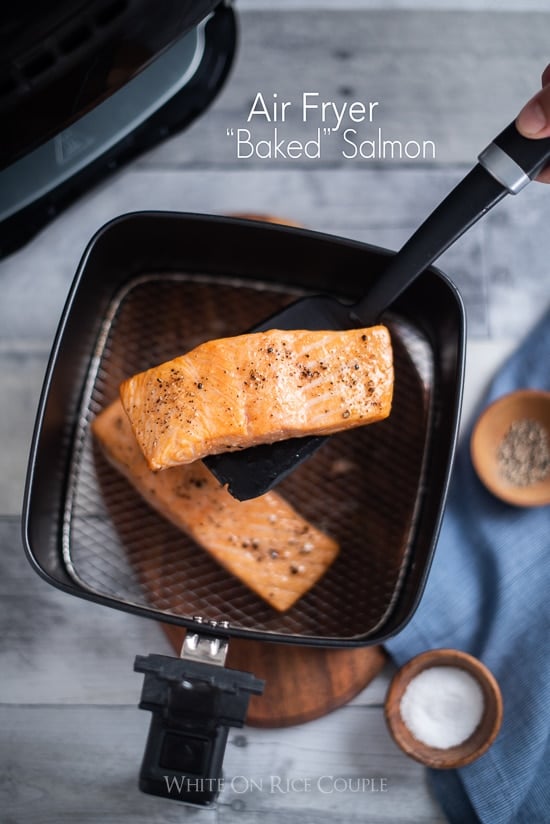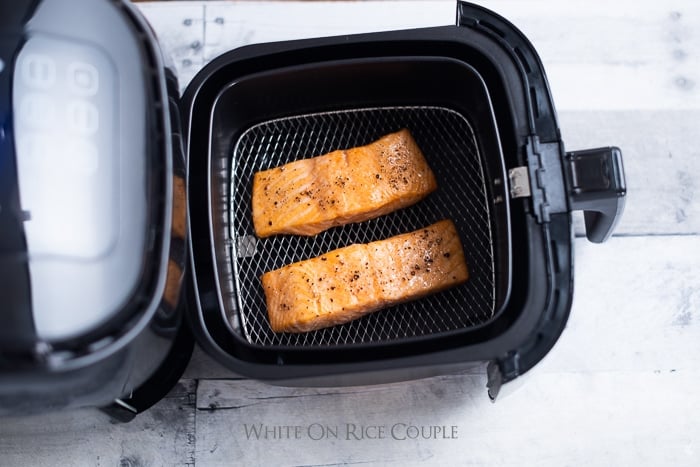 How to Make Healthy Salmon in Air Fryer with Little Oil
The salmon need very little oil and it was moist, tender and supremely delicious. We added a green salad and we were ready for dinner in less than 15 minutes.
We used our favorite oil spray and lightly misted the salmon with oil.
For extra flavor, add a sprinkle of garlic powder, onion powder, lemon pepper or your favorite seasonings.
Make sure to add a light mist on top of any dried herbs that you place on the salmon. The herbs might fly off or burn from the hot circulating air.
We used fresh salmon not frozen. After air frying for the first 7 minutes, check on the salmon. If you want it more cooked, add additional 1-2 minutes or until it's cooked to your preference.
This air fried salmon had the same texture as a perfectly baked salmon. Think of simple baked salmon the air fryer for dinner and without a dirty kitchen to have to clean. Dinner was way too easy and couch-time came sooner than we realized.
You can use any type of salmon.
Can you use frozen salmon?
Sure, you should allow it to thaw completely. Air frying salmon that's frozen will dry out the outside too much before the inside is cooked. It's best to thaw it, then use paper towels to squeeze out all the excess moisture.
enjoy,
diane and todd
Our Favorite Air Fryer Tools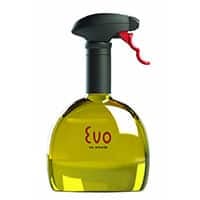 We LOVE the Evo Oil Sprayers. Great for grilling, air frying, and everyday cooking. They don't clog up like many others we've bought. There's different styles, but all seem to have the same great spray head. Works great for grilling!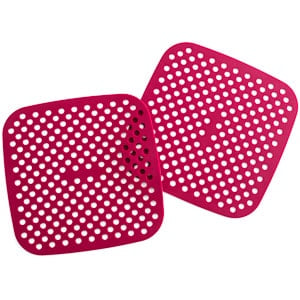 Square Mats or Round Mats depending on your needs. Perforated non-stick silicone mats minimize food sticking in your air fryer or steamer. Holes allow the hot air to circulate, cooking quick & even.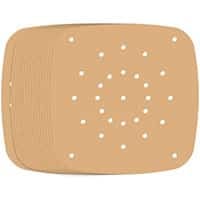 Parchment sheets make clean up easy and minimize sticking food in your air fryer or bamboo steamer. Choose from different sizes, shapes, white and brown (unbleached). Holes allow air to cook food evenly.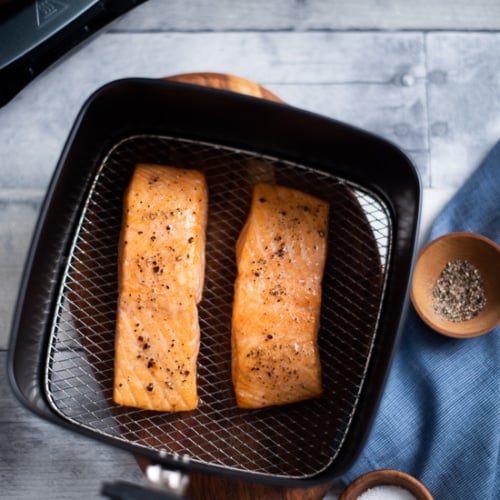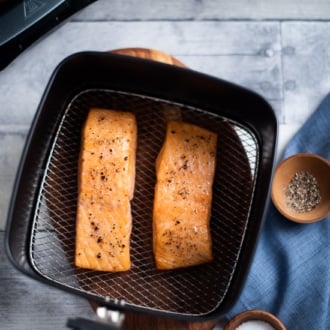 Healthy Air Fryer Baked Salmon
You'll need to adjust cooking times slightly if your salmon is smaller or larger than 6 oz. Salmon filets vary so much in length and thickness, so cook your salmon to your preferred texture.
Ingredients
2 6 ounce (2 170g ) fillets of salmon , skin and bones removed
1 teaspoon (5 ml) olive oil or light spray of organic cooking spray
kosher salt , to taste
black pepper , to taste
Instructions
Evenly coat salmon with oil or cooking spray. Season salmon fillets with salt and pepper on both sides.

Place salmon fillets in air fryer basket. Air fry the salmon at 360°F for 7-10 minutes or cooked to your preferred doneness.

Serve warm. Enjoy, it's that simple.
Notes
Don't crowd the air fryer basket (we used a 3.7 qt. air fryer). If you decide to double the recipe, make sure your air fryer is large enough to fit more of the salmon filets. With a fuller basket, add an 1-2 minutes of cooking time if needed to make sure the salmon is cooked through.
If cooking in multiple batches, the first batch will take longer to cook if Air Fryer is not already pre-heated.
Nutrition Information
Calories: 259kcal, Protein: 33g, Fat: 12g, Saturated Fat: 1g, Cholesterol: 93mg, Sodium: 74mg, Potassium: 833mg, Vitamin A: 70IU, Calcium: 20mg, Iron: 1.4mg
What is the Best Air Fryer?
We have 15 different air fryers, all different brands and we definitely have our favorites.
Here's our extensive write up on Air Fryer World's Best Air Fryer Guide. There's so many on the market now. You just need to research and find the ones that fits your needs, capacity and style. We group the basket style air fryers into 2 main size groups: 3-4 qt. range & the 5-6 qt. range. There's oven style and basket style. With so many to choose from, we highlight the ones that are most popular for small to medium sized families. Here's our favorites:
Good Mid-Sized Air Fryers
The non-stick basket style (non-wire base) & smoothness of the basket tray is great for clean up. Easily cooks 2-3 servings of fish & meat.
Great ceramic coated basket for easy clean-up. Super powerful fan that often cooks food hotter & faster than other air fryers.
Good Larger Air Fryers
One of our favorite larger basket style air fryers. Great basket size for about 4 servings. Clean up is great. It has become one of our kitchen favorites.
Instant Pot Brand makes air fryers. The Vortex plus 9-in-1 is beyond the conventional air fryer. Broil, Bake, Dehydrate, Rotisserie, Roast and Re-heat.
We are a participant in the Amazon Services LLC Associates Program, an affiliate advertising program designed to provide a means for us to earn fees by linking to Amazon.com and affiliated sites.