Jalapeño Cheddar Stuffed Burgers
Friends are asking what we're doing this weekend the answer is a simple "nothing". Doing nothing means cooking and just stuffing our faces with bbq and grilling over the weekend. This is the best type of "nothing" you can treat ourselves to. These jalapeno cheddar stuffed burgers are going to be the heroes at your next cookout. Trust us!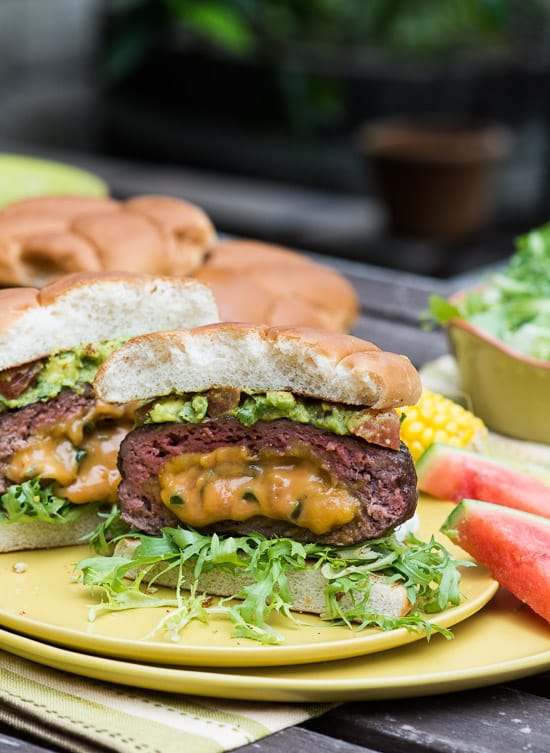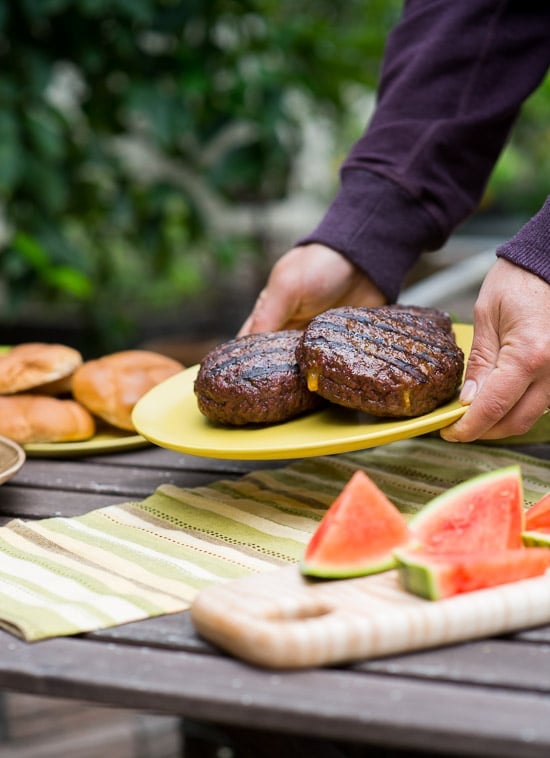 Tips on How to Cook cheddar stuffed burgers
We like using a leaner type of meat like 85%. These leaner meat shrinks less and you'll have less "cheese oozing out" issues. Besides there's still plenty of flavor without the extra fat because we added more seasonings in the patty mix.
If you want to really get into it, grind your own meats or have your butcher custom grind it. Chuck steak with a nice bit of brisket is our favorite mixture! Or go really crazy and grind in some bacon!
Don't overwork the meat. Try not to over mash or handle the ground meat to much. It is best to preserve a little separation in the texture and not have everything mashed together in a heavy paste like texture. That will make the meat seems too dense and less juicy when you grill them. Work it just enough to get the shape you need and don't get obsessed with trying to make it perfect.
You can always flavor the meat up more. Add some garlic powder, or fish sauce, or Worcestershire sauce, steak seasoning, etc… Whatever you love! Even if you don't add anymore seasonings to the ground meat, make sure to season the outside of the patties with salt and pepper. That will be the first thing to hit your palate and is the most important seasoning.
Grill the buns, please! The hamburger patties are so delicious, you can't serve them on cold hard buns. After grilling while the patties rest for a minute or two, throw the buns on the grill to warm them.
Create the most amazing burger bar. It's fun to create a spread with different toppings so everyone can customize their burgers. We have a list of different topping ideas below.
If you want to make a batch of non-spicy cheddar go for it. Just leave out the jalapeno. In fact, if you like other cheeses like gouda, swiss or blue cheese, stuffed the burgers with those. Blue cheese stuffed burgers are amazing.
Preheat grill before placing the patties on it. You want a nice char and it is harder to get on a cold grill.
Make sure to serve and eat the burgers hot. An amazing hot burger will easily become blah when it gets cold.
All jalapeno stuffed burger recipe details are in the recipe box below.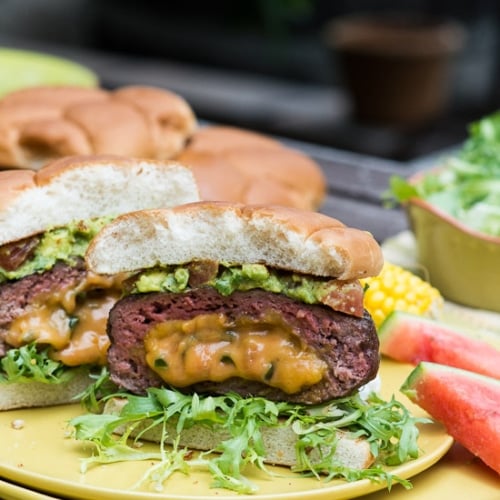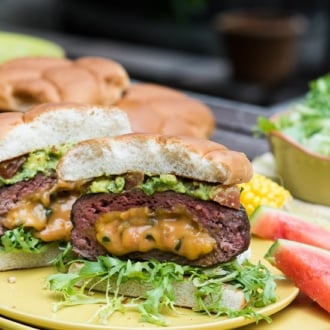 Jalapeño Cheddar Stuffed Burgers
A spicy version of a Juicy Lucy, a classic cheese stuffed burger. Adjust your spice by the amount of jalapeno used, as well as if you keep the seeds or not. Jalapenos will also vary greatly in spice level, so if you have the palate, take a tiny nibble of one to see how spicy it is and adjust accordingly.
Ingredients
2 pounds (907 g) ground beef
6 ounces (170 g) cheddar cheese , sliced
1-2 jalapeños , seeded and chopped
salt , to taste
fresh cracked black pepper , to taste
oil , for brushing grill grate
6 Hamburger buns
Optional Toppings
greens of choice (lettuce, arugula, shredded cabbage, etc.) , etc…
tomato, pickles, and additional slices jalapeños, grilled, raw, or fried onions
ketchup, BBQ sauce, mustard, hot sauce, mayo
Nutrition Information per Serving
Calories: 621kcal, Carbohydrates: 22g, Protein: 37g, Fat: 42g, Saturated Fat: 17g, Polyunsaturated Fat: 2g, Monounsaturated Fat: 16g, Trans Fat: 2g, Cholesterol: 136mg, Sodium: 735mg, Potassium: 490mg, Fiber: 1g, Sugar: 3g, Vitamin A: 328IU, Vitamin C: 1mg, Calcium: 291mg, Iron: 5mg
Topping ideas for cheese stuffed burgers
The flavors of these jalapeno cheddar stuffed burgers burgers are fantastic already but it's always nice to have some different toppings. Extra texture and flavor is always great. Here's some delicious ideas to make your burger bar the star of the party: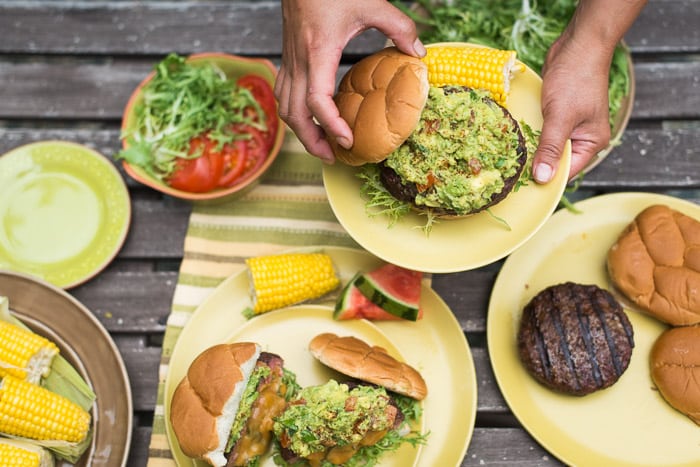 Avocado or guacamole. These are our go-to toppings for burgers. Who doesn't love creamy avocado?
Heirloom tomatoes are in season during Summer so rather than offering sour commercial tomatoes, offer some slices of juicy sweet heirlooms.
Different sauces beyond ketchup and mustard: bbq sauce, ranch and if you love spicy, make our chili garlic crunch!
Extra cheese: ok, if you love cheese add another slice of different cheddar cheese on top for a cheddar stuffed cheeseburger.
Go crazy with your greens. A crisp lettuce it always nice, but beyond the leaf you can shred the lettuce. Or use shredded cabbage or add a little more spice with our next recommendation.
Arugula is always great. The bit of spicy bite of fresh arugula is a nice balance to the rich burger. Use baby arugula for a bit more tame flavor, or get some great full-grown arugula and tear it into smaller pieces.
Pickles! Our homemade bread and butter pickles are amazing and pickled red onions are fantastic. Or go dill. As much as we love our bread and butters, we are just as much a fan as a good snappy dill pickle.
Check out all our burger recipes here.
Can you freeze leftover burgers?
Freezing leftover burger patties are simple. Just store them in airtight containers or bags. Before serving again, bring them out the freezer to thaw overnight. You want to make sure that these thaw completely before re-heating. The cheese will be frozen in the center and you want to make sure when re-heating, the cheese is melty and delicious.
We are a participant in the Amazon Services LLC Associates Program, an affiliate advertising program designed to provide a means for us to earn fees by linking to Amazon.com and affiliated sites.