Grilled Avocado Salad with Corn Pico de Gallo, Chimichurri
We were in Mexico in 2016 and enjoyed this amazing grilled avocado salad. We wanted to share this recipe story again with you all with some updates to the recipe. Greetings from Mexico along the gorgeous Riviera Maya coastline. The ocean is so blue, it's like living in a postcard. We're popping in to share a recipe we've been in inspired by this week: Grilled avocado salad with corn pico de gallo and chimichurri dressing.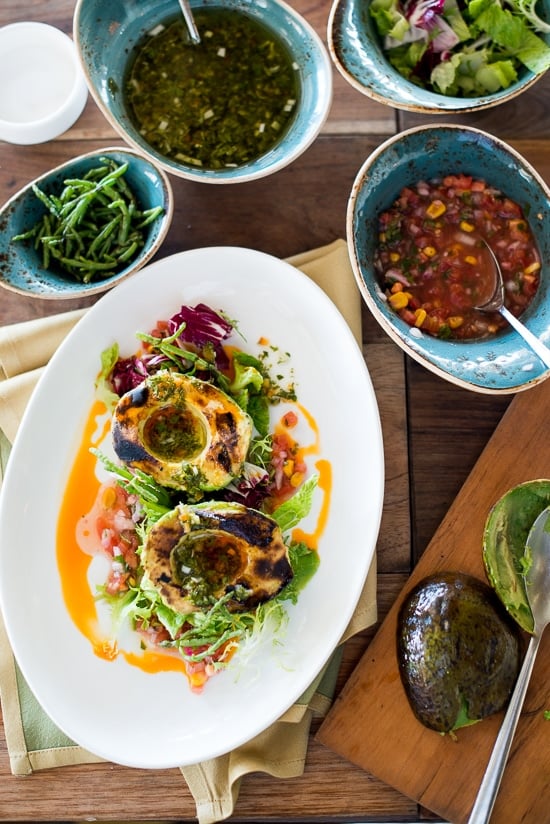 Easy Grilled Avocado Salad Recipe
We've been here for the week working with Fairmont Hotels and Resorts on some new video stories, recipes and photos to share with you all. This grilled avocado salad with corn pico de gallo is out-of-this-world amazing, filled with crisp lettuce, smoky avocado and bright pico de gallo, all topped with a fresh chimichurri dressing. It's like the worlds perfect salad all in one bite with Mexican flavors we all adore. We couldn't wait to share it with you all and really, wanted to share it NOW, like impatient eaters who haven't eaten for days. The lovely folks at Fairmont were so accommodating all our creative ideas and allowed us to film their recipe being made. They also passed on the recipe for you all to enjoy. This is easy to make at home and perfect for outdoor parties.
Video: How to Make Grilled Avocado Salad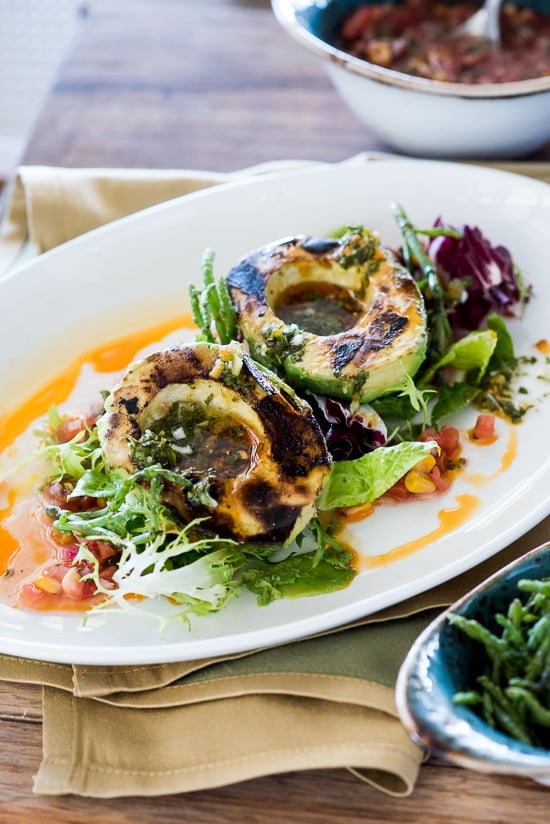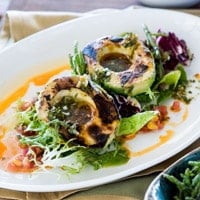 Grilled Avocado Salad with Corn Pico De Gallo
This vegetarian salad is the perfect combination of flavors and textures. The chimichurri sauce can be optional. It adds great additional flavor, but the salad is still delicious without it. Here is a nice chimichurri recipe option here. Avocado salad and corn pico de gallo recipes compliments of Fairmont Mayakoba.
Ingredients
For the Grilled Avocado Salad Assembly:
2 large avocados , halved and seeds removed. Do not remove skin.
olive or cooking oil , for brushing
sea salt , to taste
3 cups (710 ml) chopped fresh lettuce
chimichurri sauce , optional
2 Tablespoons (30 ml) chili oil , optional
For the Corn Pico de Gallo:
1 1/2 cups (250 g) corn kernels (9 oz.) , cooked or charred
2 large tomatoes , minced
1/4 cup (60 ml) red onion , minced
1 Tablespoon (15 ml) chopped cilantro
1 jalapeño , minced (or to taste)
1 teaspoon (5 ml) fresh lime juice , or to taste
pinch salt , to taste
Instructions
Make Corn Pico de Gallo
Grill Avocados and Make Salad
Heat grill on high heat. Slice avocados in half and remove pit. Brush each half of avocado with oil and sprinkle with sea salt.

Place avocado cut-side down on grill. Cook for about 2 minutes or until avocado is charred. Remove from heat and set aside.
Nutrition Information per Serving
Calories: 256kcal, Carbohydrates: 30g, Protein: 6g, Fat: 16g, Saturated Fat: 2g, Sodium: 144mg, Potassium: 1063mg, Fiber: 11g, Sugar: 9g, Vitamin A: 1868IU, Vitamin C: 34mg, Calcium: 59mg, Iron: 2mg
Simple Summer Vegetarian Salad for Parties
Salads don't have to be boring and this grilled avocado salad is probably one of the best vegetarian salads we've ever had. Now that we (and you) have the recipe, we can all duplicate it at home to enjoy, especially now that it's coming into avocado season. It's perfect for any season, for a crowd or anyone who loves to eat a ton of avocado in their salad.
Hope you enjoy the video and recipe. We'll be back soon to share more adventures from this part of the world. Have a great week!
-diane and todd
This recipe was originally published in 2016. In partnership and collaboration with Fairmont on some awesome travel stories. All opinions are our own. Hope you enjoy!
We are a participant in the Amazon Services LLC Associates Program, an affiliate advertising program designed to provide a means for us to earn fees by linking to Amazon.com and affiliated sites.