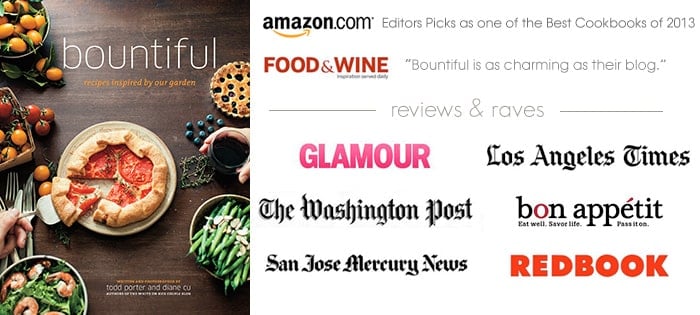 Where to buy the book online? Here's also a list of some great independent bookstores in your area. Please support them!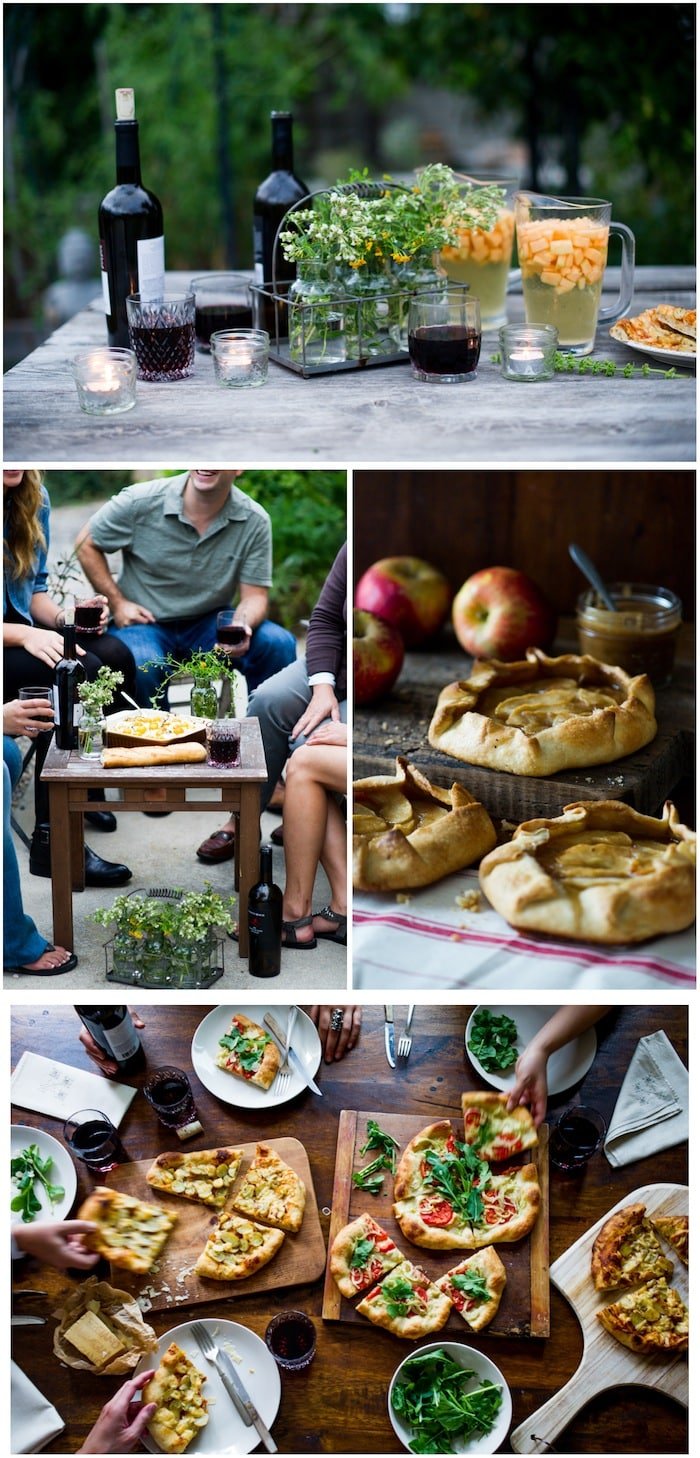 Hi Friends, it's here. We're the proud parents of a cookbook that weights 3.7 pounds. It's 10.6 x 8.5 x 1.3  inches and we named it Bountiful: recipes inspired by our garden .
Last year we made the announcement and mentioned that many seasoned authors described writing a book was like giving birth. Well, it sorta-kinda was, we think. We survived the first year and half of this cookbook frenzy, which meant being buried in dirty dishes and recipe testing for the first half. Then it was followed by the next four weeks of shooting the cookbook ourselves. And that included washing every single dirty dish, pot, spoon, fork, knife, glass– including the kitchen sink and floor—twenty times over. Still, probably not as bad as dealing with dirty diapers.
To give you a sneak peak into our inspiration for Bountiful, we made a little video, starring the pups!

Your support and encouragement has been tremendous and integral in getting us to share our garden and recipes more.  For years, we turned away at every thought and opportunity of ever writing a cookbook. But it wasn't until we sat in our garden one day and thought about what garden recipe to share with you all on the blog, that the idea of a cookbook for us made sense. Go figure! See what comes around when you aren't even looking?
Our Bountiful cookbook really is an extension of our heart, lives and everything that we love. This book makes sense to us, it's a reflection of who we are and that's what really matters.  And best of all, we were able to include lots of pictures and stories of the pups! Thanks to our awesome publisher, Abrams Books, for understanding and allowing all of that. They're dog-people too. Woof!
And now we're going on a little Bountiful cookbook tour over the next few weeks. Will we be able to see you? Can you come visit and give us a hug? All this new "author" stuff is intimidating. We've always been behind the scenes shooting for other cookbooks, now it's our turn to talk about our own 3.7 pound baby!
hugs and love,
diane and todd
Connect with us with the hashtag #BountifulCookbook
Here's our latest schedule and updates- come see us, we need hugs!  (please note : some events and bookstores politely ask that you support by buying a cookbook at the event or buying a ticket or reserving  space ):
Los Angeles: Book Soup in West Hollywood on Tuesday, October 15th, 2013 at 7pm. . order online here: Book Soup you can pre-order a copy HERE.
Orange County: Seed: Peoples Market at The Camp on Wednesday, October 16, 2013 at 6pm.  Talk and signing.
New York City: Special Bountiful Signing, Talk and Celebration with OXO at OXO headquarters on Tuesday, October 22, 2013 at 6pm
New York City, photo credit: OXO instagram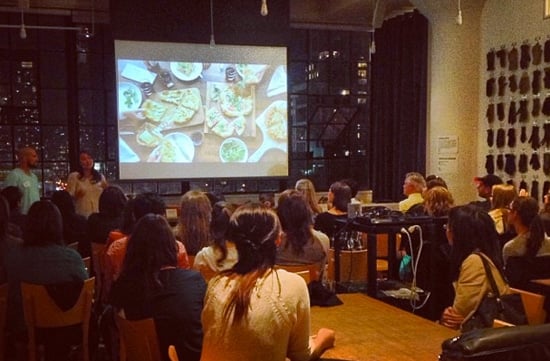 New York City: KitchenAid and Bountiful Tapas Dinner Party and Signing at The Daily Meal is Sold Out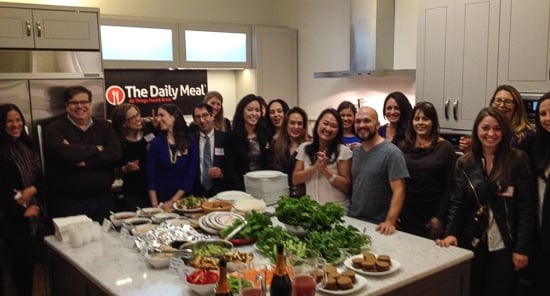 Seattle, WA: Book Larder on Friday, October 25th, 6:30-8pm Lara and her bookstore are awesome, stop by the store and pick up a copy 
Seattle Book Larder, photo credit: Anne Marie Ricard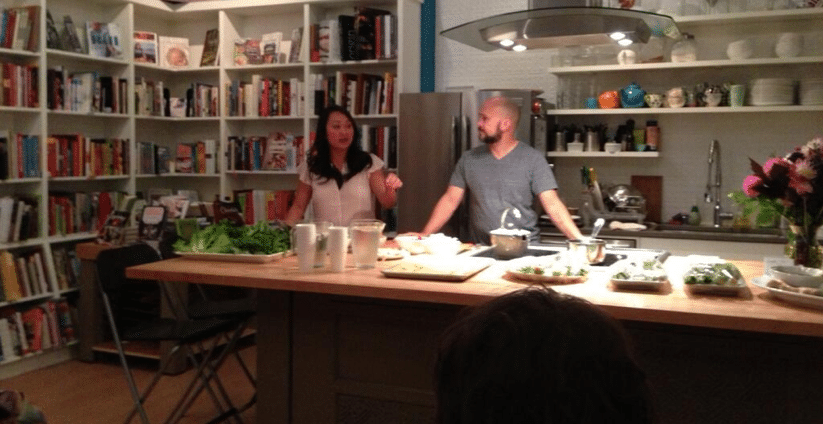 Salt Lake City, Utah: Kings  English on Saturday, November 16th at 2pm.
San Francisco: Book Passage at The Ferry Building on Saturday, January 18th, 1 pm. Free to Public. Meet & Greet and Signing.
Melbourne, Australia – Avenue bookstore, Saturday, November 9th, 11am Free to the public. Meet & Greet and Signing at The AVENUE Bookstore 127 Dundas Pl   Albert Park.
Mentions of Bountiful in print and online:
Amazon,

2013 – Bountiful was named one of the Best Cookbooks of 2013 selection in the cookbook category

Washington Post

, November 2013 – Bountiful was featured in the food section of the Washington Post by Joe Yonan, "My favorite is their Roasted and Stuffed Squash Rings.."

Food and Wine Magazine

 (September, 2013 Print issue) – Todd and Diane were one of the F&W Digitial Food Award Winners and Bountiful mention

Sunset  Magazine

(December 2013 Print Issue)- Bountiful was named one of their favorite cookbooks of the year and made their annual gift guide in their December issue.

Los Angeles Times

, November 2013- "White on Rice bloggers turn backyard mess into 'Bountiful' garden" was featured on the front page of the Los Angeles times Saturday Section.

Redbook Magazine

print issue October 2013 featured 5 pages of Bountiful recipes.
Bountiful was named as one of the Best Healthy Cookbooks of 2013 list on

AARP

, December 2013

Simply Gluten Free Magazine

(September, 2013 Print issue) — 5 page feature about Bountiful cookbook, recipes and our garden. Dogs included!

Telegraph Magazine

(December 2013 Print issue) – Bountiful was chosen as one of Telegraphs Magazine's top ten cookbooks for Christmas
Where Women Create Business Magazine (Sept, 2013 Print issue) — 6 page feature about Todd & Diane's studio, working relationship, and Bountiful Cookbook
Cake & Whiskey Magazine (Sept, 2013 Print issue)– 4 page feature and interview about Diane and mentions of Bountiful cookbook

Glamor Magazine

(sept, 2013 print issue)– Coffee Table Book mention
"Diane Cu and Todd Porter's first book, Bountiful, is as charming as their blog", 

Food and Wine , October 2013

"healthy & delicious recipes and gorgeous photos….",

Jacques Torres, october 2013

One of the best Fall cookbook trailers of the year,

Bon Apetite, October 2013

Food and Wine (F&W Book Club )Feature, September 2013 : Bountiful's

Chicken and Kale Egg Rolls

"…my favorite cookbook of the year…"-

Daily Mail, UK

, October 2013
Bountiful was featured in print: Saturday's COOK,

The Guardian's

weekly food supplement. December 2013
"….The cookbook also has, as you might expect, gorgeous photography done by the pair…",

LA Weekly, October 2013

Food 52,

November 2013. " a full collection of seasonal recipes, all photographed so beautifully you will wish you were as photogenic as their sweet potatoes."

Austin American Statesman

, October 2013 "…it's superb photography, seasonal recipes that you'll find pinned all over the Internet and a vicarious look into what must be one of the most photographed vegetable gardens (and backyard fruit orchards) in all of Los Angeles."

San Jose Mercury News

, October 2013, Todd & Diane Interview & recipe features

Desert News

, November 2013

Philadelphia Daily News

, November 2013- Bountiful made Jill Ross' favorites cookbook list as " This one is going to sneak-attack everybody. Seasonal, really clean food, a very farm-to-table kind of thing."

Gardenista

, October 2013

Blog Her,

October 2013

The Kitchn

, October 2013
The Guardian's, Cook (Sept. 2013)- Bountiful's

Roasted Pumpkin Ice Cream

was featured as one of "The 10 Best Squash Recipes".
"the stunning food blog featuring snippets from their daily life in Orange County and recipes inspired by their childhood comforts"

OC Weekly

, June 2013
"The Costa Mesa duo's book features the bounty of their stupendous home garden in recipes and photos."

Orange Coast Magazine

, May 2013
there was plenty of puppy time during the making of Bountiful too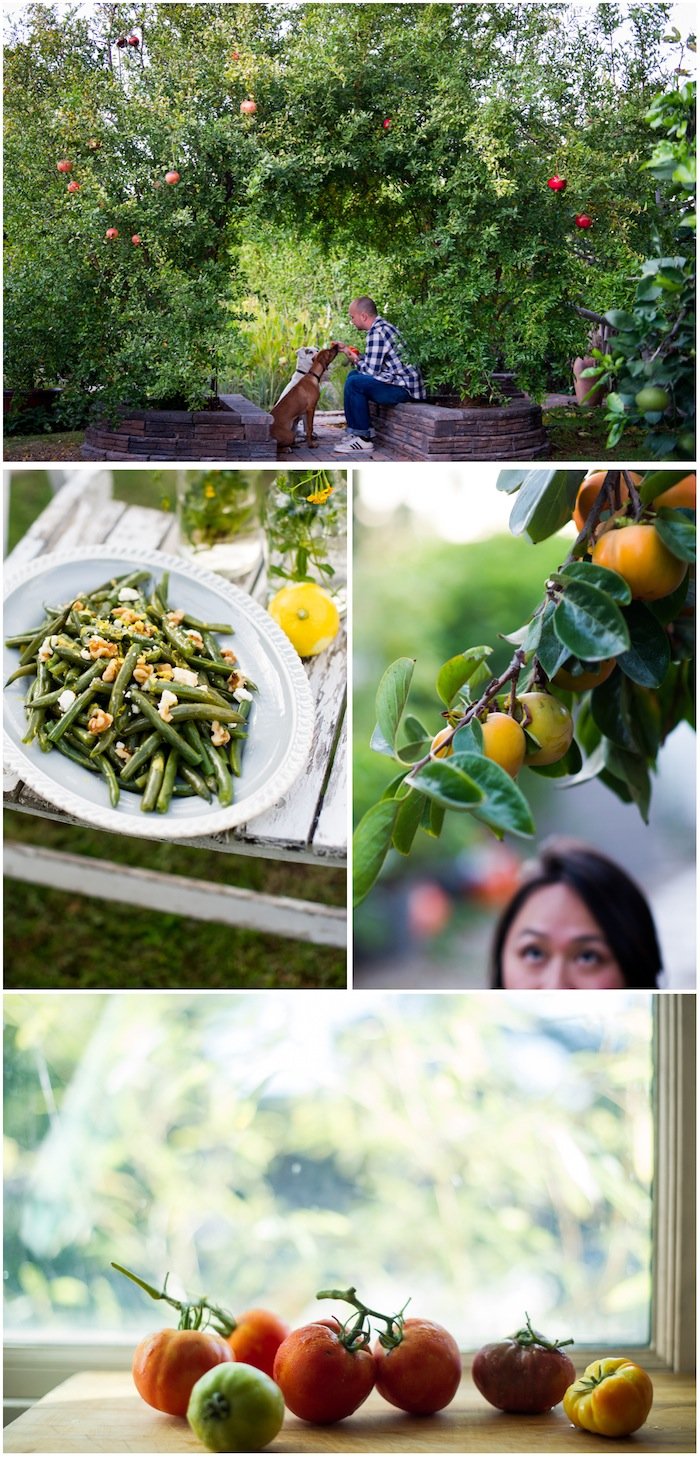 [ad]