Air Fryer Potato Wedge Fries
These air fryer potato wedges or thick cut french fries are a great starter recipe if you're new to air frying. Hot and less greasy fries are ready in minutes.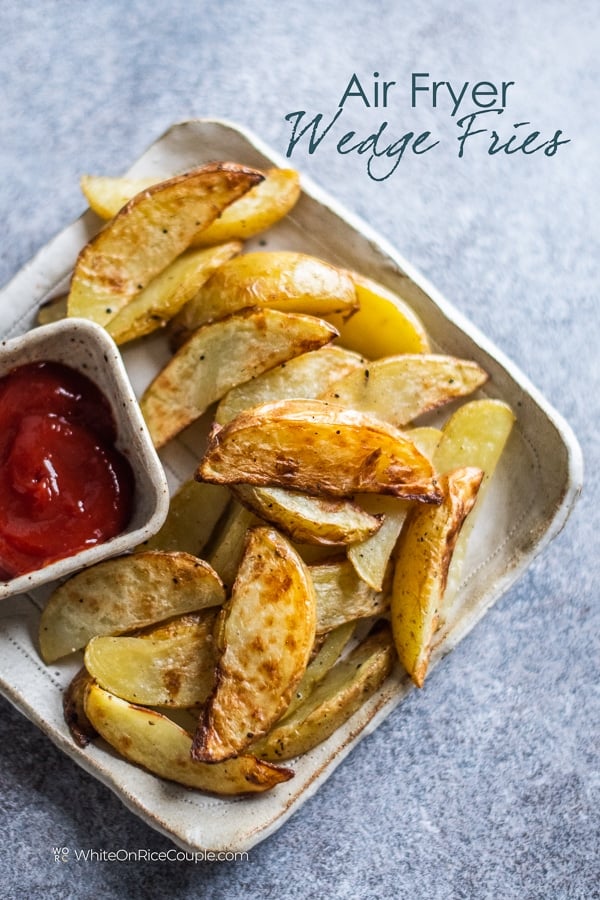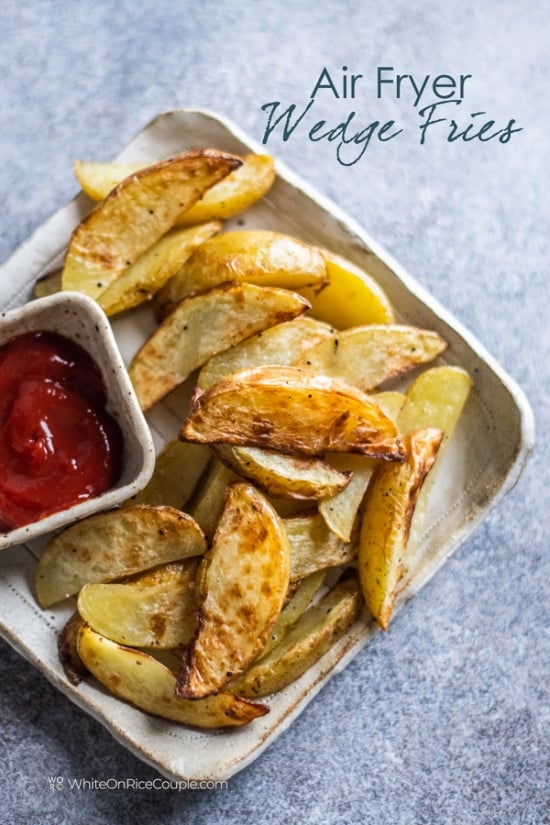 Air fryer Potato Wedges or Thick Cut French Fries
It doesn't take much to make us happy, especially when it comes to warm homemade French fries or potato wedges in the air fryer. We're still surprised at how amazing the air fryer is when it comes to cooking so many types of foods. It's not solely built to reheat frozen foods. And when you make your first batch of fresh homemade French fries or wedges, you'll be a convert like we are. Add some great homemade ketchup or your favorite dip and it's snack time!
Video: Watch how to air fry French fries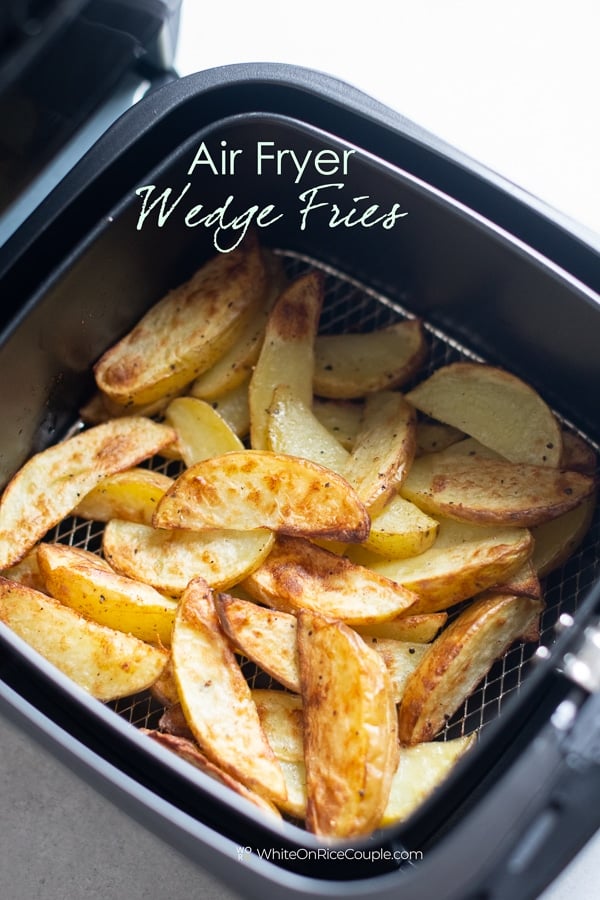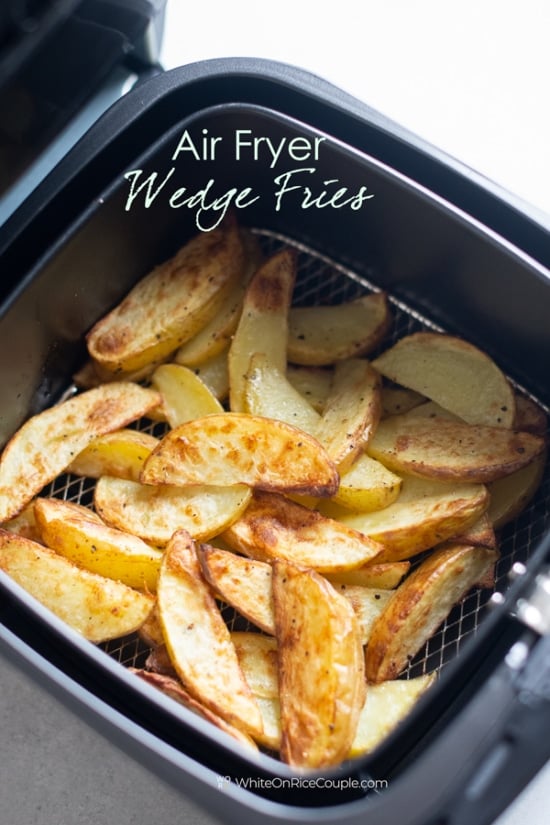 Air Fryer Potato Wedges with Less oil and healthier fries
Ok, we all know fried French fries aren't healthy but when cooked in the air fryer you can easily reduce the fat and calorie content. You can't eat a ton but in moderation, air fried French fries can certainly be "healthier" than oil fried versions. If you're looking to treat yourself to french fries without all the greasy oil calories, then air frying them is definitely the way to go.
Are air fried French fries crispy?
It doesn't take much to oil to get a nice crispy batch of air fried French fries or potato wedges. The outside texture is definitely like a roasted "crisp" but not like a deep fried crunch. You might be missing the crunch factor but think of all the calories you're not consuming if you air fried the potatoes. The air fried version is satisfying. And with your favorite ketchup, mustard or dipping sauce you can enjoy more fries without the guilt!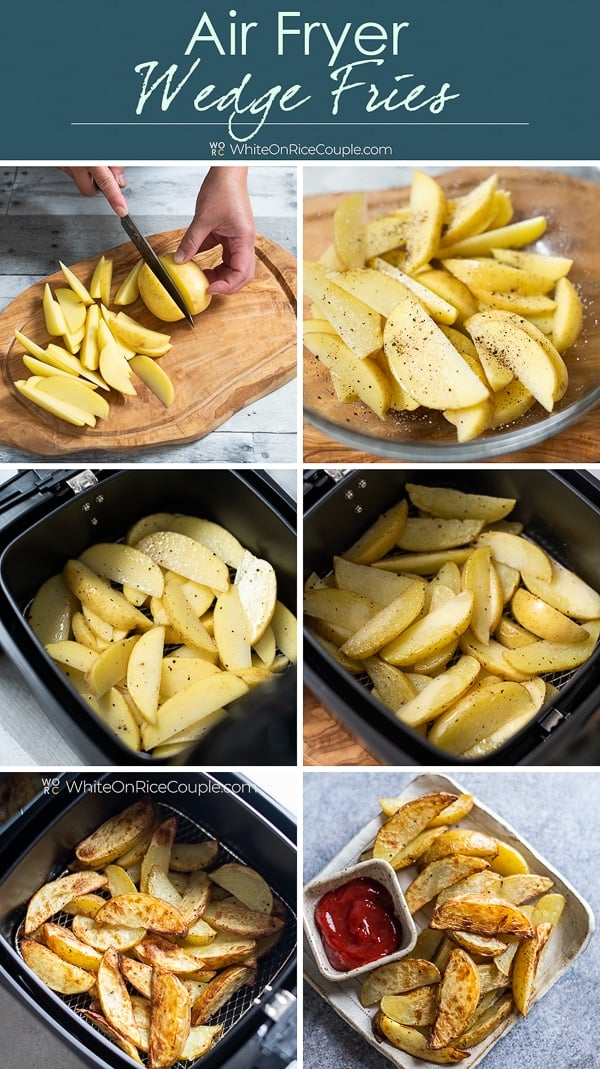 Hope you enjoy these as much as we do. Here's more air fryer recipes to enjoy: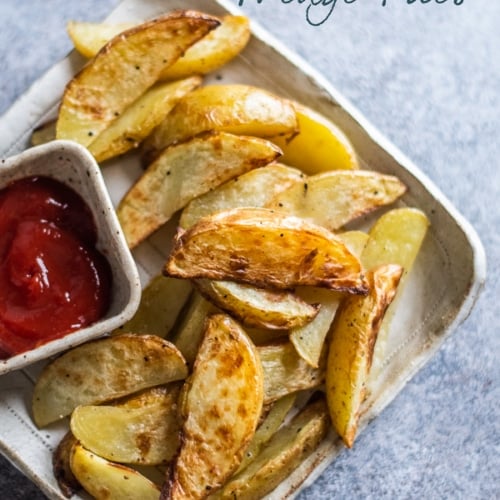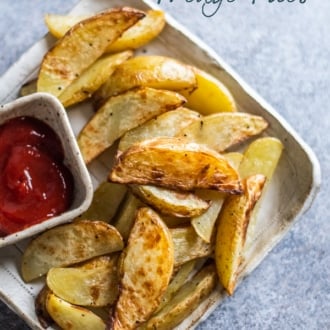 Air Fryer Homemade Wedge Fries
Here's an easy homemade air fryer fries recipe.
If you want to dip the fries straight into a delicious Sriracha sauce, our personal favorite is the one we make at home. Here's a link to our Sriracha sauce recipe.
Ingredients
1 pound (454 g) Russet or Gold potatoes (or any high starch potato)
oil spray or olive oil, to coat fries
kosher salt , to taste
fresh cracked black pepper , to taste
Instructions
Wash and peel potatoes. Cut potatoes into wedges about 1/2 thick at the base. (Try to keep them as evenly sized as possible for even cooking.)

Add potatoes to bowl. Spray or drizzle with oil to evenly coat the wedges. Season with salt & pepper. Toss to evenly coat the wedges. Place the wedges in air fryer basket and spread them evenly over the basket.

Air Fry at 380°F for about 20-30 minutes, depending on how thick you cut the wedges and on your particular air fryer model. A couple times while cooking, gently shake and turn the potatoes. Try not to break them. For crisper potatoes, shake and cook for an additional 2-4 minutes.

Remove from the air fryer basket and season with additional salt & pepper if desired. Serve hot.
Notes
Recipes were cooked in 3-4 qt air fryers. If using a larger air fryer, the recipe might cook quicker so adjust cooking time.
If cooking in multiple batches, the first batch will take longer to cook if Air Fryer is not already pre-heated.
Remember to set a timer to shake/flip/toss the food as directed in recipe.
Nutrition Information
Calories: 99kcal, Carbohydrates: 21g, Protein: 2g, Fat: 1g, Saturated Fat: 1g, Sodium: 6mg, Potassium: 473mg, Fiber: 1g, Sugar: 1g, Vitamin C: 6mg, Calcium: 15mg, Iron: 1mg
One of our favorite recipes to make is this herbed turkey breast. Here's a awesome site dedicated to great air fryer recipes, tips and tutorials.
We are a participant in the Amazon Services LLC Associates Program, an affiliate advertising program designed to provide a means for us to earn fees by linking to Amazon.com and affiliated sites.