Homemade Chili Crunch Recipe (Chili Oil Crisp)
Make this homemade chili crunch recipe and it'll be your go-to spicy condiment. Have you tried this popular condiment? It was originally served in restaurants and it's now a staple in home kitchens. This crunchy chili oil recipe is slightly spicy, savory and flavorful.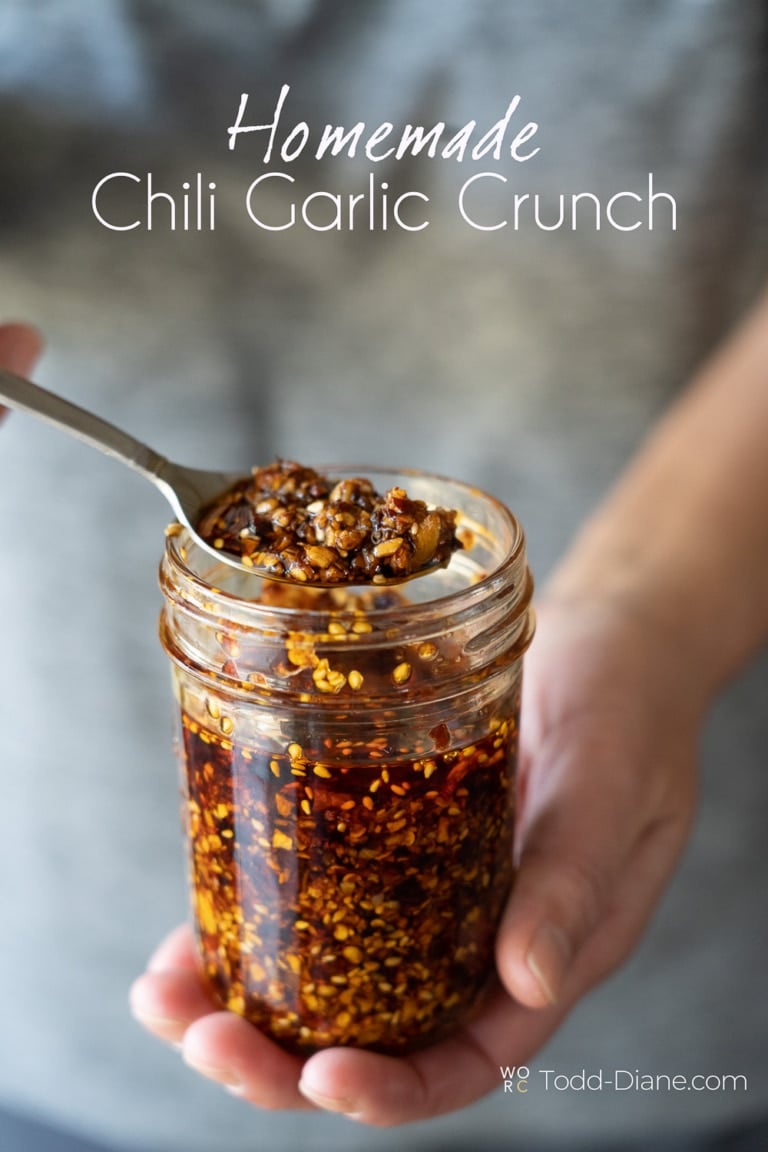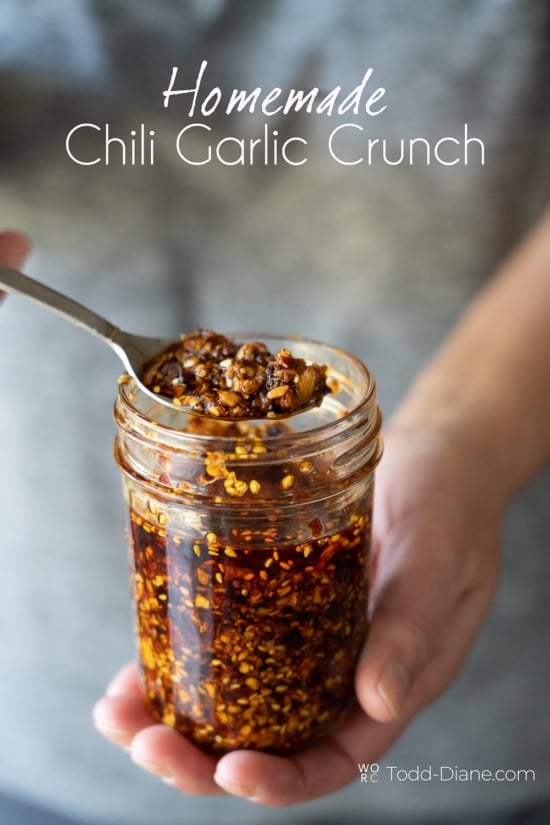 What is Chili Crunch, Chili Crisp, Chili Oil?
This wildly popular condiment has so many other names: chili onion crunch, chili garlic crunch, crunchy chili oil and much more. These are examples of the different terms used to describe basically the same thing: a popular Chinese condiment with onion, garlic and different spices infused in oil. But all you need to know that it's crunchy, savory, spicy and delicious. The most common ingredients are crushed dried chilies, fresh or dried onions or shallots, dried garlic and sometimes Sichuan peppercorns. Everyone has their own recipe with different aromatic combinations. But chili crisp is essentially a crunchy, crispy, spicy condiment that you can put on anything and it can be found in most Chinese restaurants. Once you make this homemade chili onion crunch recipe, you'll always want to have it as a go-to condiment.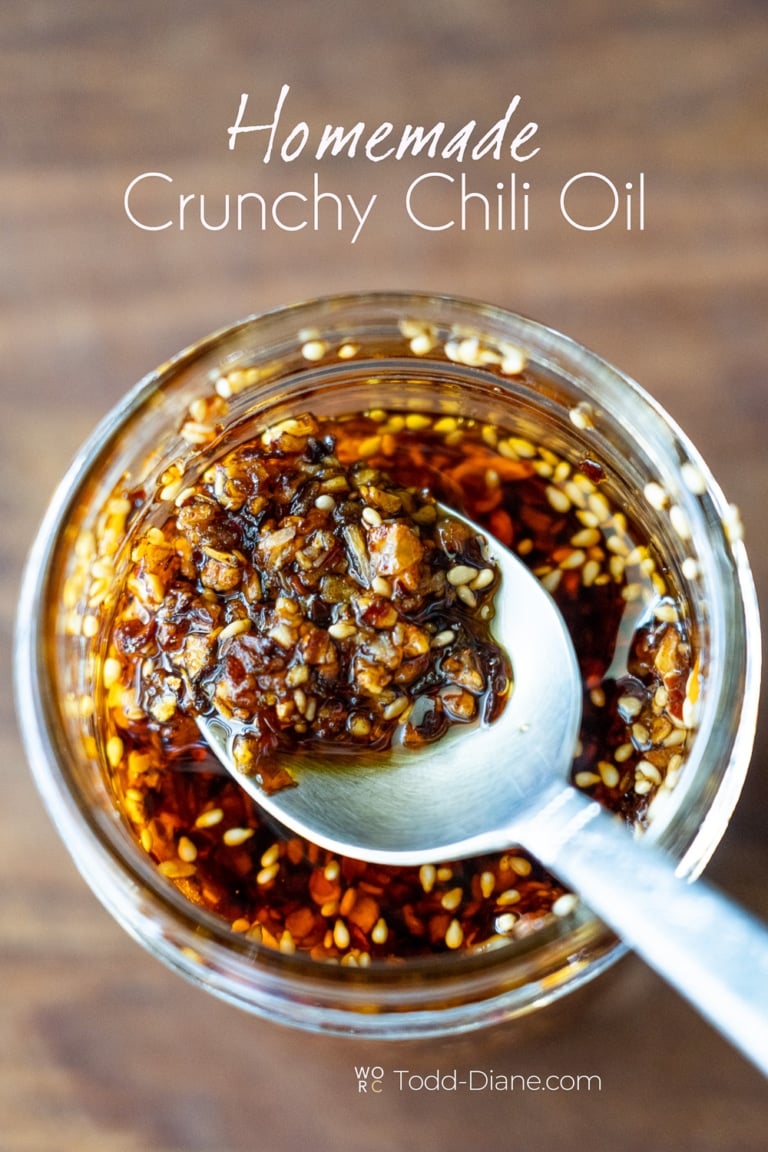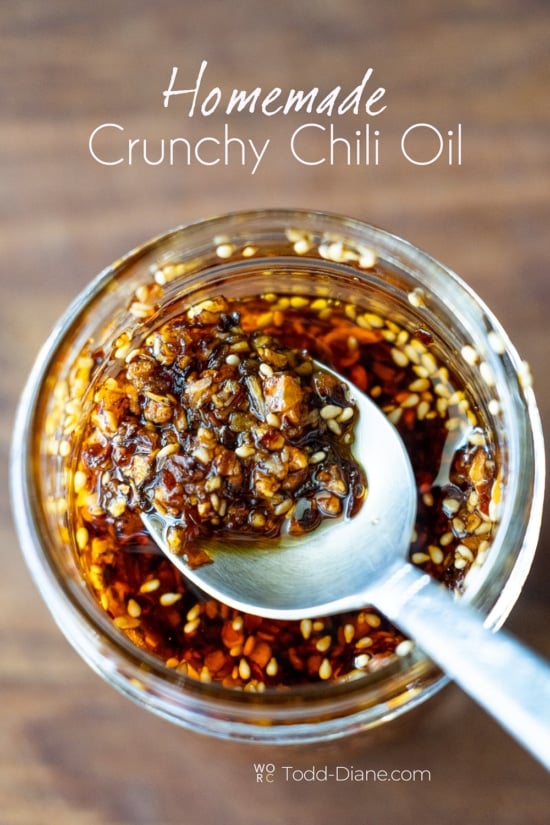 How to Serve Garlic Chili Crunch or Chili Oil?
There's always the classic dishes that chili garlic onion crunch or crunchy chili oil is served. But if you think outside the box you open up a whole new world of culinary possibilities. Grilled meats and veggies are always fantastic with a little drizzle of this homemade magic.
Dumplings are always more exciting with a little drizzle of this homemade crunchy chili oil
Chili crunch fried eggs are amazing. Add that to an avocado toast.
Popcorn! Drizzle this stuff on popcorn for a delicious spicy topping. You don't need the butter!
On noodles, it's fanastic.
Rice, fried rice or pasta
grilled meats or vegetables
air fryer chicken wings with this chili crisp is the best!
mix it with some hummus for a super flavorful dip
Add it to deviled eggs…. amazing!
there's so many more things you can serve with this chili oil recipe. The possibilities are endless.
Video: Homemade Chili Crisp Crunch Recipe
Best Brands of Chili Crisp or Chili Crunch?
We love making this homemade because you can customize all your favorite flavors. But a quick way to enjoy this condiment is to buy it and there's plenty of great pre-made bottles. It's available at speciality grocer stores, Asian supermarkets or in the International aisle of your regular markets. Over the last years a new generation of brands have come into the chili crunch crisp market. From more traditional brands to new brands of chili oil with unique spices, there's something for everyone.
Tips on How to Use Chili Crisp Crunch
Before eating, stir the chili crunch well. Oil floats to the top and the crunchy ingredients sink to the bottom. So stir the everything together well for easier drizzling. That way each spoonful has a good balance of oil and crunchies.
Customize your batch by tasting it first. Some folks like their chili crisps light on the seasoning and spice, so taste yours first then customize. If you want it a little less spicy, start with about half the red chili flakes that we recommend in the recipe.
Add Honey for more sticky consistency instead of oily: To make this chili garlic crunch recipe more sticky, add a little honey to make the sauce more sticky. It'll be a little more sweet but it's a nice flavor balance.
Extra crunchy: The crunch comes from dried garlic and onion. You can easily customize the "crunch" by adding as much or as little as you like.
Using fresh chopped onion/shallots or garlic will give a nice flavor too but a little less crunch. But the fresh aromatics are hard to beat when you're using fresh ingredients.
Spice level to your liking: the heat comes from red chili flakes. Our ratio in the recipe makes this batch Medium. So if you want to be a little more cautious on the heat, add about half. If you really love food extra spicy, double the amount of red chili flakes.
Small servings: If it's your first time using this chili oil recipe, go light on the drizzle.
All homemade chili crunch recipe details are in the recipe box below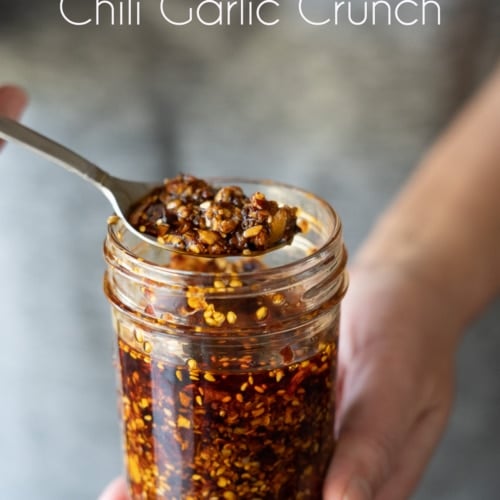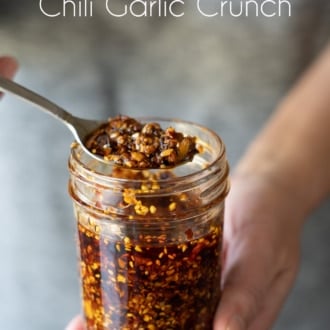 Chili Garlic Crunch (Chili Crisp)
Adjust the spiciness and sweetness to your personal preference. This base recipe has a moderate spiciness when the cayenne is used and just a touch of sweetness to balance. This is so good, you'll start to put it on everything (eggs, popcorn, noodles, shrimp, chicken, etc.) See below recipe for some starter ideas.Makes about 1/2 cup of Chili Garlic Crunch. Nutrition based on a 1 teaspoon serving.
Ingredients
1/2 cup (120 ml) oil
6 cloves fresh garlic , minced or sliced
2 Tablespoons (30 ml) red chili flakes
2 Tablespoons (30 ml) dried minced garlic
2 Tablespoons (30 ml) dried chopped onion
2 teaspoons (10 ml) sugar , or to taste
1 teaspoon (5 ml) toasted sesame seeds
1 teaspoon (5 ml) kosher salt , if using table salt, use a little less
1 teaspoon (5 ml) smoked paprika
1 teaspoon (5 ml) cayenne (optional to taste)
2 teaspoons (10 ml) soy sauce
Nutrition Information per Serving
Calories: 50kcal, Carbohydrates: 2g, Protein: 0.4g, Fat: 5g, Saturated Fat: 0.4g, Polyunsaturated Fat: 1g, Monounsaturated Fat: 3g, Trans Fat: 0.02g, Sodium: 136mg, Potassium: 36mg, Fiber: 0.4g, Sugar: 1g, Vitamin A: 274IU, Vitamin C: 1mg, Calcium: 6mg, Iron: 0.2mg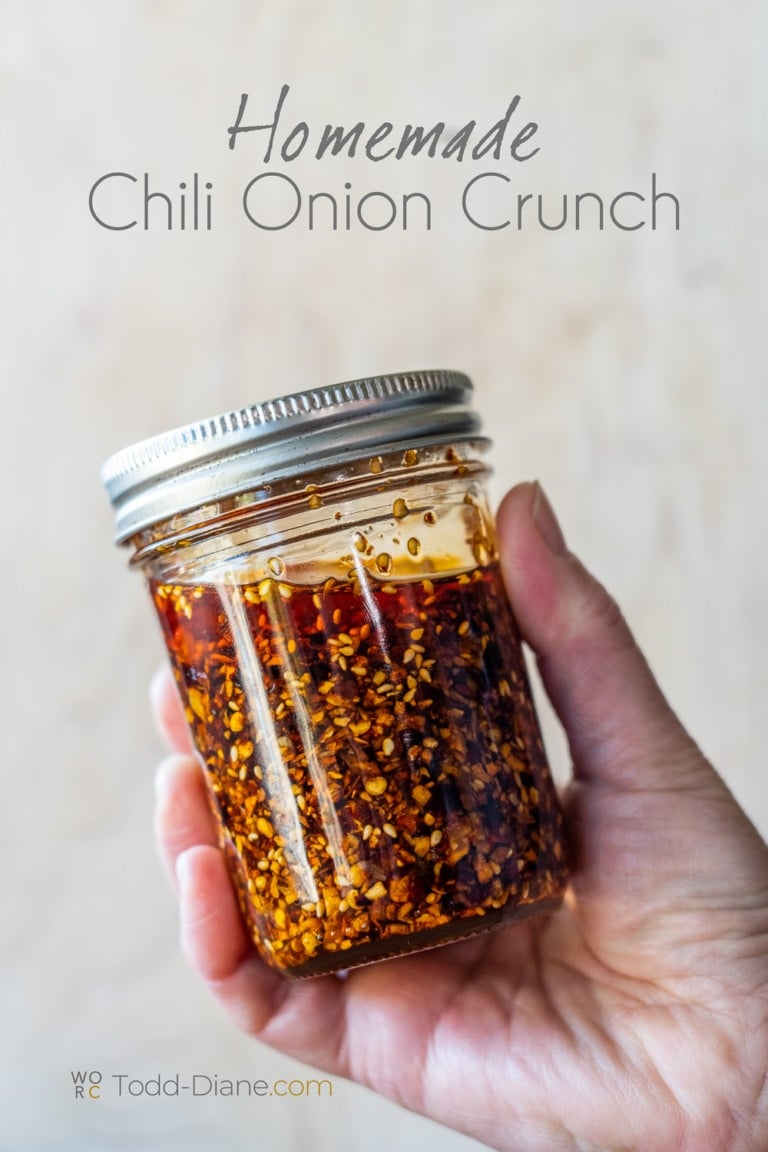 Delicious ways of using and serving our Chili Crunch
Like we discussed above, we love experimenting with different dishes. Here's more details on how what we drizzle this umami bomb on. The flavor combinations are outstanding. Can you tell we're obsessed?
Fried Egg with Chili Oil or Chili Crunch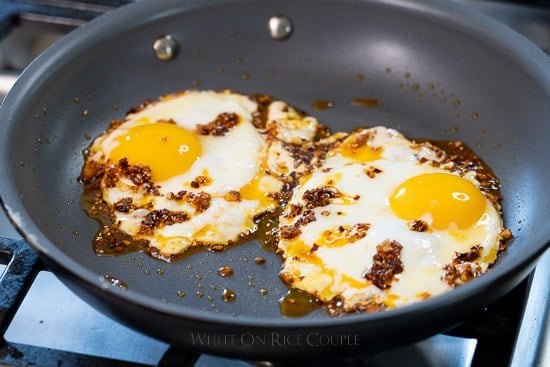 Just add about 1 Tablespoon of your chili oil with crunchies in it. Add to a hot pan and fry your egg in it. Easy peasy and it's fantastic on so many things.
Chili oil fried egg on avocado toast is a great breakfast or brunch dish.
Add the chili crunch fried egg to ramen noodles or noodle stir fries
Drizzle Chili Crunch on Potstickers or Dumplings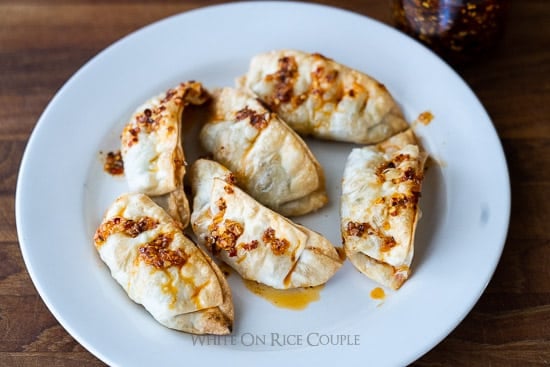 This is the most classic way to eat this condiment. Buy your favorite brand of frozen dumplings or potstickers. Trader Joe's has a wonderful collection of frozen potstickers. Heat them up in the microwave and drizzle the chili oil on top.
Use Chili Oil as Popcorn Topping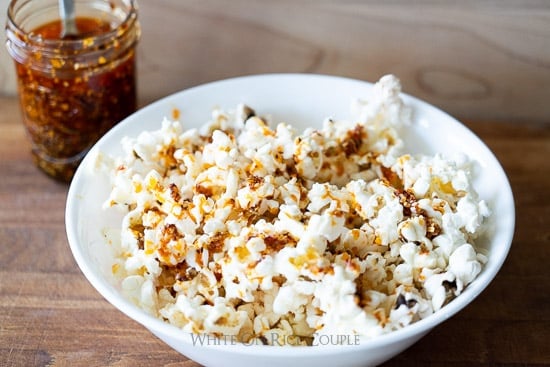 We tried this and are now obsessed! Instead of melted butter, drizzle a few tablespoons of this on top of popcorn. The salty, crunchy, spicy flavors are fantastic on popcorn. Only problem is that your hands can get pretty oily, so we suggest eating it with a SPOON. Yup, just scoop the chili crunch popcorn in your mouth and it's a flavor bomb.
Douse it on Chicken Wings or Buffalo Wings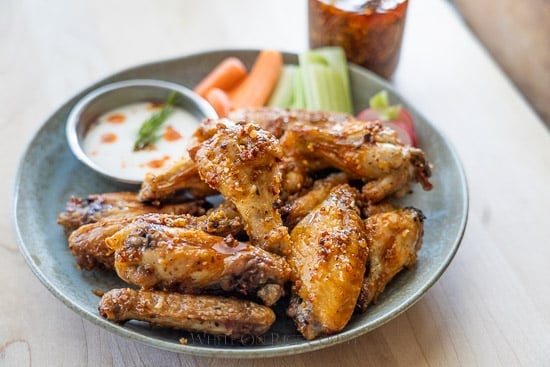 This is one of our favorite ways to serve spicy chicken wings! Drizzle this over your wings and that's all your need. Each bite is an explosion of flavor and we guarantee this will be one of your favorite ways to use this condiment.
Add Chili Crunch Oil to Deviled Eggs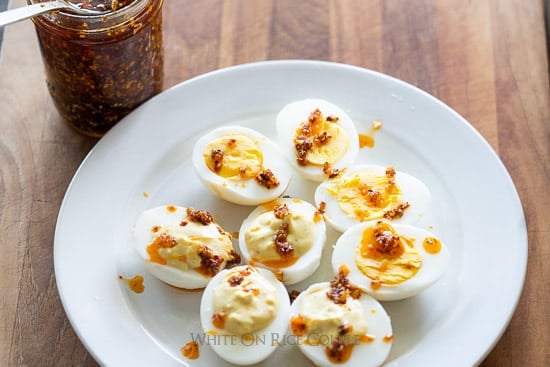 We love deviled eggs and this homemade chili crunch oil is perfect as a side topping. It's always a part of our popular deviled egg bar. Just let your guests dress their own deviled eggs and they'll wonder why they didn't have this more often.
Stir in Hummus or other favorite dips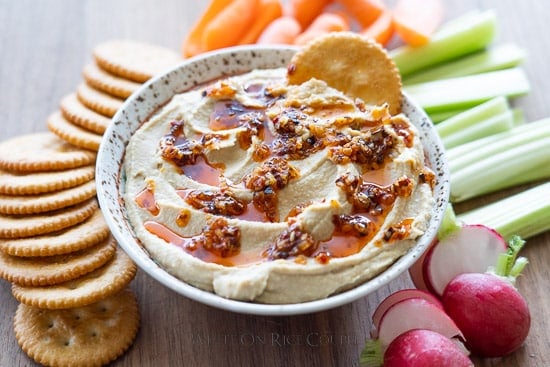 Yes, this is a THING! Wow, swirling a big spoonful of this into your hummus or bean dip takes the dip over the top. The flavors work so well with hummus or any of your favorite dips. Make this chili oil recipe now and your appetizer dips will be even more amazing.
What's your Favorite Way to Eat and Serve Chili Crunch or Chili Oil?
We love learning all the different ways you're eating this condiment. Let us know in the comments below. We're obsessed with this and want to try every version possible. How about chili oil ice cream? Hmmmmm. maybe that's one we might pass on. LOL.
More Easy Recipes:
We are a participant in the Amazon Services LLC Associates Program, an affiliate advertising program designed to provide a means for us to earn fees by linking to Amazon.com and affiliated sites.