Sticky Sriracha Chicken Wings
Back by popular demand, we made a new video for our original sticky Sriracha chicken wings post in 2009. Enjoy them for game day, every day or when you're craving an appetizer for your next gathering.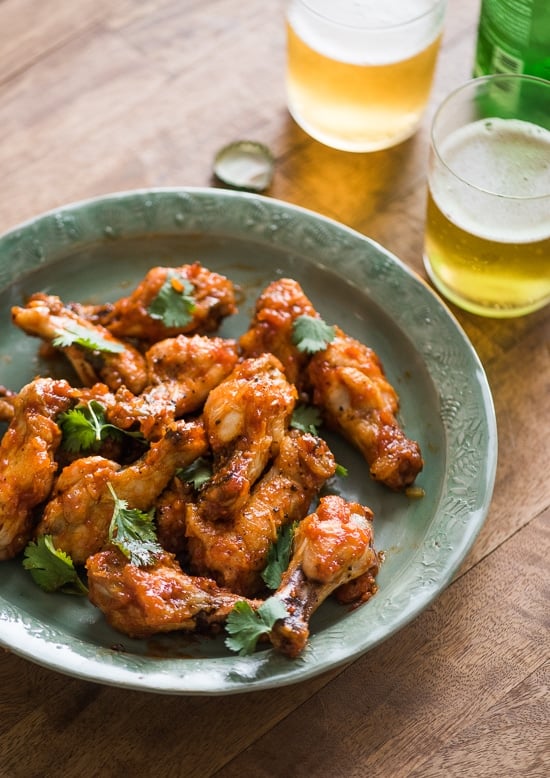 All right folks, hold on tight because you're going to be blown away at how amazing these sriracha chicken wings are. If you're a lover hot sauce, or any sriracha brand for that matter, these chicken wings will fly off your platter. The first test batch of these wings almost disappeared within seconds of coming out of the oven. We literally inhaled eight of these chicken wings in 3 minutes because the hot sauce was so good. So good. So finger-licking-good.
Video Sriracha Chicken Wing Recipe :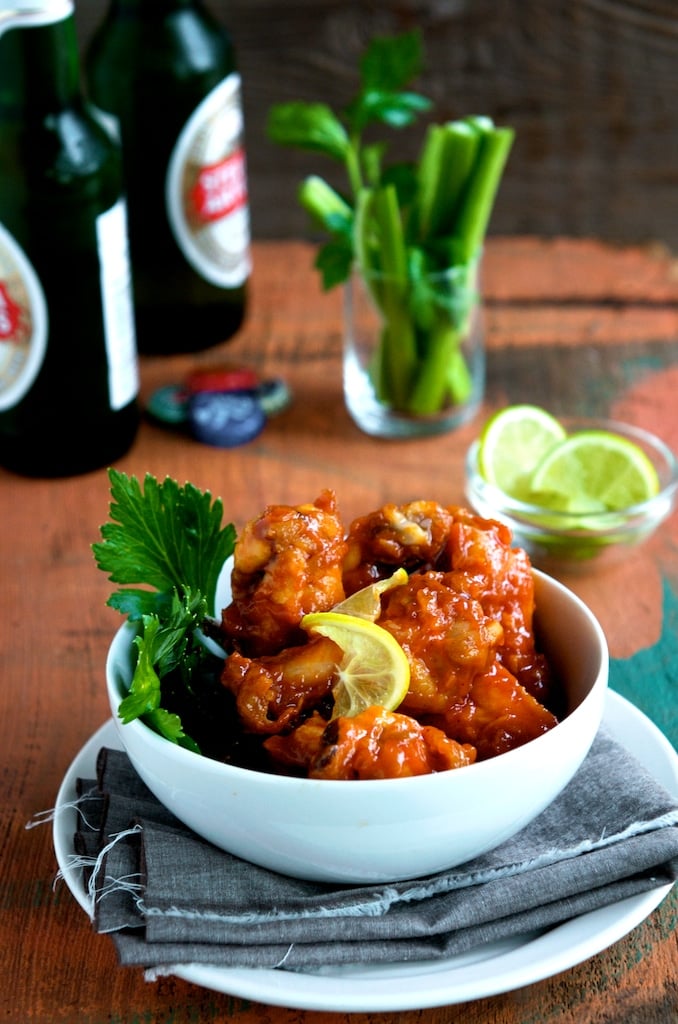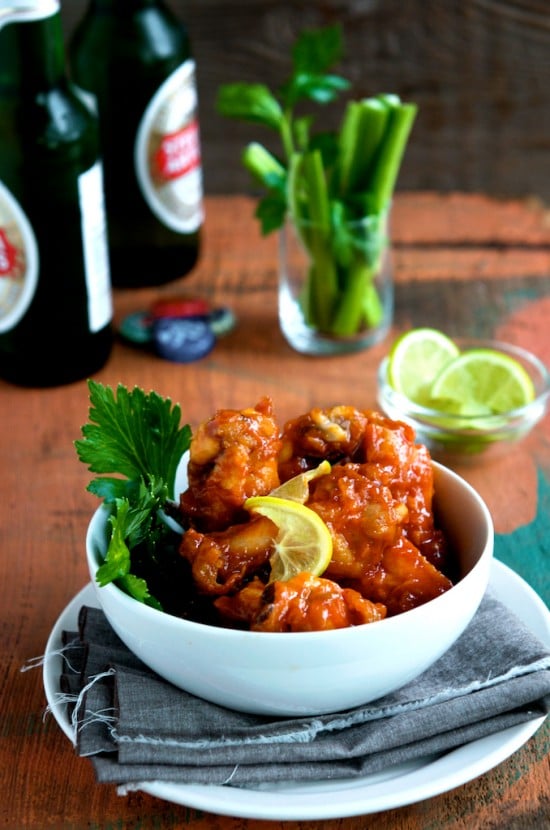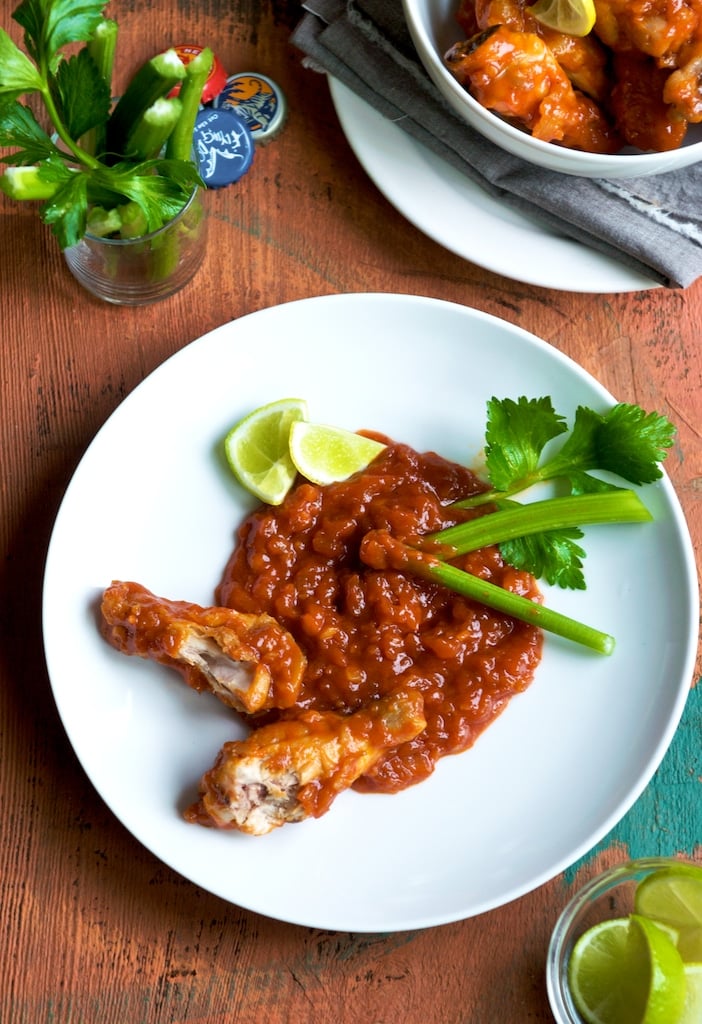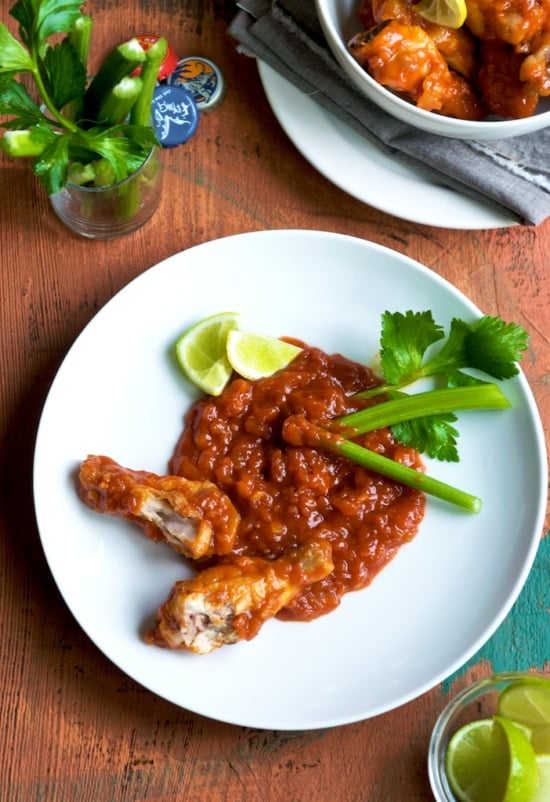 Sriracha chicken wing sauce is so good, dip anything in it!
We're lovers of spice and with all the football games coming up, we needed to spike our already popular crispy asian chicken wings with a little more sweet sriracha heat. We set out to create a buffalo wing sauce with our different bottles of sriracha hot sauce.
Spicy Asian Chicken Wings with Sriracha
Yes, there are many so many different bottles of sriracha hot sauce out there. We have about 5 different bottles sitting in our pantry, waiting to be coated over chicken wings. And if you're ambitious like we are about the flair of spicy foods, you can make your own! It's easy to make homemade sriracha style chili hot sauce to add to this chicken wing sauce.
The most well known sriracha style hot sauce sauce is the Rooster Brand sriracha hot sauce by Huy Fong. For this recipe we used this familiar green topped bottle for the sauce. Balanced with some ketchup, vinegar and the fresh golden char of onions and garlic, this sauce it to die for or fight for. The tangy, sweet, vinegary, gentle heat of this sauce is just amped up with enough spice. This will keep your heart rate up and running for more. For more heat pleasure, just add more sriracha hot sauce!
We'll be attending a big New Year's party and can you already tell what our potluck contribution is? A huge platter of these wings will be ready and waiting for the masses of party goers!
Happy New Year! diane and todd
Make Homemade Sriracha style chili garlic hot sauce Creamy Sriracha – Spicy Sriracha hot sauce mayo .Here's some more spicy recipes for those of you who appreciate spicy food.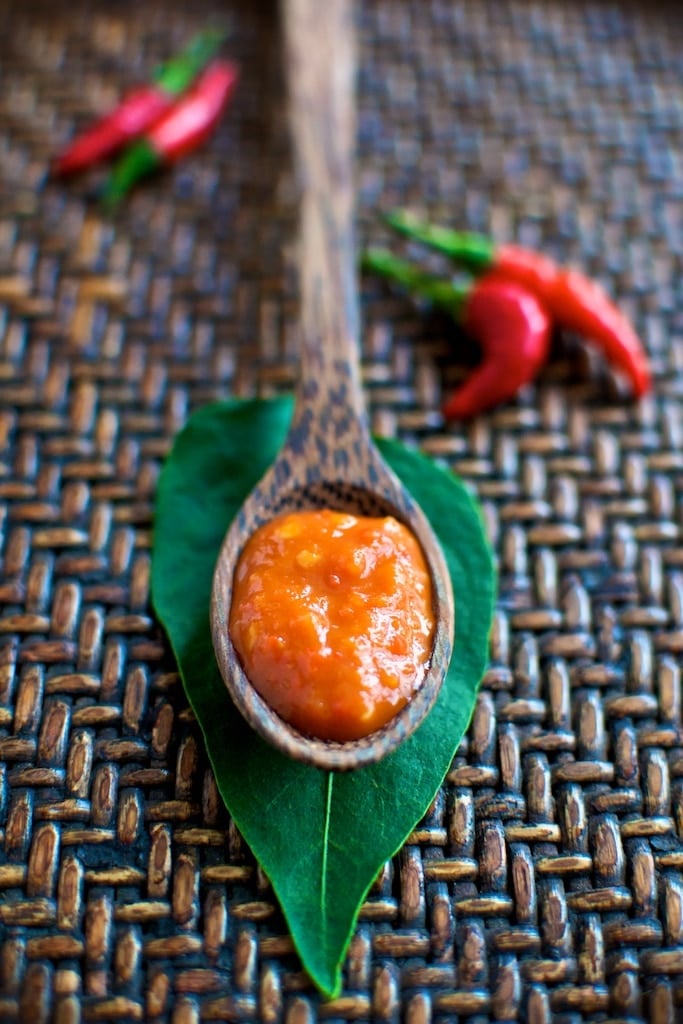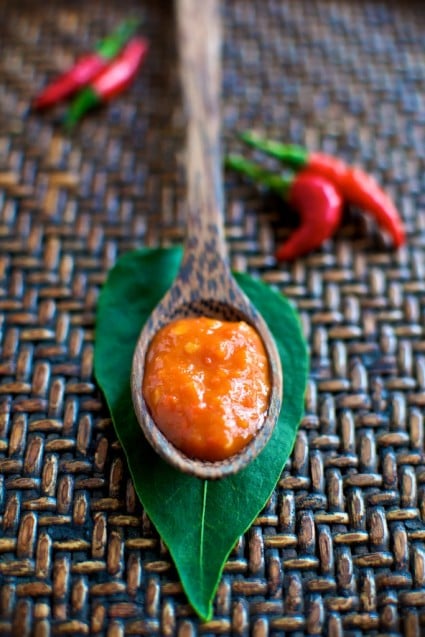 Here's all our Chicken Wings Recipes if you're hungry for more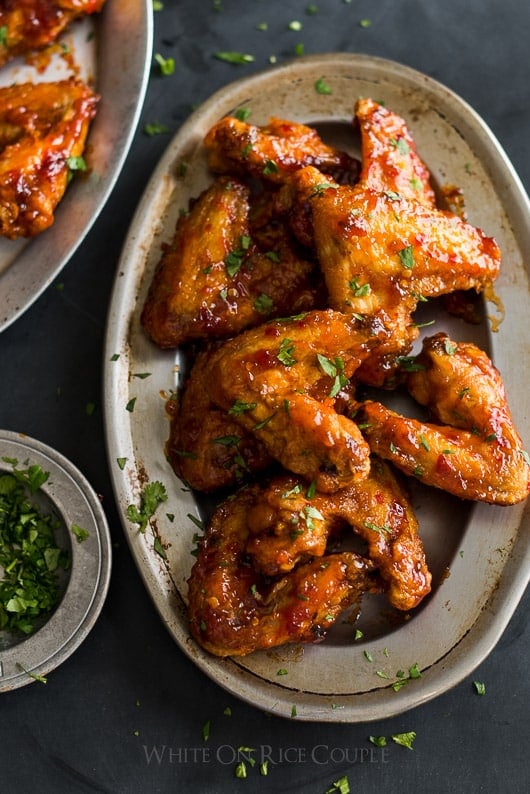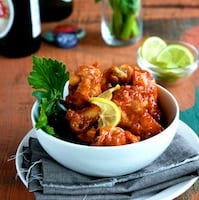 Sriracha Chicken Wings Recipe
Chicken wings can be prepared in different ways to achieve their crispness: fried or baked, with flour or not. Visit this write up on different ways to prepare chicken wings.
This recipe shows a baked technique, but you can certainly fry the wings to make them crispy. Best of all, this recipe doesn't have any butter ((unlike most Buffalo wing recipes) and it's *healthier* and still spicy delicious!
Ingredients
For the Wings
2 pounds (907 g) chicken wings , rinsed & patted dry
kosher salt , to season wings
ground black pepper , to season wings
For the Sauce
2 Tablespoons (30 ml) vegetable oil
2 cloves (2 cloves) garlic , finely minced
1 small (1 small) small onion , minced (@ 1/2 cup)
1/2 cup (120 g) ketchup
1/4 cup (60 g) Sriracha sauce or any chili hot sauce (or more for a spicier sauce)
1 Tablespoon (15 ml) vinegar
1 teaspoon (5 ml) fish sauce or soy sauce (choose fish sauce, it tastes better!)
1/4 teaspoon (1.25 ml) ground cumin
Instructions
Preheat oven to 425° F (220°C). Line a baking sheet pan with parchment paper.

On prepared baking sheet pan, spread chicken wings out in one even layer (we don't coat our wings with oil before baking, but you can if you want. We find that the oil just makes the wings greasier. The wings release enough fat already). Season chicken wings with salt and pepper.Bake for about 45-50 minutes until golden brown, flipping the wings halfway through baking, after the first 25 minutes or so.

Make the sauce while the wings cook (or before): Heat sauce pan on medium-high heat, add 2 tablespoons of vegetable oil and then add onion and garlic. Continue stirring the onions and garlic until they are golden brown, but not burnt. Then add ketchup, sriracha hot sauce, vinegar, fish/soy sauce and ground cumin.Stir well and let simmer on low heat for about 3 minutes. Remove from heat and set aside.

After chicken wings have finished baking, toss wings in sauce. Serve warm, although these still taste great when they're cold! And oh, don't forget the beer!
Notes
Crispy Wing Alternate Cooking Methods
Traditional Fry in Oil (uses about 1/2-3/4 cup of cornstarch to coat wings).
Toss the wings in cornstarch to coat, shaking off excess cornstarch.
Heat about 2-inches of oil in a large pot to 375°F. Fry in batches for about 8 minutes per batch, or until golden and cooked through. Make sure to turn the wings a couple times while cooking so they cook evenly. Season with salt & pepper.
Air Fryer Chicken Wings
(here's our favorite
Air Fryer
)
Season wings with salt & pepper.
Air Fry at 400°F for 25-30 minutes, flipping 2-3 times while cooking.
Toss with a little sauce, and then air fry for another 4 minutes. Different models and sizes of air fryers cook quicker than others. So adjust times accordingly.
Nutrition Information
Calories: 378kcal, Carbohydrates: 10g, Protein: 23g, Fat: 26g, Saturated Fat: 11g, Cholesterol: 94mg, Sodium: 876mg, Potassium: 332mg, Sugar: 7g, Vitamin A: 360IU, Vitamin C: 15.1mg, Calcium: 26mg, Iron: 1.4mg
We are a participant in the Amazon Services LLC Associates Program, an affiliate advertising program designed to provide a means for us to earn fees by linking to Amazon.com and affiliated sites.