Air Fryer Steak Bites with Mushrooms (or without)
Have you tried air fryer steak bites? You're in for a real treat because air fried steak bites are a great way to enjoy juicy steak for a quick and easy dinner.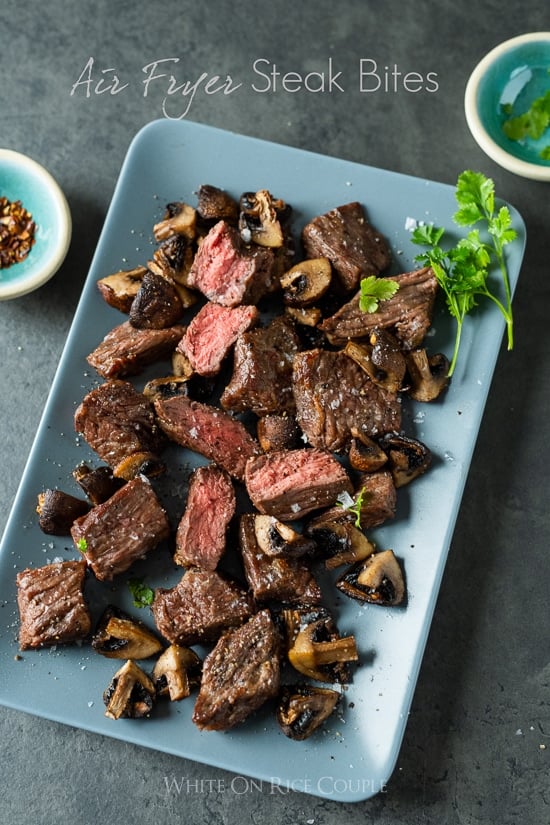 Easy Steak Bites Recipe in the Air Fryer
We had a small steak in the freezer and thought about making a stir fry out of it. That's kind of our go-to dinner. Something simple with a little protein and some veggies is our reliable quick and easy weeknight diner. Then we thought about the air fryer and wanted to cook something different. Voila! Air fryer steak bites came to mind and OMG, it was the best dinner decision ever. These steak bites are nicely charred on the outside and perfectly cooked on the inside. It blew our minds how simple and wonderfully cooked the steak bites were.
Video: Air Fryer Steak Bites with Mushrooms Recipe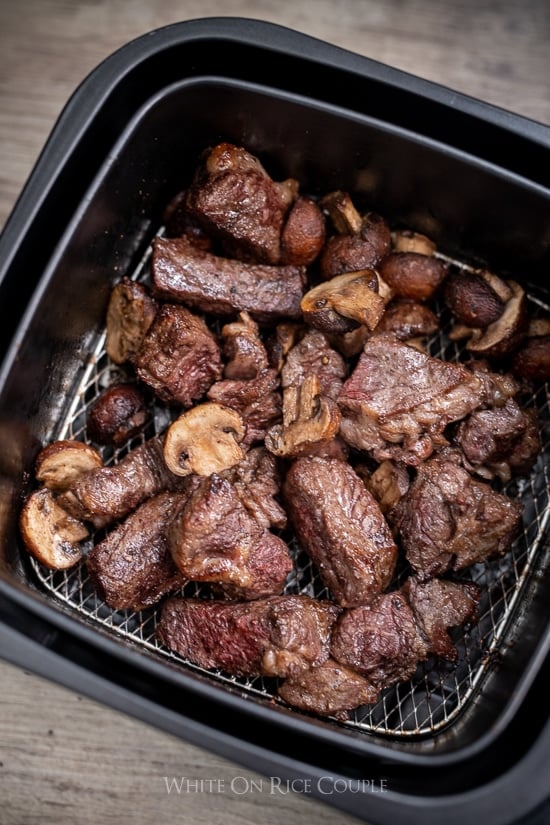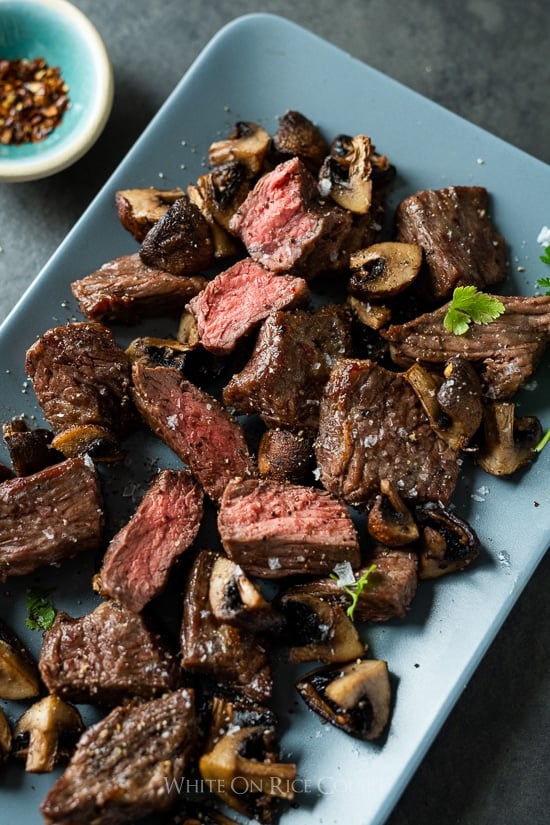 Air Fried Steak Bites and Mushrooms Are Perfect Together
Our obsession with mushrooms is pretty obvious with our sautéed mushrooms in wine recipe. So with a small handful of mushrooms thrown in with the steak bites, dinner was served in less than 30 minutes! If you love steak bites, these are perfect for you. Not a fan of mushrooms? Not a problem because you can add some par-boil potatoes or other veggies in with the steak. Obsessed with mushrooms like we are? Then we can definitely be friends because steak and mushrooms are one of our favorite pairings.
What is the Best Air Fryer?
We have three different air fryers, all different brands and we definitely have our favorites.
Size matters, especially if you're needing to feed a family of four to six hungry people.
We're mostly cooking for two during the busy weeknights and the 3 qt size fryers is great for us.
If you're wondering what size of air fryer to get, our recommendation is the 3-4 qt sizes for 2-3 people (or if you don't mind cooking multiple batches) and the 5-6 qt for families of 4-6 (you'll still cook somethings in batches, but not as much as the smaller air fryers).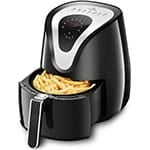 Tidylife 4.2 qt Digital Air Fryer – This is our favorite one to cook for 2-3 people. Texture for several dishes came out noticeably better than other brands.
We love the non-stick basket style (non-wire base) & smoothness of the basket tray (makes for easy cleanup).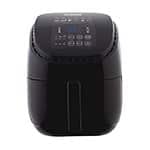 NuWave Brio 3 qt. Digital Air Fryer – We liked the NuWave Air Fryer too, just not quite as much as some of the other's we've used. The basket has wire base (which we found sticks a bit more) and it doesn't have the 1/2 way reminder beep of some other brands, however still cooks great.
It does have a lower temperature ability, allowing for more cooking options. The buttons are easier to see than on the some of the other's we've tested.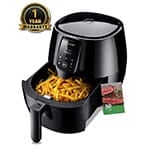 Tiluxury 5.8 qt. Digital Air Fryer – This is a good larger air fryer. Great for cooking bigger batches (ie 4 salmon fillets instead of 2 or 2 lbs of fries instead of 1). This is a nice choice for families & hearty eaters.
This 5.8 qt air fryer has the non-stick basket (non-wire base) we prefer. Makes for less sticking for delicate meals (ie baked fish fillets).
Oster Copper-Infused DuraCeramic 3.3 qt. Air Fryer – We love the copper infused ceramic coating on the basket. Here's a great collection of Healthy Air Fryer Recipes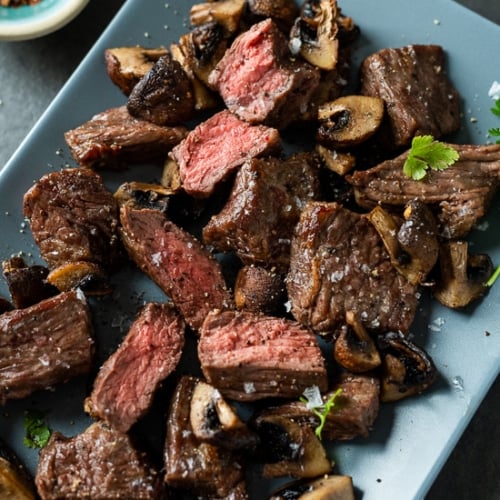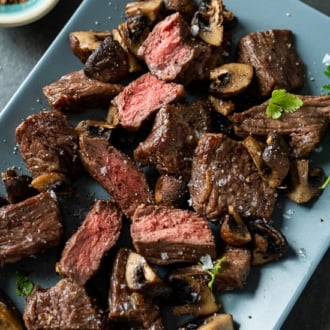 Air Fryer Steak Bites & Mushrooms
We cooked the steak in a 3.7 qt. Air Fryer. Larger Air Fryers may cook faster. Some brands of Air Fryers will cook slower or faster than others, adjust accordingly.
For the types of steak, use your favorite. Depending on the budget, we prefer ribeye, sirloin, tri-tip, and chuck shoulder steaks (aka London Broil steaks).
Ingredients
1 lb. (454 g) steaks , cut into 1/2" cubes (ribeye, sirloin, tri-tip or what you prefer)
8 oz. (227 g) mushrooms (cleaned, washed and halved)
2 Tablespoons (30 ml) Butter , melted (or olive oil)
1 teaspoon (5 ml) Worcestershire sauce
1/2 teaspoon (2.5 ml) garlic powder , optional
flakey salt , to taste
fresh cracked black pepper , to taste
Minced parsley , garnish
Melted butter , for finishing - optional
Chili Flakes , for finishing - optional
Instructions
Rinse and thoroughly pat dry the steak cubes. Combine the steak cubes and mushrooms. Coat with the melted butter and then season with Worcestershire sauce, optional garlic powder, and a generous seasoning of salt and pepper.

Preheat the Air Fryer at 400°F for 4 minutes.

Spread the steak and mushrooms in an even layer in the air fryer basket. Air fry at 400°F for 10-18 minutes, shaking and flipping and the steak and mushrooms 2 times through cooking process (time depends on your preferred doneness, thickness of the steak, size of air fryer).

Check the steak to see how well done it is cooked. If you want the steak more done, add an extra 2-5 minutes of cooking time.

Garnish with parsley and drizzle with optional melted butter and/or optional chili flakes. Season with additional salt & pepper if desired. Serve warm.
Notes
Recipes were tested in 3-4 qt air fryers. If using a larger air fryer, the recipe might cook quicker so adjust cooking time.
If cooking in multiple batches & not pre-heating before first batch, the first batch will take longer to cook.
Preheating the Air Fryer is preferable. If you don't preheat, add more time to the cooking.
Remember to set a timer to shake/flip/toss the food as directed in recipe.
Nutrition Information
Calories: 401kcal, Carbohydrates: 3g, Protein: 32g, Fat: 29g, Saturated Fat: 14g, Cholesterol: 112mg, Sodium: 168mg, Potassium: 661mg, Sugar: 1g, Vitamin A: 255IU, Vitamin C: 1.6mg, Calcium: 11mg, Iron: 3.1mg
Here's a great collection of our popular recipes and more Healthy Air Fryer Recipes
We are a participant in the Amazon Services LLC Associates Program, an affiliate advertising program designed to provide a means for us to earn fees by linking to Amazon.com and affiliated sites.