Grilled Cauliflower Steaks
The weather has been fantastic lately and it's hard to stay indoors. We're cooking outdoors more and these grilled cauliflower steaks topped with all our favorite cheeses has become an alfresco favorite. Thick slices of cauliflower grilled to a nice crispy char is one of our favorite side dishes, ever.
Since the sun is out more, our citrus trees are happier than ever. With a decent amount of rain so far this year, the garden is blooming like crazy. Everyone is enjoying the warmer weather and we're definitely spending much more time outside. Grilling has been on our agenda so much lately and we're not even tired of it at all. But with so much grilling what we've definitely been changing up is what we've been grilling. Steaks, chicken and meat is always better with veggies and that's why our focus lately has been grilling all types of veggies in different marinades and styles.
Video: Recipe for Grilled Cauliflower Steaks:
Simple and Delicious Grilled Cauliflower Steaks
Topped with an always rotating and changing variety of cheese, these grilled cauliflower steaks never gets old. We'll start with our simple and delicious marinade and then change the toppings. Or we'll adjust our marinade with a little more spice, zest or tang. It always turns out great because the cauliflower absorbs the flavors so well and then the grill finishes it off to perfection.
Great Vegetarian Side Dish
It's always a favorite dish for our vegetarian friends and non-veggie friends. We have to make double or triple the amount of these grilled cauliflower steaks because they're hard to resist. It can be a meal in itself. And for anyone who has ever doubted cauliflower, give this a bite and guaranteed they'll be hooked! We're now obsessed with this grilled cauliflower recipe and hope you will too when it's time to eat outside.
Enjoy these grilled cauliflower steaks!
diane and todd
Some Favorite BBQs & Tools:
Some tools, grills, and smokers make BBQ and grilling all the more enjoyable. Here's some of the favorites: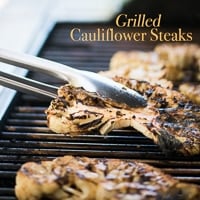 Grilled Garlic Cauliflower Steaks
When slicing the head of cauliflower, try to have as much stem included as possible. The stem is what holds the cauliflower into "steaks" or one large slice. You'll definitely have some random small broken pieces, but hopefully you'll have at least 2 slices that are whole "steaks".
Grill Baskets - Some days we just don't want to bother with carefully managing every single chunk of cauliflower. Throw them all into a grill basket and grill from there. Easy-peasy.

Ingredients
1 medium (1 medium) head of cauliflower , sliced about 1/2" thick
1/4 cup (60 ml) oil
4 cloves (4 cloves) garlic , minced
2 Tablespoons (30 ml) Worcestershire or soy sauce
1/2 teaspoon (2.5 ml) dried thyme (or herbs of choice)
1/2 teaspoon (2.5 ml) lemon pepper seasoning
1/2 teaspoon (2.5 ml) chili powder
1/2 teaspoon (2.5 ml) onion powder
kosher salt , to taste
black pepper , to taste
1/2 cup (57 g) cheese (feta, cotija, parmesan, cheddar)
2 Tablespoons (30 ml) minced parsley or cilantro
Instructions
Pre-heat grill to medium-high to high heat. Scrape the grill grates to make sure they are clean.

In a bowl combine the oil, garlic, Worcestershire or soy sauce, dried herbs, lemon pepper seasoning, chili powder, and onion powder. Whisk ingredients together. Brush the marinade on both all sides of the cauliflower slices. Sprinkle salt and pepper to top of steaks to taste.

Gently place marinated cauliflower steaks on grill. Cook the steaks for about 2-4 minutes each side, or until nicely charred with crispy edges. Be gentle in flipping the cauliflower to try to keep them as a whole large slice.

Lay steaks on platter and sprinkle with cheese while the cauliflower is still hot so cheese can melt. Sprinkle with parsley or cilantro and enjoy!
Nutrition Information
Calories: 231kcal, Carbohydrates: 10g, Protein: 6g, Fat: 19g, Saturated Fat: 4g, Cholesterol: 14mg, Sodium: 221mg, Potassium: 544mg, Fiber: 3g, Sugar: 3g, Vitamin A: 385IU, Vitamin C: 75.6mg, Calcium: 151mg, Iron: 1.5mg
Recipe was originally published in 2018 & was updated in 2020.
We are a participant in the Amazon Services LLC Associates Program, an affiliate advertising program designed to provide a means for us to earn fees by linking to Amazon.com and affiliated sites.