Grilled Pork Steaks: Vietnamese Style
Ok, you have to trust us on this flavorful grilled pork steaks recipe. What makes our go-to family friendly Vietnamese-style? It's the fish sauce, of course. If you're ever wondering what type of meat we're grilling on the weekend it's Vietnamese style pork shoulder (pork butt) steaks.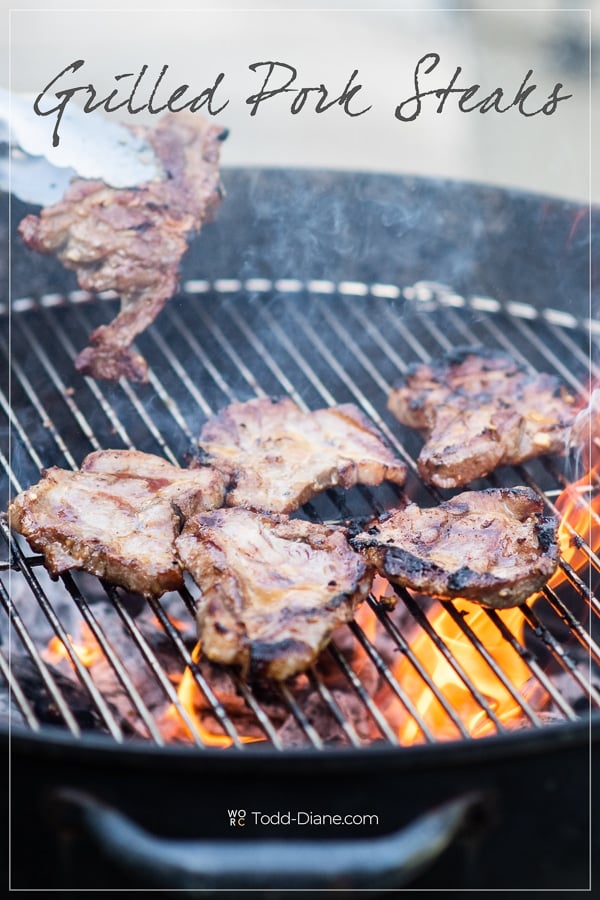 Grilled Pork Steaks Recipe
These are our go-to steaks to share with family, friends and neighbors. Everyone is always blown away at the umami flavor from our special fish sauce marinade. Even those who have had an aversion to the thought of "fish sauce" still can't taste it on these grilled pork steaks. All they taste is a wonderful combination of umami and flavorful, juicy pork shoulder. We've talked about our ultimate umami burgers recipe for over 10 years and it's still one of our most popular recipes. You believed us back then when it came to burgers and give it a try again with this pork recipe. Yes, we're telling you that a few splashes of fish sauce on these juicy pork butt steaks is a huge winner.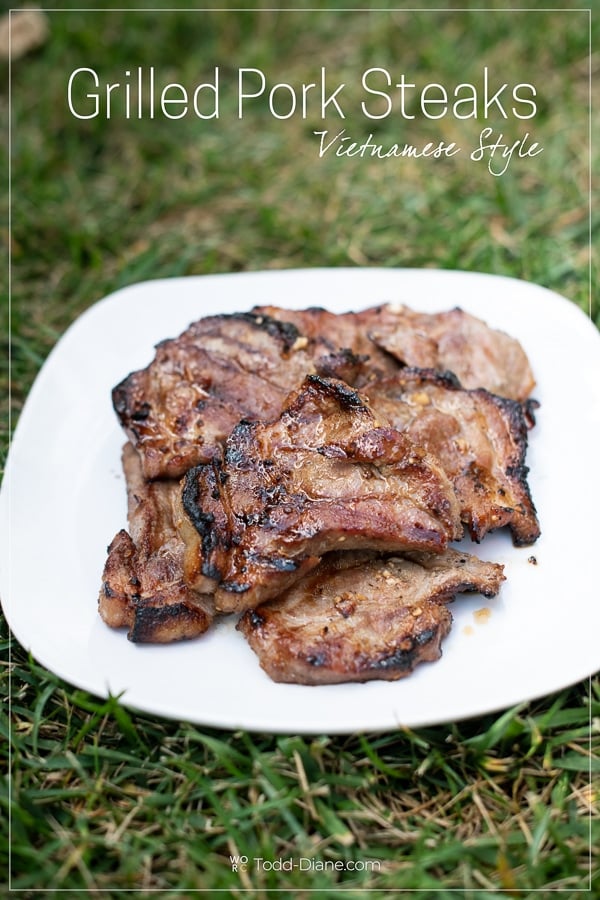 Video: Delicious Vietnamese Grilled Pork Steaks
Don't be afraid of the fish sauce in the pork steak marinade.
Again, trust us. When the fatty pork butt is marinated then grilled, it's a flavor bomb that's perfect for sandwiches, salads or spring rolls. In fact, we wrap these slices of cut grilled pork steaks into fresh spring rolls. We've had feasts with so many people in our backyard and it reigns as everyone's top and favorite garden meal. Even our picky Vietnamese parents give this marinade a two enthusiastic thumbs up. If we still can't convince you to use fish sauce, you can always use soy sauce or Worcestershire!
What is Pork Butt vs Pork Shoulder?
They're basically the same cut. Pork butt (also known as Boston butt) & pork shoulder (also known as picnic shoulder or roast) are both cuts from the shoulder region on a pig. Pork butt is a from a little higher than the pork shoulder cut. Both are very well marbled and super delicious. Usually used for slow smoking/cooking to make pulled pork and other slow cooked roasts. However, we find them perfect for grilling when cut into steaks about 1/2″-3/4″ thick. Nearly always super juicy and flavorful. But if cut too thick it will be a bit tougher (think of pork butt as similar to beef brisket) so don't go crazy on your steak thickness. As a super added bonus, it is often one of the less expensive pork cuts and what we prefer when grinding meat for homemade sausages. In our eyes, pork butt is often undervalued and simply magical. And if you're interested in learning more about different cuts of pork steaks, here's a great pork cut resource.
Enjoy!
-diane and todd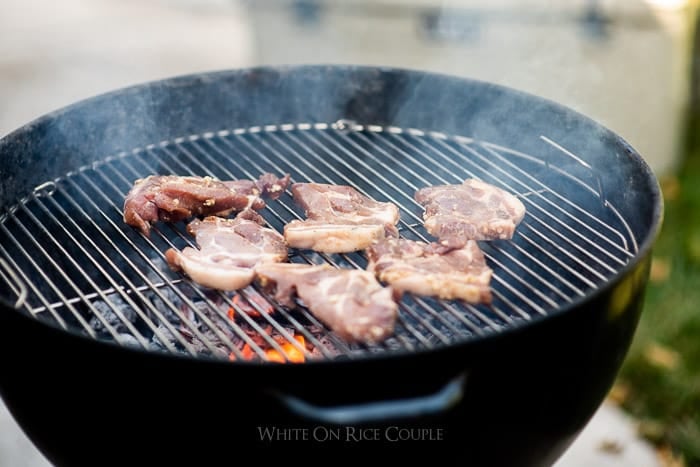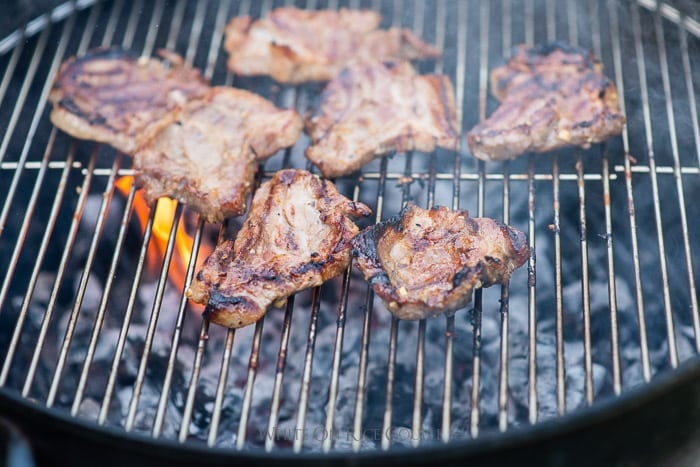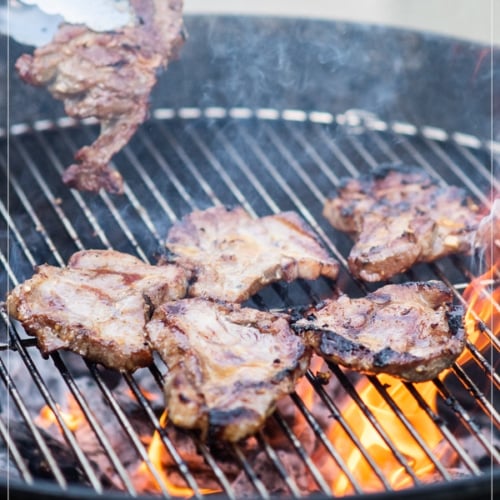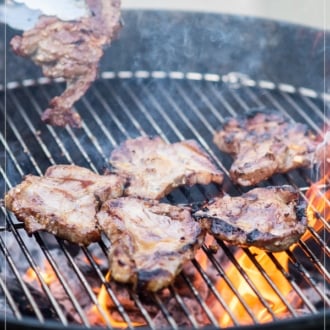 Grilled Pork Steak - Vietnamese Style
We will usually buy a whole deboned pork butt/shoulder & cut it into 1/2" - 3/4" steaks (or if it is bone-in, we'll cut off a solid meaty section for steaks & use the rest for something else). You can also buy pork steaks often labeled as pork blade steaks, or pork shoulder steaks. Don't have your grill too hot. Pork butt/shoulder is very well marbled and you'll be fighting flare-ups constantly if the grill is too hot. For most of the gas grills we cook on, we'll cook on medium, sometimes creeping closer to medium-high. For coals, we'll let them cook down a little, use a little less, or have the grate a little higher from the coals. You can also close the lid to limit the amount of air the coals get to reduce their heat. Don't cook too low, though. Try to cook as hot as possible without heavy flare-ups. A little here and there is fine, but the flare-up should only last for a few seconds. If it last longer, move the steaks to a empty section of the grill until it calms down.
Ingredients
4 pork shoulder steaks , (aka pork butt or blade steaks) sliced 1/2"-3/4" thick
1/4 cup (56 ml) oil
2 Tablespoons (30 ml) fish sauce (or soy sauce or Worcestershire sauce)
4 cloves garlic , minced or crushed
1 Tablespoon (15 ml) brown sugar
1/2 teaspoon (2.5 ml) onion powder or 1 minced shallot
1/2 teaspoon (2.5 ml) kosher salt
1/2 teaspoon (2.5 ml) fresh cracked black pepper
Nutrition Information per Serving
Calories: 396kcal, Carbohydrates: 5g, Protein: 34g, Fat: 26g, Saturated Fat: 5g, Cholesterol: 114mg, Sodium: 1128mg, Potassium: 618mg, Fiber: 1g, Sugar: 3g, Vitamin C: 2mg, Calcium: 33mg, Iron: 2mg
Here's our favorite fish sauce brands and a discussion on why we're trying to persuade you to love the Magic of Fish Sauce.
More of our Family Vietnamese Recipes and easy recipes: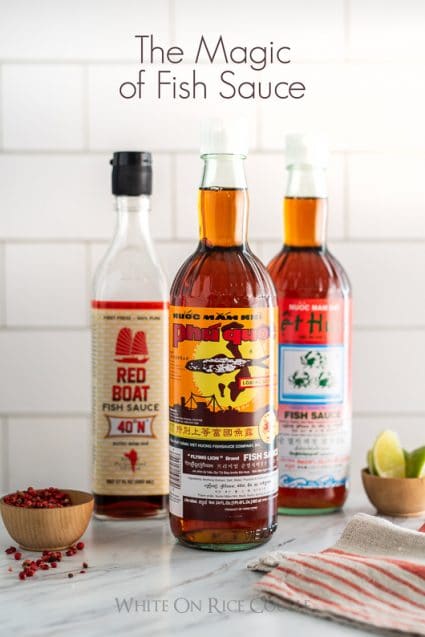 We are a participant in the Amazon Services LLC Associates Program, an affiliate advertising program designed to provide a means for us to earn fees by linking to Amazon.com and affiliated sites.