Garlic Butter Mushrooms and Onions with White Wine
These Garlic butter mushrooms are the perfect vegetarian side dish to share. Make a double batch because they're so good. Our skillet garlic mushrooms is a reader favorite!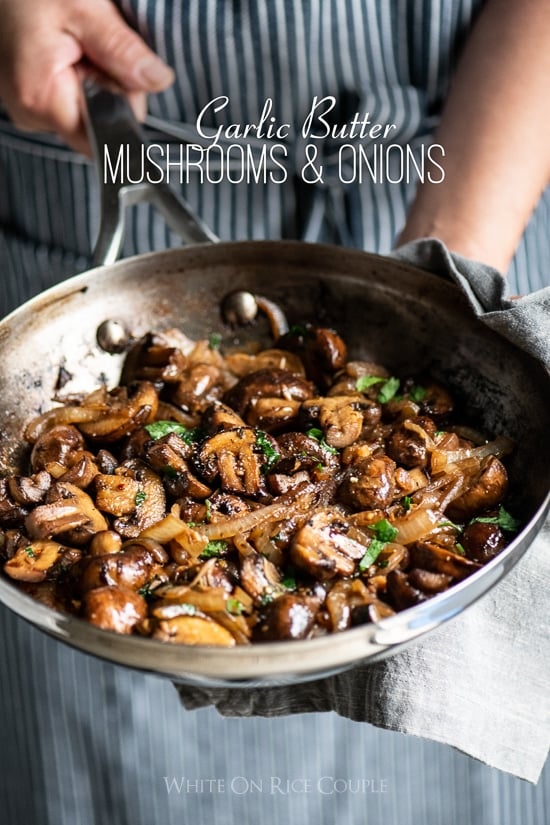 Mushroom are such a polarizing vegetable. Folks either love 'em or hate 'em and it's a passionate love and hate response. We have friends that are obsessed with our garlic mushroom recipe and others that shy politely away from it. It's totally fine to be a hater cause we still love ya. We all have certain foods we dislike, but mushrooms definitely aren't one of them. We're always on the search for new ways to get our mushroom-hating eaters to at least try one bite. And if they like it, we've succeeded!
Video: Garlic Butter Mushrooms Recipe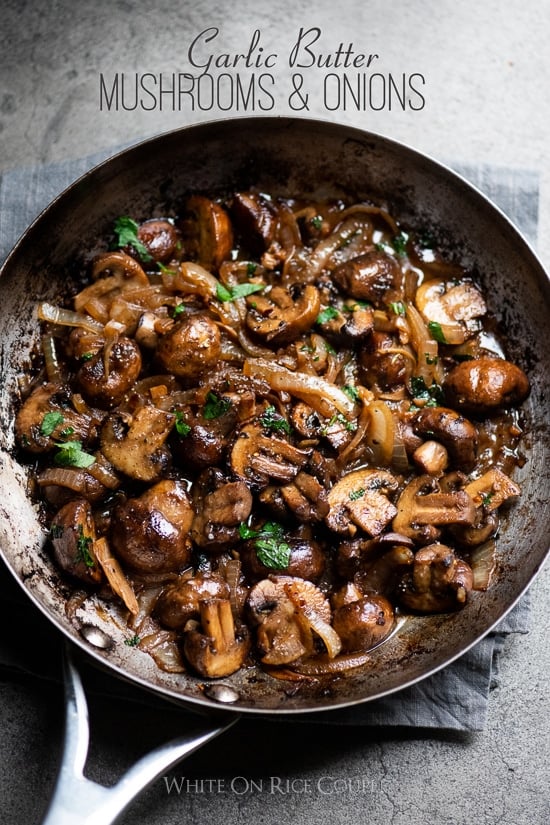 Our garlic mushroom recipe cooked in luscious garlic butter with caramelized onions is a step in the right direction. Add a splash of white wine to that and we're happy! When the mushrooms and onions are caramelized together, the mushrooms are loaded with flavor. Cooking the mushrooms to a nice caramelization keeps them from having that "rubbery" texture and much more delicious with all the garlic and crusty tidbits from the pan. It's not a pretty dish. The brown-on-brown isn't always the best color combination for food. But the flavor from the wine, garlic, butter and lemon is outstanding and takes the focus back to the palate. Pair it with a steak, pork chop or chicken breast. Pour yourself a nice glass of wine. It's a simply awesome dinner that could possibly get a mushroom hater into a lover. It's always worth a try!
enjoy,
diane and todd
How to Make Easy Garlic Butter Mushrooms
Sautee mushrooms to release all the moisture
Add onions, garlic and cook until caramelized and delicious.
Add white wine, salt, pepper, parsley and enjoy! It's a great vegetarian side dish to share
All skillet garlic mushrooms recipe details with step by step photos are in the recipe box below.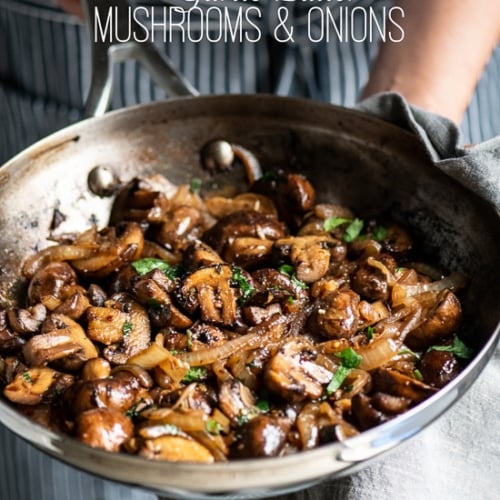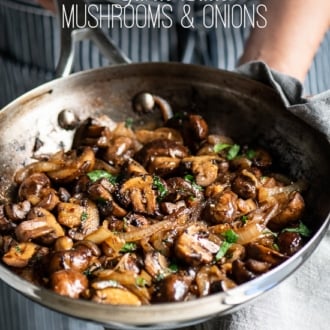 Garlic Butter Mushrooms & Onions
Although the recipe is written for button mushrooms, feel free to substitute your favorite variety.
Ingredients
16 ounces (454 g) small button mushrooms
2 Tablespoons (30 ml) olive oil
4 cloves (4 cloves) garlic , chopped or crushed
1 (1) medium onion , minced
1/2 cup (120 ml) chicken stock or white wine
Zest from 1 medium lemon
1 tablespoon (15 ml) lemon juice
1/2 teaspoon (2.5 ml) chili flakes , or taste
4 tablespoons (60 ml) butter , divided
2 tablespoons (30 ml) chopped parsley
kosher salt or sea salt , to taste
fresh cracked black pepper , to taste
Instructions
Brush the mushrooms clean. Trim the bottoms of the stems of the mushrooms if dried out. Keep the mushrooms whole, or if they are large, cut them in half.

Heat large skillet over medium-high heat. Add olive oil then add mushrooms. Cook and stir mushrooms until they start to brown & caramelize, about 3-5 minutes.

Add 2 Tablespoons of the butter, let it melt a bit, then and then add onions and garlic. Cook until lightly caramelized and softened, about 3-5 minutes.

Add stock or wine, lemon zest, lemon juice and chili flakes. Cook for about 2 minutes or until liquid reduces down a bit.
Nutrition Information per Serving
Calories: 143kcal, Carbohydrates: 5g, Protein: 3g, Fat: 12g, Saturated Fat: 5g, Cholesterol: 20mg, Sodium: 103mg, Potassium: 303mg, Fiber: 1g, Sugar: 2g, Vitamin A: 395IU, Vitamin C: 6.3mg, Calcium: 14mg, Iron: 0.6mg
More great mushroom recipes:
We are a participant in the Amazon Services LLC Associates Program, an affiliate advertising program designed to provide a means for us to earn fees by linking to Amazon.com and affiliated sites.