Air Fryer Roasted Brussels Sprouts with Balsamic
We're obsessed with this air fryer Brussels sprouts recipe. It's pretty clear about our love of brussels sprouts. Over the years we've added to our extensive collection of brussels sprouts recipes and thought we'd be satisfied for a while. Now we have a new one to add: Air fried brussels sprouts in the air fryer. And it's a tremendous revelation!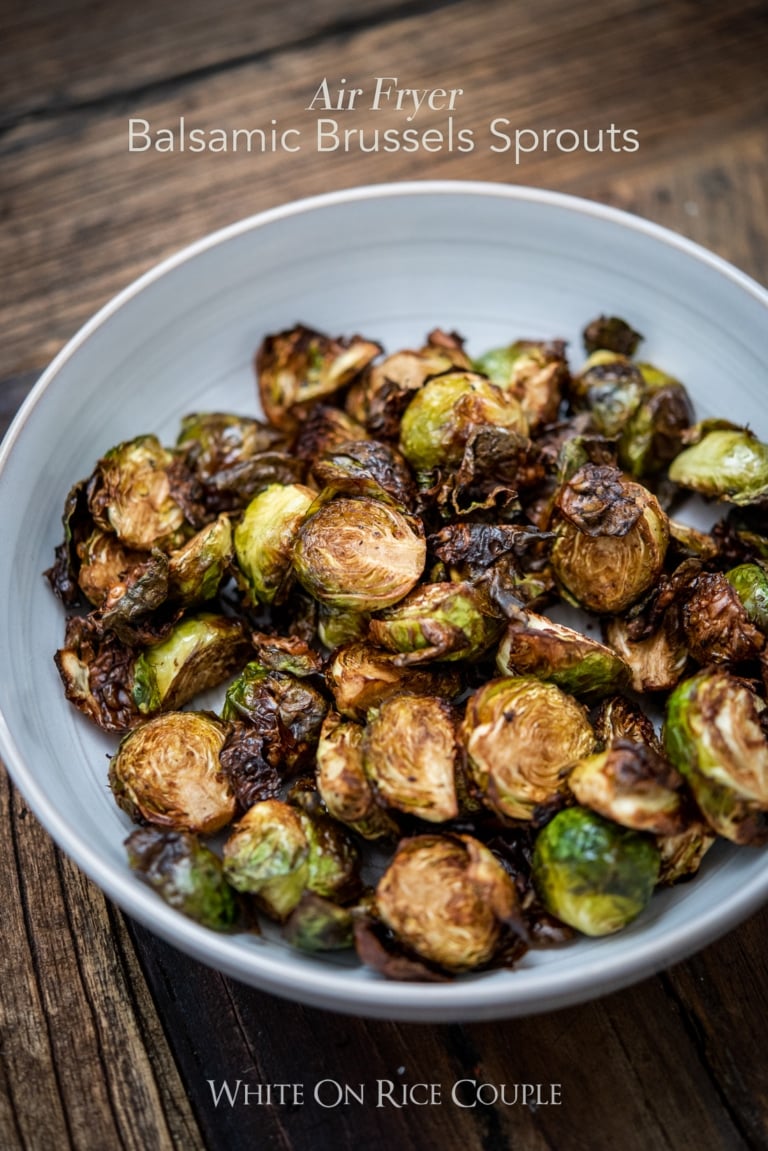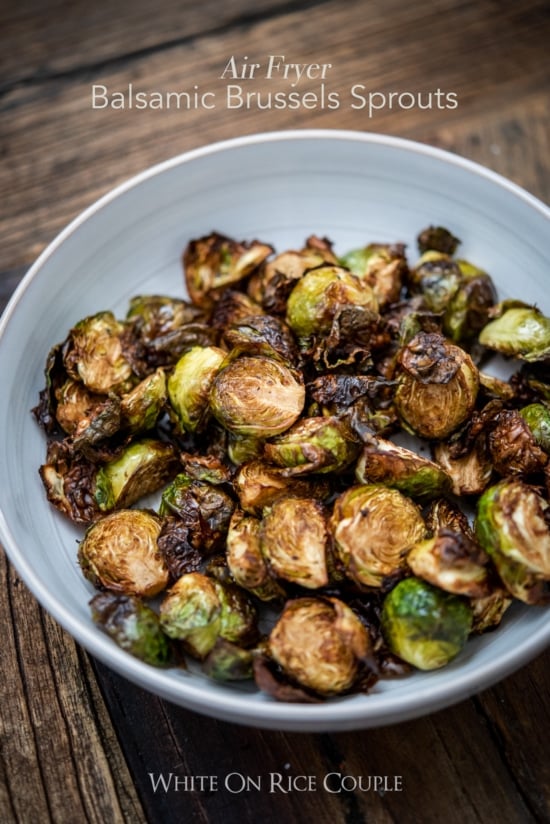 Quick, Crispy Air Fryer Brussels Sprouts with Less Oil
First of all, we have to be honest about our initial judgments of air fryers. We have a great double oven that we use for roasting and stove top for deep frying. So adding another air fryer or for that matter, any appliance felt like an overload of tools. Second of all, an air fryer just felt like an unnecessary "As Seen On TV" gadget that usually ends up at the garage sale. But with so much talk about air fryers over the last few years, we had to finally give it a try. Now as a result, our minds are blown and totally humbled about our previous air fryer judgments.
Watch Video: Air Fryer Brussels Sprouts
How to Make Air Fried Brussels Sprouts
These air fryer brussels sprouts come out so fantastic, perfectly crispy and oh soooo good. Our classic brussels sprouts recipe with balsamic vinegar is our go-to oven roasted holiday brussels sprouts dish.
We made these air fried brussels sprouts with much less oil when compared to cooking in the regular oven. The results were just as delicious and super crispy without all the oil. Just use a light oil spray of avocado oil, grape seed oil or olive oil.
Crispy texture: The texture was like a perfectly roasted brussels sprout. We'll definitely consider making our brussels sprouts in the air fryer for the holidays when we're in need of more oven space.
Cut the brussels in half for even cooking. More recipe details are in the recipe box below.
Now we can dedicate our ovens to the turkey, potatoes and desserts. The air fryer can now handle all the brussels sprouts dishes! We barely have to use any oil for cooking these air fried Brussels sprouts. And all food comes out crispy and perfectly cooked.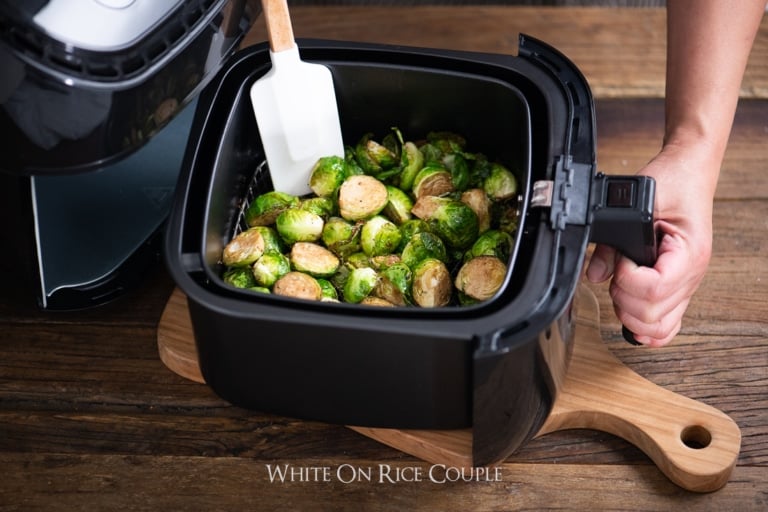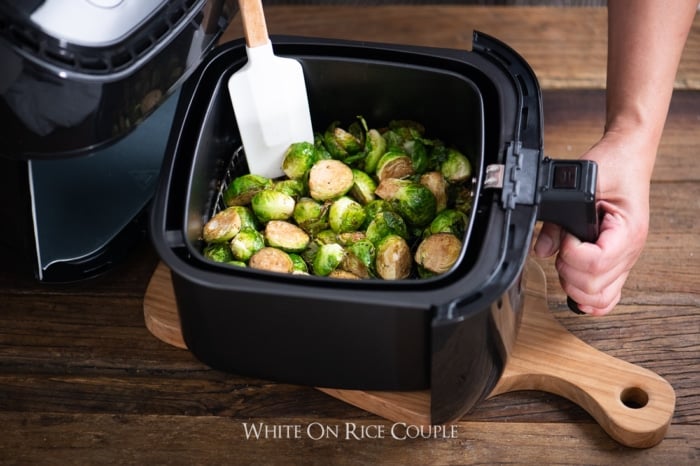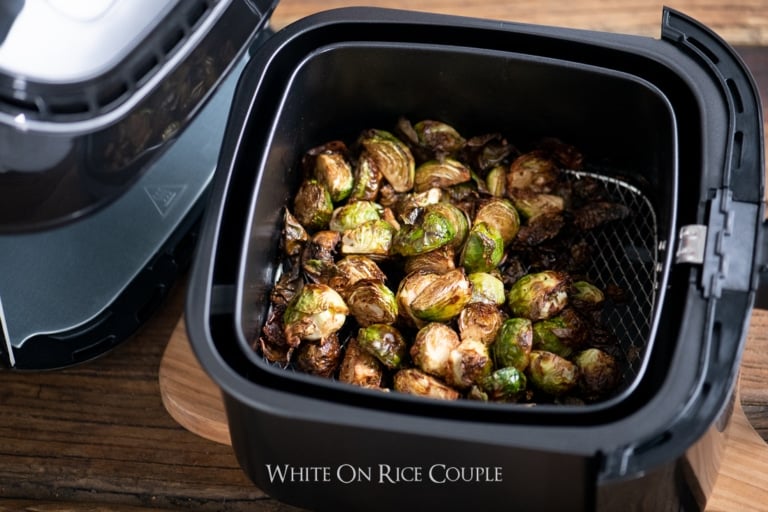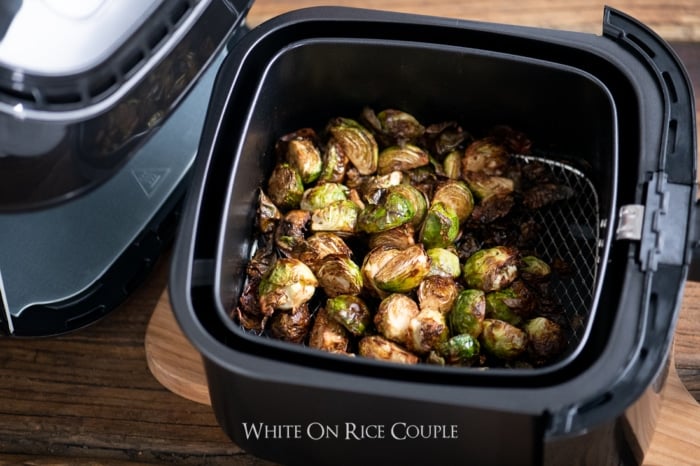 What is an Air Fryer?
Air fryers are basically like mini counter top convection ovens with a heating element on top of the food. As it generates heat, a fan circulates the hot air to help the food cook evenly and crispy. The texture is similar to deep frying without having to use a ton of oil or fat. In fact, we barely use any oil or no oil and the food still comes out crispy and delicious. Most food also comes out like it's perfectly roasted in a convection oven.
Pros of Air Fryer:
Healthier way to cooking fried foods. Overall, much less use of oil.
There's little clean up and less of oil while cooking.
Much less cooking and frying odors and cooks quicker
Because of smaller baskets, the food cooked quicker when compared to ovens and no pre-heating is necessary
You don't have to heat up your house in Summer when you're craving something warm, roasted or deep fried
Great for cooking frozen foods without oil and great for re-heating foods.
Cons of Air Fryer:
You really can't cook big servings of food unless you buy the larger air fryers or cook in multiple batches.
They aren't cheap and some can be more hassle to clean, depending on the design and model.
If you already have a little countertop convection oven and love it, you might want to stick to that, unless you're into really low oil cooking.
Some Tips when cooking with Air Fryer:
Don't over crowd the baskets with food. Cook in batches if you need to (2 small-medium batches cook better than 1 large batch).
Don't forget to shake while cooking, but sometimes shaking the basket during cooking isn't enough. Gently toss the food with a rubber spatula so food doesn't break or tear.
The bottom of the air fryers can get hot while cooking. Make sure to place on a heat-safe surface or wooded cutting board.
What is the Best Air Fryer for Air Fryer Brussels Sprouts ?
We have ten different air fryers, all different brands and we definitely have our favorites.
Size matters, especially if you're needing to feed a family of four to six hungry people.
We're mostly cooking for two during the busy weeknights and the 3 qt size fryers is great for us.
If you're wondering what size of air fryer to get our recommendation is the 3-4 qt sizes for 2-3 people (or if you don't mind cooking multiple batches) and the 5-6 qt for families of 4-6 (you'll still cook somethings in batches, but not as much as the smaller air fryers).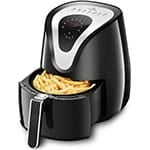 Tidylife 4.2 qt Digital Air Fryer – This is our favorite one to cook for 2-3 people. Texture for several dishes came out noticeably better than other brands.
We love the non-stick basket style (non-wire base) & smoothness of the basket tray (makes for easy cleanup).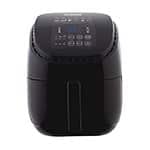 NuWave Brio 3 qt. Digital Air Fryer – We liked the NuWave Air Fryer too, just not quite as much as some of the other's we've used. The basket has wire base (which we found sticks a bit more) and it doesn't have the 1/2 way reminder beep of some other brands, however still cooks great.
It does have a lower temperature ability, allowing for more cooking options. The buttons are easier to see than on the some of the other's we've tested.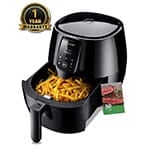 Tiluxury 5.8 qt. Digital Air Fryer – This is a good larger air fryer. Great for cooking bigger batches (ie 4 salmon fillets instead of 2 or 2 lbs of fries instead of 1). This is a nice choice for families & hearty eaters.
This 5.8 qt air fryer has the non-stick basket (non-wire base) we prefer. Makes for less sticking for delicate meals (ie baked fish fillets).
Oster Copper-Infused DuraCeramic 3.3 qt. Air Fryer – We love the copper infused ceramic coating on the basket.
Healthy Air Fryer Recipes
As always, portion control is key to eating healthier so you wouldn't want to eat a whole basket of fries even if it's air fried. But cooking with less oil in the air frier can certainly help you eat healthier.
Here's Our Collection of Best Brussels Sprouts Recipes
Hope you enjoy this recipe for air fryer brussels sprouts and our collection of other brussels sprouts recipes over the years. here's another great batch to try. Enjoy!
-diane and todd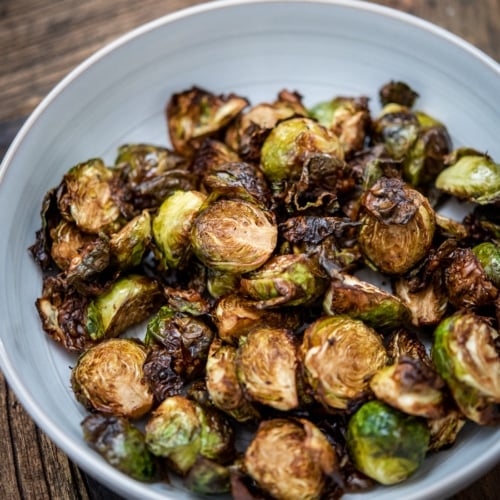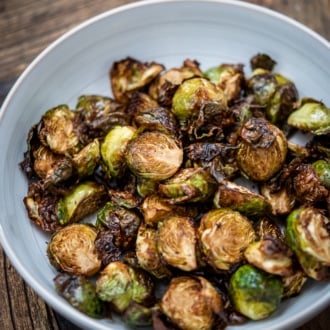 Crispy Air Fryer Roasted Brussels Sprouts with Balsamic
Cooking times will vary depending on the size of brussels sprouts. We like our brussels sprouts brown, crispy and tender. For small to medium brussels sprouts, cut them in half. If they're larger, then cut them into thirds. Most importantly, try to buy them in all the same size for consistent cooking. You can also par-boil them first, drain and then continue with the air frying recipe method. Par boiling helps make them a little softer and more cooked through the center.
Ingredients
1 pound (454 g) brussels sprouts , ends removed and cut into bite sized pieces
2 Tablespoons (15 ml) olive oil , or more if needed
1 Tablespoon (15 ml) balsamic vinegar
kosher salt , to taste
black pepper , to taste
Instructions
Put cut brussels sprouts to bowl. Drizzle oil and balsamic vinegar evenly over the brussels sprouts. Don't dump the oil and vinegar in one spot or else it will just coat one brussels sprout. You want to make sure to coat all the brussels sprouts.

Sprinkle salt and pepper evenly over the brussels sprouts. Stir to combine everything and long enough so that all the brussels sprouts soaks up the marinade. There shouldn't be any marinade left in the bottom of the bowl.

Add brussels to the air fryer basket. Air fry at 360°F for about 15-20 minutes. Shake and gently stir half way through, about 8 minutes into cooking. Make sure you shake at the halfway mark! You don't wany to end up with uneven cooking. If needed, shake and toss a 3rd time to make sure it all cooks evenly.

Continue to air fry the brussels for the remainder of the time, or until the brussels are golden brown and cooked through. You can check earlier if needed to make sure nothing burns. Or you can add more time if needed to make sure it's cooked through.

Add additional salt and pepper if needed on the brussels sprouts and enjoy!
Notes
Don't crowd the basket. If needed, it's better to cook in multiple smaller batches for even cooking, than it is to cook in one large batch. If cooking in multiple batches, the first batch will take longer to cook if Air Fryer is not already pre-heated.
If you decide to double the recipe, it will work great but make sure your air fryer is large enough (this recipe was cooked in a 3.7 qt air fryer). You might need add an additional 1-2 minutes of cooking time and give an extra shake or two while cooking if the basket is fairly full.
Remember to set a timer to shake/flip/toss the food as directed in recipe.
Nutrition Information
Calories: 83kcal, Carbohydrates: 10g, Protein: 3g, Fat: 3g, Sodium: 29mg, Potassium: 441mg, Fiber: 4g, Sugar: 3g, Vitamin A: 855IU, Vitamin C: 96.4mg, Calcium: 48mg, Iron: 1.6mg
We are a participant in the Amazon Services LLC Associates Program, an affiliate advertising program designed to provide a means for us to earn fees by linking to Amazon.com and affiliated sites.