Creamy Green Beans with Parmesan and Toasted Almonds
Creamy green beans recipe made on the stove top
Everyone seems to have a favorite green bean casserole recipe that is shared and passed along everyone holiday season. When we first started dating over 22 years ago we didn't really have a go-to Holiday green bean dish. Back then so many of our friends made the classic green bean casserole out of canned green beans. Diane was never crazy about that recipe because she grew up eating fresh green beans often enough to crave that crisp and tender bite of freshly sauteeed green beans.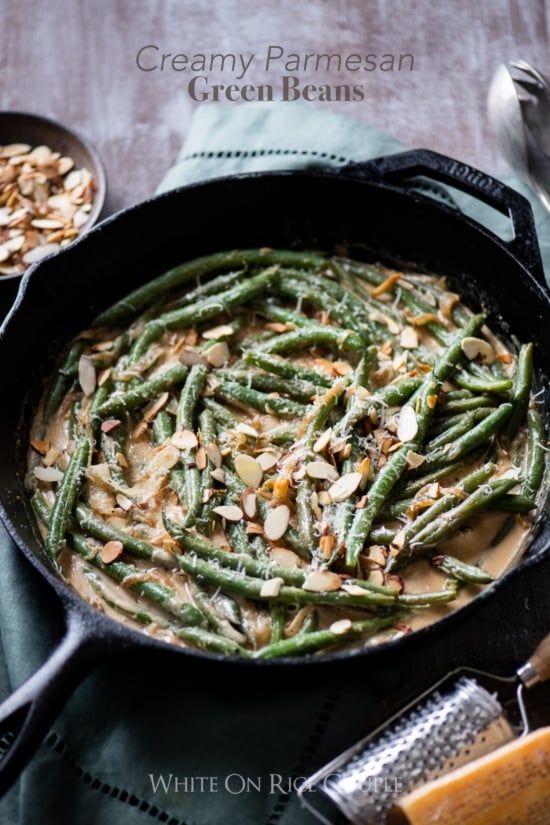 Video: Creamy Green Beans Recipe:
So we set up to make our own version of creamy green bean dish fit for the holidays and all the turkey. Our goal was to create a creamy green bean recipe that was simple because with so many dishes being made during a holiday feast, we didn't want to tackle with a complicated vegetable side dish.
This version we have today is a simple and fantastic way to enjoy creamy beans using fresh green beans and all made in a skillet. It's a version we wrote for our Bountiful cookbook and since then have adapted it to use sour cream, which we have readily available in our fridge more than cream cheese.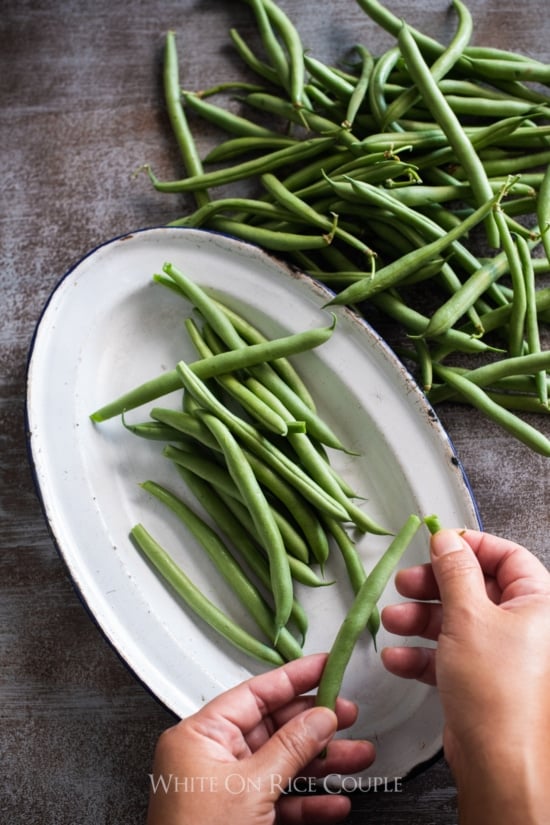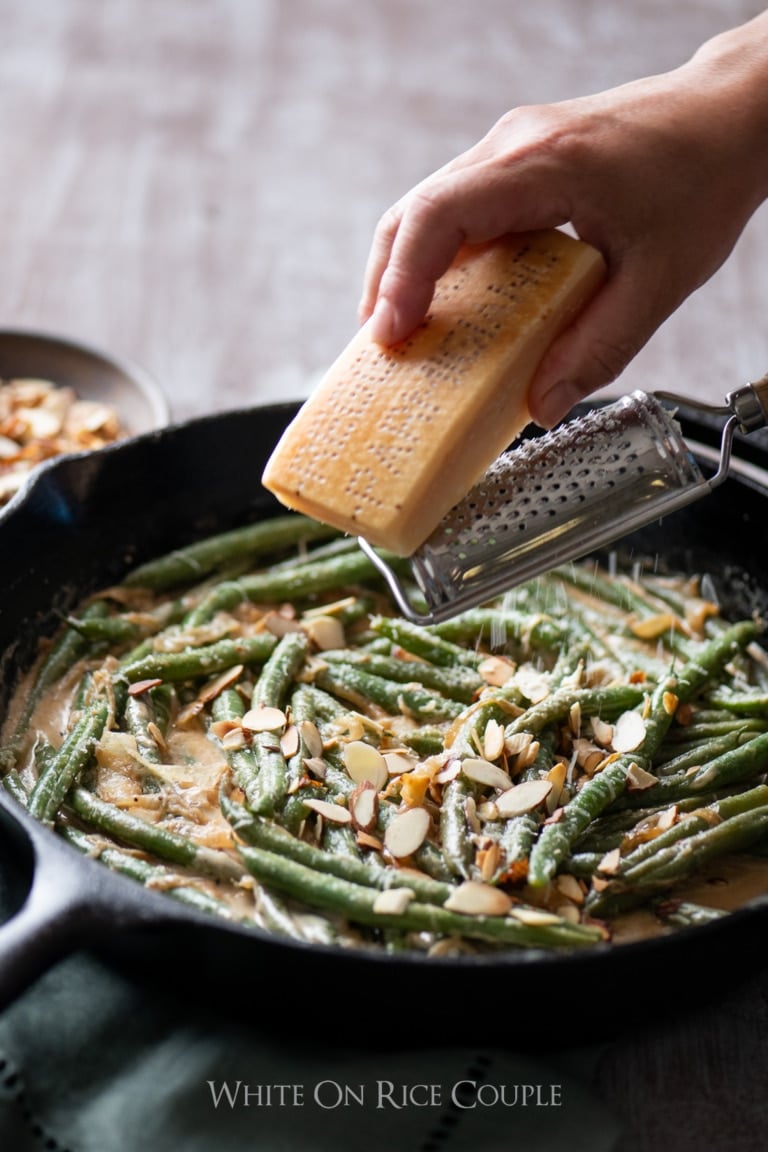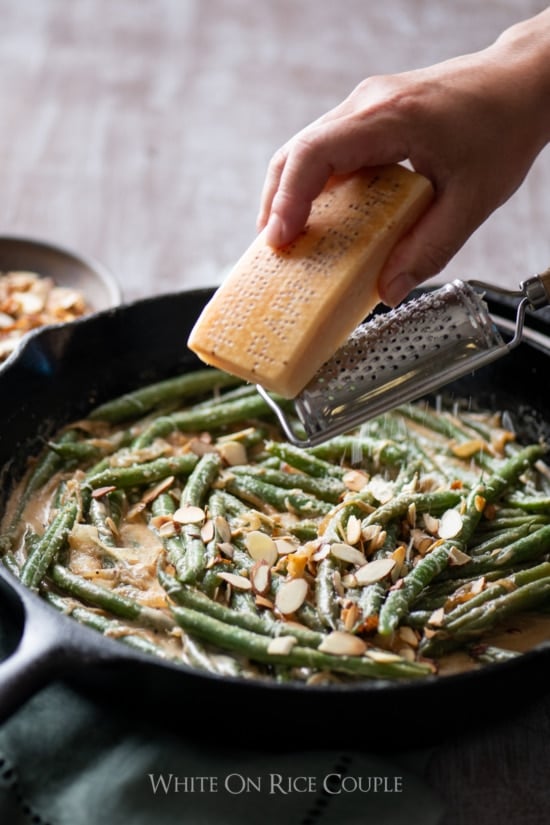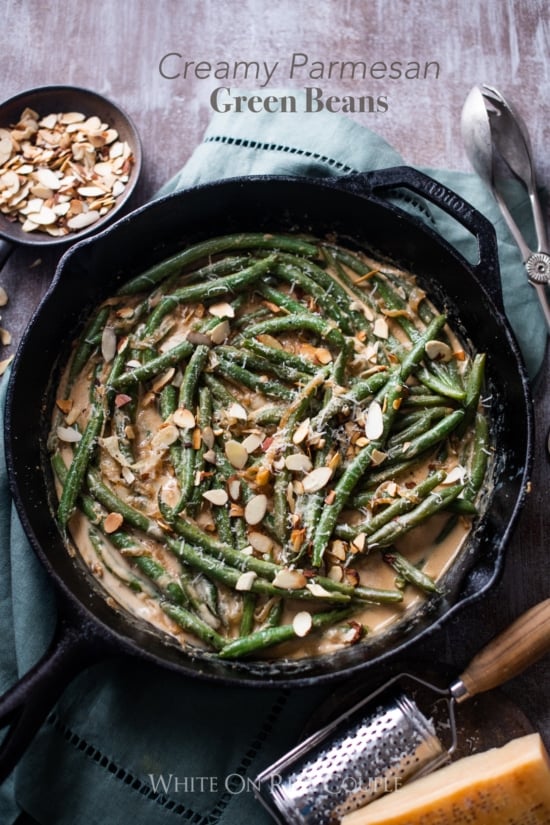 Simple no-fuss Holiday creamed green beans
Our creamy green bean dish is a no-fuss, simple and satisfying dish that can easily be prepared in about 30 minutes if you have everything prepped ahead of time. So far, it's another favorite green bean side dish that needs to be made as a triple batch because everyone loves the perfectly tender texture. The nutty crunch from the almonds is also a favorite and no one misses the fried onions. But that shouldn't stop you if you want to take this dish over the top with fried onions.
enjoy!
-diane and todd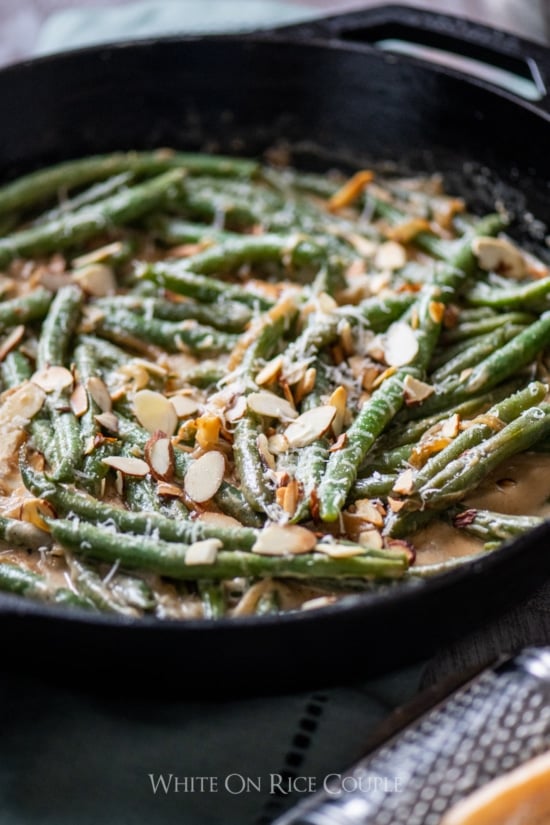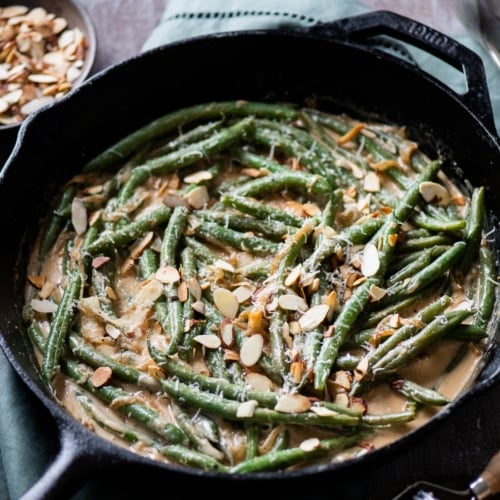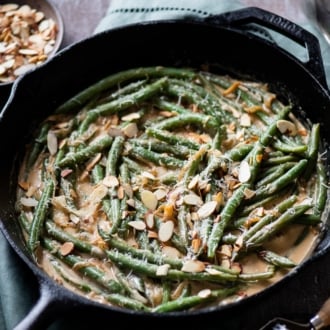 Creamy Green Beans with Parmesan and Toasted Almonds
Although this recipe write up doesn't have them, sautéed mushrooms with the green beans are an awesome addition, especially if you love mushrooms.
Ingredients
1 Tablespoon (15 ml) olive oil
1 medium (1 medium) onion , sliced
1 pound (454 g) green beans , trimmed and cut in half
1/4 cup (60 g) sour cream
1/2 cup (50 g) parmesan cheese , plus more for topping
3/4 cup (180 ml) milk
1/2 teaspoon (2.5 ml) kosher salt or sea salt, or to taste
fresh cracked black pepper , to taste
1/2 cup (70 g) toasted sliced almonds
1 cup (100 g) bread crumbs , optional
lemon wedges for serving
Instructions
Heat a large pan on medium-high heat. Add oil, then add the onions and cook until soft and lightly browned.

Add the green beans and cook until they turn a bright green color, about 2-3 minutes.

Add sour cream, parmesan cheese, milk, salt and pepper. When cheese mixture comes to a simmer, turn heat to low and continue cooking green beans until they are your preferred tenderness (we usually cook for 10-15 minutes depending on the size and freshness of the green beans).

Remove from heat and add additional parmesan cheese and top with toasted almonds and bread crumbs(optional). Add additional salt and pepper if needed, to taste. Serve warm.
Nutrition Information
Calories: 366kcal, Carbohydrates: 35g, Protein: 15g, Fat: 19g, Saturated Fat: 5g, Cholesterol: 20mg, Sodium: 727mg, Potassium: 519mg, Fiber: 6g, Sugar: 9g, Vitamin A: 1045IU, Vitamin C: 15.8mg, Calcium: 349mg, Iron: 3.1mg
Here's a great ham and bean soup recipe for the holidays.
We are a participant in the Amazon Services LLC Associates Program, an affiliate advertising program designed to provide a means for us to earn fees by linking to Amazon.com and affiliated sites.