Air Fryer Garlic Lemon Mushrooms
Air fryer mushrooms are one of the best side dishes we make. Super quick, and easy with great flavor and texture.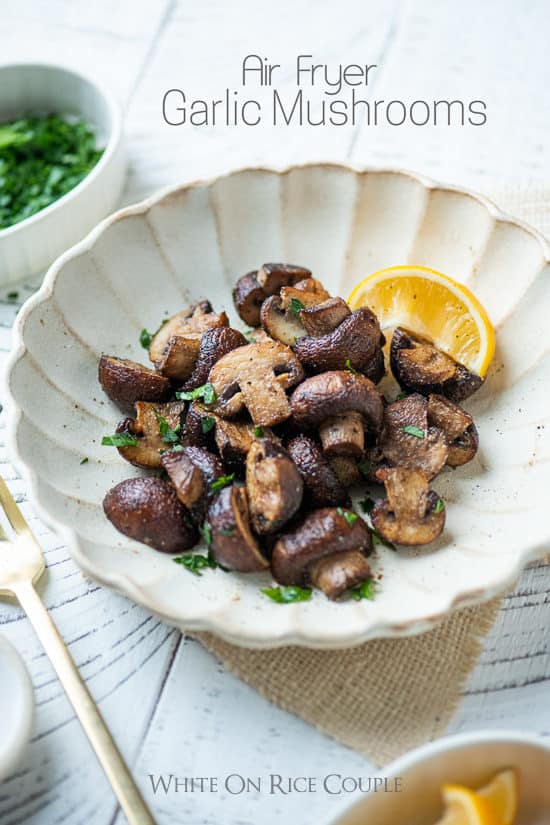 Easy Air Fryer Mushrooms Recipe
Vegetable side dishes are so fantastic. We can make them into a simple meal and don't even miss any meat. Air fryer mushrooms are our latest obsession and if you're a mushroom lover, you'll understand. Learning how to make air fryer mushrooms is easy. The hard part is convincing a mushroom-hater that these air fried mushrooms are amazing. But we did just that: converted a someone who hated mushrooms into happy mushroom eater. That's how crazy good these air fried mushrooms are. The garlic and lemon flavors are the added bonus. YUM.
Video: Garlic Mushrooms in Air Fryer
Ideas on how to serve these mushrooms
Mushroom tacos! We're obsessed with this vegan taco. You won't miss the meat. Try our zucchini tortillas.
Add them to a salad for a healthy lunch or dinner
Top them on pasta or noodles
Serve as a side dish alongside grilled meats like steak, pork and chicken
Make mushroom nachos. They're great topped on a bed of cheesy nacho chips.
They're fantastic topped on burgers or stuffed in a sandwich. Check out all our burger and sandwich recipes.
Best Mushrooms to Cook with?
We have several favorites to air fry. Here's our list of varieties we often cook with:
White button mushrooms
Mini bella or small brown mushrooms
portabella mushrooms (cut into smaller pieces or cooked whole and stuffed)
Shitake mushrooms
Oyster mushrooms
more mushroom varieties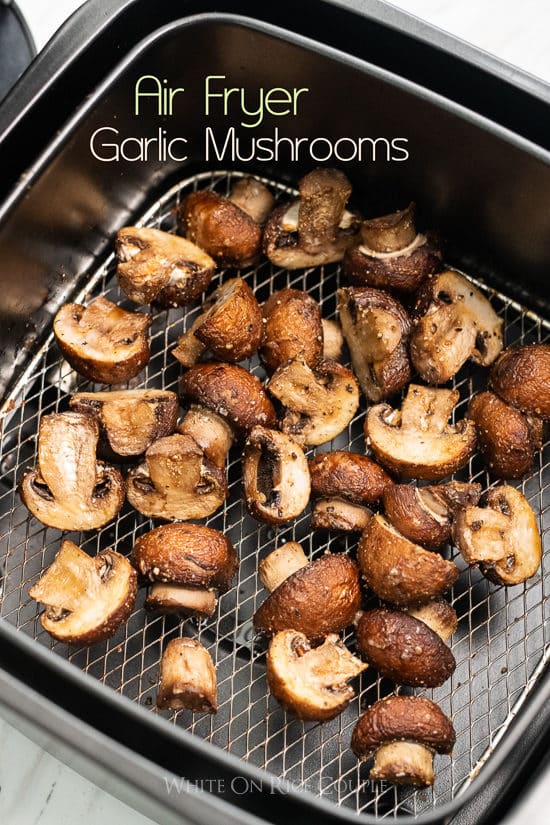 Mushroom hater into a lover
One of our studio kitchen assistants declared herself a mushrooms hater. We told her that she just hasn't tasted a mushroom that she could like yet. The air fryer did the job because these veggies come out super flavorful and with a perfect meaty texture. They're seriously so good out of the air fryer and best of all, they're ridiculously easy. Just toss the mushrooms in a little olive oil, garlic powder, salt and pepper. Within a few minutes you have a bowl of the perfect mushrooms side dish. Serve them with your favorite steak or on top of a salad. We love these so much it's hard to not serve them at every single meal!
And
Enjoy,
diane and todd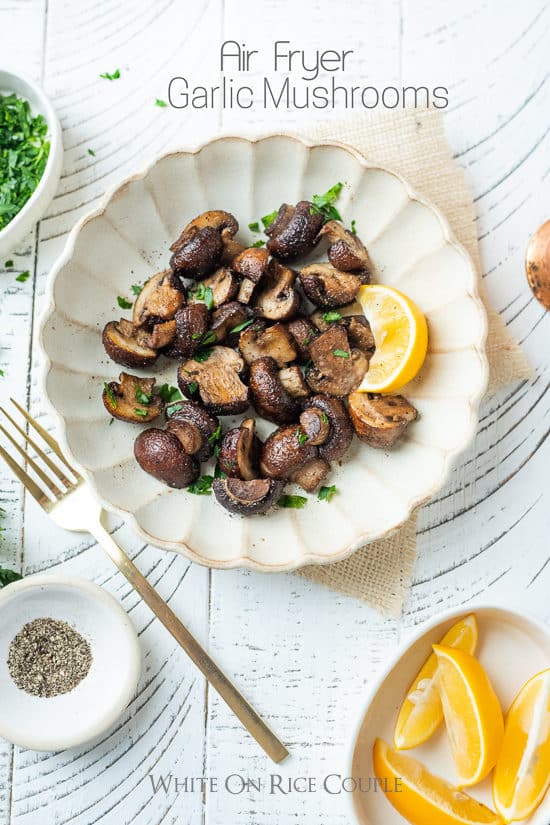 Our Favorite Air Fryer Tools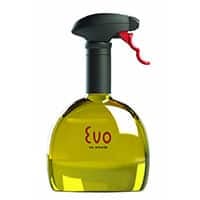 We LOVE the Evo Oil Sprayers. Great for grilling, air frying, and everyday cooking. They don't clog up like many others we've bought. There's different styles, but all seem to have the same great spray head. Works great for grilling!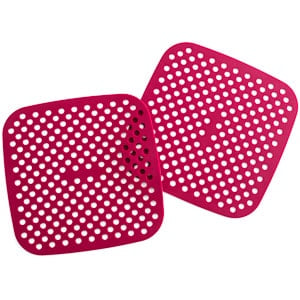 Square Mats or Round Mats depending on your needs. Perforated non-stick silicone mats minimize food sticking in your air fryer or steamer. Holes allow the hot air to circulate, cooking quick & even.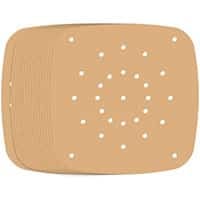 Parchment sheets make clean up easy and minimize sticking food in your air fryer or bamboo steamer. Choose from different sizes, shapes, white and brown (unbleached). Holes allow air to cook food evenly.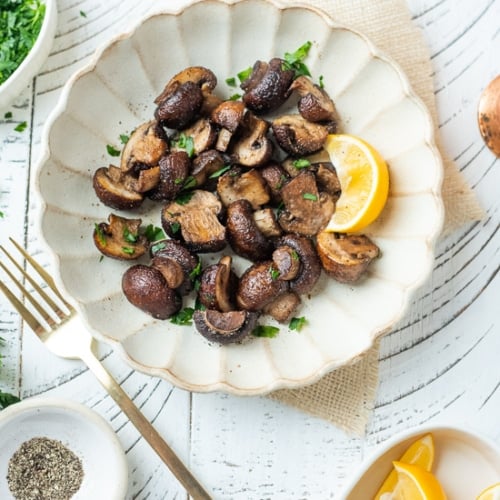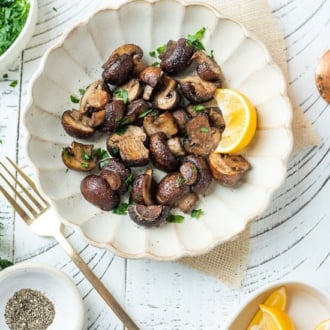 Easy Air Fryer Mushrooms
Add what ever spices you want to the mushrooms. They're great with a steak or on a vegetarian salad. If you have an oil spray, it's really helpful to add more oil if needed evenly. Drizzling oil only coats a few mushrooms. Investing in a good oil sprayer will use less oil but have more oil coverage over the mushrooms.
Ingredients
8 oz. (227 g) mushrooms , washed and dried
1-2 Tablespoons (15 ml) olive oil
1/2 teaspoon (2.5 ml) garlic powder
1 teaspoon (5 ml) soy sauce or Worcestershire sauce
Kosher salt , to taste
black pepper , to taste
lemon wedges (optional)
1 Tablespoon (15 ml) chopped parsley
Instructions
If using small to medium mushrooms, cut in half. Or for large mushrooms, cut them into quarters (depending on preferred size). Add mushrooms to bowl then toss with oil, garlic powder, soy/Worcestershire sauce, salt and pepper.

Air fry at 380°F for 10-12 minutes, shaking and stirring about halfway through. If you're cooking a lot of mushrooms, stir about three times for even cooking.

Squeeze fresh lemon juice and top and serve with fresh herbs or chopped parsley.
Notes
Recipes were cooked in 3-4 qt air fryers. If using a larger air fryer, the recipe might cook quicker so adjust cooking time.
If doubling the recipe and cooking in multiple batches, the first batch will take longer to cook if Air Fryer is not already pre-heated. Recipe timing is written based on not preheating the Air Fryer.
Remember to set a timer to shake/flip/toss the food as directed in recipe.
Nutrition Information
Calories: 92kcal, Carbohydrates: 5g, Protein: 4g, Fat: 7g, Saturated Fat: 1g, Sodium: 175mg, Potassium: 361mg, Fiber: 1g, Sugar: 2g, Vitamin A: 170IU, Vitamin C: 5mg, Iron: 0.7mg
Hope you enjoy our air fryer mushrooms.
We are a participant in the Amazon Services LLC Associates Program, an affiliate advertising program designed to provide a means for us to earn fees by linking to Amazon.com and affiliated sites.