Not All Brussels Sprouts Are Created Equal
Haven't you ever noticed that brussels sprouts come in so many different sizes? In fact, after much research in grocery store and farmers market bins, we're most likely to find varying sizes of brussels sprouts in every batch. Not every brussels sprout is created equal and in fact, sometimes they vary so much in size that it can be a nightmare in the kitchen.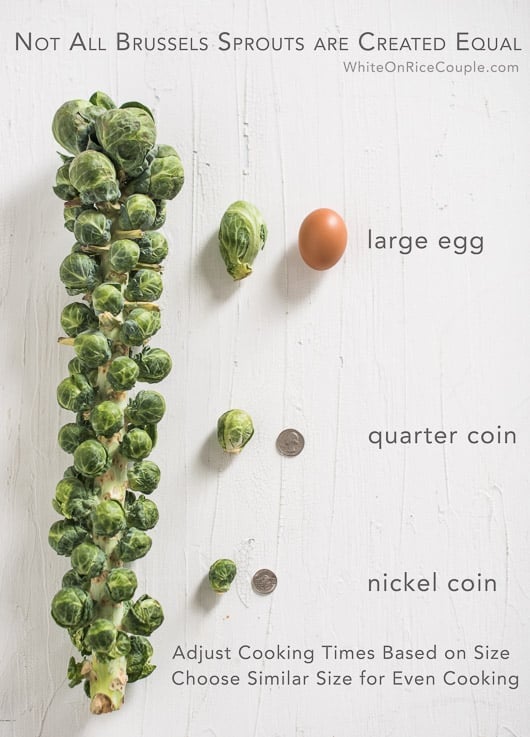 Different Sizes of Brussels Sprouts
Different size brussels sprouts means different cooking times and over the years, we've found that readers who have made our brussels sprouts recipes have had varying cook-time results. It's always because of the different size of brussels sprouts that changes cooking times so we're hoping this visual explanation will help us all in getting the best results out of our brussels sprouts recipes.
We made a video to illustrate the range of different brussels sprouts sizes:
Some brussels sprouts are huge, almost equal to a standard large egg. While others are more around the size of a quarter, others can be as small as a nickel. This drives us nuts when we need about two pounds of the same size brussels sprouts for a recipe because we want everything to cook evenly.
The smaller brussels sprouts tend to have a sweeter flavor but their center leaves are a little tighter, often taking a little more time to cook or roast all the way through. While the larger ones might seem like they take longer to cook, the inside leaves are a little more loose and separated, allowing the heat and juices to flow through and cook quicker. It all seems the reverse of what it should be, so just remember, the more dense and tightly packed the leaves are, the longer it should be cooked.
There are so many other factors in a recipe that can change brussels sprouts cooking time from the amount of oil, spices, juices and cheese. Just try to find as many of the same size as possible to get consistent cooking. Cook them to your preferred texture and enjoy more brussels sprouts because now is the season to indulge in one of our favorite vegetables!
Happy Eating,
diane and todd
Here's a Collection and link to our popular brussels sprouts recipes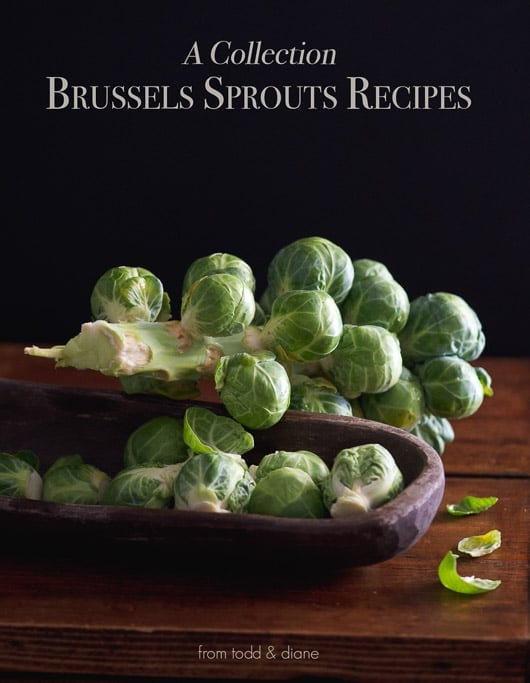 Brussels Sprouts Gratin Recipe: this is the magical recipe that has transformed so many brussels sprouts haters into lovers. The result is an addicting, creamy and tender brussels sprouts and cheese combo that can easily satisfy anyone craving mac and cheese. And it'll be a low carb version. Not low calorie, but definitely lower carb!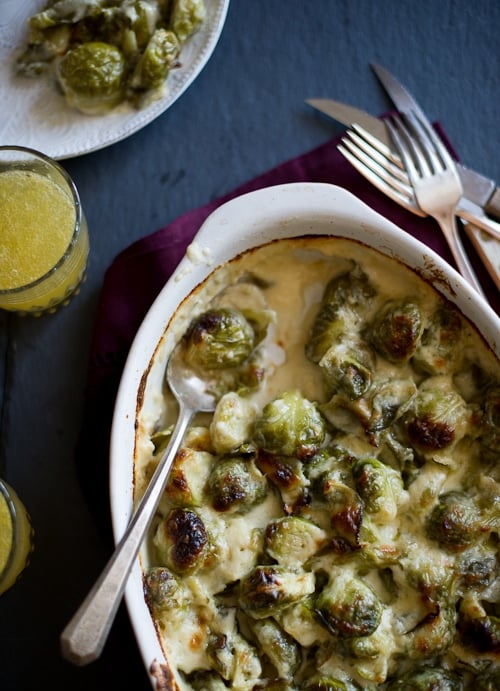 Easy Roast Brussels Sprouts Recipe: this was one of our very first recipes in 2009 and it's continually our go-to recipe for every craving we have.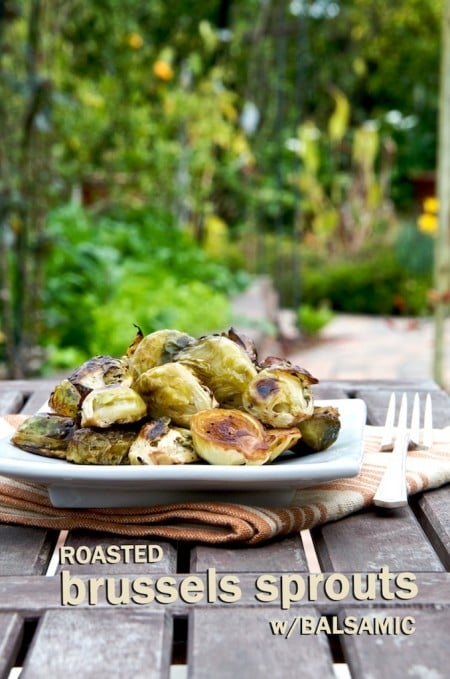 Roasted Brussels Sprouts with Lemon Parsley Dressing Recipe: another everyday favorite that's bright with an awesome lemon dressing. Make double the amount because they're so delicious, you might have it as a full meal.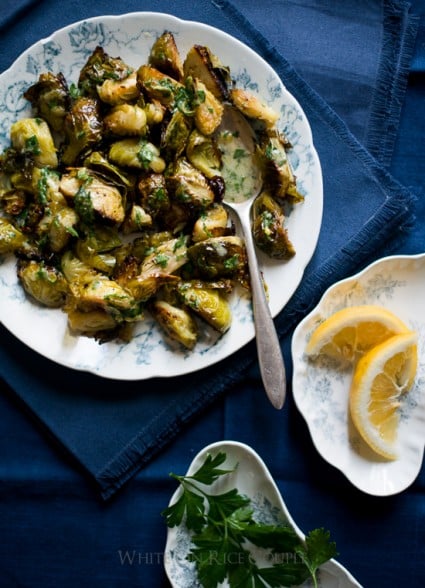 Pan Roasted Brussels Sprouts with Fish Sauce and Lime Recipe: Yes, it might sound odd– fish sauce?! Try it, the umami flavor in each bite is incredible.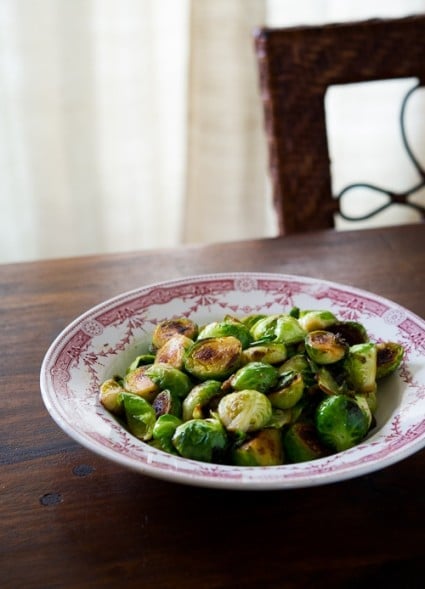 Braised Brussels Sprouts with Bacon and Shallots Recipe: An oldie but goodie because who doesn't love bacon? and the shallots adds awesome flavor.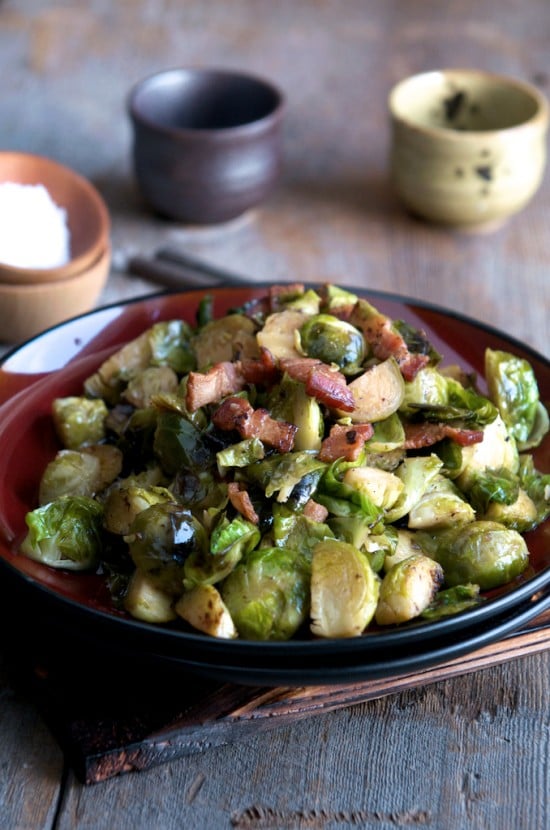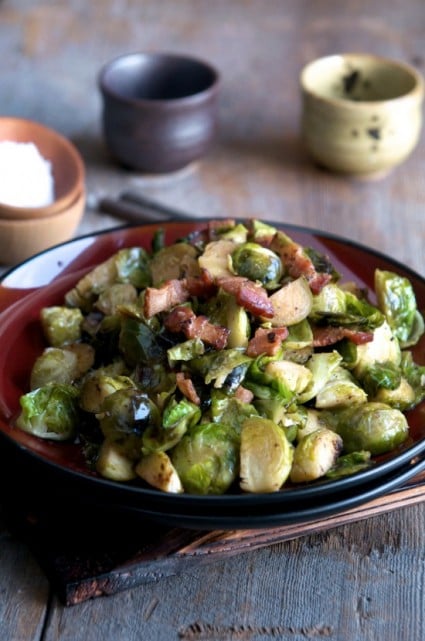 Cheesy Baked Brussels Sprouts with Parmesan and Onion – a popular rendition of our sweet onion crack dip, but with a few brussels sprouts thrown in!
Roasted Brussels Sprouts with Sriracha and Mint Recipe: A spicy sauce for all you sriracha lovers. And it's flowing over a ton of brussels sprouts. Yum.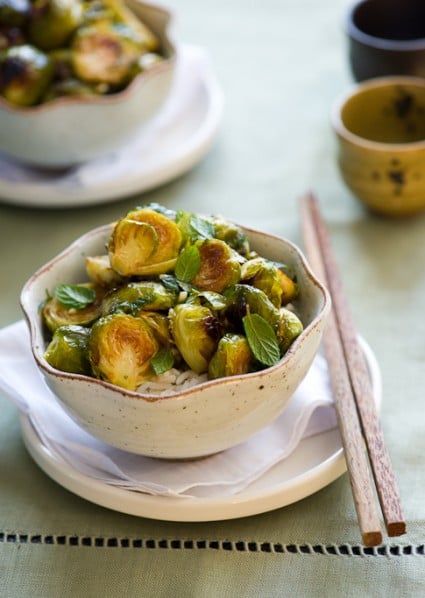 Crispy Brussels Sprouts with Mom's Chili Fish Sauce– a recipe with a Vietnamese twist to delicious fried brussels sprouts. To die for!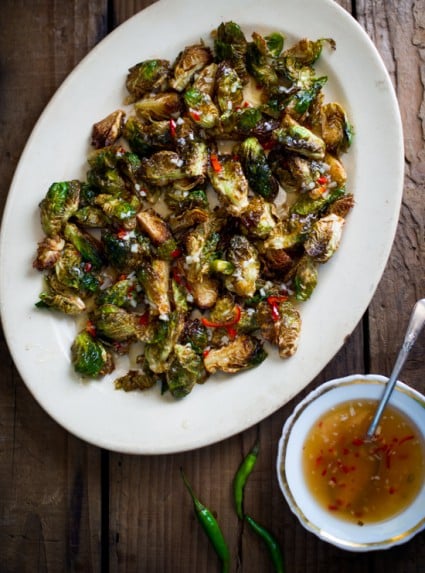 Teriyaki Glazed Roasted Brussels Sprouts Recipe: We love sauce, can you tell? Here's a fabulous teriyaki glazed beauty to make these veggies amazing.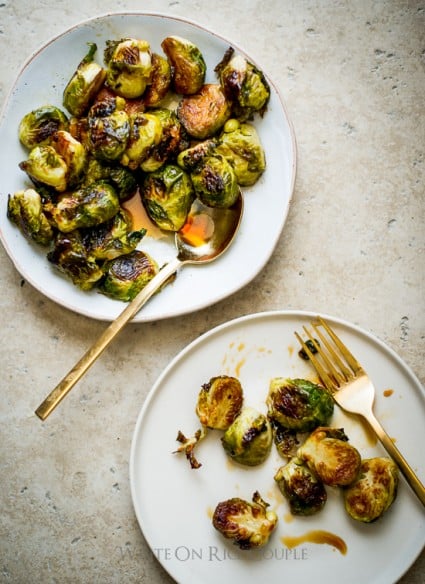 Shaved Brussels Sprouts Slaw with Bacon and Pecans: a raw take on the brussels sprouts and it's a wonderful salad with salty bacon and crunchy pecans. And if you're craving more, here's a few more great ones to try.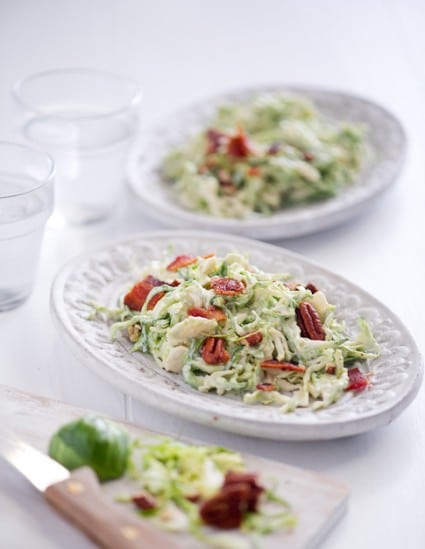 We are a participant in the Amazon Services LLC Associates Program, an affiliate advertising program designed to provide a means for us to earn fees by linking to Amazon.com and affiliated sites.