Diane has been all atwitter about how much she loves that summer is here.  The air is getting warm and sweet and the garden is filling out it's summer foliage.  We've even had the annual June bugs absent mindlessly flying into the house to die a day later.  Summer is definitely here and it's the perfect picnic season. It's time to lounge on the beach, in a park or anywhere outdoors to enjoy a simple meal that highlights perfect, summer produce.
One of our first summer veggies (ok, technically it is a fruit) that is ripening are our eggplants.  We're growing a few different varieties, the Bianca Rosa eggplants, the Japanese Eggplants, but the ones pictured here are the Indian Eggplants.  Aren't they cute?!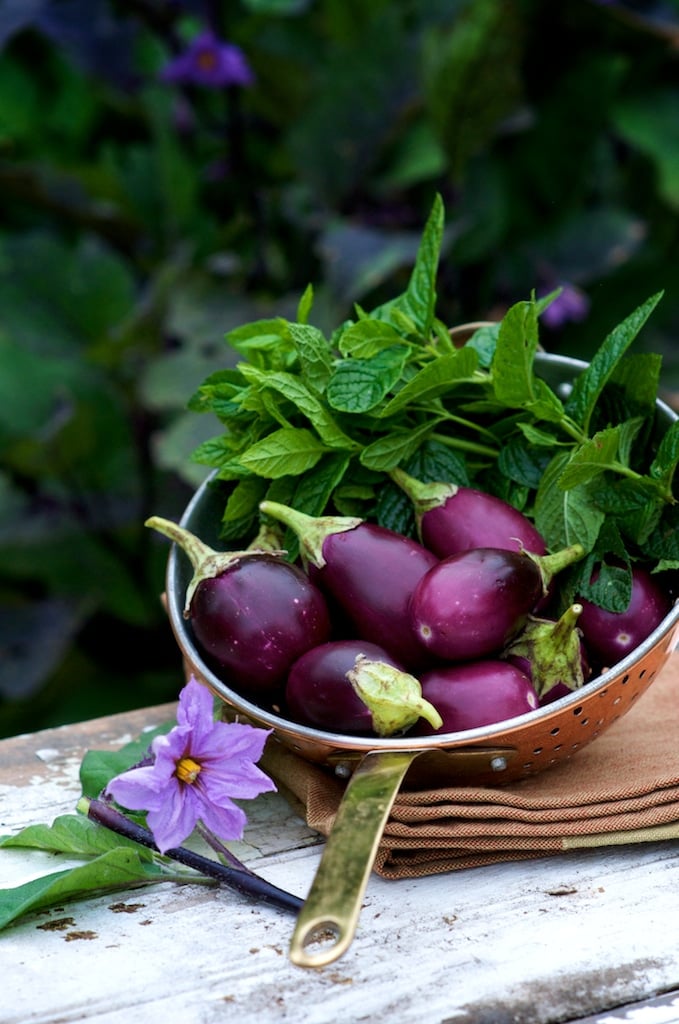 We love meals, alfresco, with a few bottles of wine and a collage of summer salads. It's one of the best ways to welcome summer. Just grab a blanket, some wine and a collection of your favorite companions. Choose a beautiful spot to enjoy the day and watch the sunset and you've got the perfect summer picnic. This roasted eggplant with mint is a great addition to your menu.
The recipe is easy and quick to prepare.  The longest thing is for the eggplants to actually cook.  This recipe is great to do ahead of time and take on a summer picnic, or else you can also try our Grilled Eggplant if you want to cook directly on the grill.
What dishes do you like to bring or prepare for a Summer picnic?
Todd
Roasted Eggplant with Mint Recipe
For this recipe you can use any eggplant you like, however if you are using one of the bigger varieties like the Italian Eggplants, you are best off salting them for a half hour or so to help extract some of the bitter liquids (Salting: Slice and layer eggplant on sheet pan.  Add a thin layer of salt, then some paper towels and weigh down the eggplant slices with another sheet pan and something solid on top. Let sit for 45 min - hour then rinse.) If you have some of the smaller varieties or the Bianca Rosas, salting isn't necessary.
Ingredients:
Eggplant, smaller varieties sliced in half, larger sliced into 1/2" thick slices
Fresh Mint, enough to mingle nicely with the eggplants
Olive Oil, enough to lightly coat the eggplants
Sea Salt
Fresh Cracked Black Pepper
Directions:
Pre-heat oven to 350º F.  (You can also do this recipe in the smoker using indirect heat) Lay the eggplant on a sheet pan with the mint, toss with olive oil and season with salt and pepper. If you are using small halved eggplants, lay them so that they are skin side down.
Roast until eggplants are a light golden brown and soft (can be anywhere from 30 min - 1 hr depending on your eggplants and their thickness.) You do not need to flip them during roasting.
Double check finished eggplants for seasoning and serve with the crispy mint leaves.
Hello! All images & content are copyright protected. Please do not use our images without prior permission and do not re-publish this recipe. Simply link back to this post for the recipe. Thank you.
Recipe Note for Salt: All recipes containing salt are based on kosher or sea salt amounts, not table salt. If using table salt, reduce the amount used to taste.
[ad]