Red Rice Salad w/ Mint and Shallot Vinaigrette – A favorite whole grain
Our red rice recipe is a great alternative to brown rice. It's easy to make and loaded with flavor.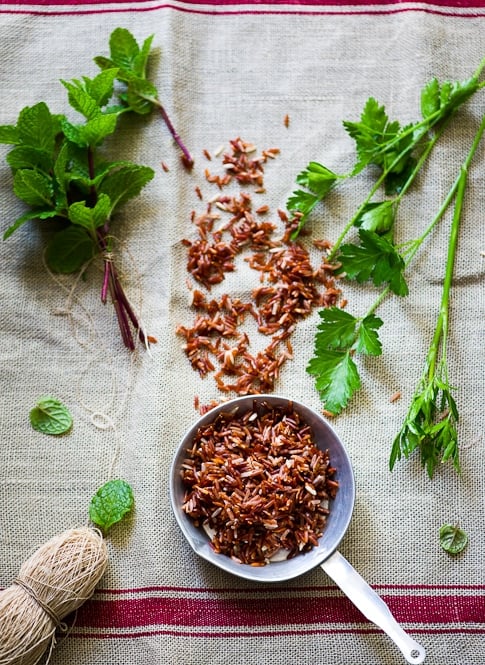 Red Rice Salad Recipe
We've been up to our elbows lately with some new projects and late at the end of the day, nothing makes us happier than a big bowl of comfort food and a cocktail. Or two. Comfort food, regardless of how many devilish calories lurk in all the starch, always manages to calm our nerves and satisfy our appetites.
A bowl of red rice is certainly one of our favorite comfort foods and this recipe is updated from our archives, with a few new additions. A chewy and nutty grain variety, red rice is not only satisfying to eat, it's loved by many for being exceptionally healthy.
What Is Red Rice?
Have you ever had red rice before? If not, you need to get yourself a bag, especially if you're a fan of brown or any type of wild rice. It's one of our favorites, so full of flavor, chewy bite and nutritionally packed with vitamins. This whole grain is always a win-win on our table.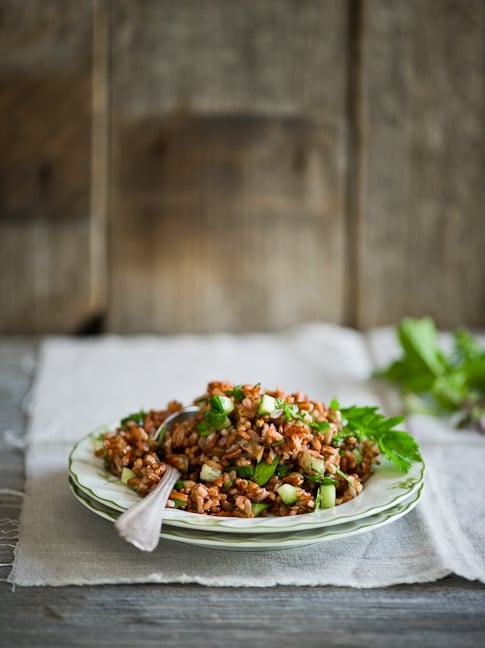 Red rice is hailed in Chinese medicine as having medicinal qualities to help cure diabetes and high cholesterol. We love eating it often because of it's flavor, texture, beauty and versatility. If you're searching for different alternatives to brown or black rice, this red variety is perfectly balanced with flavor & chewy bite. The color is a pleaser too with the subtle red tones still retained after cooking.
Red rice, along with various varieties of black rice, are available in most Southeast Asian grocers, specialty food markets and even online. The most inexpensive prices are at the Asian grocers, ranging from $4-$7 for a three pound bag. We've seen it priced at specialty Non-Asian markets for $7 on a 10 oz. package, ouch!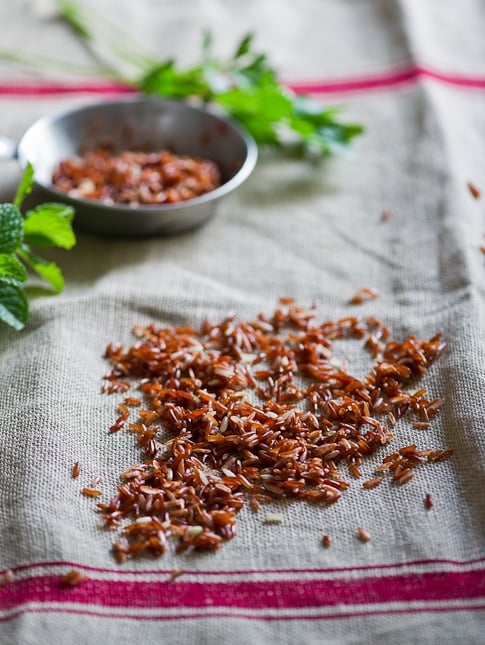 Once you get your hands on some of these red beauties, try this fresh and simple red rice and mint salad. It can be eaten either warm or as a cold salad and the addition of cucumbers and mint is refreshing.
When we developed this red rice salad recipe, we had the vision of tabouli in mind, something with bright flavors of parsley and mint and cucumber crunch. We replaced the bulgar wheat with the red rice and added a flavorful and wonderfully fragrant shallot vinaigrette made in a pan. This dish is eaten cold and with all the fresh herbs and cucumbers, it's like a rice salad.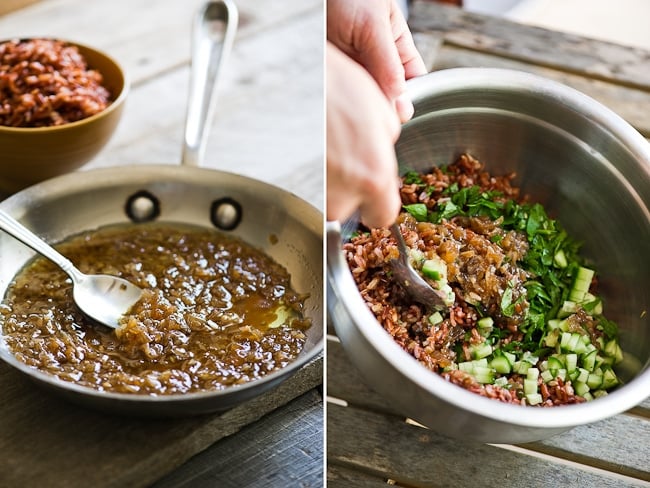 combine shallot vinaigrette, red rice, chopped herbs & cucumbers
We're fortunate enough to always have a garden full of fresh mint almost year round. But many of you cold region eaters don't have the luxury of fresh mint, so there are other herbal options to the salad. Cilantro is another wonderful alternatives to mint, as well as adding extra cucumbers to the red rice if you want to omit the herbs altogether. This salad is wonderful cold and warm, so there are many options for serving.
Normally we've eaten it cold at picnics and parties, but for the times that we have had it warm, the rice is a wonderful comfort food on a cold day.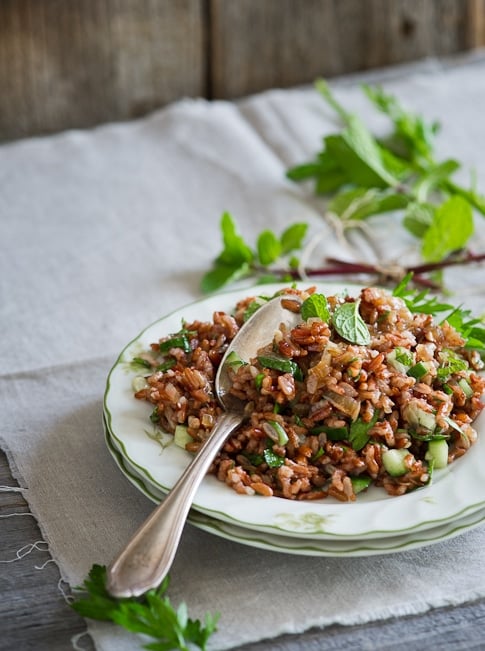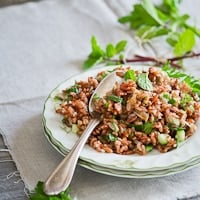 Red Rice & Mint w/ Soy Dressing
Because of the tougher, but healthy, outer mesocarp of red rice, you need to use more water than most types of white rice. The rice can be cooked in a heavy sauce pan, but if you can cook it in a rice cooker, even better. The rice cooker will cook the red rice a little more evenly, but you can achieve the same result by stirring the grains more often for the stove top method. Can be served warm or at room temperature.
Ingredients
1 cup raw red rice , cooked to package instructions
1 1/2 cups diced cucumbers (about 1 large or 2 medium cucumbers)
1/4 cup chopped parsley
1/4 cup chopped mint leaves , or even more to your specific taste
Shallot Dressing:
3-4 large shallots , minced (or 1/2 regular onion)
3 cloves garlic , minced or crushed
3 Tablespoons vegetable oil
2 Tablespoons soy sauce
1 Tablespoon rice vinegar
1 teaspoon sesame oil
zest of 1 medium lemon
1 Tablespoon fresh lemon juice
salt , to taste
fresh cracked black pepper , to taste
Instructions
Cook the 1 cup of raw red rice according to package instructions. Allow to cool.

In saucepan over medium heat add the vegetable oil and cook shallots (or onion) and garlic until a light golden brown or until fragrant, about 1-2 minutes. Immediately remove from heat and add soy sauce, rice vinegar, sesame oil, lemon zest and juice, salt, and black pepper. Stir until all ingredients are mixed together. Put aside to marinade further while you prepare vegetables and herbs.

For room temperature or chilled rice dish: After rice has completely cooled, toss in cucumbers, chopped herbs and shallot dressing. Eat immediately or chill in refrigerator. Before eating, toss everything in bowl again before serving.

For a warm red rice dish: toss cucumbers and herbs with warm rice. Heat up dressing in sauce pan until warm and toss with rice. Serve immediately.
Nutrition Information per Serving
Calories: 275kcal, Carbohydrates: 36g, Protein: 8g, Fat: 12g, Saturated Fat: 9g, Sodium: 512mg, Potassium: 370mg, Fiber: 4g, Sugar: 3g, Vitamin A: 480IU, Vitamin C: 11mg, Calcium: 41mg, Iron: 2mg
We are a participant in the Amazon Services LLC Associates Program, an affiliate advertising program designed to provide a means for us to earn fees by linking to Amazon.com and affiliated sites.