Roasted Carrots with Mint Lemon Dressing
Our quick and easy roasted carrots with lemon dressing is a wonderful side dish. The bright flavors are delicious and fantastic.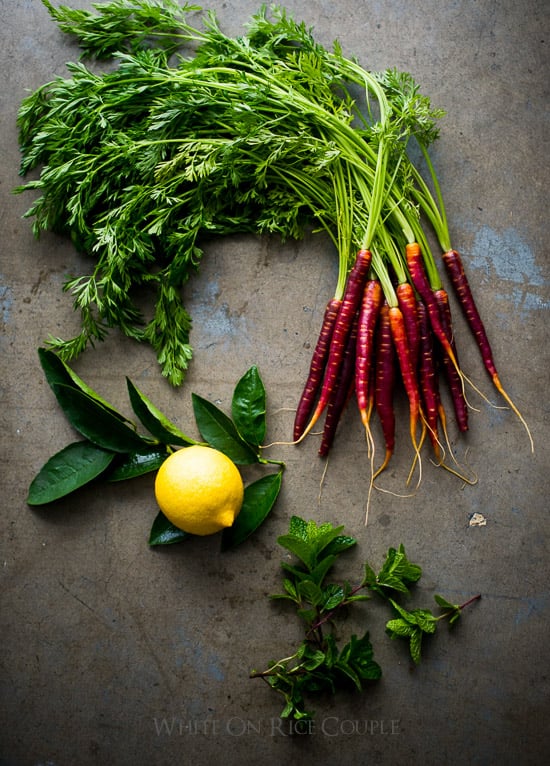 Last week we had a heat wave that lasted five days of hot, dry, Santa-Ana windy weather above 95 degrees. We were dying over here, so to make it bearable we ate lots of blackberry mojito pops. That's how to cool down and freshen spirits in style! But mojito pops wasn't all that we nourished on, especially when Spring vegetables are plentiful and perfect. We're always trying to find balance and variety in our diet. If we indulge in cocktails, we make sure to add some carrots for health.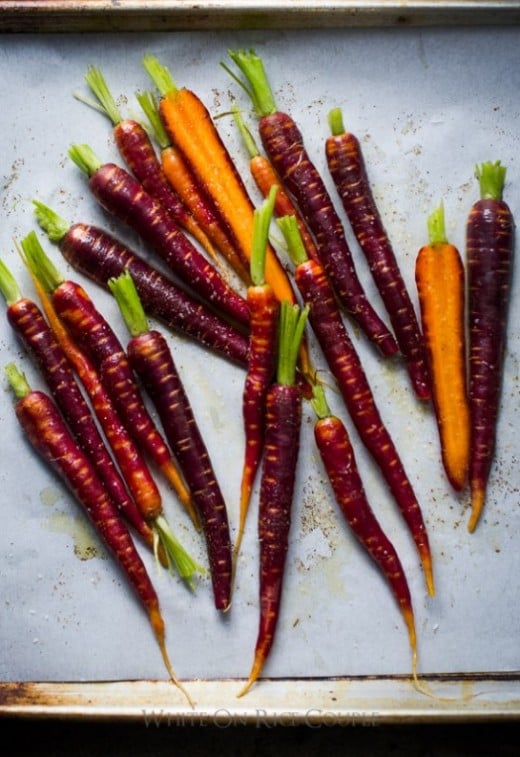 Tender spring vegetables are such a welcome treat to the table. It's when vegetables are their sweetest and wonderful when eaten raw. But sometimes we overload on a batch of a single vegetable that sometimes we have to get creative to recycle some of the overload of produce sitting in the fridge. Consider carrots one of them. It's hard to not pass up a gorgeous and perfectly crisp bunch of carrots at the market. Just looking at them in their fresh, green-topped, glory makes us feel a bunch of hungry bunnies.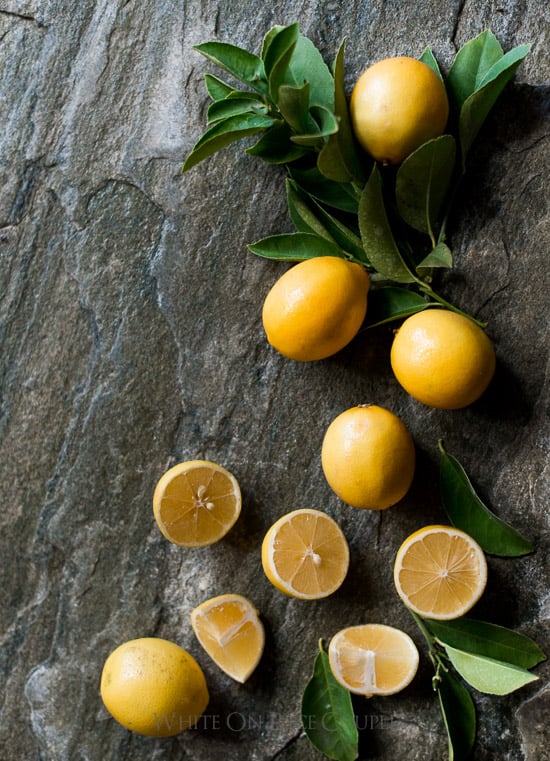 Quick and Easy Roasted Carrots Recipe
For a quick vegetable side dish we roasted some carrots and added a variation of one of our favorite lemon parsley dressings, but this time with mint. Spring and mint pair so well together, so it made sense all around to serve these delicious roasted carrots with our easy mint lemon dressing.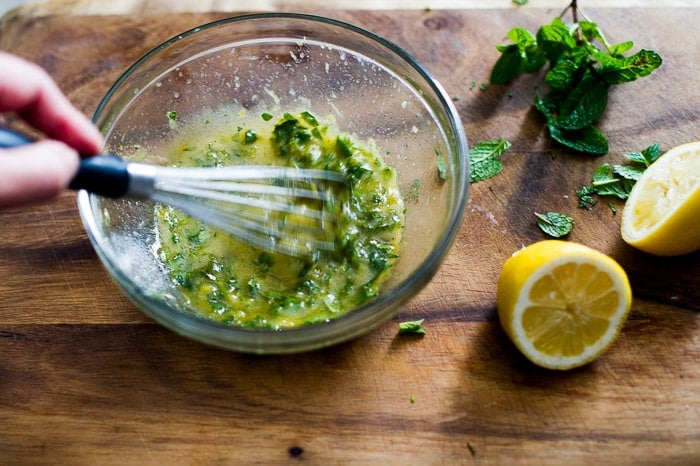 We love this dish and it's going to be a great side salad to our wood-fired oven menu. Yes, finally! After seven years of planning and researching, we're finally building a traditional wood-fired oven! Friends, please excuse us, we're geeking out over here. You all have no idea how long it's taken us to plan this epic project. It's not just any wood-fired oven, it's a traditional one that's brick laid in France. It's going to be a part of our new outdoor wood-fired oven kitchen where we'll attempt to make (and not burn- just char a bit ;)) wood-fired breads, pastries and roasts. Pizza, of course is included!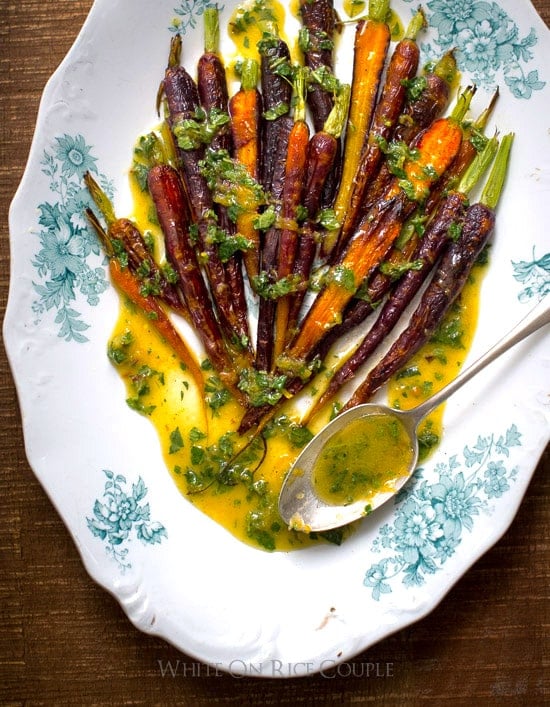 We'll be sharing up dates on our wood-fired oven progress. Fingers crossed it'll come out straight and not crooked! In the meantime, hope you are enjoying Spring, glorious produce and this awesome roasted carrot recipe.
hugs,
diane and todd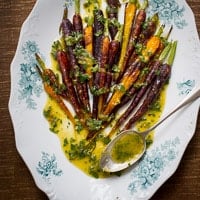 Roasted Carrots with Mint Lemon Dressing
Cooking times will vary depending on the thickness of your carrots. If you decide to roast whole carrots that are thick, add additional cooking time. If you decide to slice your carrots, check them often to make sure they are not over-roasted. Please read post for additional recipe details and photos.
Ingredients
For the roasted carrots
1 pound carrots , washed and ends trimmed
1 Tablespoon olive oil
Kosher salt , to taste
fresh cracked black pepper , to taste
For the Mint Lemon Dressing:
3 Tablespoons olive oil
Zest 1 medium lemon
2 Tablespoons fresh lemon juice
2 teaspoons brown sugar
1 teaspoon dijon mustard
1/4 teaspoon Kosher salt , or to taste
1/4 cup chopped fresh mint
Instructions
Pre-heat oven to 400°F.

Toss the carrots with olive oil and season with salt and pepper. Transfer carrots to a roasting pan or sheet pan and roast in the oven for about 20-25 minutes, or until carrots are tender.

While the carrots roast, whisk together all the mint lemon dressing ingredients (olive oil, lemon zest, lemon juice, brown sugar, mustard, salt, and mint).

When carrots are roasted tender, transfer them to a serving platter or bowl and toss with the mint lemon dressing. Serve warm or at room temperature.
Nutrition Information per Serving
Calories: 182kcal, Carbohydrates: 14g, Protein: 1g, Fat: 14g, Saturated Fat: 2g, Sodium: 240mg, Potassium: 391mg, Fiber: 3g, Sugar: 8g, Vitamin A: 19065IU, Vitamin C: 11mg, Calcium: 47mg, Iron: 1mg
We are a participant in the Amazon Services LLC Associates Program, an affiliate advertising program designed to provide a means for us to earn fees by linking to Amazon.com and affiliated sites.