Mint Chocolate Chip Ice Cream
Mint Chip ice cream is the perfect culinary item to highlight the difference between fresh peppermint and spearmint.
Mint Chip Ice Cream Recipe
There are few herbs which give the connotation of "fresh" like mint does. A vibrant, bright, opening of the senses. As most home gardeners will know, there is hardly only one kind of mint. For culinary use, it is easiest to break it down to two main types, spearmint and peppermint, then allow the derivatives flow from there.
Spearmint will be the most common mint directly eaten. A bit more mellow, it imparts that beautifully fresh flavor without blowing open the sinuses with an overly bright impression. Garden Peas or Roasted Carrots with Mint – spearmint. Mint clustered in billowing piles served alongside Vietnamese cuisine – spearmint. For those mojitos, grab the spearmint. For our garden, 75% of the mint we grow is spearmint. It gets used incessantly in our cooking, especially with Vietnamese dishes being our culinary staple.
Then there is peppermint. Bright, full of life and freshness, but often overpowering when eaten straight. Think – mint chip ice cream or candy canes. That is the flavor of peppermint. It was with mint chip ice cream in mind which drove us to dedicate a plot to this sinus clearing bite of freshness.
In researching for this recipe, one doesn't have to look any further than the cult-favorite ice cream bible, David Lebovitz's The Perfect Scoop. Nearly any internet savvy ice cream churners will swoon praises of David's scream and squeal inducer of a book. This is nearly always the first and last book we grab for frozen delicacies and for our mint chocolate chip ice cream was as true as ever.
By combining his recipe with the Stracciatella instructions, we had the perfect results. First infusing the peppermint into the milk and sugar until it was a beautiful "emerald" green. Then after mixing, straining, chilling and churning everything together; melted chocolate is slowly drizzled in, instantly hardening then breaking up into perfect "chips." Our weed-like peppermint has no chance of overgrowing now. This mint chocolate chip ice cream has become a household staple.
-Todd
Here's some great chocolate chip oatmeal cookies. Make a ice cream sandwich!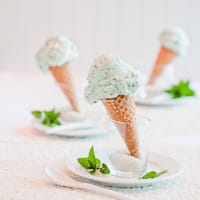 Mint Chip Ice Cream Recipe
You can adjust the minty-ness of the ice cream by how much mint you use and how long you soak it. For a traditional mint chip ice cream flavor, make sure to use peppermint, not spearmint for the ice cream. Peppermint is a much brighter mint and will give the flavor most of us are accustomed to. Makes about 1 quart.
Ingredients
1 cup Milk (240ml)
1/2 cup Sugar (100g)
1 1/2 cups Heavy Cream (360ml)
pinch Kosher Salt or Sea Salt
2 cups lightly packed fresh Peppermint Leaves (80g) or leaves from 20 (6-inch / 15-cm) stems
3 large Egg Yolks
4 ounces Dark Chocolate (1/4 lb. or 113g) , finely chopped (do not use choc. chips)
Instructions
Combine the milk, sugar, heavy cream, and salt in a saucepan and gently warm until bathwater warm. Squeeze mint leaves in your hands to help release the oils a bit and add to warm milk mixture. Remove pan from heat, cover, and set aside for 30 minutes-2 hours (depending on how minty you'd like the ice cream to be.)

Strain out and discard the mint leaves (we'll often give the mint leaves another squeeze over the milk mixture to extract as much of the delicious minty-ness you can out of them).

Gently re-warm the minted milk/cream mixture, and in a separate medium bowl whisk together the egg yolks. Slowly pour the mint mixture into the egg yolks, whisking constantly. Pour this mixture back into the saucepan and return to the heat.

Heat over medium heat, stirring constantly, until the mixture thickens and coats the back of the spoon. Pour the mixture through a fine mesh strainer into a medium bowl. Place the bowl in an ice bath and stir occasionally to cool.

Cover with plastic wrap and chill the mixture in the refrigerator until fully chilled.

After mint ice cream mixture is fully chilled in the fridge, begin gently melting dark chocolate in a bain marie (a bowl over a saucepan with simmering water).

Begin churning ice cream in your ice cream maker according to manufacturer's instructions. When the ice cream is nearly finished freezing in the ice cream maker, slowly drizzle the melted chocolate into the ice cream, trying to avoid pouring onto the paddle or dasher. If the chocolate clings to the paddle (dasher) stop the ice cream maker and use a spatula or spoon to break up any chunks. Put mint chip ice cream in freezer to finish setting the ice cream if necessary.
Nutrition Information
Calories: 334kcal, Carbohydrates: 23g, Protein: 4g, Fat: 25g, Saturated Fat: 14g, Cholesterol: 133mg, Sodium: 39mg, Potassium: 246mg, Fiber: 2g, Sugar: 17g, Vitamin A: 1275IU, Vitamin C: 3.9mg, Calcium: 109mg, Iron: 2.4mg
We are a participant in the Amazon Services LLC Associates Program, an affiliate advertising program designed to provide a means for us to earn fees by linking to Amazon.com and affiliated sites.