Roasted Zucchini with Cheese and Herbs
This simple roasted zucchini recipe is great for all varieties of zucchini and summer squash.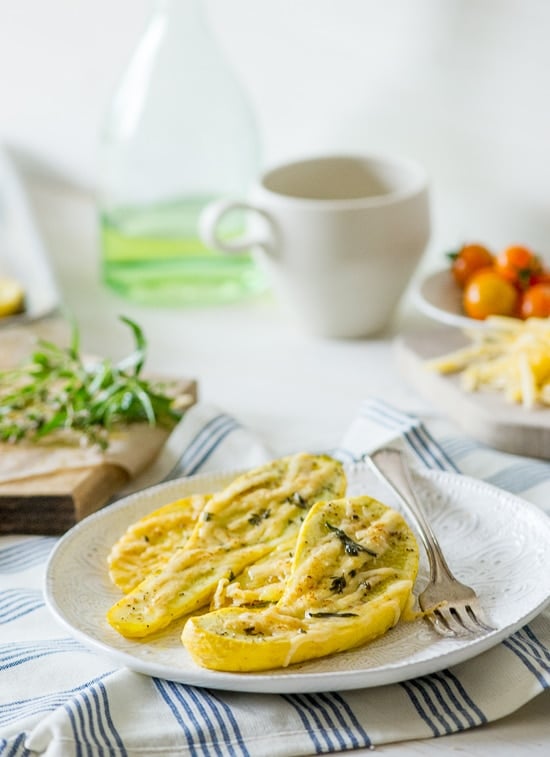 Roasted Zucchini Recipe
A vegetable side dish doesn't have to be complicated. I often remind myself of this when menu planning for a party of twelve or more. Even if I'm making dinner for two, I remind myself again and again: keep it simple, keep it fresh and it will be great. Sometimes I'll browse through a cookbook and see a massive list of ingredients for a vegetable dish and I'm already exhausted. I'm not new to cooking vegetables. After 19 years of being a vegetarian, I've pretty much cooked every vegetables a few times over. But if a vegetable recipe has an ingredient list a mile long, it's intimidating, even for a veteran veggie cook.
So what do I do? I put what ever cookbook that wore-me-out, aside. And I go into my kitchen and improvise.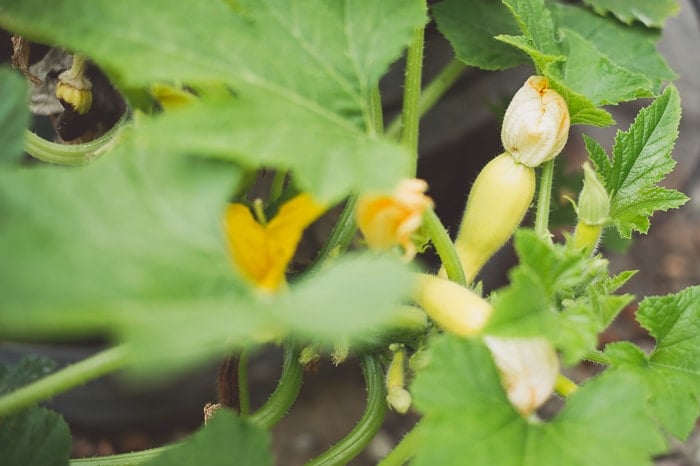 Zucchini or Summer Squash
I think simple. And with a bunch of Summer squash ripening on our vines, I think of quick. Hurry, because we're being overloaded with Squash that if we don't eat it fast enough, we'll be over run *again* with a vegetable that we don't know what to do with.
As I'm staring at our bushels of yellow squash, I'm already craving something roasted. Though today I'm only cooking for two, I'm thinking of twelve. What recipe can I make with all this squash that won't wear me out and have me hovering over the sink with dirty dishes.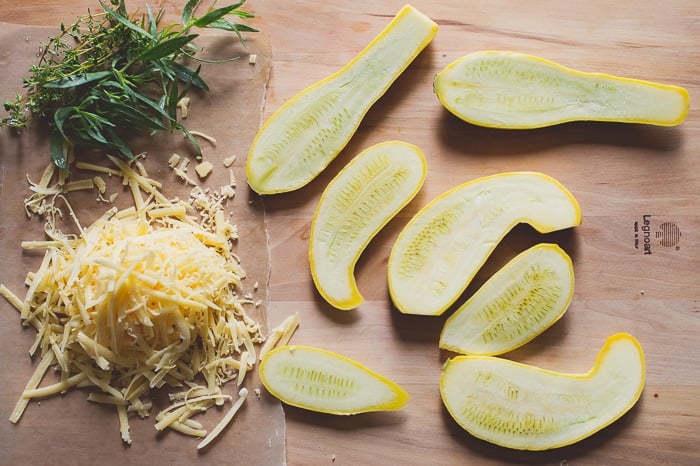 Parmesan cheese and herbs come to mind as I've already scared myself into NOT washing a ton of dishes. So I decided to just slice up the zucchini and after a light brush of olive oil, I piled on a bunch of my favorite cheese and sprigs of fresh herbs. It's always nice to pile fresh herbs onto cheese because it's a great rationale to thinking that it's healthy. Thus, this easy roasted zucchini recipe is born.
Voila. Within thirty minutes I had a veggie side dish for two and if I was cooking for twelve, it probably take me about the same amount of time. This is one of my favorite recipes to feed a crowd and for two. The fresh flavor of the herbs and zucchini come out perfectly and the cheese adds that extra bite of flavor and salt. With only four ingredients (not counting the salt/pepper), some oven roasted-love and about 20 minutes of patience, you can have one of the most easiest and perfect vegetable side dishes.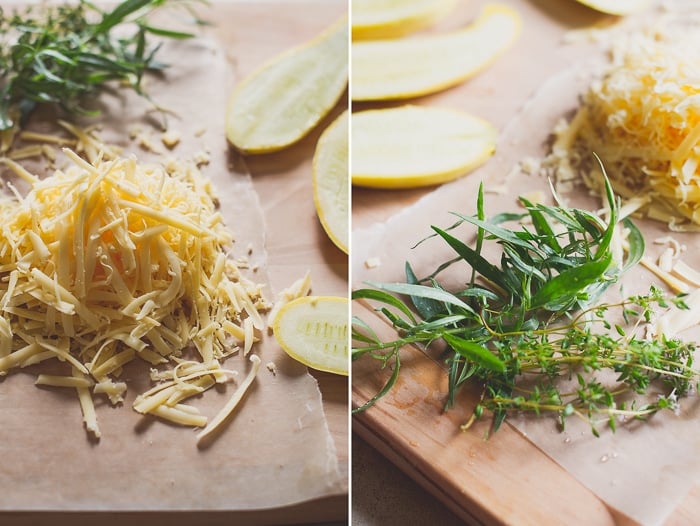 Honestly, I can't imagine a quicker and more satisfying roasted dish. And if you are having a bumper crop of summer squash or zucchini in your garden, this will be a perfect roasted zucchini recipe to feed your hungry crowd at your next gathering.
hugs,
diane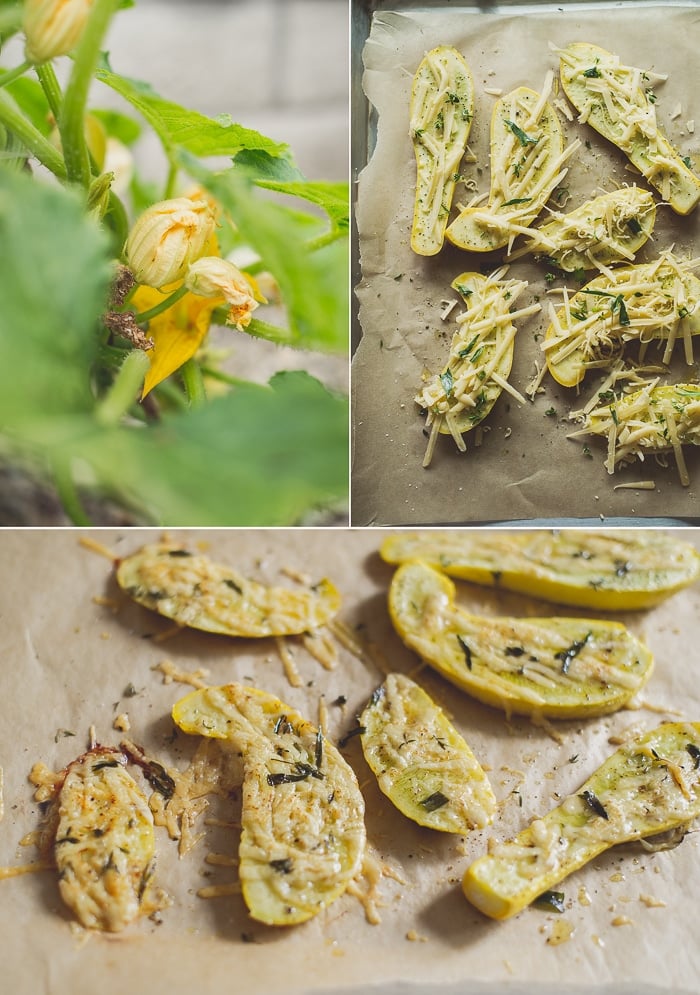 What do you do with all your extra zucchini or summer squash? Tis the season.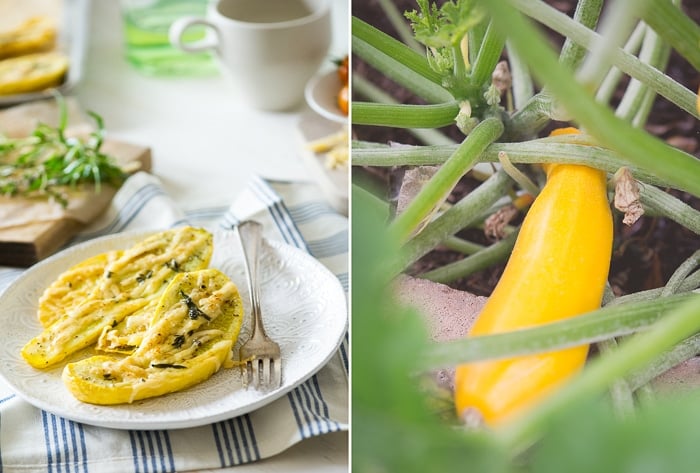 2016 Update- Post and recipe updated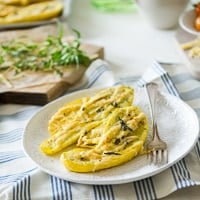 Roasted Zucchini (or summer squash) with Cheese and Herbs
Cooking time will vary depending on how thick you cut your zucchini. So keep checking the texture of your zucchini to see how quickly it cooks. Also, choose any cheese you want. A harder, drier cheese, like parmesean, will brown quickly and can burn, so consider slicing your zucchini thinner for quicker cooking if you choose parmesean.
Ingredients
2 medium summer squash or zucchini
3/4 cup (180ml) shredded cheese
2 Tablespoons (30ml) fresh herbs , minced
olive oil to lightly coat the squash slices
kosher or other flakey salt , to taste
fresh cracked black pepper , to taste
Instructions
Pre-heat oven to 375°F.

Trim ends of zucchini squash and slice lengthwise about 1/4" thick. Lightly brush or spray both sides of each slice with olive oil. For the herbs, lightly spray the leaves with oil so that they don't burn.

On baking sheet lined with parchment paper, lay the slices in one layer. Sprinkle salt and pepper on top of each slice, to taste. Add cheese and herbs on top of each slice.

Bake zucchini squash about 20 minutes in the oven, or until the zucchini is cooked and cheese is melted. Serve warm or at room temperature.
Nutrition Information per Serving
Calories: 111kcal, Carbohydrates: 4g, Protein: 6g, Fat: 9g, Saturated Fat: 3g, Cholesterol: 17mg, Sodium: 141mg, Potassium: 283mg, Fiber: 1g, Sugar: 3g, Vitamin A: 506IU, Vitamin C: 20mg, Calcium: 125mg, Iron: 1mg
We are a participant in the Amazon Services LLC Associates Program, an affiliate advertising program designed to provide a means for us to earn fees by linking to Amazon.com and affiliated sites.