Healthy Zucchini Soft "Taco" Tortilla Shells
This popular zucchini tortillas recipe is one of our most popular recipes on our site, originally published in July 2015. It's been a favorite low carb alternative to regular flour and corn tortillas.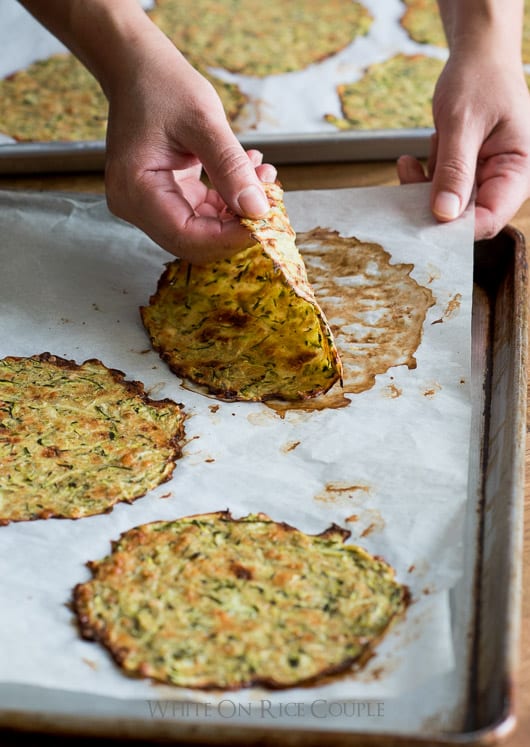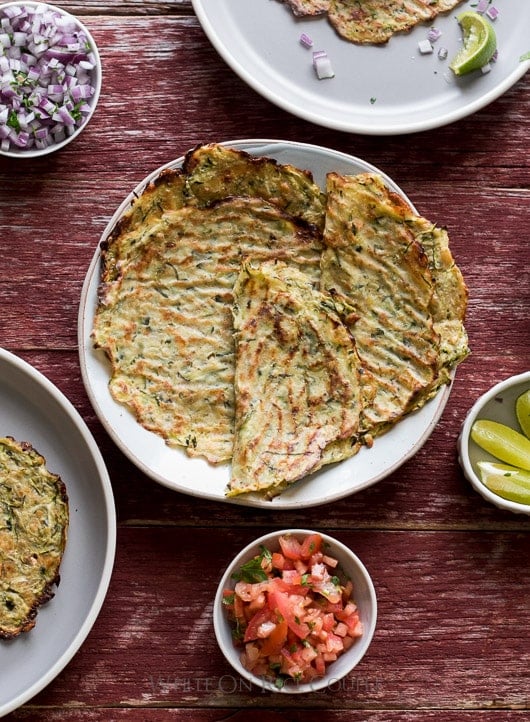 Low Carb Tortillas Made with Zucchini
Last year in 2014 it started with this crazy zucchini tortilla inspiration because we couldn't hardly find any reference to zucchini tortillas online. So we said "let's make healthy zucchini taco shells!" Why not? Everyone was making pizza crusts with cauliflower so why not use up all this leftover zucchini? As odd as it many have sounded it actually has become one of our favorite year round recipes and can't believe we're finally sharing it almost a year later. We should have shared it right away when we made it last year, but our busy commercial photography lives got in the way.
When we drowning in zucchini recipes for our future magazine project, we had these zucchini soft taco tortilla shells on the top of our list. We invited 5 of our neighbors over for taste testing on the majority of our magazine recipes and these zucchini taco shells had some of the most enthusiastic responses. Maybe it was unique and something they had ever seen or tasted before. Or maybe it was healthy. What ever it was, it was always mentioned as the memorable and delicious tasting zucchini recipe they've ever had.

Think beyond the taco tortilla shell and these zucchini tortillas are also a great snack. We just made these again tonight and snacked on the shells alongside a martini and whiskey sour. That alone is a great pairing, you should try it with your favorite beer or cocktail! More taco recipes using these low carb tortillas coming to the blog soon!
-Diane and Todd
Video: Healthier Zucchini Tortillas Recipe:
Keto Friendly Options for Tortillas
Instead of using regular bread crumbs, there's several ideal "breading" options to make these zucchini tortillas keto friendly. These low carb options are still delicious!
Crushed pork rinds: for these tortillas to have the lowest carbs you can use crushed pork rinds. You can buy pork rinds already crushed or you can buy them in large pieces and grind them in the food processor. You'll have a savory pork flavor in these tortillas.
Almond Flour: use a little bit of almond flour for another low carb version. Using almond flour is an easy way to keep these tortillas vegetarian.
Coconut Flour: this type of flour works great too.
How to Make Tortillas Made with Grated Zucchini (Tips)
The key is to make sure to remove as much moisture as possible. We like to squeeze out the water with a paper towel. But don't squeeze out ALL the moisture, as these tortillas need some during baking so they don't burn and dry out. Once you make your first batch, you'll know exactly how much moisture is enough to get the tortillas to your preferred texture.
Some folks have also salted these grated zucchini to release water. This works great too but it'll be seasoned with salt so no need to season any further.
You can use yellow summer squash as well.
Be patient when removing the cooked tortilla shells from the parchment paper. The zucchini tortillas can easily rip or tear, so it helps to take your time to ensure the tortilla releases in one big piece.
Add some of your favorite seasonings to the mixture before forming them. We love adding lots of garlic powder. Or if you like spicy tortillas, add some crushed chili flakes.
All recipe details are in the recipe box below.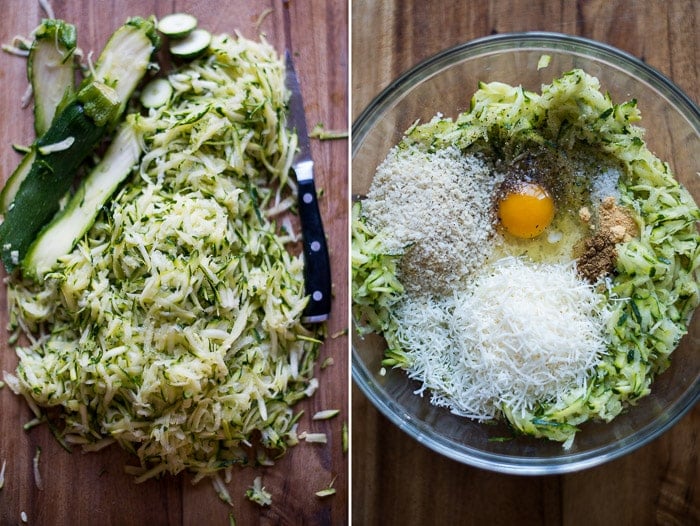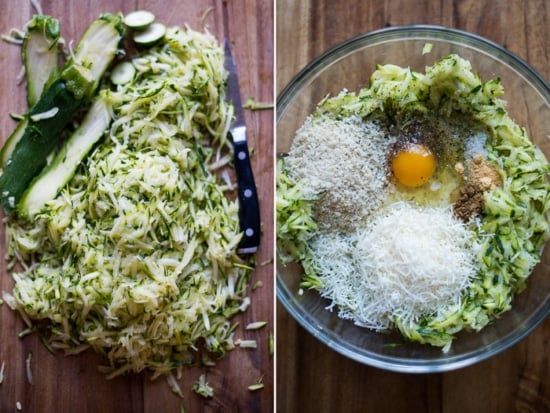 Can you Freeze Zucchini Tortillas?
Yes, these freeze well. After they've been cooled, store them in air tight ziplock bags. Make sure to squeeze out all the air before sealing. These will freeze up to about 2 months. Try to eat them sooner than later because they will start to break apart and crumble when they thaw after being frozen for too long.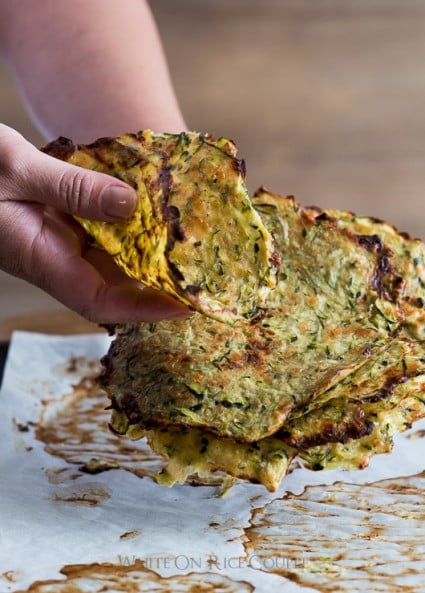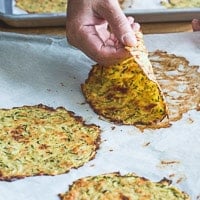 Healthy Zucchini Soft "Taco" Shells
Enjoy these shells as a snack or a wrap, so think beyond the taco. Don't bake them too long, or they'll dry out and be difficult to peel off. To help from sticking, you can lightly spray the parchment paper with oil. But you'll end up with a less crispy shell.
Squeezing out as much excess water in the grated zucchini will make the taco shells a little more "firm". One method is to microwave the zucchini till moisture releases, then squeezing out the water. Or lightly sautéing the zucchini for a few minutes, then squeezing out the water. Just be careful to not cook the zucchini too much or use too much oil, or else you'll get mush.
Ingredients
4 cups (950 ml) zucchini , coarsely grated
1 large egg
1/2 cup (50 g) grated parmesan cheese
1/4 cup (30 g) bread crumbs , or crushed pork rinds or almond flour
1/2 teaspoon freshly grated black pepper
1/4 teaspoon kosher salt or sea salt
1/4 teaspoon garlic powder
1/4 teaspoon ground cumin
Nutrition Information per Serving
Calories: 60kcal, Carbohydrates: 4g, Protein: 4g, Fat: 2g, Saturated Fat: 1g, Cholesterol: 28mg, Sodium: 206mg, Potassium: 184mg, Sugar: 1g, Vitamin A: 210IU, Vitamin C: 11.1mg, Calcium: 89mg, Iron: 0.6mg
We are a participant in the Amazon Services LLC Associates Program, an affiliate advertising program designed to provide a means for us to earn fees by linking to Amazon.com and affiliated sites.