Thai Larb Chicken Lettuce Cups
Enjoy this healthy and low carb Thai Larb Chicken Lettuce Cups recipe from Jaden's cookbook! It's so delicious and simple to put together.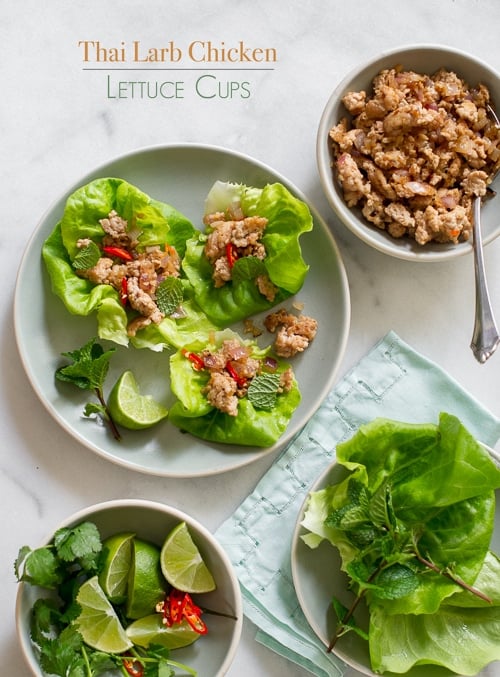 Thai Carb Chicken Lettuce Cups Recipe
This fantastic, flavorful and healthy recipe is from our friend Jaden from SteamyKitchen.com. It's a quick and easy low carb meal for anyday of the week. From a light meal to being an appetizer, this is the meal that everyone will keep talking about.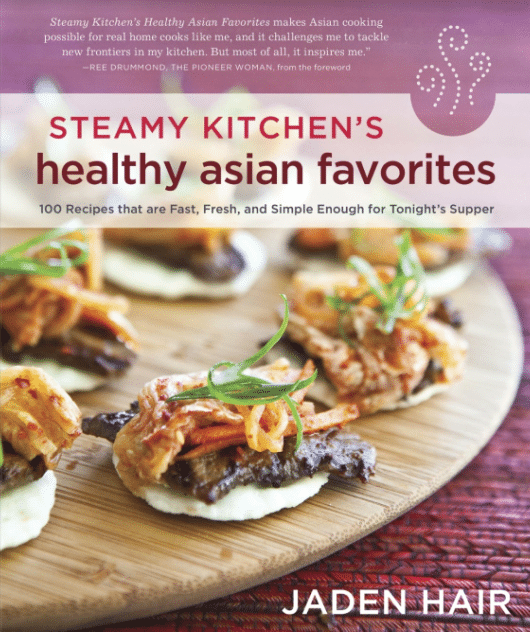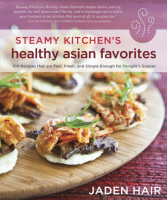 Jaden's latest book, Healthy Asian Favorites, is chock full of healthy and easy recipes that you can enjoy everyday. We know how good her cooking is because we tasted practically half the book when we went out to help her on the book photography. Jaden's cooking is always so approachable, delicious and full of flavor. What's she's so good at is taking classic recipes and making them easy to cook and this time, she's focused on making them healthy. Seriously, who doesn't love a cookbook that's loaded with delicious and healthy recipes. We could all use these recipes every day and throughout the week.
Aside from the Asian classics, Jaden is also very good at creative inventive, fresh and modern recipes. She makes tasty magic with just a few simple and healthy ingredients. This is the kind of cooking that nurtures us every day. Healthy Asian Favorites is a truly wonderful collection of recipes you can trust and turn to on a daily basis.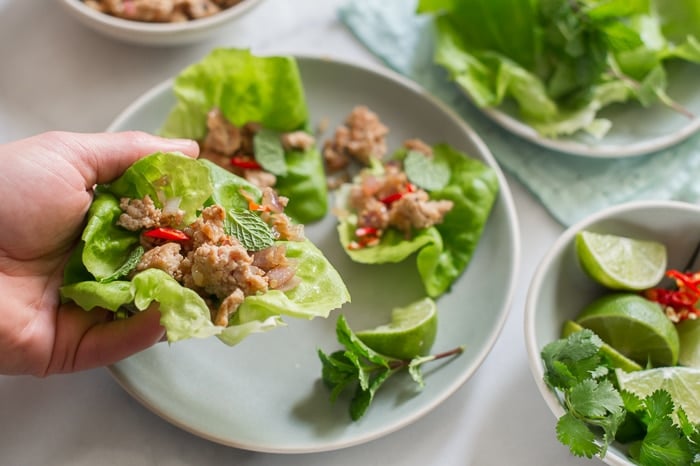 Different types of lettuce for lettuce wraps recipe
The best part about serving these thai carb chicken lettuce cups is choosing the right lettuce. Here's our favorite types of lettuce for this recipe:
butter leaf: it's tender, soft and delicious. They also have a great "bowl" shape that make it easy to hold the filling
ice berg lettuce is crisp, refreshing and wonderful. Ice berg lettuce also has a great shape to be a cup for the filling.
Green leaf lettuce and and red leaf are soft and tender and perfect for wrapping.
We just can't get enough of lettuce cups and here's a spicy lettuce cup and our own chicken lettuce wraps recipe. They're so fresh, crisp, satisfying and the perfect way to have fun eating a salad. Be prepared to make a huge batch because they're so addicting. This is one of the perfect-party dishes that's so much fun to eat and that leaves you feeling full and happy. Hope you enjoy these Thai Larb Chicken Lettuce Cups!
hugs,
diane and todd
Thai Larb Lettuce Cups
Printed with permission by Jaden Hair, copyright © 2013. Published by Ten Speed Press, a division of Random House, Inc.Jaden's headnote excerpt: Larb is an Asian salad that's considered the national dish of Laos. It features a sour and spicy warm stir-fried meat on top of cold, crisp lettuce. The dressing is made of fish sauce, spicy fresh chiles, and fresh lime juice. Fresh mint leaves provide a refreshing finish. On the list of my favorite sounds would be the crisp snap crunch of super-cold lettuce as you peel off the layers, one by one. Use iceberg, Boston bibb, or any kind of lettuce that has cup-shaped leaves for this recipe. Keep the lettuce refrigerated until ready to eat.
Ingredients
1 1/2 tablespoons cooking oil
1/2 pound ground chicken breast
2 shallots , diced
1/4 red onion , diced
1 clove garlic , very finely minced
Minced fresh chiles , Jalapeño or Fresno (amount up 
to you)
1 tablespoon fish sauce
1/2 lime , juiced
1 teaspoon low-sodium soy sauce
1 head iceberg lettuce , leaves separated into "cups"
1 handful of cilantro and/or mint , cut into chiffonade
Instructions
Heat a wok or large sauté pan over high heat. When hot, swirl in 1 tablespoon of the oil and add the chicken. Use your spatula to break up the meat and spread out over the surface of the pan. Cook until browned, about 3 minutes.

Push the ground chicken to one side of the pan and swirl in the remaining 1/2 tablespoon of oil. To the oil, add the shallots, red onion, garlic, and fresh chiles and sauté the aromatics until fragrant, about 30 seconds. Add the fish sauce, lime juice, and soy sauce.

Serve with lettuce cups and herbs.
Nutrition Information per Serving
Calories: 164kcal, Carbohydrates: 8g, Protein: 12g, Fat: 10g, Saturated Fat: 2g, Trans Fat: 1g, Cholesterol: 49mg, Sodium: 445mg, Potassium: 565mg, Fiber: 2g, Sugar: 4g, Vitamin A: 682IU, Vitamin C: 8mg, Calcium: 40mg, Iron: 1mg
More Easy Recipes
thai tea recipe just like restaurants
this recipe was originally published in 2013
We are a participant in the Amazon Services LLC Associates Program, an affiliate advertising program designed to provide a means for us to earn fees by linking to Amazon.com and affiliated sites.