Chili Crunch Fried Egg
We're obsessed with this chili crunch fried egg dish. This popular homemade condiment is wonderful on so many foods. One application we always use for this condiment is to put it on fried eggs. The touch of crunchy, garlicky, oniony, slightly spicy flavors on eggs takes it to a whole new level. Try this chili oil fried egg and you'll be as obsessed as we are.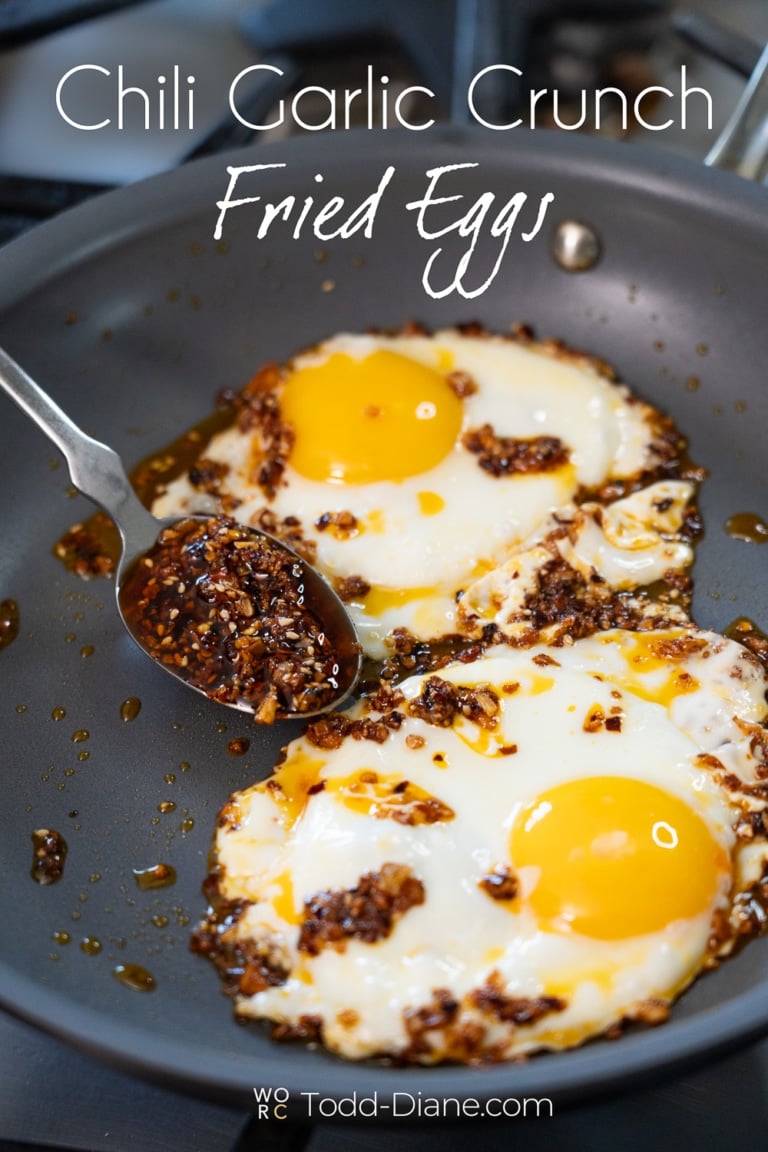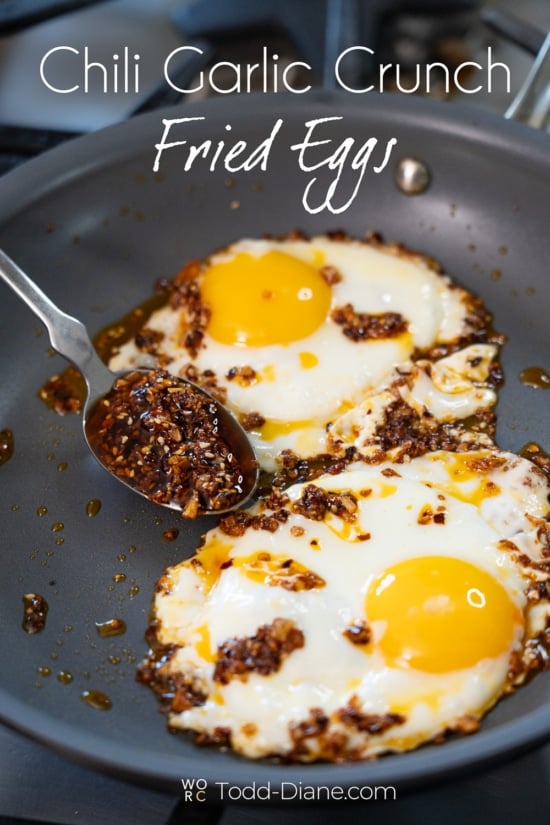 What is Chili Crunch?
This popular condiment has so many names, but essentially it's a crunchy, flavorful and spicy condiment originally served in Asian restaurants. It's become a world wide popular condiment now and we have a homemade version that you can make. It's easy to customize the levels of spicy that you want. Here's an article explaining more about chili garlic crunch or chili oil here. And more about how it's gone viral.
What is Chili Crunch Fried Egg?
It's two of our favorite foods together: our homemade chili crunch oil topped on fried eggs. The crunchy textures of the condiment on top of egg is fantastic. It's so simple to make and quick to put together. It's perfect for morning breakfast, brunch, lunch and dinner. Add the fried egg on top of rice or noodles for dinner and you have a quick and flavorful meal in minutes. There's so many ways to enjoy this chili oil fried egg!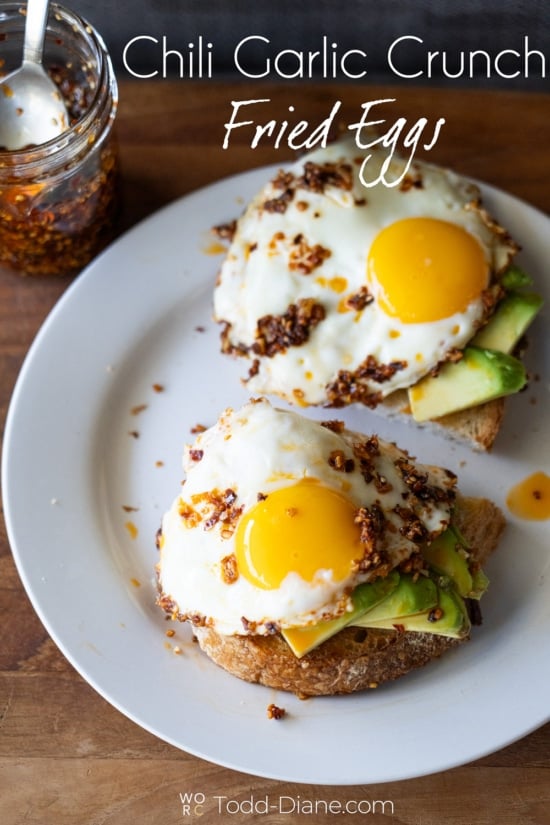 Video: Chili Crunch Fried Egg Recipe
Tips on Making Chili Crunch Fried Egg
When adding the spoonful of chili onion crunch on the pan, add the egg on top right away. If you let the chili crunch heat up too long on the pan, it will burn and get smoky.
Another option to avoid the smoky chili oil is to fry the eggs first, then drizzle the condiment on afterwards.
You don't need to season the eggs to much because the chili crunch oil has so much flavor already. Taste the eggs with the chili oil first, then add additional salt if needed.
If you like your eggs over easy, then the chili
All the chili crunch fried egg recipe details are in the recipe box below.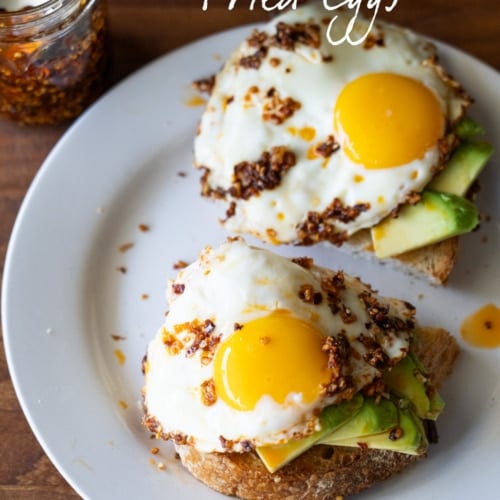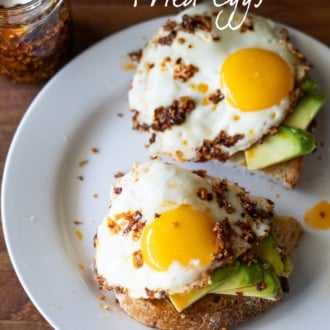 Chili Garlic Crunch (Chili Crisp) Fried Eggs
You can use homemade chili crunch or store bought (also often called also often called chili crisp, chili garlic crunch, or similar variations). The level of spice will vary a lot between different brands of chili crunch. For the chili crunch fried eggs, make sure to adjust amount of chili crunch based on the spiciness the one you are using and to your taste.Some chili crisps have less oil than others. If you are using the drier style of chili crunch, add a little extra oil or butter to the pan before frying the eggs.Be ready to immediately add the egg to the pan after putting the chili crunch in. You don't want the chili crunch to burn or else it will become bitter and the air will be like mace.
Ingredients
For Chili Crunch Fried Eggs
1 Tablespoon (15 ml) chili crunch with some of the oil
1 teaspoon (5 ml) extra oil or butter , if needed (optional)
2 large eggs
For Homemade Chili Crunch (makes about 1/2 cup)
1/2 cup (120 ml) oil
6 cloves fresh garlic , minced or sliced
2 Tablespoons (30 ml) red chili flakes
2 Tablespoons (30 ml) dried minced garlic
2 Tablespoons (30 ml) dried chopped onion
2 teaspoons (10 ml) sugar , or to taste
1 teaspoon (5 ml) toasted sesame seeds
1 teaspoon (5 ml) kosher salt , if using table salt, use a little less
1 teaspoon (5 ml) smoked paprika
1 teaspoon (5 ml) cayenne (optional to taste)
2 teaspoons (10 ml) soy sauce
Instructions
Chili Garlic Crunch Fried Egg Instructions
Homemade Chili Garlic Crunch Instructions
Nutrition Information per Serving
Calories: 147kcal, Carbohydrates: 3g, Protein: 7g, Fat: 12g, Saturated Fat: 2g, Polyunsaturated Fat: 2g, Monounsaturated Fat: 6g, Trans Fat: 0.1g, Cholesterol: 186mg, Sodium: 275mg, Potassium: 123mg, Fiber: 1g, Sugar: 2g, Vitamin A: 681IU, Vitamin C: 2mg, Calcium: 37mg, Iron: 1mg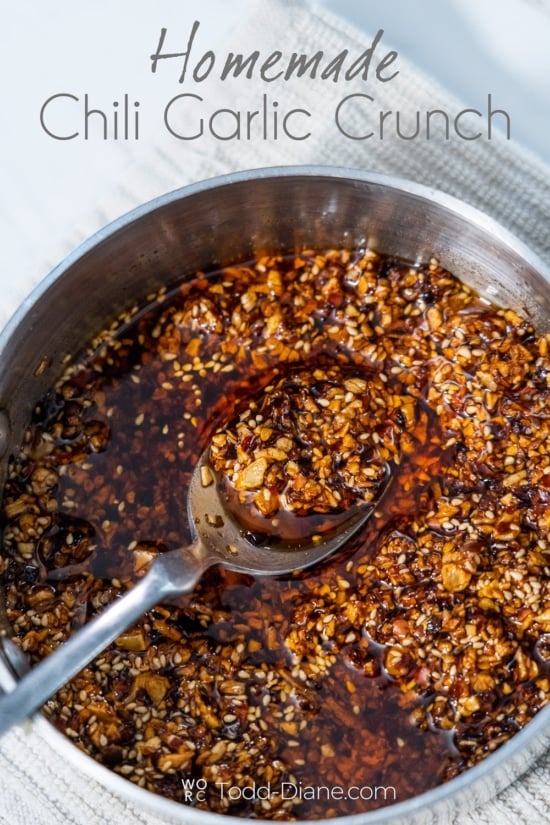 Where to buy chili crunch or chili oils?
If you don't want to make it homemade, you can buy some great pre-made jars now. These are a few of our favorites, each with their own style.
How to serve fried eggs with chili crunch oil?
On avocado toast! We love the creamy texture of avocado on crispy toast with the rich, savory, umami fried eggs.
In a sandwich or burger. If you love having a runny egg on your burger or sandwiches, these chili crisp fried eggs are perfect for that combo.
Fried rice, regular rice or any type of grain. Add this to a rice or grain bowl. It's like a seriously delicious restaurant style grain bowl topped with chili onion crunch fried egg.
It's great on noodles or spaghetti too. For a quick meal, just cook up the noodles of a ramen packet and then serve the eggs on top.
Any type of pasta is great like penne, fusilli or macaroni.
These are great as a snack with crackers. Just dip the crackers in the rich spicy savory egg yolks or serve them on the crackers.
We are a participant in the Amazon Services LLC Associates Program, an affiliate advertising program designed to provide a means for us to earn fees by linking to Amazon.com and affiliated sites.