Baked Eggs in Avocado with Bacon on Toast
Our baked eggs in avocado recipe has been a paleo and keto favorite for everyone since we first shared it in 2013. Best of all, it's a fantastic brunch dish.

Avocado Baked Eggs Recipe
Wait, don't click away yet. Hold on to that thought. Allow me to explain this dish to you before judge a warm avocado meal.
I know, it may sound awkward to be spreading hot avocado on toast, dripping with egg yolk and scattered with bacon bits. It may even sound blasphemous to some of you who are avocado purists. Why ruin a sacred Hass avocado, that's perfectly ripe, buttery and creamy with oven-heat and egg? I know, I know, but read on….
On Sunday I was staring at four perfectly ripe avocados. The standard, but always favorite, homemade guacamole came to mind for lunch. Or even more indulgent, avocado egg rolls. The end of January is coming to a close (do you believe this?!), many of us have gone off-tangent from our 2013 health goals, so I decided to just blow away the rest of January with a two-thousand calorie meal. Why not? I was feeling mighty daring.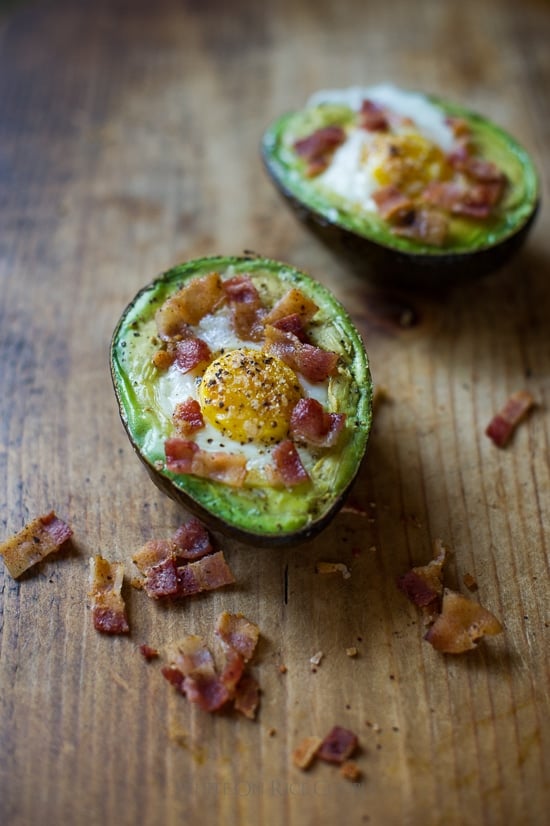 Watch the Video of Eggs Baked in Avocado:
I asked twitter and facebook what to do with the avocados and all you amazing people came to my rescue with some incredible ideas. Inspired to make the most out of my stash of avocados, I also turned to the CA Avocado Commission recipe index to find more recipe inspiration. One of the first recipes I came across was for this Avocado bacon and eggs recipe.
It had my favorite three ingredients but as I read further, I found out it was baked. Baked? BAKED?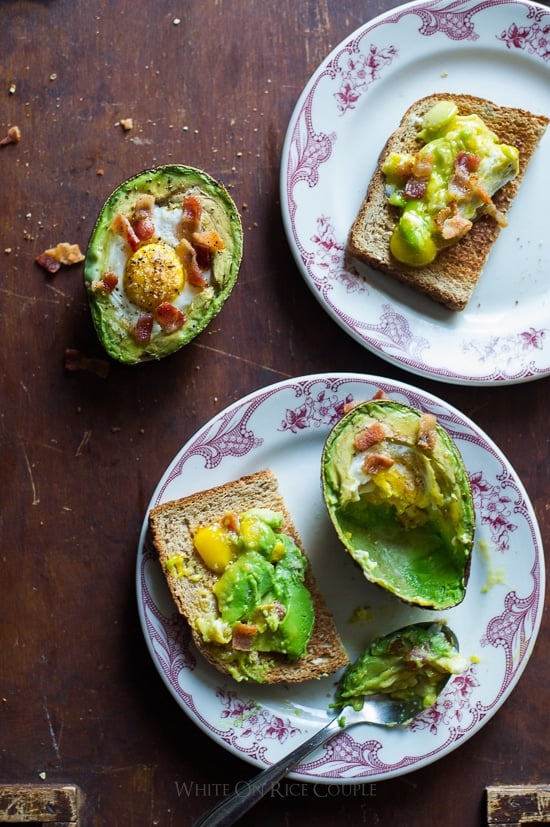 The thought of eating a baked avocado didn't sound appealing. But after looking at the recipe further, I was imagining what it would taste like when the egg was runny, like a poached-egg style. The bacon bits on top for extra crunch and salt was even more interesting. It all sounded way too rich for me and after 2 bites, I'd probably regret wasting a perfectly wonderful avocado.
But my curiosity got the best of me and I just had to try it. Have you ever been both scared and fascinated by something that you can't stop thinking about it? Well I had that relationship with this recipe and I couldn't get it out of my mind. So I had to try it because if I didn't, I'd keep myself up at night wondering what it tasted like. Yes, I'm that type of person that keeps thinking about something so much that I eventually have to make it happen, or else I'll drive my self bonkers.
I decided to spread it over toast and figured this would be a wonderful base for something so decadent. And what did I think of it after I tasted it? Wonderful.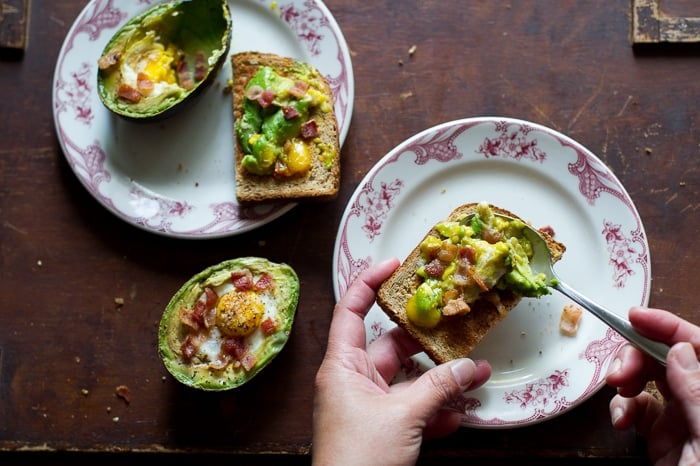 Really, I never thought I'd take heart to a warm avocado. But the warm egg, all mushed together with the avocado and bacon bits really paired well together on the crisp toast. It was like a smashed avocado sandwich, but with the added bonus of a "poached egg" texture on top and bacon to make it all happier. I really enjoyed these baked eggs and was so surprised at how pleasant warm avocado tasted.
Todd even enjoyed it and ate his half with the same enthusiasm as I did.
So there you have it. I'm thankful that I didn't judge the recipe and gave it a second chance. Now I can say that I have a wonderful breakfast option for anyone who loves avocados.
Try it!
-diane
How to Make Eggs Baked in Avocado Recipe
Create Foil rings to secure the avocado so that it doesn't tilt and spill during movement. You might not need to use all the egg whites.
If needed, scoop out a little avocado to make more room for the egg. We like to use small eggs.
Make foil rings to secure the avocado in the baking dish.
Check out the full recipe in the recipe box below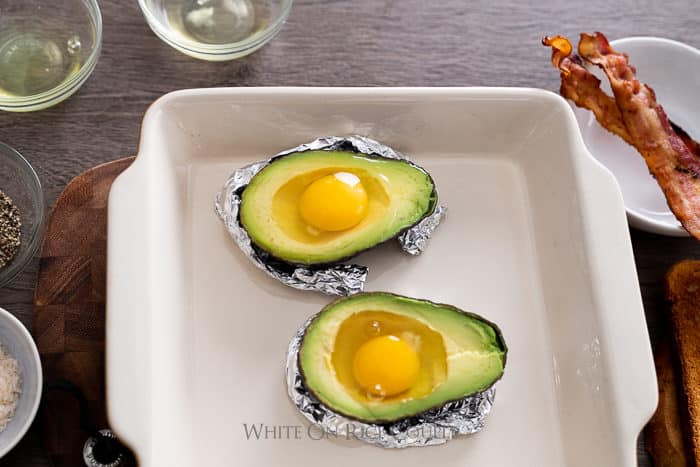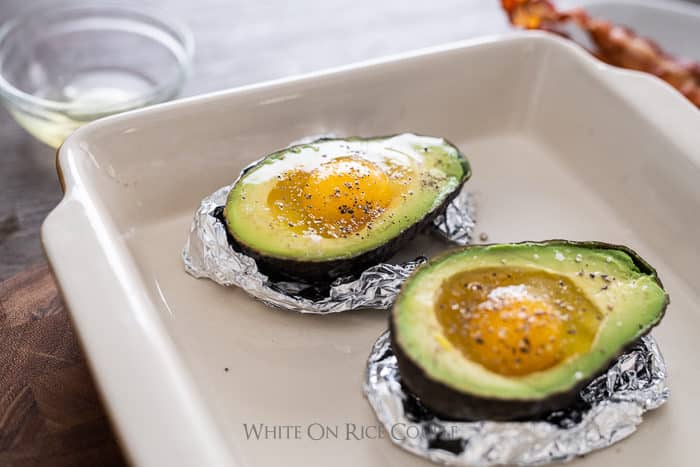 This recipe was originally published in 2013 and re-published in 2019 with an updated video and more photos.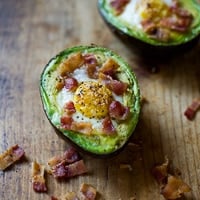 Baked Eggs in Avocado with Bacon on Toast
Check out our step by step photos on the recipe write up. The baked eggs in avocado works best with small eggs, but if you only have medium or large eggs, they will work too. Scoop out some avocado if needed to make room for eggs. You might not need to use all the eggs whites.
Ingredients
1 avocado
2 small eggs
2 slices bacon , cooked then crumbled
2 slices toast
sea salt , to taste
fresh cracked black pepper , to taste
hot sauce , optional
fresh chopped tomatoes , optional
Instructions
Pre-heat oven to 425°F.

Crack the eggs in individual bowls, careful to not puncture the yolks. Set aside. You can crack the egg directly in the avocado later, but it might overflow and make a mess.

Cut avocado in half and carefully remove seed. Depending on how big the seed is, the hole in the avocado should be big enough for one small egg. But if the hole looks too small, scoop out a little at a time until it matches the amount of egg.

Make aluminum foil rings to hold the avocados level. You need to keep the avocado from tilting so that the raw egg does not spill out. Look out photos to see how we did it. In medium baking dish, lay foil ring, and rest the avocado half on top so that the avocado doesn't tilt over. Press down on foil if needed to align the avocado.

Carefully place the eggs into the avocado seed cavities ~ If you aren't sure if the cavity is big enough to hold all the egg whites, this technique will be useful: With a spoon, gently scoop out one of the yolks and place it into the hole of the avocado. Then continue spooning the egg whites into the avocado hole until it's full. Repeat for other avocado half.

Add salt and fresh cracked black pepper on top of the eggs, to taste.

Carefully place the baking dish in oven and bake for about 15-30 minutes, or until the eggs are cooked to your preference. Baking time will vary depending on how much egg you have and how big your avocado is. So keep checking the egg to see if it's cooked to your desired consistency. Sometimes we bake them for less time because we like runny egg yolks.

Sprinkle crumbled bacon on top. Spread the avocado/egg onto toast. Add addition salt and pepper to taste, chopped tomatoes, hot sauce, if needed. Enjoy!
Nutrition Information per Serving
Calories: 371kcal, Carbohydrates: 21g, Protein: 12g, Fat: 28g, Saturated Fat: 6g, Trans Fat: 1g, Cholesterol: 156mg, Sodium: 337mg, Potassium: 612mg, Fiber: 7g, Sugar: 2g, Vitamin A: 360IU, Vitamin C: 10mg, Calcium: 61mg, Iron: 2mg
More Easy Recipes:
We are a participant in the Amazon Services LLC Associates Program, an affiliate advertising program designed to provide a means for us to earn fees by linking to Amazon.com and affiliated sites.