Shrimp and Avocado Noodle Salad with Creamy Ginger Vinaigrette
This avocado shrimp noodle salad recipe is a winner! If you love shrimp AND avocados, this the perfect dinner.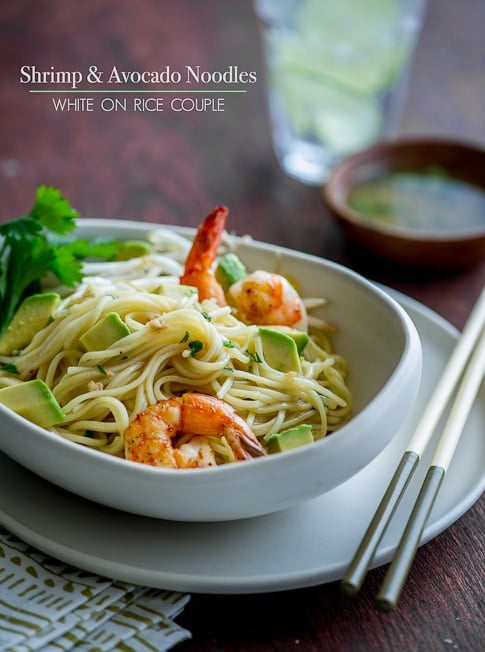 Avocado Shrimp Noodle Salad
Our road trip back yesterday from San Francisco was slightly longer than usual, but the beautiful route along the 101 was worth the extra 2 hour drive. It's not often that we get to see a mix of California's gorgeous oak woodland interior and stunning rolling coastline, so the 10 hour drive was visually fabulous. If you ever get a chance to road trip our home state of California, please add Route Highway 1 PCH and 101 on your list. You will not be disappointed.
We spent the last 4 days in San Francisco for a video shoot with Blue Bottle Coffee along with a visit with family. It seems like we've been making this trip quite a bit this year, so for our drive home we wanted to mix things up to see more of our beloved state. Gosh, California is just so beautiful in Spring and we're smitten with it beyond words.
some iPhone images from San Francisco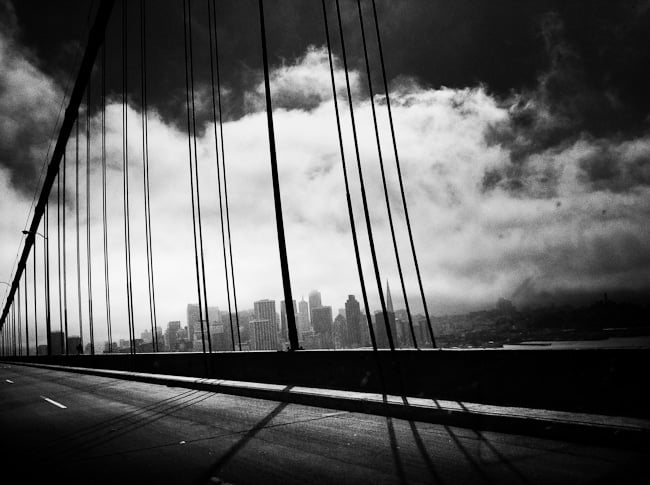 view of the city from Bay Bridge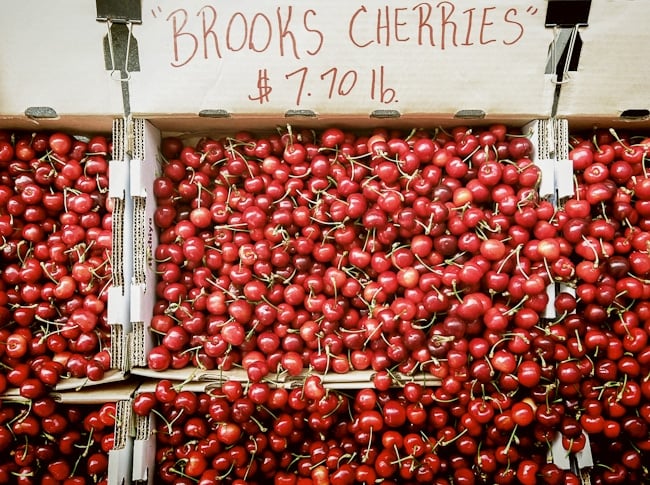 cherries in season at the Castro Farmers Market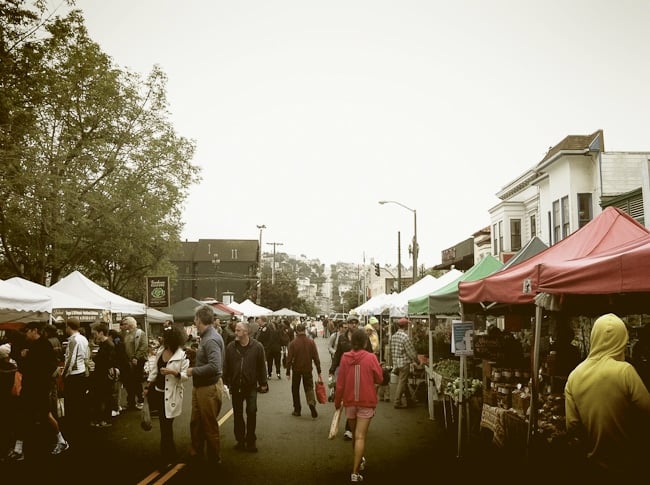 The Richmond Bridge in the distance, Marin County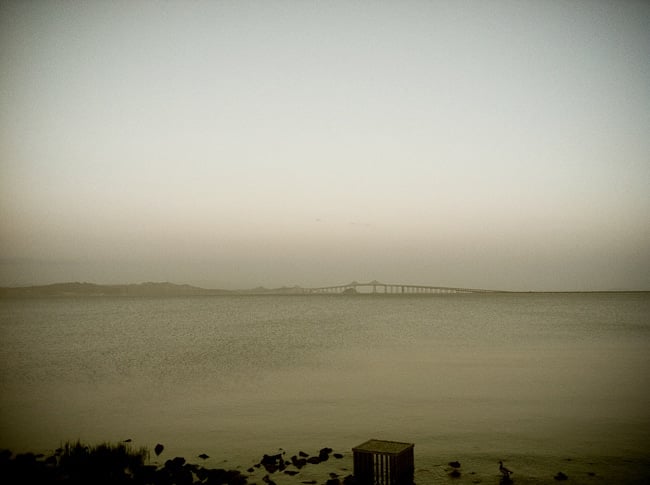 Along our drive home we talked about Sierra, the garden, our next travel work trip and what we were going to share on our next post. Then we remembered the avocado shrimp noodle salad! Oh yes, can't forget that amazing avocado shrimp noodle salad. We had shared an image of this dish about 10 days ago on our Facebook page and wanted to make sure we were able to test the recipe a few more times before we posted.
Easy Noodle Recipe with Avocado
For our last food photography & styling workshop, the kind folks at The California Avocado Commission were so generous and sent us some avocados to photograph and style with. And with the leftovers, we were able to have a feast of avocados to eat for our Cinco De Mayo party!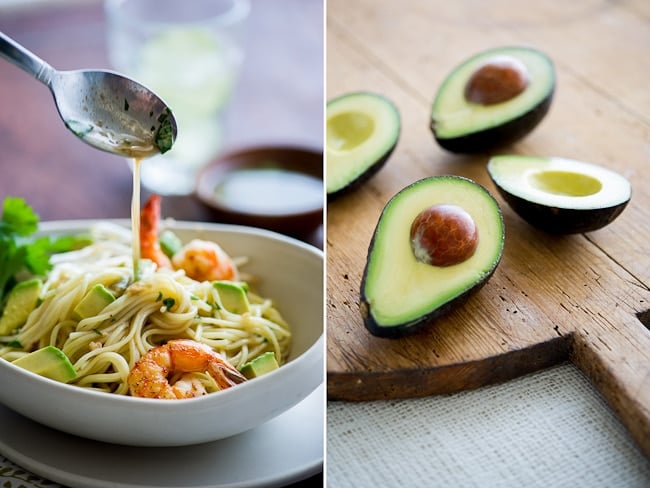 Even after the workshop, we had a few gorgeous avocados left over and decided to use those for lunch in our noodle salad. So here it is, one of our favorite lunches to feast on. It's a fresh and satisfying noodle salad with creamy avocado and grilled shrimp. The creamy ginger vinaigrette binds everything together so well and toss it up a bit to blend the avocado in with the noodles, you have yourself a winning noodle salad.
This noodle salad is wonderful when it's cold and with all the amazing warm weather we've been having, consider it the perfect picnic dish. Hoping your weather is warming up and sunshine is filling your days!
hugs,
diane and todd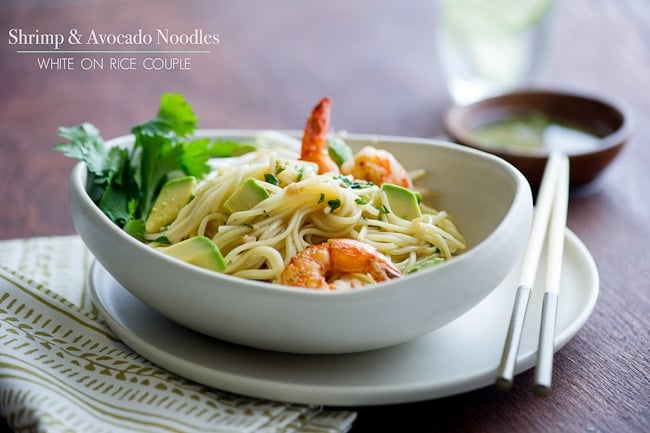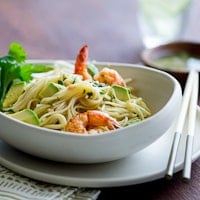 Shrimp & Avocado Noodle Salad
For a quick meal, combine the dressing ahead of time. The noodles can be served at room temp., cold, or hot, depending on your preference.
Ingredients
6-8 oz dried Asian Noodles , or spaghetti
Creamy Ginger Dressing *recipe follows
1/2 lb. Shrimp , shelled & deveined
1 Avocado , diced
Grape Seed or Canola Oil
fresh cracked Black Pepper
Cilantro, Thai Basil, or other herb of choice for garnish, chopped or torn
Creamy Ginger Dressing Ingredients
1/4 cup olive oil or grape seed oil (we prefer grape seed oil because it's lighter and neutral tasting for this dressing)
1 teaspoon sesame seed oil
2 teaspoons minced ginger (about a 1" knob)
1 teaspoon mayo
1 Tablespoon rice vinegar
1 Tablespoon soy sauce
1/2 teaspoon sugar
2 teaspoons lime or lemon juice
1 teaspoon minced cilantro , extra sprigs for garnish
Instructions
Cook noodles to package directions then rinse and cool under cold water.

Make the dressing: Combine all ingredients (oil, sesame oil, ginger, mayo, rice vinegar, soy sauce, sugar, lime/lemon juice, and cilantro) and mix until well combined. Set aside.

Heat a saute pan over medium-high heat. Lightly oil pan and cook shrimp about 30 seconds-1 minute on each side or until cooked through. Season with salt and pepper.

Starting with 2/3 the amount of dressing, toss noodles, shrimp, avocados, and dressing together. Taste for seasoning preference and add more dressing if necessary. Garnish with fresh herbs and serve.
Notes
Note 1: Usually we'll use a rice noodle such as the Vietnamese bun or pho noodle or a quality ramen or somen noodle. Use whichever type of noodles you prefer most.
Nutrition Information
Calories: 628kcal, Carbohydrates: 82g, Protein: 29g, Fat: 20g, Saturated Fat: 3g, Trans Fat: 1g, Cholesterol: 287mg, Sodium: 1559mg, Potassium: 637mg, Fiber: 8g, Sugar: 2g, Vitamin A: 148IU, Vitamin C: 17mg, Calcium: 195mg, Iron: 4mg
Tryair frying the shrimp for this easy recipe.
We are a participant in the Amazon Services LLC Associates Program, an affiliate advertising program designed to provide a means for us to earn fees by linking to Amazon.com and affiliated sites.