Garlic Mushroom Avocado Toast 
Ok this is garlic mushroom avocado toast story is a quickie. We just had to document this before we lose the delicious moment. If you're an avocado toast and mushroom fan then you must make this!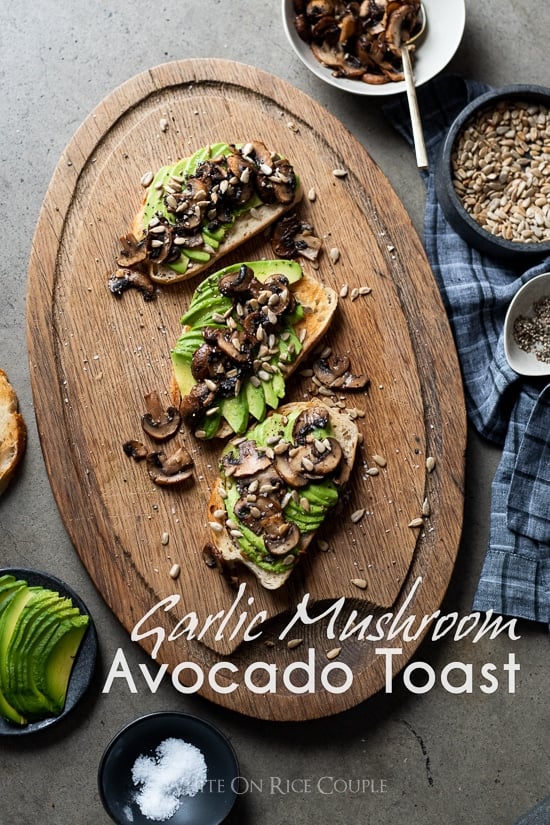 We were needing a quick lunch at the studio and figured avocado toast lunch doesn't get any quicker than 5 minutes. Then we found mushrooms in the fridge and sautéed those up with some garlic. That took about 7 minutes. And topped it all off with a handful of sunflower seeds and we had a wowzer-delicious lunch.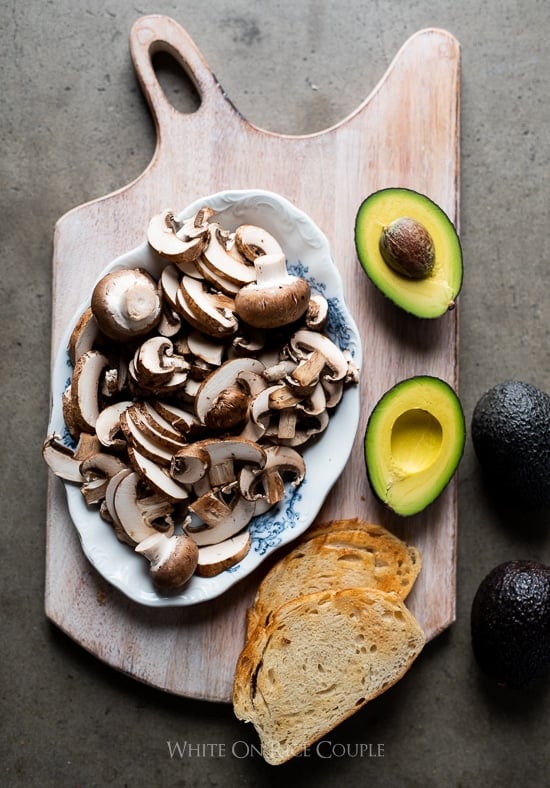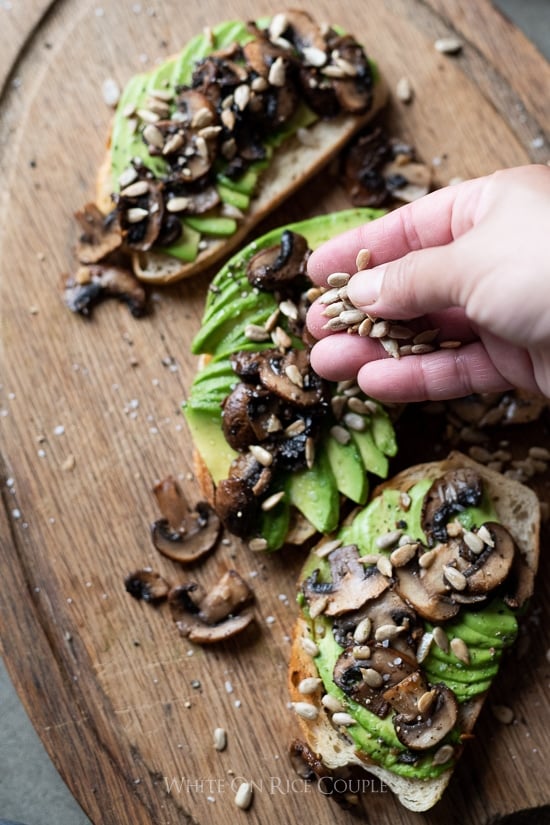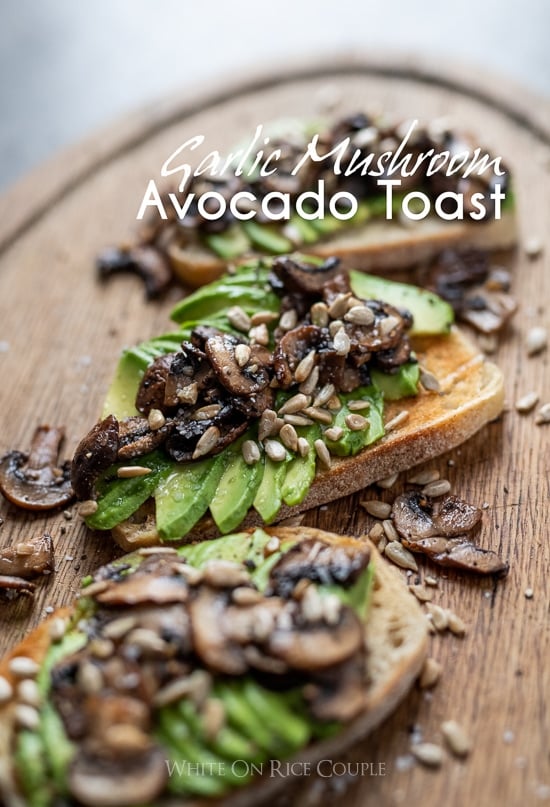 Video: Garlic Mushrooms on Avocado Toast Recipe
Wow the flavors of the garlic mushrooms with creamy avocado was outstanding. The crunch of the salty nuts was an extra treat all topped off with a drizzle of olive oil and sprinkling of salt and pepper. All within 15 minutes we were able to feed so many people and looked like culinary geniuses to the production teams. Well, that will all change when they read our post here and find out how ridiculously easy this quickie lunch was! hahaha.
Enjoy!
diane and todd
More Great Avocado Recipes: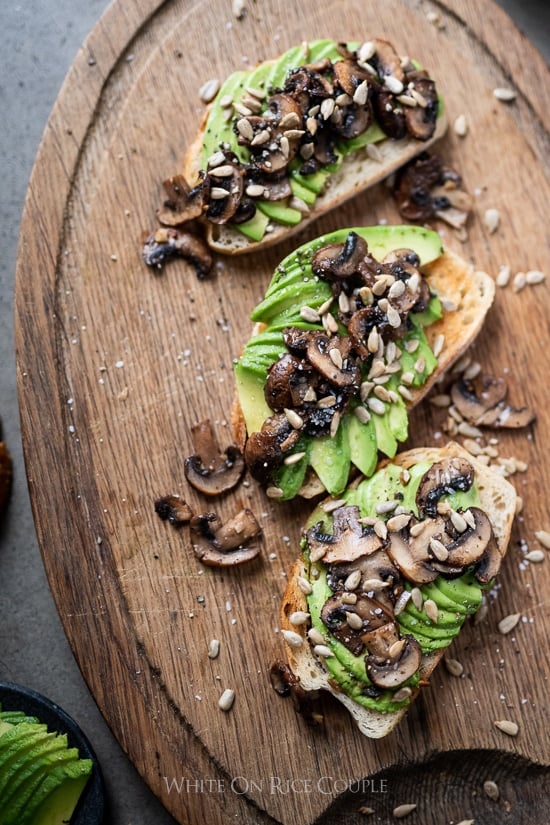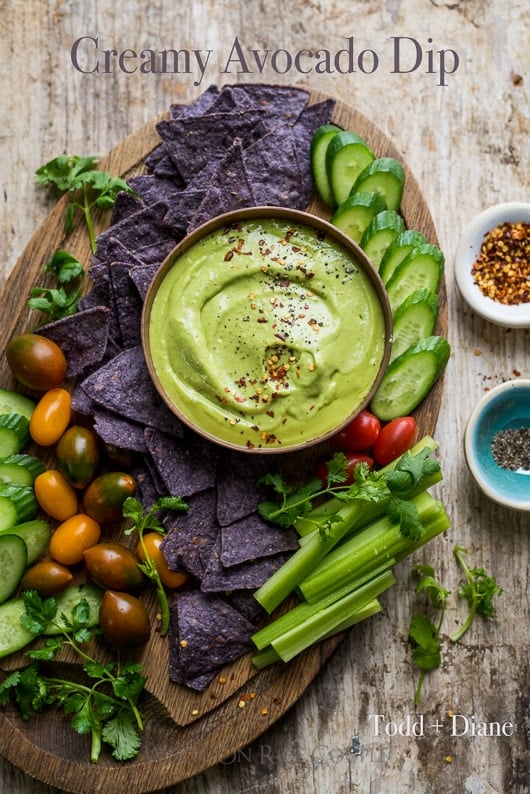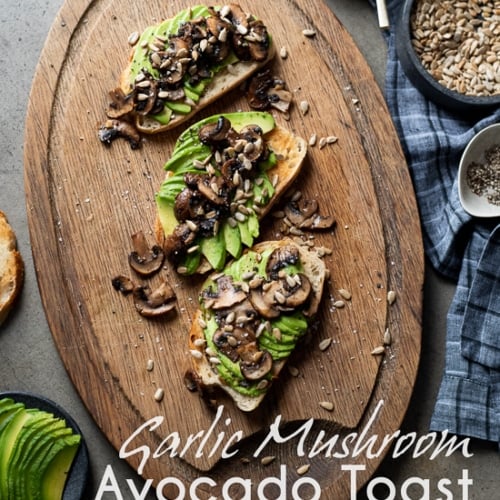 Garlic Mushroom Avocado Toast
Make sure to season the mushrooms with salt when you first put them into the pan. Other than just seasoning the mushrooms, the salt will also help the them release some of their moisture.
Ingredients
8 ounces (227 g) sliced mushrooms
1 Tablespoon (15 ml) olive oil
Flaky salt or Kosher salt, to taste
black pepper , to taste
2 cloves (2 cloves) garlic , minced
1 teaspoon (5 ml) fresh lemon juice , or to taste
4 slices (4 slices) crusty bread , toasted
1 large (1 large) avocado , or more if you like
Additional Topping Options
nuts, toasted sunflower seeds, cheese, fresh herbs, and drizzle of olive oil
additional salt and pepper , to taste
Instructions
Heat pan on medium high heat. Add oil, mushrooms, salt and pepper. Cook mushrooms until they caramelize and release and cook off their moisture. Add garlic and cook until garlic becomes fragrant and translucent, but not burnt. Remove mushrooms from heat and add fresh lemon juice to taste.

Cut avocado in quarters and remove from skin. Cut each avocado quarter into thin slices.

Layer each bread slice with avocado slices from 1/4 of the avocado. If you want more avocado, then add more!

Spoon mushrooms over the avocado toast. Add your favorite toppings and a drizzle of olive oil. Season with additional salt and pepper, if needed. Enjoy!
Nutrition Information per Serving
Calories: 231kcal, Carbohydrates: 38g, Protein: 9g, Fat: 4g, Sodium: 331mg, Potassium: 262mg, Fiber: 2g, Sugar: 2g, Vitamin C: 2.1mg, Calcium: 31mg, Iron: 2.6mg
We are a participant in the Amazon Services LLC Associates Program, an affiliate advertising program designed to provide a means for us to earn fees by linking to Amazon.com and affiliated sites.