Chili Garlic Roasted Potatoes with Fresh Herbs
Chili garlic roasted potatoes are always a great side dish. Even when it's hot outside we're craving a dinner with something roasted in the oven. When made with creamy fingerlings or Yukon golds, this slightly spicy, herb loaded roasted potato is worth the heat in the kitchen.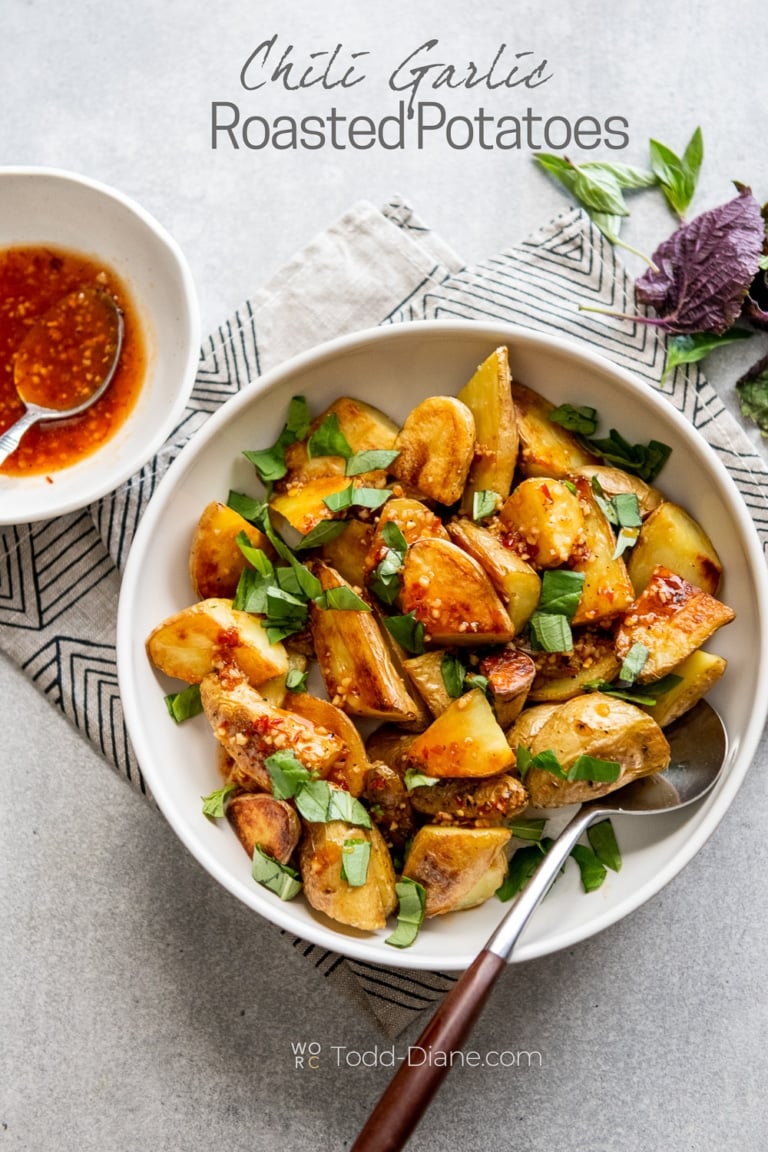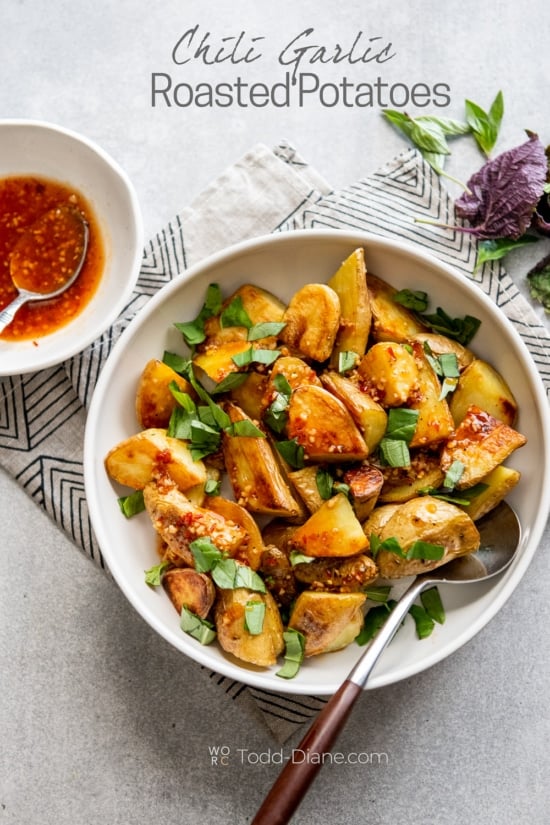 Chili Garlic Roasted Potatoes
This is a great way to enjoy roasted potatoes that's loaded with flavor. Eat bite of the potatoes is coated with a umami packed savory & spicy sauce and layered with fresh fragrant herbs. There's never a boring bite with these potatoes and it's one of our favorite side dishes to share at dinner parties. You can customize the heat level to your preference. Add as little or as much chili garlic sauce to the marinade.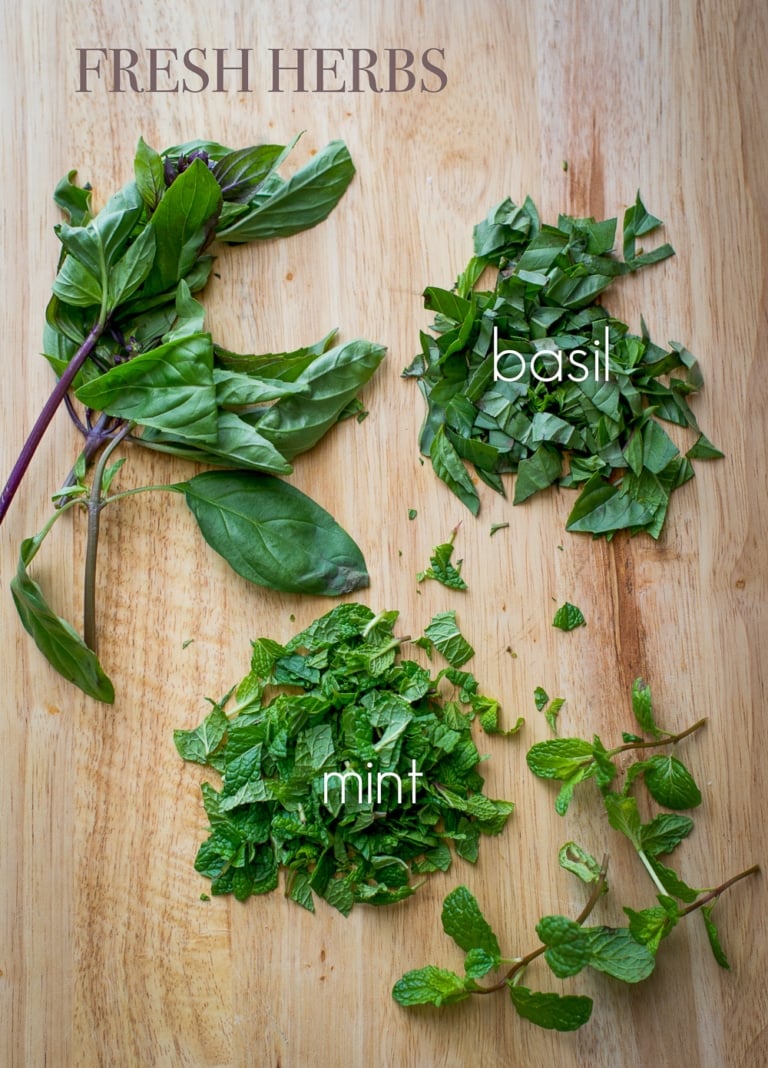 Video: Roasted Potatoes with Spicy Chili Garlic Marinade
Flavorful with a Splash of Fish Sauce or Soy Sauce
A few splashes of fish sauce and a healthy amount of chili garlic sauce makes this quick marinade flavorful and super-satisfying. Topping it off with a handful of our favorite chopped fresh herbs is how we add that extra explosion of fresh flavor. This is how our simple, yet satisfying dinners work. Fish sauce, chili heat, top it with herbs and it's a voila dinner. But if you're still skeptical about fish sauce, then you can certainly use soy sauce or the gluten free version called Tamari. What ever you use, this is sure to be a flavorful side dish to share.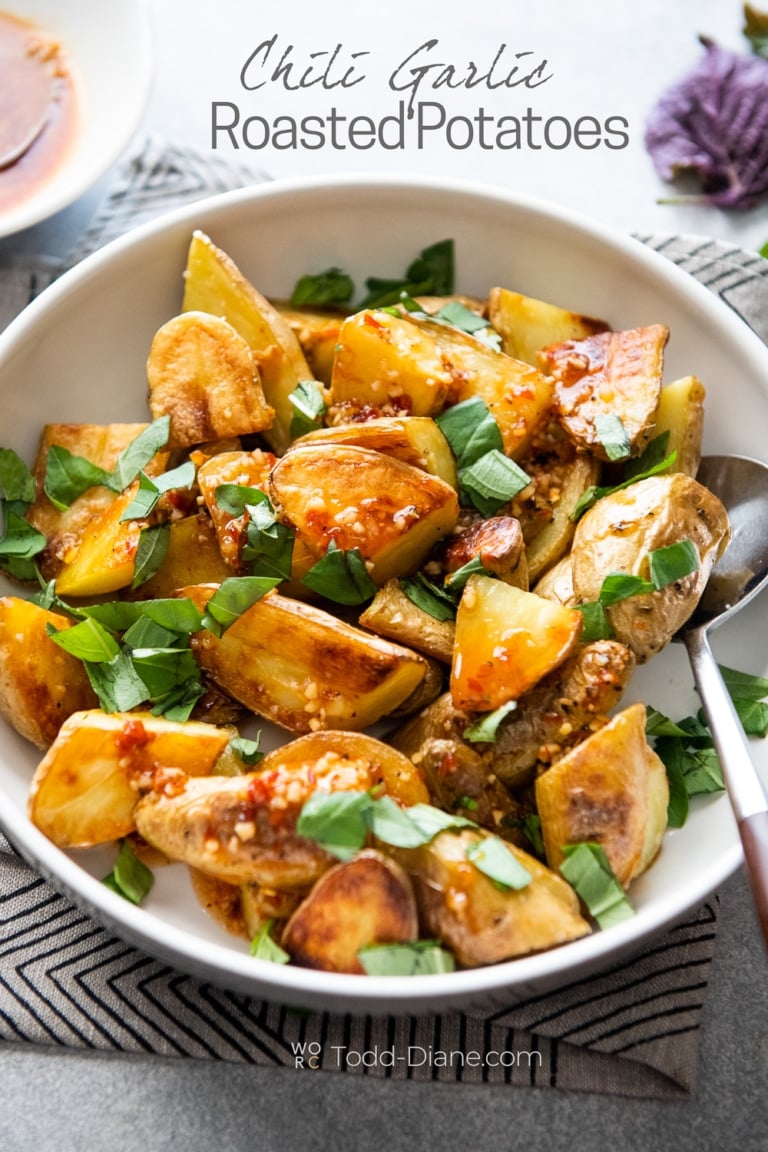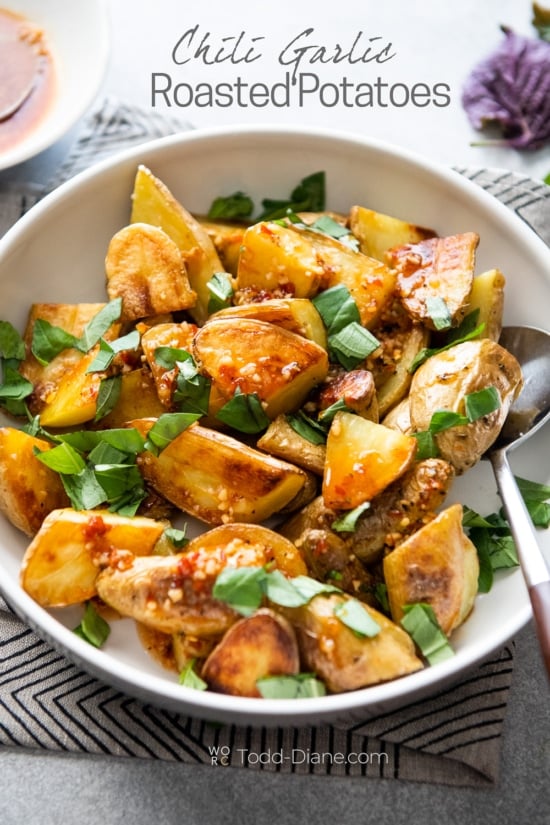 Different Types of Potatoes to Roast
With the season's new, small, sweet and tender fingerling potatoes, we roasted up a quick batch in our favorite chili garlic marinade. Fingerlings are our favorite but at various times of the year, fingerlings aren't available. So you can use any variety of potato you like.
Russet potatoes are great because they're starchy and have a great texture when roasted.
Gold Potatoes are always a top favorite. The creamy texture of gold potatoes can't be beat.
Red Potatoes are firm and waxy with a great firm bite. They hold up to the marinade really well.
Can you use sweet potatoes? Sure! The balance of sweet potato with the salty and spicy marinade is a great combination.
Enjoy,
diane and todd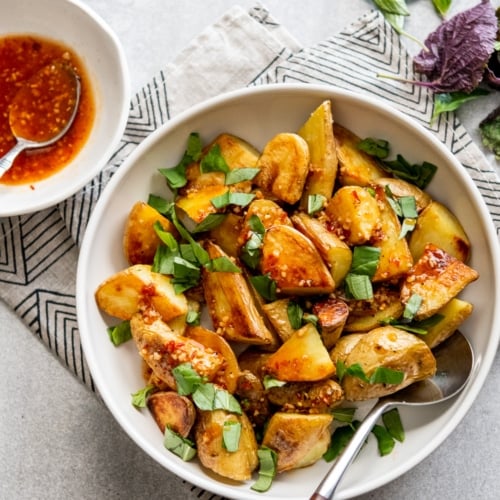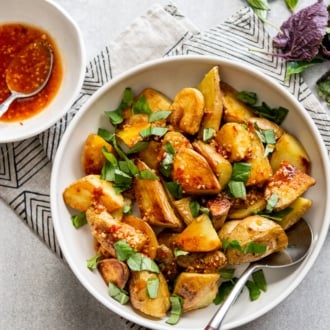 Chili Garlic Roasted Potatoes with Fresh Herbs
Toss in whatever mix of fresh herbs that you like. The fresh flavor of chopped herbs really balance and bring out the flavor of the spicy potatoes. Customize the spiciness of the dish to your preferred level of heat. We love these with fingerling potatoes, but Yukon golds or other creamy potatoes are our next favorites. Any potato will do in a pinch. See write-up above for more discussion on potato types.
Ingredients
1 to 1.5 pounds (454-680 g) potatoes cut into 2" bite-sized pieces
2 Tablespoons (30 ml) vegetable oil (or preferred oil)
1 teaspoon (5 ml) kosher salt , or to taste
2 cloves garlic , minced or crushed
2 teaspoons (10 ml) chili garlic sauce , or more to taste
2 teaspoons (10 ml) fish sauce or soy sauce. For Gluten Free use Tamari
2 teaspoons (10 ml) apple cider vinegar
1 teaspoon (5 ml) brown sugar
1/2 teaspoon (2.5 ml) fresh cracked black pepper , or to taste
1/2 cup (30 g) chopped fresh herbs such as mint, basil, cilantro
Nutrition Information per Serving
Calories: 161kcal, Carbohydrates: 23g, Protein: 3g, Fat: 7g, Saturated Fat: 1g, Polyunsaturated Fat: 4g, Monounsaturated Fat: 2g, Trans Fat: 1g, Sodium: 951mg, Potassium: 540mg, Fiber: 3g, Sugar: 2g, Vitamin A: 636IU, Vitamin C: 33mg, Calcium: 30mg, Iron: 1mg
More Easy Potato Recipes:
We are a participant in the Amazon Services LLC Associates Program, an affiliate advertising program designed to provide a means for us to earn fees by linking to Amazon.com and affiliated sites.