Savory Tomato Crisp Recipe
This tomato crisp recipe is part of a continuing series we're sharing for Summer on our favorite heirloom tomatoes that we're growing. And we have a delicious recipe included too! You can visit all our tomato recipes on our tomato page.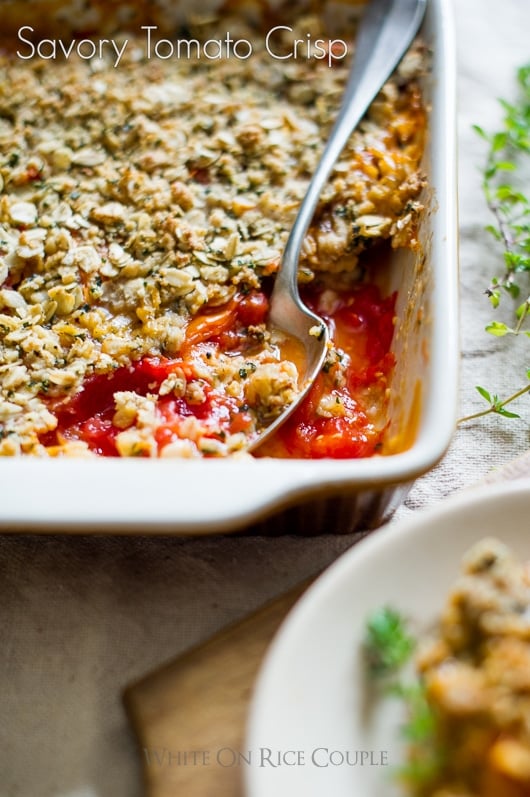 Tomato Crisp Recipe
Every once in a while two cravings collide and something magical happens. Sometimes it all ends up being one big, tasteless mess and easily forgotten dish. But on occasion, these random food ideas can marry into a lovely dish that we'll make over and over. So a few weeks ago we were craving a baked tomato dish and aside from our tomato tarts that we love making, the idea of combining a crisp and tomato popped up like a light bulb. We're introducing, our tomato crisp recipe. It has everything that we love about summer: vine ripened heirloom tomatoes + crisp topping + baked in the oven = perfect savory crisp dish. The math says it all.
If you're already a fan of fruit crisps (raise your hands high!) and heirloom tomatoes, then combining these two isn't too far fetched of a culinary idea. Really, the idea of a savory tomato crisp is quite delicious. The juicy, baked tomatoes are essentially and botanically speaking, a fruit anyways. So all you're really changing is the flavor from a sweet stonefruit or berry profile to a lovely tomato-y sweet flavor.
Watch the video making the amazingly delicious tomato crisp: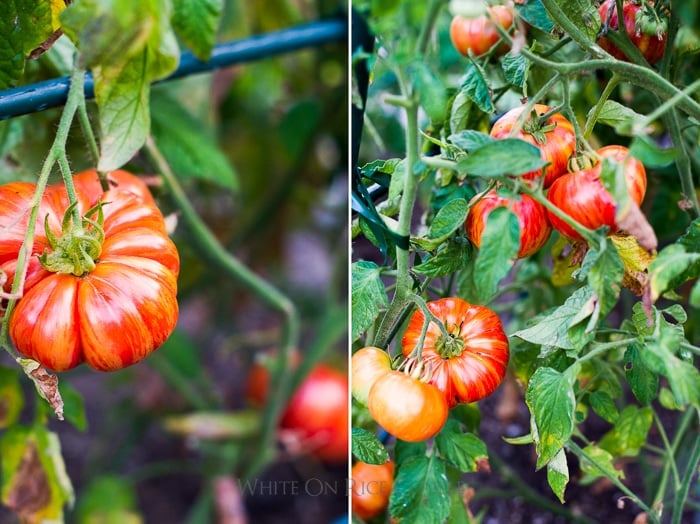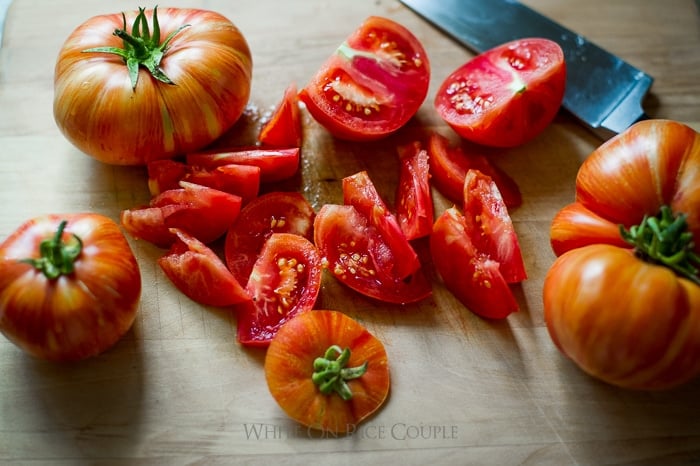 Consider this tomato crisp the perfect side dish to a grilled meat dish or a pairing to a nice vegetarian salad. Either way, the textures of the crisp oats and juicy tomatoes underneath add to the essential flavors and colors of Summer. It can't be beat.
And these lovely tomatoes we're making them with? They're chocolate stripe heirloom tomatoes and aren't they a beauty to behold? These chocolate stripes actually did extremely well in the garden, giving off at least 3 dozen medium to large sized fruit. The colors and striping are very striking and the sweet flavors make this at the top of our heirloom tomato list. It's definitely going to be on the list for next year because they're the plant that kept on giving.
Happy Summer!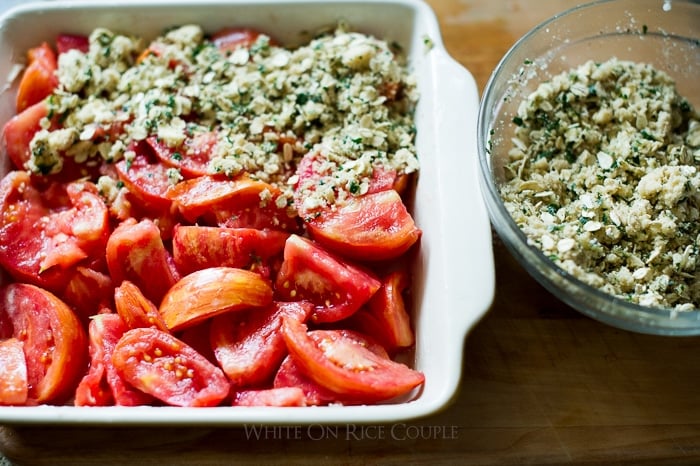 Warm out of the oven, this tomato crisp has crunchy oat texture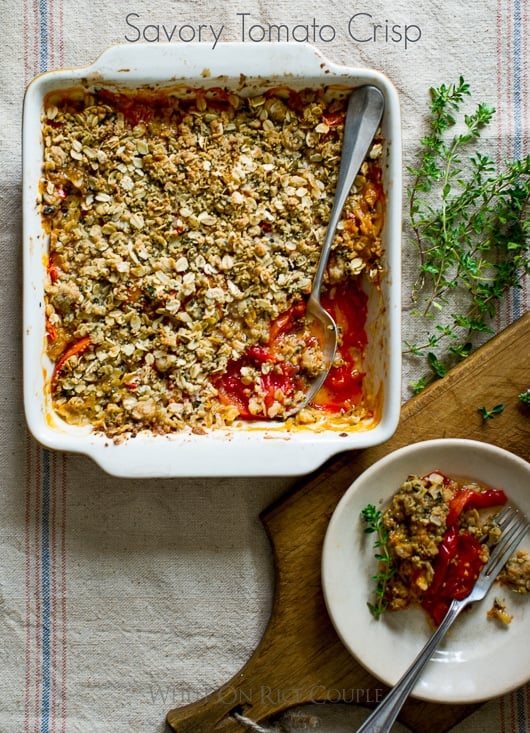 give yourself a big scoop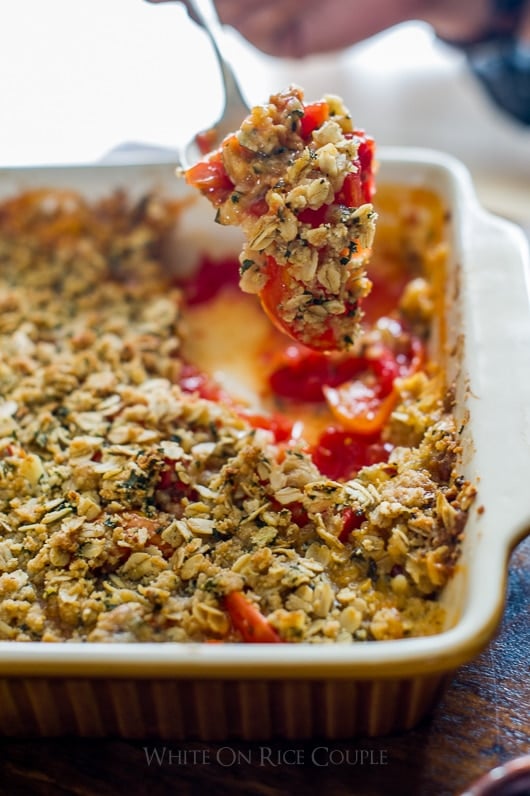 This tomato crisp recipe was originally published 2013 and re-published in 2018 with a new video.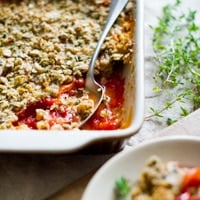 Tomato Crisp
For this tomato crisp, you can either cut the tomatoes into wedges or into slices. The wedges will give you a heartier bite of tomato when eating, and the slices can a be a pretty presentation.
Ingredients
2 pounds (907 g) ripe Tomatoes , cut into wedges or sliced
1 Tablespoon (15 ml) Cornstarch
Kosher Salt or Sea Salt
fresh cracked Black Pepper , to taste
3/4 cup (94 g) Flour
1/4 cup (25 g) freshly grated parmigiano reggiano
2 Tablespoons (30 ml) finely minced Italian Parsley
2 teaspoons fresh thyme leaves , optional
1 Tablespoon (15 ml) minced or crushed Garlic
1 Tablespoon (15 ml) packed Brown Sugar
1 teaspoon (5 ml) Kosher Salt or Sea Salt
1/2 cup (114 g) cold unsalted Butter , cut into ½-inch pieces (1 stick)
½ cup (40 g) old-fashioned Oats
Instructions
Preheat the oven to 375°F (190° C). Butter a 2-quart baking dish.

Put the cut tomatoes into the prepared baking dish. Toss with the cornstarch and season lightly with salt and pepper.

Combine the flour, cheese, parsley, optional thyme leaves, garlic, brown sugar and teaspoon of salt in a medium bowl. Mix together well.

Pinch the butter into the flour mixture until it resembles coarse sand (or cut it into the flour mix with a pastry cutter). Work in the oats with your fingers until evenly distributed.

Spread the crisp topping over the tomatoes. Bake for 45 minutes or until the topping is golden brown. Serve warm or at room temperature.
Nutrition Information
Calories: 276kcal, Carbohydrates: 26g, Protein: 5g, Fat: 17g, Saturated Fat: 10g, Cholesterol: 43mg, Sodium: 466mg, Potassium: 406mg, Fiber: 2g, Sugar: 6g, Vitamin A: 1875IU, Vitamin C: 22.9mg, Calcium: 79mg, Iron: 1.5mg
We are a participant in the Amazon Services LLC Associates Program, an affiliate advertising program designed to provide a means for us to earn fees by linking to Amazon.com and affiliated sites.