Cowboy Bacon Chili Cheese Fries
This Chili Cheese Fries Recipe is flavorful and decadent. The bacon is the added flavor bonus. Use any type of french fries that you want.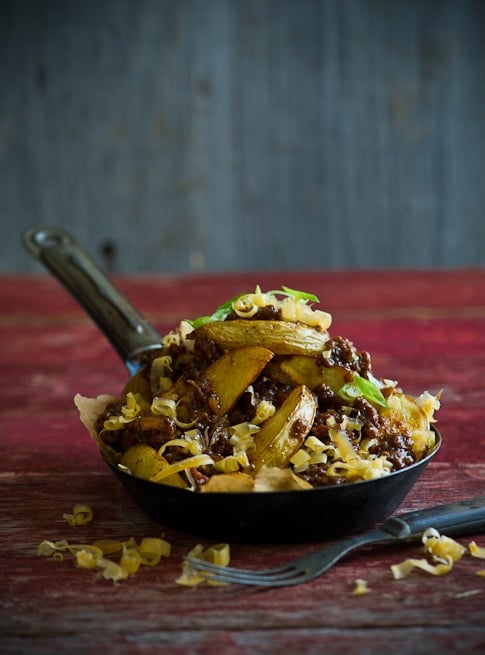 Chili Cheese Fries Recipe
Hold on tight, you'll be pleased to know that these chili cheese fries are fresh, home-made, hand-made and fried with only the best yukon gold potatoes and grape seed oil. No need to sneak through the drive-through to satisfy your greasy cravings. You can do that in the sacred privacy of your own home.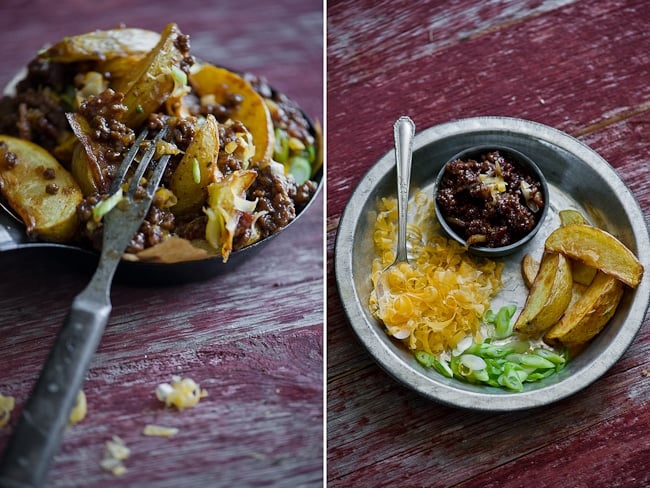 Cardiologists will probably hate us for this recipe and what they'd call Early Death Chili Cheese Fries. But for those of us who want who want to indulge in something special and lathered in rich love, we call it Holy Shit Chili Cheese Fries. Better yet, we've cowboy'ed 'em up made them in the style of thick, rustic-cut potato wedges and added a spicy kick to the chili. The sky is the limit.
Bacon. Ground Brisket and Top Round. Beer. All cooked together with sweet onion, garlic, spices, and BBQ sauce. It is one hell of a chili.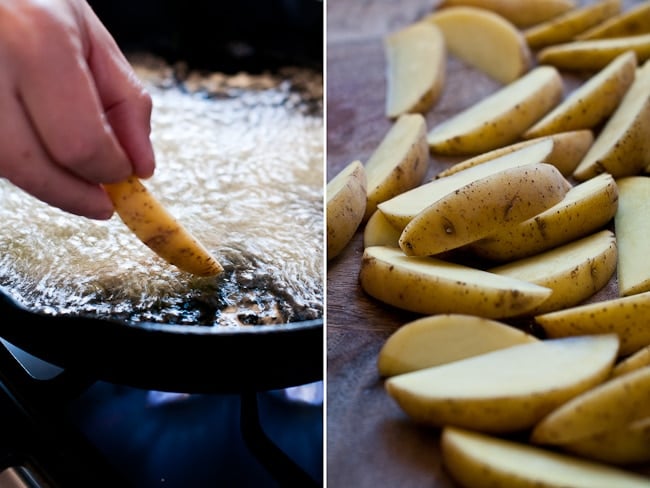 We love a little heat in our chili, so it's an addd option to the recipe. Homemade Sriracha sauce is a regular part of our pantry, our chicken wings usually get the spice treatment, and we often indulge in our Viet mother's make-you-want-to-cry spicy Bun Bo Hue soup.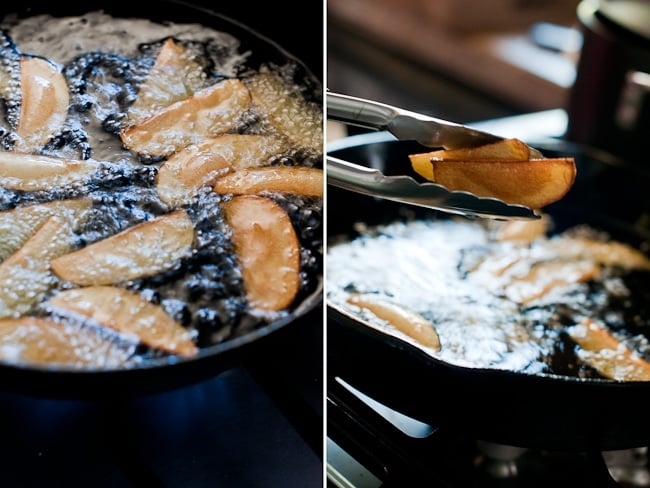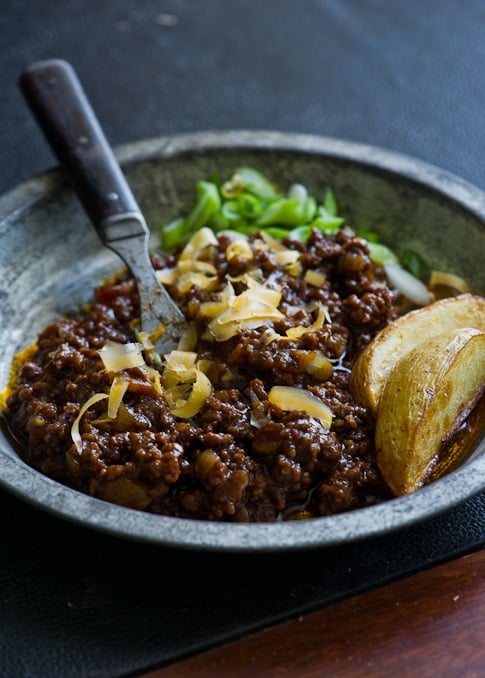 Second version: Eat more chili with your potatoes!
We'll vary on how lazy or meticulous we are feeling in making our fries. Going all out, we'll make them the Les Halles method of soaking, drying, soft frying, then crisp frying the little pa-taters. If we are feeling lazy, then we'll just slice, dry, and fry. Either way, we nearly always use yukon golds and either grape seed oil or peanut oil for frying. Gives it that special touch.
You only live once, so don't hold back. The joy from the occasional indulgence easily offsets the caloric vice-filled meal. At least in our book it does, just don't tell the doctor! So what is everyone else's favorite wintertime indulgence? Share your favorite undoing!
Rock On,
-Todd and Diane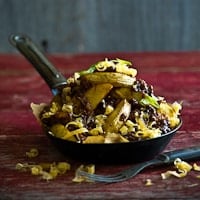 Bacon Cowboy Chili Cheese Fries
The bbq sauce adds a different flavor profile to the traditional chili. If you prefer to have a more tomato based chili, then repalce the bbq sauce with a 15 ounce can of crushed tomatoes or tomato sauce.
Ingredients
Bacon Cowboy Chili
2 lbs (910g) Ground Beef , combination of top round and brisket is our favorite
6 strips (227g) Bacon , diced
1 large Sweet Onion , diced
4 cloves Garlic , crushed
1 cup BBQ Sauce
1 Tablespoon Chili Powder
2 teaspoons ground Cumin
2 teaspoons Paprika
1 Tablespoons Brown Sugar
1/2 teaspoon fresh cracked Black Pepper
1/2 teasspoon kosher salt , or to taste
Additional Ingredient for Chili Cheese Fries (choose as many or few as you like)
1 pound fries , cooked
1 cup shredded cheese , or as much as you want
1 cup caramelized onions
1/2 cup sour cream
1/2 cup sliced green onion
extra bacon
Instructions
Heat a large sauce pan (preferably cast iron) over med-high heat. Add bacon and cook until crisp. Add ground beef, onions and garlic cook until beef is nearly cooked through and browned, stirring occasionally.

Add BBQ sauce, chili powder, ground cumin, paprika , brown sugar, fresh cracked pepper and salt. Stir to combine, bring to a simmer, then lower heat to keep at a gentle simmer. Cook for about 20-30 minutes. If the chili is too thick add about 1/4 cup of water (flavors will develop more with the longer cooking time but isn't a requirement).

Serve the chili warm with fries & other favorite additions. Or use chili as a base or alongside - tortilla chips, crusty bread, in a quesadilla, over a sausage dog or burger, as a pizza sauce, with pasta.
Nutrition Information per Serving
Calories: 402kcal, Carbohydrates: 21g, Protein: 24g, Fat: 24g, Saturated Fat: 9g, Trans Fat: 1g, Cholesterol: 88mg, Sodium: 597mg, Potassium: 549mg, Fiber: 1g, Sugar: 16g, Vitamin A: 637IU, Vitamin C: 3mg, Calcium: 52mg, Iron: 3mg
We are a participant in the Amazon Services LLC Associates Program, an affiliate advertising program designed to provide a means for us to earn fees by linking to Amazon.com and affiliated sites.