Skillet Chicken in Creamy Mushroom Wine Sauce
This week was a doozy. We had long days and tired evenings, thus coming home hungry. Eating out isn't always the option because even simple home cooked meals are better than quick "eating out" meals. Our skillet creamy chicken recipe is our gold standard of easy, homemade and quick. Warm, rich and satisfying this one pot dinner might look fancy, but it's not. Chicken and mushrooms are a great combination.

Skillet Creamy Chicken in Mushroom Wine Sauce
Searing the chicken in a skillet and then deglazing the pan with a homemade creamy mushroom wine sauce is super easy. It's incredible how quickly the meal comes together in the pan and seriously, it's as good as restaurant style dinner. Every time we cook this recipe for chicken in creamy mushroom wine sauce, we become more obsessed with it's flavors.
Video: Creamy Chicken in Mushroom Wine Sauce Recipe
The skillet creamy chicken recipe is juicy, flavorful and absolutely delicious. The mushroom white wine sauce takes the dish over the top and it's always a wonder at how satisfying a simple dinner can be. Better yet, there's very little dishes to have to tend to at the end of the dinner. Pour yourself a favorite glass of wine and you can feast on a fancy-schmancy looking dinner without the big price tag. That's a winner-winner chicken dinner in our books and hope you enjoy it as much as we do!
Enjoy!
diane and todd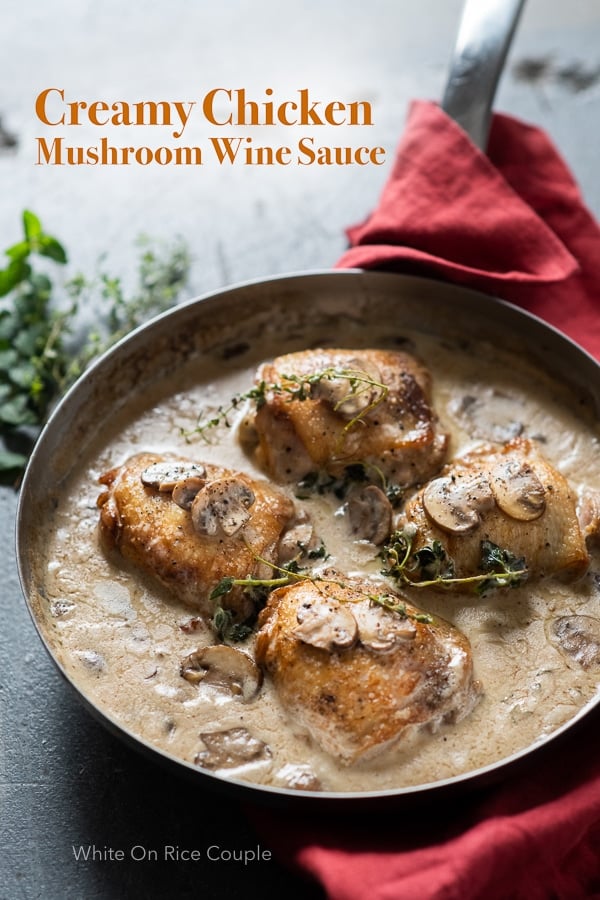 Tips on How to Cook Skillet Chicken in Creamy Mushroom Sauce
We love lots of sliced mushrooms. But if you're not a mushroom fan, just omit it and use chopped onions instead for a creamy onion sauce!
You can use crimini mushrooms, white button mushrooms, baby Bellas, portobello mushrooms, shiitakes or any mushrooms you like.
There's lots of different types of chicken you can use: boneless skinless chicken breasts, bone-in breasts, legs or things. You can use boneless chicken thighs for best flavor. Use any cut of chicken that you like.
Add some quick cook veggies when you add the chicken. Green beans, cauliflower and broccoli are great quick cook veggies.
All skillet creamy chicken recipe details and photos are in the recipe box below.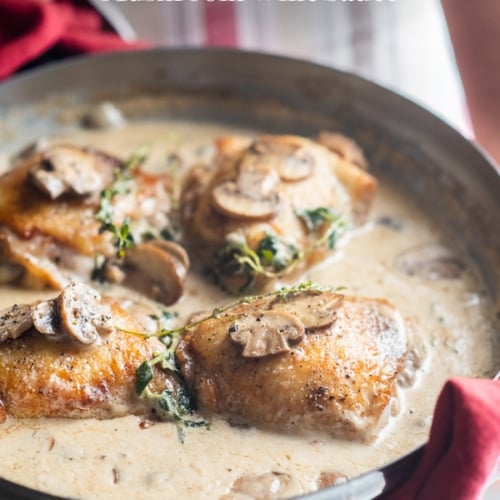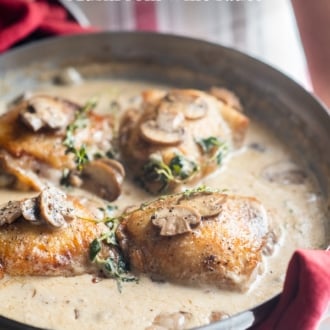 Cream Chicken With Mushroom White Wine Sauce
Such a warm, comforting dinner. We prefer to use chicken legs and thighs, but you can use breasts if you like as well. If you use breasts, skin-on & bone-in breast will give you a juicier end result. If using fresh herbs, tying them together with kitchen twine will make it easier to remove before serving. If you don't want to use wine, you can always leave it out and just add a little more broth.
Ingredients
2 pounds (907 g) Chicken Thighs , Drumsticks or Breasts (bone in, skin on *see head note)
3 Tablespoons (45 ml) Butter , divided
1/2 onion , diced
3-4 cloves garlic , minced or crushed
8 oz. (227 g) Brown Mushrooms , sliced
1 Tablespoon (15 ml) Flour
1 cup (240 ml) Cream
1/2 cup (120 ml) White Wine
1/2 cup (120 ml) Chicken Broth
3-4 sprigs fresh herbs (Thyme, Parsley, Oregano, Basil etc) *see head note, or 1 teaspoon dried herbs
2 whole Bay Leaves
1/2 teaspoon (2.5 ml) salt (for sauce) , or more to taste + additional for seasoning chicken
1/2 teaspoon (2.5 ml) fresh cracked black pepper (for sauce) , or more to taste + additional for seasoning chicken
Nutrition Information per Serving
Calories: 832kcal, Carbohydrates: 9g, Protein: 40g, Fat: 68g, Saturated Fat: 29g, Cholesterol: 326mg, Sodium: 676mg, Potassium: 837mg, Fiber: 1g, Sugar: 2g, Vitamin A: 1314IU, Vitamin C: 4mg, Calcium: 79mg, Iron: 2mg
Here's some more Easy Skillet Dinners:
this recipe was originally published in 2019 and re-published in 2023 with updated photos.
We are a participant in the Amazon Services LLC Associates Program, an affiliate advertising program designed to provide a means for us to earn fees by linking to Amazon.com and affiliated sites.