Todd & Diane's Deviled Egg Bar
Our popular deviled egg bar is a hit when it comes to brunch, Mothers Day or Easter. Cutomizing your own deviled eggs is super fun.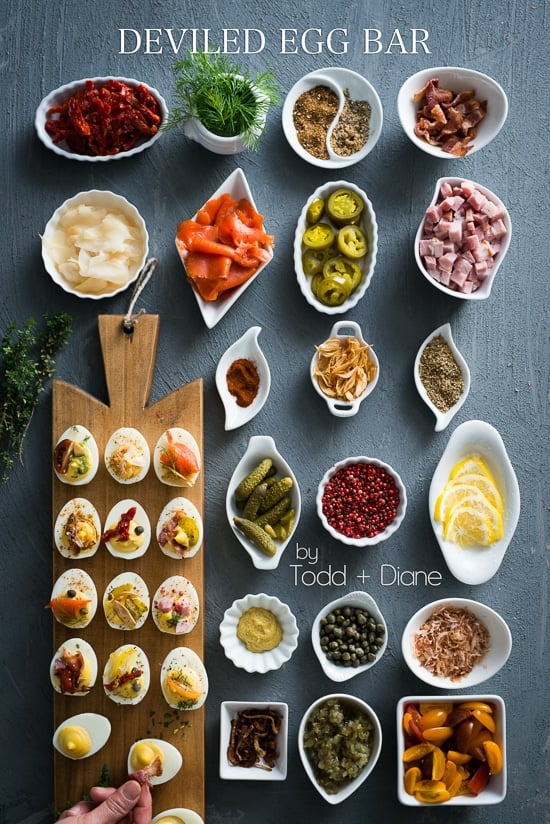 Best Deviled Egg Bar
Maybe it's the weather changes or all the new blooms in the garden, but it definitely feels like brunch season for us. Brunch is great anytime of year, but when Spring arrives and a new spirit begins to overtake the kitchen, we're all about brunch. With Easter quickly arriving too it doesn't help but to make us crave all the Spring infused foods and gatherings. Now that the season is upon us, we wanted to talk about one of our favorite ways of spreading the love of deviled eggs for a big group of eaters that's easy, simple and mind-blowing fun. As you can see you, you've guessed it. We're talking about our deviled egg bar! It's the perfect brunch dish that keeps the conversations alive and bellies satisfied.
Little video teaser of our deviled egg bar: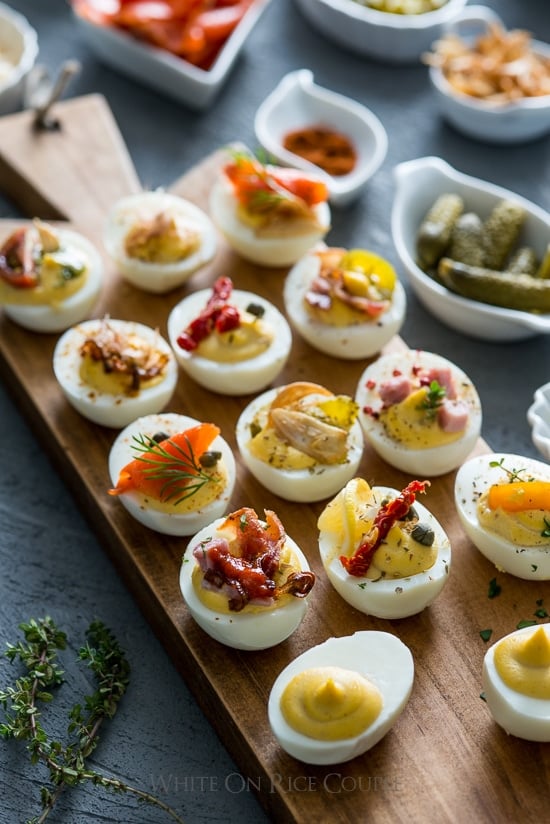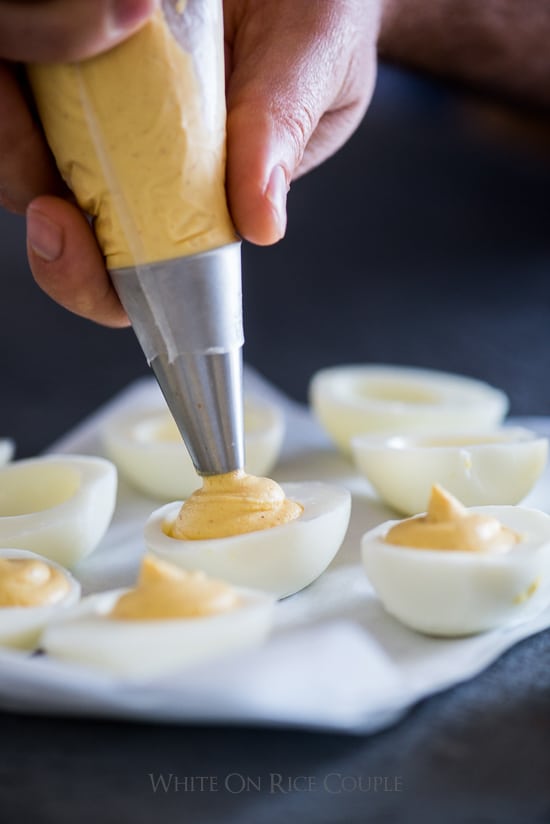 customizing each deviled egg is super fun in a deviled egg bar spread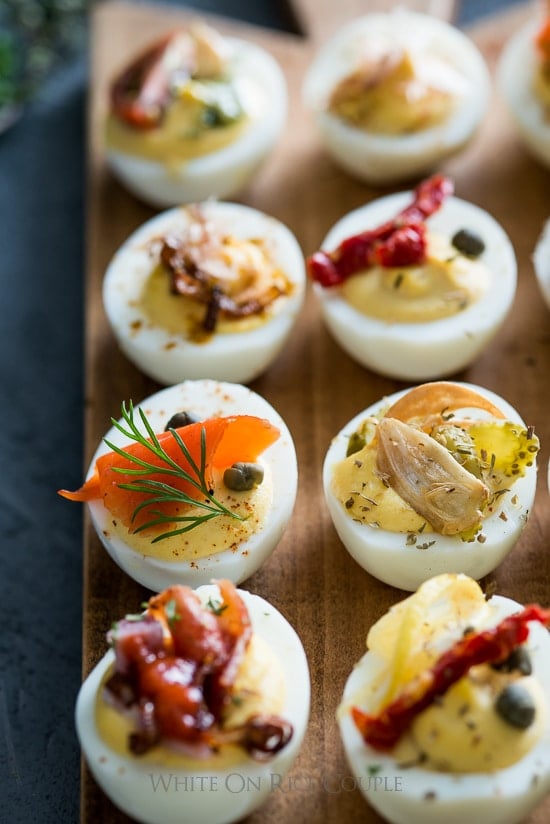 How to Create Make Deviled Egg Bar
Gosh, this is super easy and fun to assemble. For our last deviled egg bar gathering, everyone had such a blast assembling their own deviled eggs and with all the different types of toppings, each bite is unique and delicious. We like to go beyond the norm and give inspiration to different toppings that cover flavors from around the world and of course, we can't forget the traditional favorites. But it's all about inspiration and showing how each bite can be reminiscent of a past trip, memory and moment.
Some of our favorite deviled egg themes and inspirations for your deviled egg bar. We have so many but here are what we had during our photo shoot. The possibilities are endless!
Different Deviled Egg Ingredients
Japanese: have a variety of furikake seasonings, fragrant bonito flakes, yuzu kosho, and zingy picked ginger. The flavors are absolutely outstanding and reminds us of our past eating trips through Japan and Tsukijji fish market.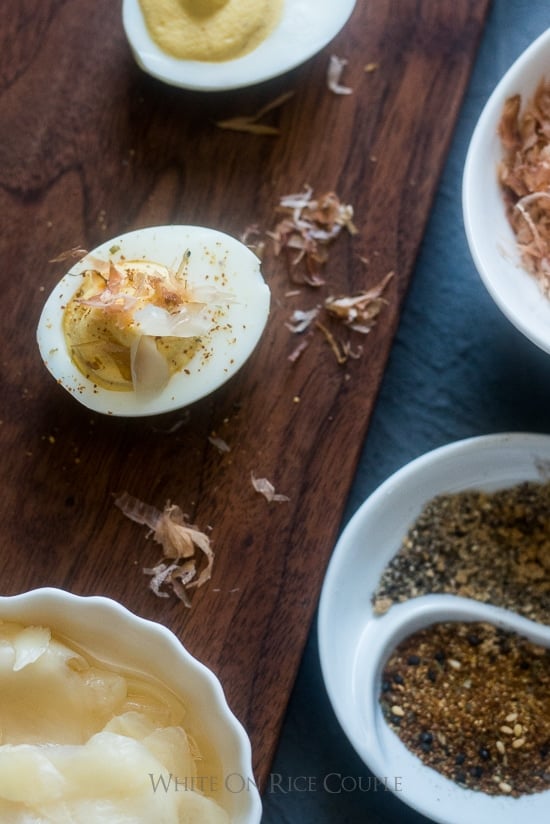 California coastal fresh: think ripe sweet heirloom cherry tomato, swipe of fresh basil pesto and a sliver of crispy fried garlic, all flecked wth fresh cracked black pepper and flaky sea salt. Amazing!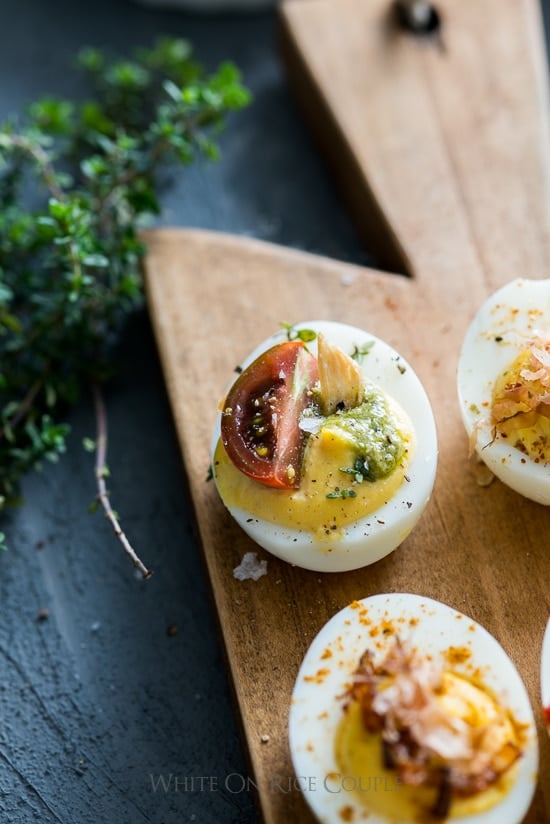 Ham and pink pepper: Salty chunks of smoked ham paired with the zippy spice of crushed pink peppercorns is fabulous. Don't forget the smoked sea salt, some flecks of fresh thyme and you have a unique combination that everyone will drool over.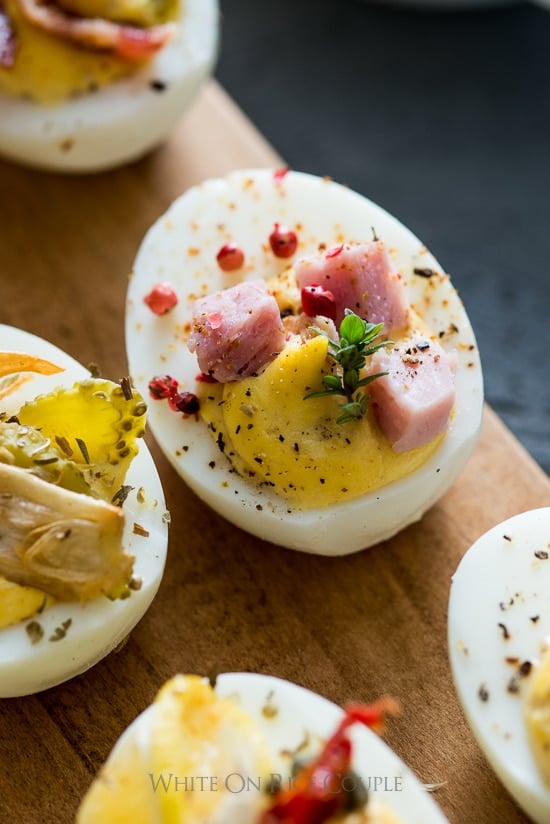 Indian: A little swipe of sweet mango chutney and paprika is a powerful bite of dreamy Indian flavors. And to make it more versatile, try a deviled egg with some curry powder and cayenne. The rich spices are packed with an unforgettable punch.
Vietnamese: A "banh mi" deviled egg? Yes, it works! A small schmear of pâté, drizzle of soy sauce or maggi, minced cilantro, a thin sliver of chili pepper all topped with some pickled carrots and daikon will blow your mind. Try it. Trust us.
Spicy Deviled Eggs
Spicy Fool with Bacon: We like to call it this because we have family members who can tolerate a ton of spicy heat and we call them fools. Maybe because we're jealous because we can't eat too spicy of food or maybe it's because they're suffering the post-spice pains afterwards. What ever your tolerance is, there's always someone at the party to loves spicy. And bacon! So top the egg with slivers of bacon, jalapeño, habanero, and/or a swipe of your favorite hot sauce like Sriracha or anything that tips the spicy scale to over the top.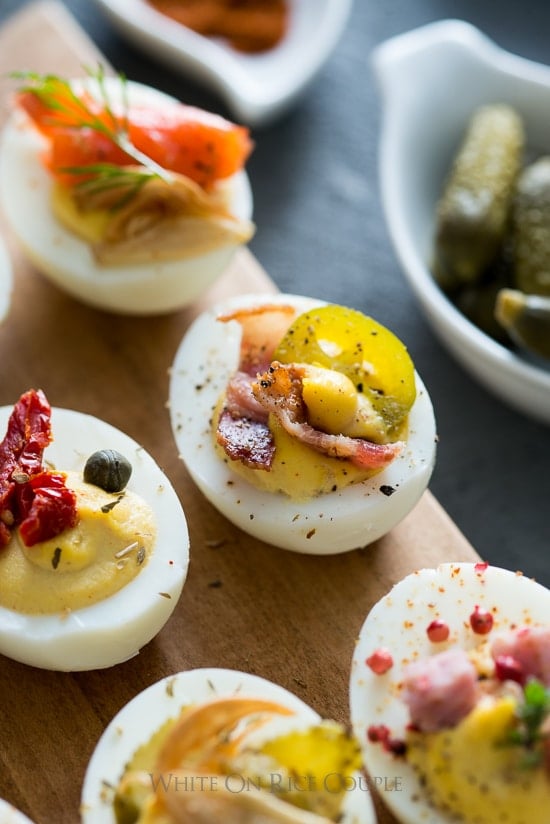 Timeless: The classics such as smoke salmon, dill, chives and other variations are always popular, appreciated and devoured super quick.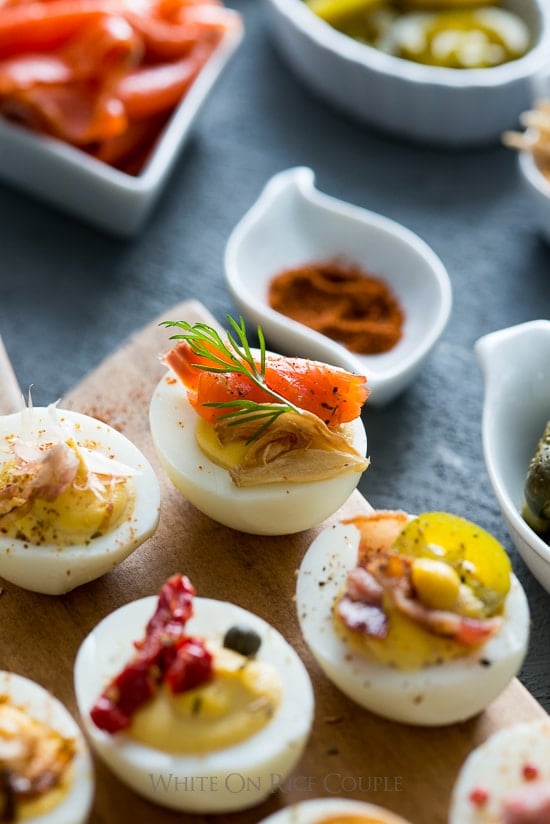 Again, the possibilities are endless so have the time of your lives with your friends and family to eat up as many delicious custom made deviled eggs as possible. And most importantly, have fun!
hugs,
diane and todd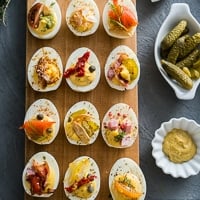 Todd and Diane's Deviled Egg Bar
The fun part about this party bar is that you can add what ever toppings you like. Read our recipe post to see all the different topping options along with all the photos.
Ingredients
12 large eggs , boiled and peeled
1 Tablespoon (15 ml) mustard (regular, dijon or spicy brown)
1/3 - 1/2 cup (80-120 ml) mayonnaise , creme fraiche or sour cream
1/2 teaspoon (2.5 ml) prepared horseradish , or to taste
1/4 teaspoon (1.25 ml) smoked paprika
1/4 teaspoon (1.25 ml) cayenne
1 Tablespoon (15 ml) vinegar (apple cider vinegar, rice vinegar or distilled)
1 Tablespoon (15 ml) minced onion or shallots (optional)
1 Tablespoon (15 ml) sweet pickle relish (optional)
1 teaspoon (5 ml) soy sauce
1/2 teaspoon (2.5 ml) kosher salt or sea salt , to personal taste
fresh cracked black pepper , to taste
Instructions
Cut boiled eggs lengthwise and remove yolks.

In medium bowl, add egg yolks, mustards, mayo, horseradish, smoked paprika, cayenne, vinegar, soy sauce, salt and pepper to taste. Whisk the yolk mixture until smooth, removing as many lumps as you can (you can press it through a fine mesh strainer if you are in a meticulous mood).

In piping bag or quart size ziplock bag, fill it with the yolk mixture. If you're using a ziplock bag, snip a small cut of the plastic to allow to pipe.

Pipe in all the yolk mixture between the egg white shells. Top with all the different toppings or assemble all the toppings in small bowls for your guests to top their deviled eggs themselves. Customized is great!
Nutrition Information per Serving
Calories: 90kcal, Carbohydrates: 1g, Protein: 3g, Fat: 8g, Saturated Fat: 2g, Trans Fat: 1g, Cholesterol: 96mg, Sodium: 92mg, Potassium: 39mg, Fiber: 1g, Sugar: 1g, Vitamin A: 159IU, Vitamin C: 1mg, Calcium: 15mg, Iron: 1mg
Here's some great recipes:
This recipe was originally published in 2017 and re-published in 2019 with updated video.
We are a participant in the Amazon Services LLC Associates Program, an affiliate advertising program designed to provide a means for us to earn fees by linking to Amazon.com and affiliated sites.