Heirloom Tomato Salad with Wild Basin Lemon Hard Seltzer
We're ready for summer and excited to partner with Wild Basin Hard Seltzer. Their lemon hard seltzer is so refreshing and is a perfect part of our picnics, parties, and gatherings all summer long. This story is content for 21+. Please drink responsibly.
It was such a wet rainy spring and finally, the sun is out for our outdoor picnics. Yay! When the weather is great it's the perfect time to Drink It All In. Everything about summer inspires us to enjoy a picnic with friends, savor refreshing drinks, and be in the outdoors together. Lexi loves being outside napping in the warm sun. She loves hanging out with us on the picnic blanket and being next to us on our level. We never let her on the furniture so picnicking is the only time she gets to literally be at our level. And for the rest of us, we love sharing food, sunbathing, and pairing Wild Basin Hard Seltzer Lemon with our favorite summer heirloom tomato salad.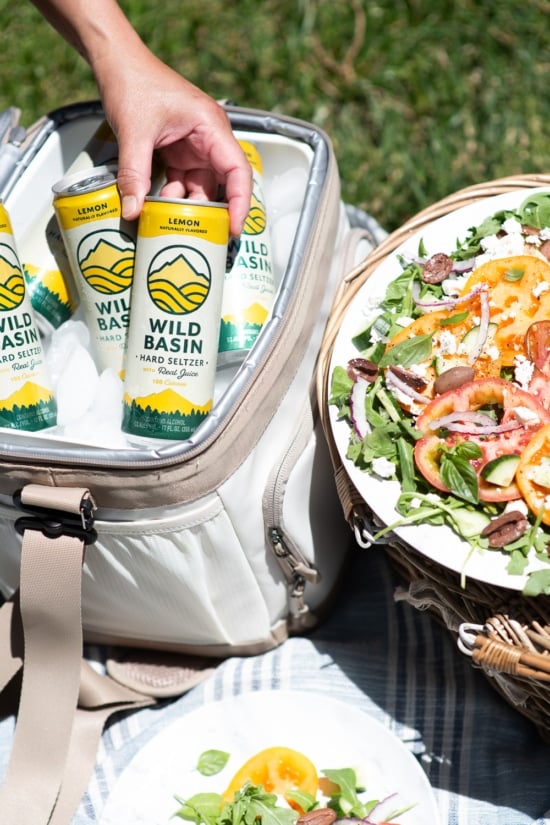 What Does Wild Basin Hard Seltzer Lemon Taste Like?
Wild Basin Hard Seltzer has so many great flavors but one of our go-to flavors is lemon. You can't go wrong with lemon because it pairs with so many different types of foods. Wild Basin's bright lemon flavor is amazing and it doesn't have the sour artificial taste like other lemon seltzers. Wild Basin Hard Seltzer Lemon is made with real juice and that's why it's truly one of the best seltzers we've tasted so we can Drink It All In. And trust us, we've tasted many. The fresh bright lemon comes through and best of all, it's not cloyingly sweet. There's such a nice balance in each sip. We can't tell you how many times we'll taste lemon hard seltzers and we're turned off from sour artificial flavors.
Perfect Pairing with Our Heirloom Tomato Salad
Every picnic should have a great salad and that's what we've been doing for years. Sure, we'll have chips, cheese, grapes, crackers, and some sandwiches but our picnics aren't complete without a salad. When heirloom tomatoes and produce are peaking during summer, it just makes sense to start the afternoon with a salad. Our Greek-inspired heirloom tomato salad has all the wonderful crunch, flavor, and texture on a bed of herbaceous arugula. The lemon hard seltzer pairs so well with the salad because the flavors balance perfectly with the salty feta cheese, kalamata olives, and all the other herbs and veggies.
But it's not just salads that the Wild Basin Hard Seltzer Lemon pairs with. It's seriously yummy when paired with grilled meats, seafood, veggies, and salty snacks.
Hope you're all enjoying your summer and getting out there to be a part of nature. Relax, unwind, enjoy your summer moments, eat well, and drink responsibly friends! You can Find Wild Basin Near You.
-Diane and Todd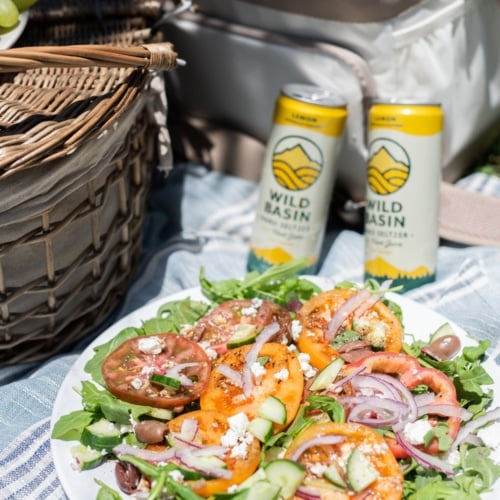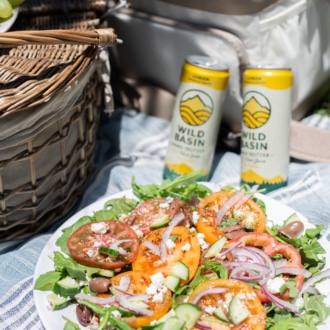 Arugula & Heirloom Tomato Greek Salad
When picnic season arrives, we love sharing a Greek-inspired salad for summer. Juicy sweet heirloom tomatoes are the perfect complement to a bed of crispy and spicy arugula. Crunchy and salty toppings of cucumbers, feta cheese, red onion, Kalamata olives, and fresh herbs all combine perfectly for a salad ready for sharing. Each bite of this salad is paired perfectly with a refreshing Wild Basin Hard Seltzer Lemon. Having a big, delicious salad with a sip of Wild Basin Hard Seltzer and sharing these with good friends and great conversations is what makes picnicking memorable.
Ingredients
For the Salad
4 cups fresh arugula
2 medium heirloom tomatoes , sliced
1 medium cucumber , chopped
1/4 cup sliced red onion
1 cup crumbed feta cheese
1/4 cup Kalamata olives , sliced
1/2 cup chopped fresh basil
For the Dressing
3 Tablespoons olive oil
2 Tablespoons balsamic vinegar
1/2 teaspoon garlic powder (or 2 cloves fresh garlic, minced)
1 teaspoon brown sugar
1/2 teaspoon salt
1/2 teaspoon fresh cracked black pepper , or to taste
Instructions
Make the dressing: in a jar mix all the dressing ingredients (olive oil, balsamic vinegar, garlic powder (or minced garlic), brown sugar, salt and fresh cracked black pepper). Close the lid on the jar and shake until combined. Set aside.

In a large bowl with a lid, lay fresh arugula on the bottom. Then lay heirloom tomatoes, cucumber, red onion, feta, Kalamata olives, and fresh basil.

Close the salad bowl with a lid and refrigerate until ready to transport.

Before serving, shake the dressing in the jar to combine all the ingredients. Dress the salad and serve immediately.

Pair with Wild Basin Hard Seltzer Lemon for a perfect picnic or any great meal.
Nutrition Information per Serving
Calories: 163kcal, Carbohydrates: 7g, Protein: 5g, Fat: 13g, Saturated Fat: 4g, Polyunsaturated Fat: 1g, Monounsaturated Fat: 7g, Cholesterol: 22mg, Sodium: 575mg, Potassium: 238mg, Fiber: 1g, Sugar: 4g, Vitamin A: 916IU, Vitamin C: 10mg, Calcium: 164mg, Iron: 1mg
This is a sponsored story with Wild Basin Hard Seltzer and all our opinions are our own. We love a great drink!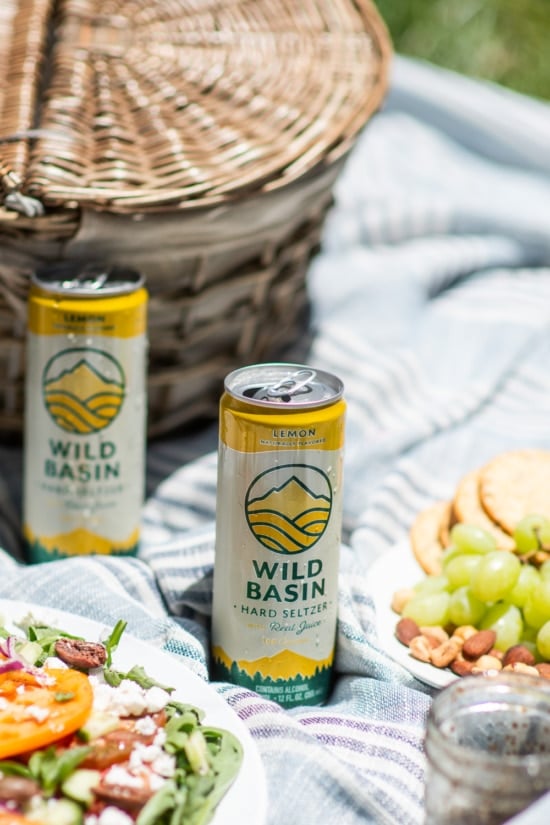 We are a participant in the Amazon Services LLC Associates Program, an affiliate advertising program designed to provide a means for us to earn fees by linking to Amazon.com and affiliated sites.