Homemade Cherry Filling for Pies, Desserts and More
When cherries are plentiful and in season it's time to make our homemade cherry filling recipe. It's perfect for so many dishes beyond the basic cherry pie filling. This filling is great for cheesecakes, dessert bars and even as a topping on ice cream.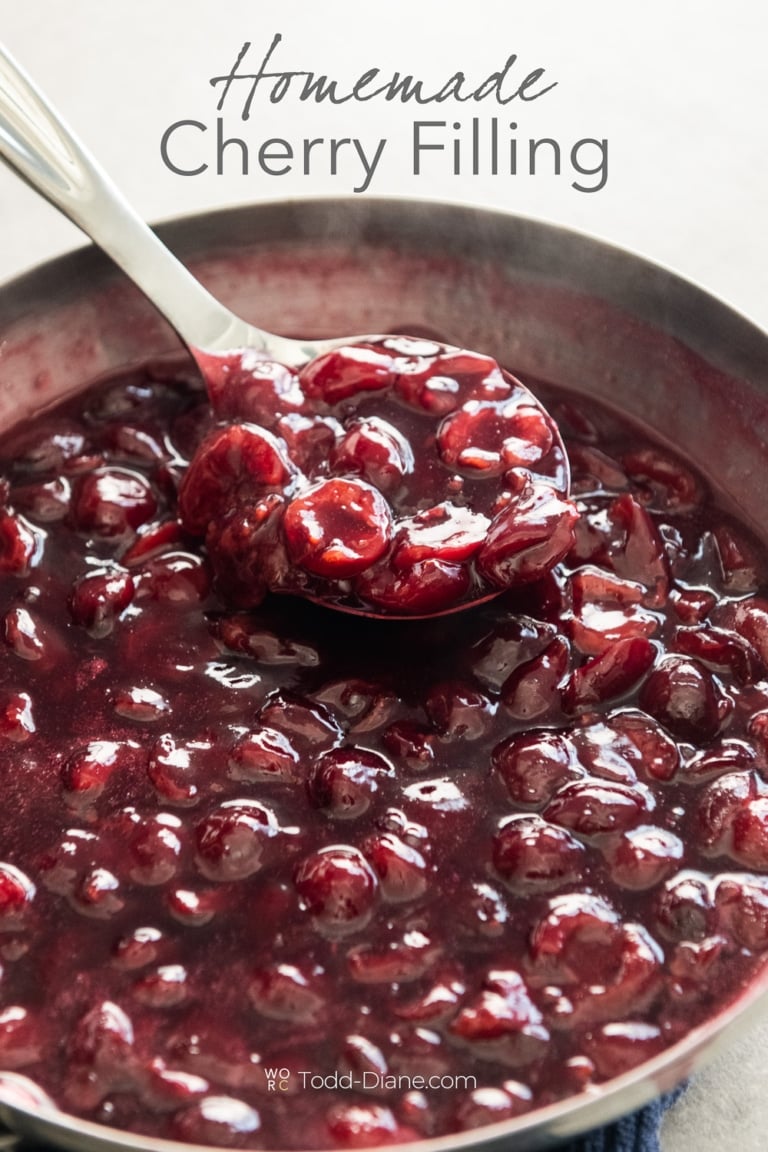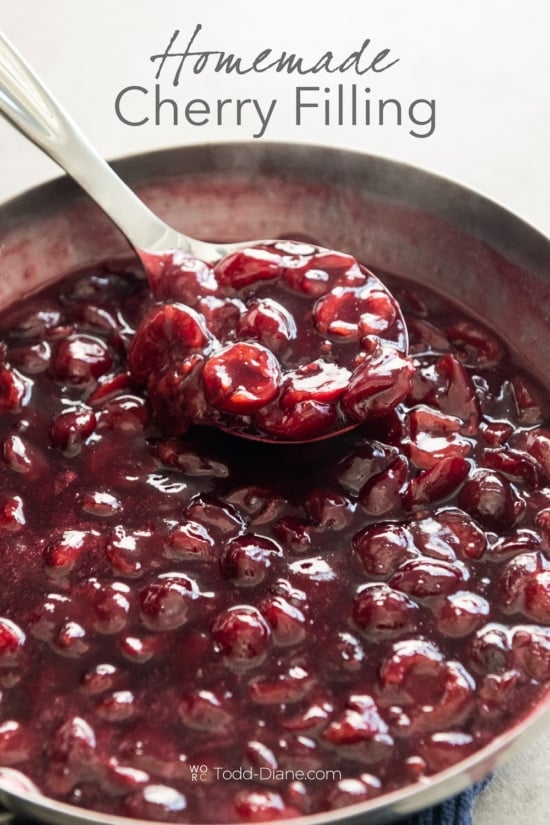 More Than Just Cherry Pie Filling Recipe
Beyond the classic use for pies, our cherry filling has so many more possibilities. We've used our homemade fruit filling on many different dishes and can think of more options to try in the future. Here's a list of inspired ideas for using cherry filling:
Try our simple and yummy cherry crisp bars recipe with oat topping.
Hand pies or cherry turnovers are perfect for this filling. Mini cherry hand pies are a childhood favorite.
Regular sized pies are perfect if you're using this as a homemade cherry pie filling.
Make homemade cherry ice cream or our popular cherry bomb popsicles.
Top ice cream with this cherry filling. Love banana splits? What a great treat to have a spoonful of this luscious cherry topping over an ice cream sundae.
Cherry milkshakes: blend some vanilla ice cream and a big spoonful of the cherry filling. Instant delicious milkshake.
Cherries on top of cheesecakes are classic and delicious.
You can even use this as a cake filling. Just add a layer between the cake before you frost it.
How about making a cocktail with a few of these cherries?
Serve a drizzle of the cherry pie filling on top of roast pork or pork chops.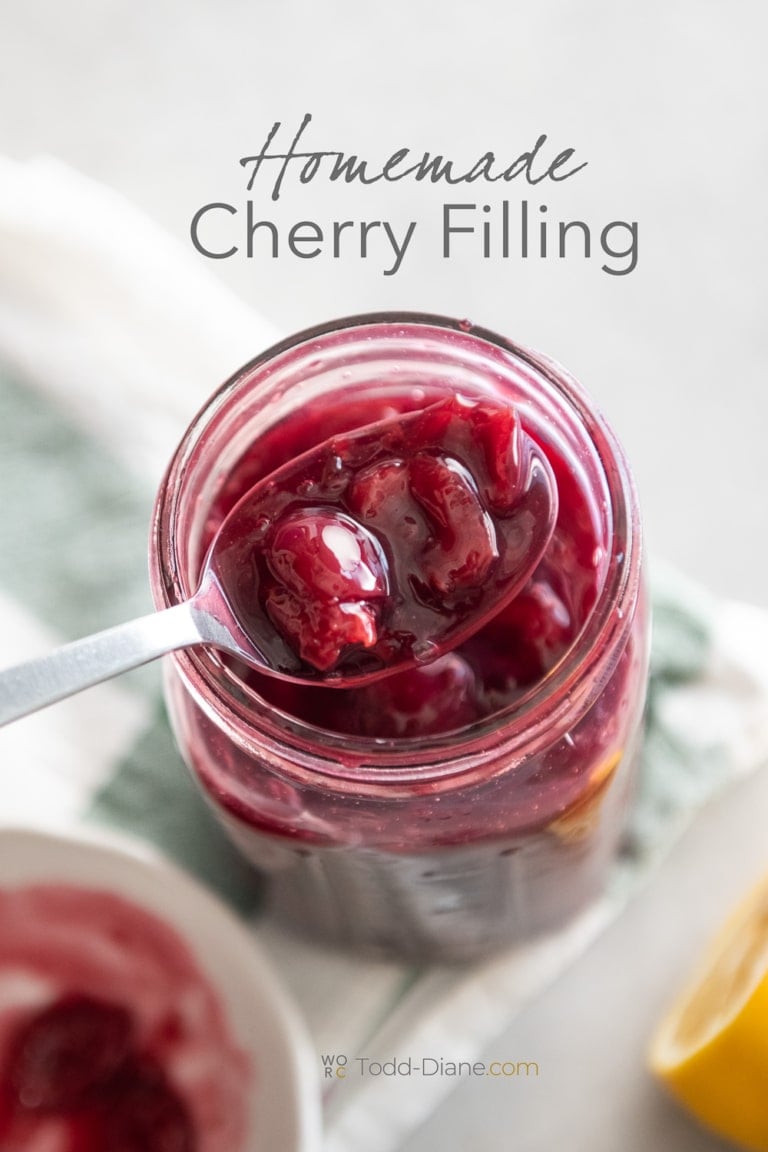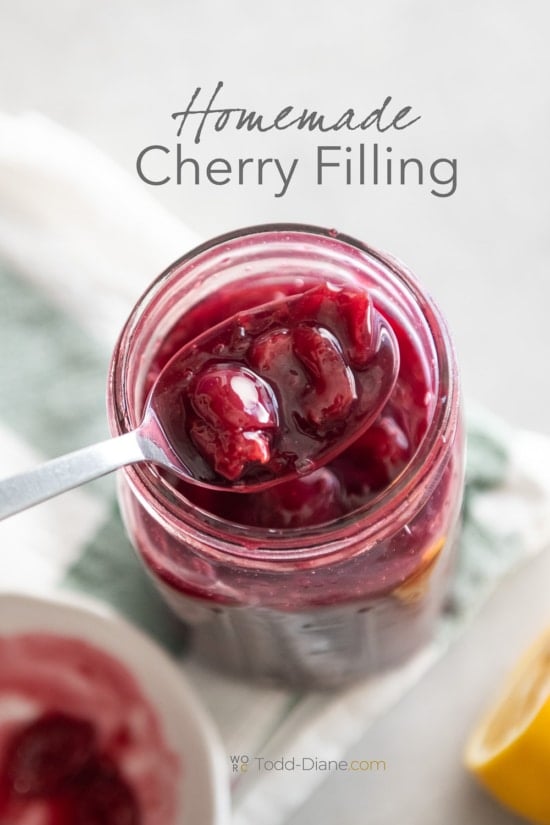 Video: Easy Cherry Filling Recipe
Different varieties of cherries
With so many different varieties of cherries out on the market, it's fun to experiment with these different flavor profiles. Sweetness levels also differ between cherry varieties too.
Bing Cherries
black cherries
rainier cherries
sour cherries
chelan cherries
Tips on How To Make Homemade Cherry Filling
Use this amazing cherry pitter from OXO . Trust us, you'll need this cherry pitter! Life is so much easier to quickly pit the cherries to separate the seeds.
Adjust your sugar level. Cherries differ so much on their sweetness level. Some varieties are sweeter than others. So it's good to taste the filling before adding more sugar. We have a baseline amount of sugar to add. And from there, taste then adjust the sugar additions.
Read more below where we talk about different ways to store the cherry filling.
All cherry filling recipe details are in the recipe box below.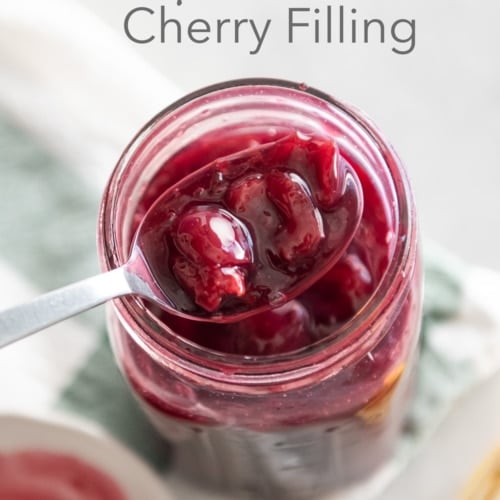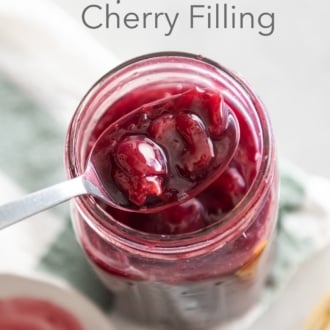 Homemade Cherry Filling
This is a perfect way to use up an abundance of cherries. Made a batch or two of filling and you'll be halfway there next time you are craving a pie, crisp, or cobbler. Adjust the amount of sugar to personal preference and based on how sweet your cherries are. We prefer the filling to be barely sweeter than a perfectly ripe piece of fruit. If you like things sweeter, add bit more sugar, maybe 1/3 to 1/2 cup of sugar.
Ingredients
1.5 pounds (680 g) fresh cherries , un-pitted (about 5 cups) or 4 cups pitted
1 cup (240 ml) water
1/4 cup (50 g) sugar , or more to personal taste
1 Tablespoon (15 ml) fresh lemon juice
Slurry For Filling
2 Tablespoons (30 ml) water
2 Tablespoons (30 ml) cornstarch
Nutrition Information per Serving
Calories: 343kcal, Carbohydrates: 48g, Protein: 4g, Fat: 16g, Saturated Fat: 10g, Polyunsaturated Fat: 1g, Monounsaturated Fat: 4g, Trans Fat: 1g, Cholesterol: 41mg, Sodium: 103mg, Potassium: 238mg, Fiber: 3g, Sugar: 27g, Vitamin A: 521IU, Vitamin C: 6mg, Calcium: 32mg, Iron: 1mg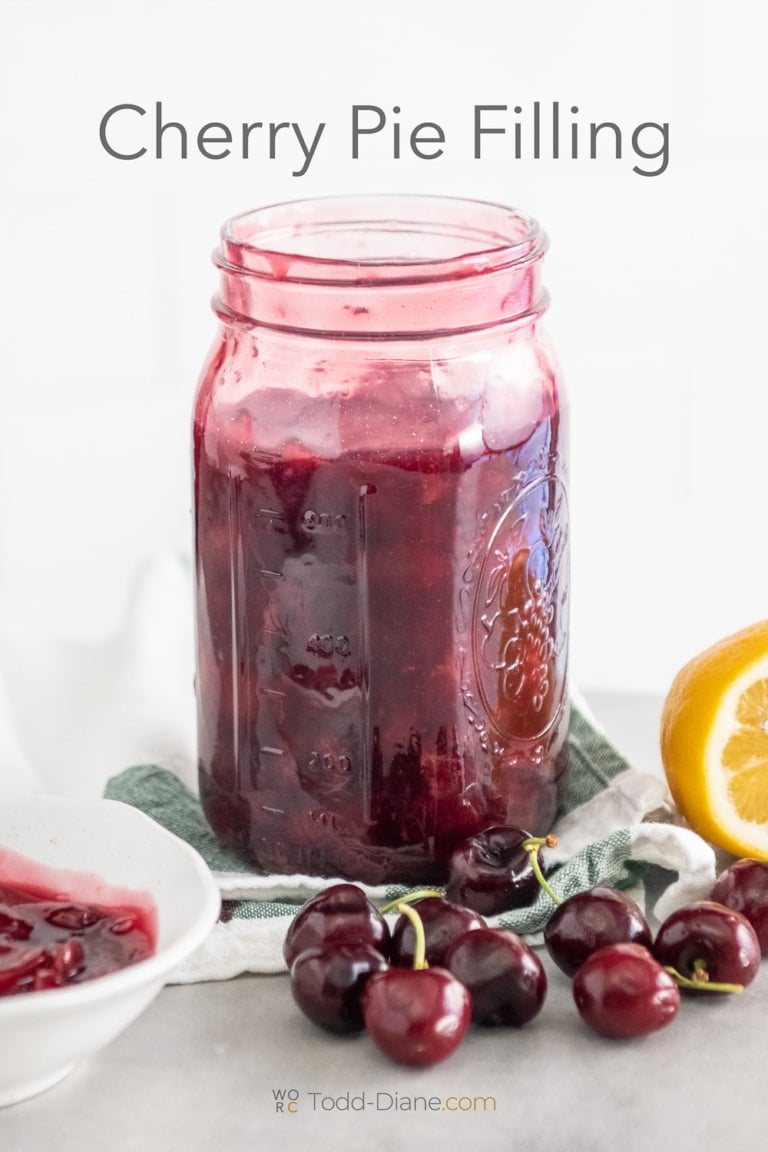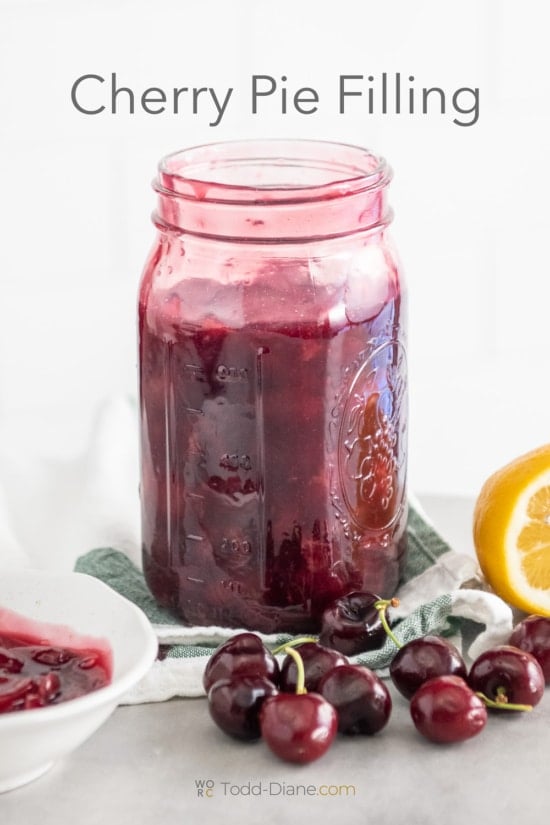 How to store homemade cherry filling?
If you plan on using the cherry filling right away then storing in the fridge is the easiest way for up to about 5 days. Any longer than that, you can use these methods of storage:
Freeze the filling in air right jars or ziplock bags
How long will cherry pie filling last? You can freeze it for up to 4 months.
Hot water bath canning is a classic and popular method
quick inversion canning is an idea that could work for you
Mixing Cherries with other fruit
If you want to take the cherry filling to another flavor level, combine other fruits with it. During the cooking process, add other types of fruit with the cherries. These combinations are super delicious:
Apple cherry filling
Peach or nectarines and cherry is great together
Plum and cherries
Apricot and cherry
Pears and cherries
What's the best gluten free thickener for cherry filling?
If you are gluten free or are living a gluten free lifestyle, there's definitely a lot of options. You don't have to use the cornstarch that is in our recipe if you're looking for another options. Read this great article about all your options for gluten free thickeners.
We are a participant in the Amazon Services LLC Associates Program, an affiliate advertising program designed to provide a means for us to earn fees by linking to Amazon.com and affiliated sites.