Broiled Halibut with White Wine Lemon Caper Mint Sauce
We love to cook, but sometimes we just want dinner to be easy and just crash with a glass of wine and dole out some puppy head rubs. So when we feel stuck about what to have for dinner, our go-to dinner is broiled halibut. Lately we've been enjoying this broiled halibut recipe with a lemon caper mint sauce.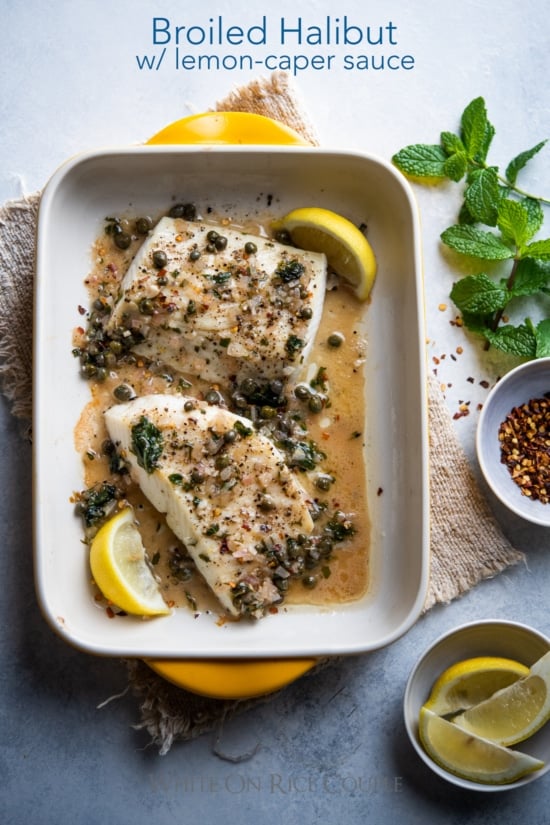 Video: Broiled Halibut Recipe with Lemon Caper Sauce:

Delicious and Simple Broiled Halibut Recipe
Frozen halibut can quickly thaw when soaked in water. While that happens, we're prepping for what ever sauce we feel like eating that evening. A few nights ago it was all about mint sauce because we had a ton overgrowing in the garden. Tackling these hearty herbs seemed like the best plan. Simple and always delicious, our everyday white wine lemon caper mint sauce is easily an everyday favorite. It's a mouthful just to say all those words and to think about all the ingredients that go into the sauce can sound daunting. But in culinary-reality, this sauce is so easy to prepare we're always surprised at how quick it is to get dinner on the table.
Light, Bright Sauce
The tangy, bright and flavorful sauce is clean tasting for this broiled halibut recipe. It's not a heavy cream sauce which is why we love it so much. The fresh mint, bright flavors of fresh lemon and flavors of white wine always pair so well with broiled halibut. And oh, the capers. We love the texture of the capers and it wouldn't be uncommon to find us adding more of these little tangy nuggets of tasty joy. As always, we're pairing this dish with another glass of our favorite Sauvignon Blanc or Sancerre. Cheers!
-diane and todd
Here's More Easy Seafood Dinner Recipes:
Recipe was originally published in 2018 and was updated in 2020.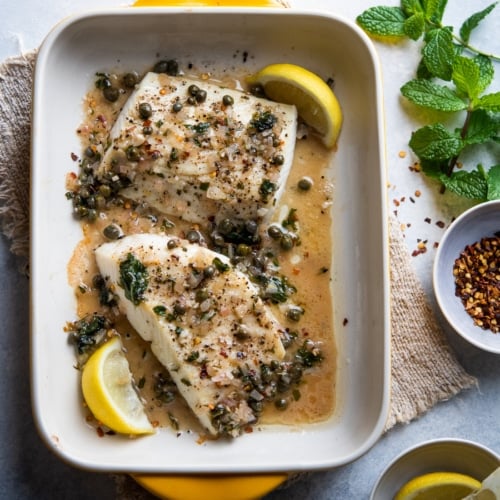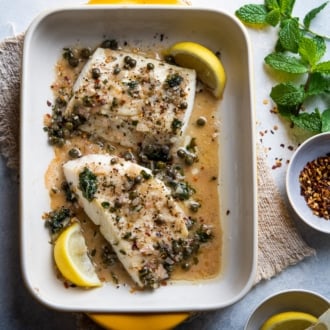 Broiled Halibut with White Wine Lemon-Caper Sauce
The bright taste of lemon is always a favorite on our fish. Cooking times will vary depending on the type of your fish and how thick it is.
Ingredients
12 ounces (340 g) halibut (two 6-ounces filets) or white fish (tilapia, cod, mahi-mahi, sole, flounder)
oil , for coating the fish
2 Tablespoons (30 ml) butter
1 medium (1 ) Shallot , minced or 2 Tablespoons minced onion
2 cloves (2 cloves) Garlic , minced
3/4 cup (180 ml) dry White Wine
zest of 1 medium Lemon
2 Tablespoons (30 ml) Lemon Juice
2 Tablespoons (30 ml) Capers , rinsed
3 Tablespoons (45 ml) minced fresh mint leaves
Kosher Salt or Sea Salt , to taste
fresh ground Black Pepper , to taste
red Chili Flakes (optional)
Extra mint and lemon wedges (optional)
Instructions
Lightly coat fish with oil. Season with salt and pepper on both sides. Put fish in oven safe dish and set aside.

Heat skillet on medium-high heat, add 2 Tablespoons butter. Then add the shallot (or minced onion) and garlic. Cook until tender and translucent. Add the wine, lemon zest and lemon juice. Heat the sauce until it gently starts to boil. Reduce heat.

Simmer the sauce for about 2-5 minutes or until it reduces in to about half the volume or to your desired concentration and texture. Add capers, mint, salt, and pepper to taste. Add optional red chili flakes.

As sauce is simmering cook the fish: Place the top oven rack about 6" from the top. Heat oven to Broil on High or 500°F. Broil the fish for about 6-8 minutes, or until the fish is cooked through and easily flakes with a fork.

Pour sauce over the fish. Garnish with extra mint or lemon wedges. Serve warm.
Nutrition Information
Calories: 352kcal, Carbohydrates: 7g, Protein: 32g, Fat: 13g, Saturated Fat: 7g, Cholesterol: 113mg, Sodium: 446mg, Potassium: 888mg, Fiber: 1g, Sugar: 2g, Vitamin A: 780IU, Vitamin C: 10.1mg, Calcium: 44mg, Iron: 1.2mg
We are a participant in the Amazon Services LLC Associates Program, an affiliate advertising program designed to provide a means for us to earn fees by linking to Amazon.com and affiliated sites.