Garlic Parmesan Salmon
This garlic parmesan salmon recipe is our go-to recipe for so many reasons. It's quick, easy, flavorful and easy to cook for a crowd.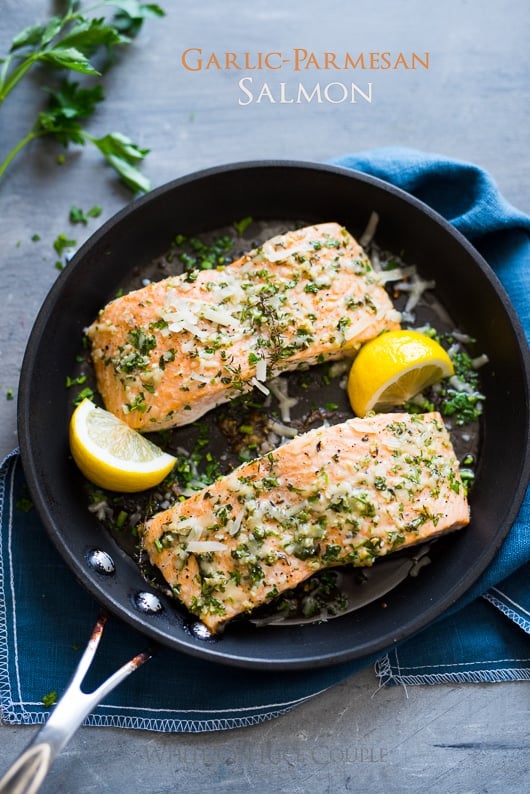 Easy Garlic Parmesan Salmon
We feel super lucky to be working with such amazing clients and creative teams. And best of all, it all revolves around food. It's not very often that many can collaborate with folks in our work lives. And of course, still love hanging out with them after the end of a long work day. Yet that has been the case for us and thus, our "Happy Hour" evenings at our house! But our Happy Hour's are a little different in that we're too obsessed with cooking. It actually really becomes a long dinner that sometimes continues late in the evening. It's totally ok to go past 6pm cause that's when all the fun starts to happen.
Watch the video making the Garlic Parmesan Salmon – It's so mouth watering!
Awesome Salmon for Sharing
Part of our Happy Hour menu always involves some great wine and cocktails, of course. Everyone coming will be greeted with a few huge platters of cheese and charcuterie to kick start our Friday. But it never seems complete enough to not have more munchies beyond just cocktails and a charcuterie/cheese platter. Then our minds start to get hungry and then we figure to be truly good hosts, we have to serve something more substantial, right?! Anyways, we're always trying to come up with some simple, yet satisfying dishes that we can cook up if the group gets to be about 20 people. Yeah, sometimes the production shoots we work on can get pretty big so everyone is invited. So salmon has always been a staple because it's fresh, lighter and easy to make that so many colleagues enjoy eating.
Garlic Parmesan Salmon: before and after. yum.
Our garlic parmesan salmon is way too easy to put together but the fun thing is that it can look pretty fancy schmancy if you jazz it up with a side of green salad or vegetables. Yeah, it's one of those quick and easy recipes that looks waaaaaay harder then it actually is to make but none of our guests really need to know how easy it is. The flavors are outstanding because we load the salmon with fresh garlic and freshly grated parmagiano reggiano. It's also a great staple dinner for those days when you're coming home from work but want a satisfying seafood meal that will hit the spot. And of course, pair it with a fabulous glass of white wine to make it your own special little Happy Hour at home.
-diane and todd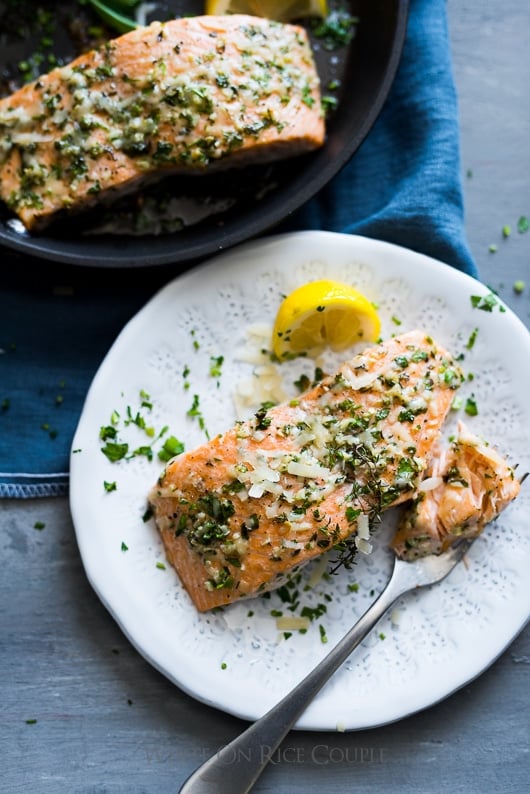 This recipe was originally published in 2017 and re-published in 2019 with updated video.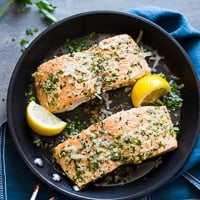 Garlic Parmesan Salmon
Cooking times will vary depending on the thickness and size of your salmon. So check on the salmon to make sure it's to your desired texture, rather than follow an exact cooking time. We love lots of flavor, thus all the garlic. But you can definitely tone-down the seasonings if you want. Adjust to your personal taste. You can use skinless or skin-on salmon filets. We prefer skinless since the skin doesn't crisp up that much when cooking.
Ingredients
2 (6-8 oz - 170-225g) (2 (6-8 oz - 170-225g) ) salmon filets *see headnote
Kosher salt , to taste
Freshly ground black pepper , to taste
2 tablespoons (30 g) butter , melted
2 tablespoons (30 ml) freshly chopped parsley
1/4 cup (25 g) freshly grated parmesan , reserve about 1 Tablespoon (15ml) for garnish
3 cloves (3 cloves) garlic , minced
1 teaspoon (5 ml) fresh thyme , dill, oregano or your favorite herb (if using dried herbs, halve the amount)
1 medium (1 medium) lemon , sliced or cut into wedges
Instructions
Preheat oven to 425°F (220°C). Line a baking sheet pan with parchment paper or lightly oil a baking dish or an oven safe skillet.

Season salmon filets on both sides with salt and pepper
If using an Oven-Safe Skillet
Gently melt the butter in the skillet. Turn off the heat.

Stir in the garlic, parmesan, and herbs. Add the salmon fillets and coat the salmon with the garlic-parmesan mixture.
If using Baking Sheet or Dish
In bowl, mix together melted butter, parsley, parmesan, garlic, and herbs. Coat the salmon with the parmesan-garlic mixture and place the fillets on the prepared baking sheet pan or baking dish.
Bake the Salmon
Bake salmon until it is cooked through to your desired texture, about 15 to 20 minutes.

Sprinkle with more parmesan and garnish with minced parsley. Serve warm with lemon wedges or slices if desired.
Nutrition Information
Calories: 405kcal, Carbohydrates: 2g, Protein: 39g, Fat: 25g, Saturated Fat: 11g, Cholesterol: 134mg, Sodium: 369mg, Potassium: 873mg, Vitamin A: 910IU, Vitamin C: 8.3mg, Calcium: 173mg, Iron: 1.9mg
We are a participant in the Amazon Services LLC Associates Program, an affiliate advertising program designed to provide a means for us to earn fees by linking to Amazon.com and affiliated sites.