Crumbly Cherry Crisp Bars w/ Homemade Cherry Filling
When fresh cherries are in season, one of the first things we make are these crumbly cherry crisp bars. It's a treat to make homemade cherry filling for these cherry bars. The natural sweetness of fresh cherries are delicious and perfect to enjoy this special seasonal fruit. Hope you enjoy our cherry bars recipe.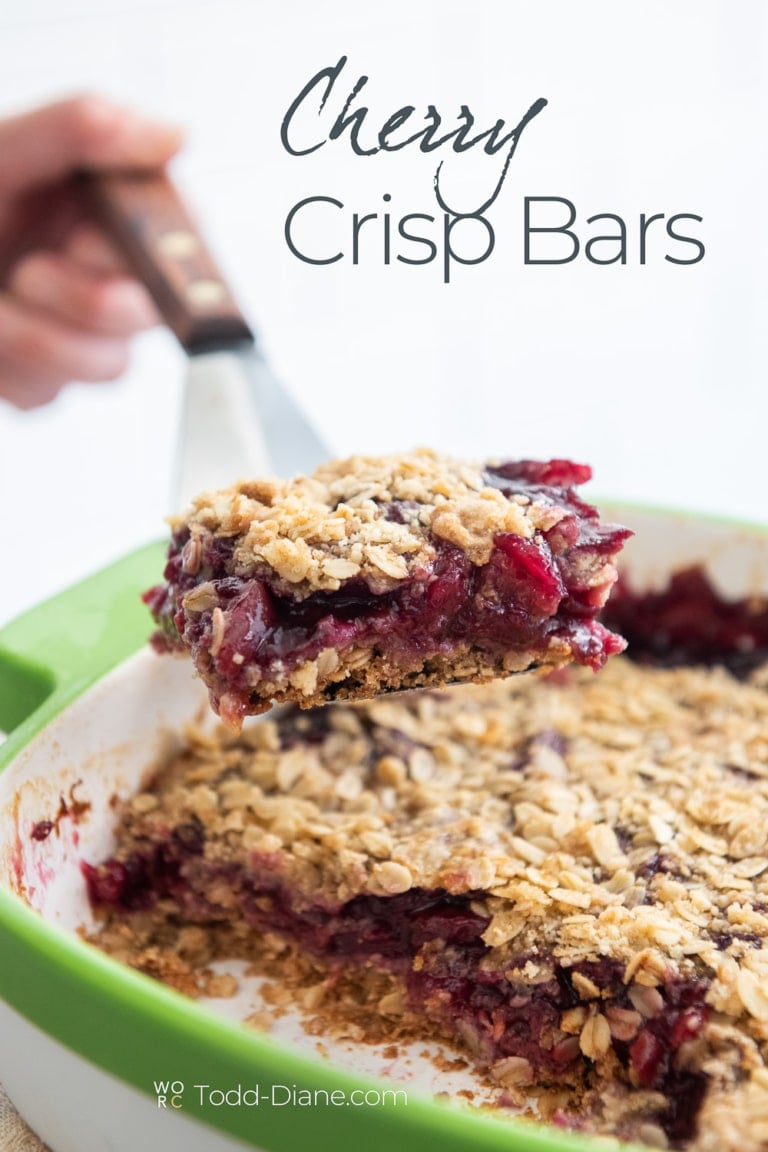 Cherry Crisp Bars: Crumbly and Delicious
Our recipe for cherry bars are inspired from our love of berry crisps. The base crust on our bars is unlike other bar recipes. The base is crumbly because it's the same ingredients as the topping. We didn't want to have a hard, firm shortbread style base. If you need to use a fork then that's ok. We'd rather have the base more crumbly than hard.
Video: Easy Cherry Crisp Bars Recipe
How To Make Our Cherry Crisp Bars (Tips)
We have a recipe for homemade cherry filling. If you don't have fresh cherries, you can use canned cherry filling or pie filling. One of our favorite store bought cherry pie fillings is from Red Hills Dessert Company.
This cherry pitter from OXO is great for the ease of use and reducing splattering. It is our favorite pitter. Works great for olives too.
Cherry pitting tip: Push the pit out toward the stem side of the cherry. It will usually release much easier and cling the the cherry less in that direction. Plus if the stem is still attached, it will often take the stem with it.
Stain warning: if you're using fresh cherries in the cherry pitter, the juice might splash everywhere and get messy. Cherry juice stains! So wear plastic gloves and cover the area around your kitchen. Wearing an old apron or a shirt that you don't care about is a good idea. 🙂
Make sure to press firmly down on the crust base for a more "bar" like firmness that allows you hold the bar. Otherwise, a crumbly textured base is what you'll get and it's a great texture and easy to bite into.
Allow the crisp to completely cool before cutting. Chilling it makes it even easier.
All recipe details are in the recipe box below.
Can you freeze these bars?
Yes, freezing these Cherry bars are possible. But know that when they thaw, the texture becomes much more mushy and crumbly. The thawing frozen cherries releases some moisture. It's best to just eat the whole batch when they're fresh or share them with someone.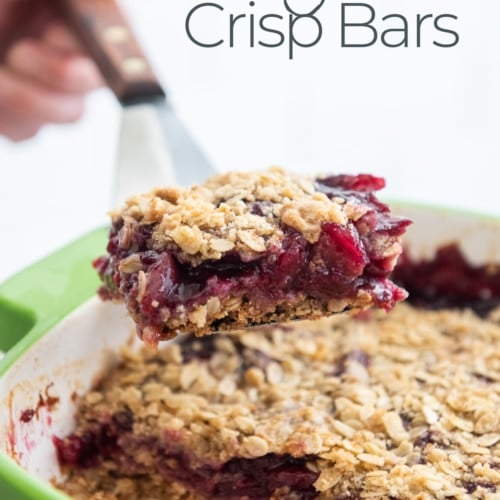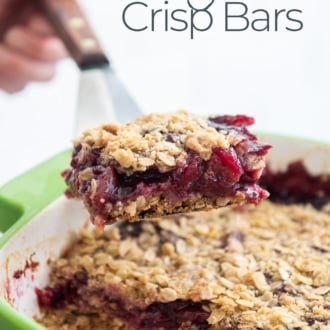 Cherry Crisp Bars
Adjust the amount of sugar to personal preference and based on how sweet your cherries are. We prefer the filling to be barely sweeter than a perfectly ripe piece of fruit. If you like things sweeter, add bit more sugar, maybe 1/3 to 1/2 cup of sugar. The base is crumbly because it's the same ingredients as the topping. We didn't want to have a hard, firm shortbread style base. If you need to use a fork then that's ok. We'd rather have the base more crumbly than hard.
Ingredients
Cherry Filling
1.5 pounds (680 g) fresh cherries , un-pitted (about 5 cups) or 4 cups pitted
1 cup (240 ml) water
1/4 cup (50 g) sugar , or more to personal taste
1 Tablespoon (15 ml) fresh lemon juice
Slurry For Filling
2 Tablespoons (30 ml) water
2 Tablespoons (30 ml) cornstarch
Crust Ingredients
1 cup (125 g) flour
1/2 cup (110 g) packed brown sugar
1/4 teaspoon (1.25 ml) Kosher salt
1/4 teaspoon (1.25 ml) Baking Soda
3/4 cup (170 g) cold unsalted butter (1 1/2 sticks) , cut into small cubes
1 cup (80 g) old fashioned oats
Instructions
Make the Cherry Filling
Pit and split the cherries in half.

In saucepan combine cherries, 1 cup water, sugar, and fresh lemon juice.

Bring to a boil then reduce heat to low simmer. Cook for about 5-10 minutes or until the cherries are soft.

Combine water and cornstarch in small bowl, stir to remove all lumps. Pour into the hot cherry mix and stir briskly to make sure no lumps form.

Continue cooking and once filling starts to thicken, about 1-2 minutes, then remove pan from heat. Set aside and allow to cool completely.
Make The Bars
Preheat oven to 350°F/175°C. Butter an 8"x8" or similar baking dish.

In a bowl, whisk together the flour, brown sugar, salt, and baking soda. Add the butter pieces.

Pinch in the butter pieces into the flour mixture (or cut them into the flour with a pastry cutter), until it resembles coarse sand.

Pinch in the oats until well combined.
 Set aside to chill if not making the bars right away.

Press 2/3rds of the crust mixture evenly into the bottom of the prepared baking dish (if using a tart pan, press the crust mixture up the sides too).

Spread the cherry filling over the crust bottom. Sprinkle the remaining crust over the top of the cherry filling. 


Bake for 50-65 minutes or until the crust is golden brown.
 Allow to cool completely. Slightly chilled is best. Then slice and serve. Store in the refrigerator.
Nutrition Information
Calories: 343kcal, Carbohydrates: 48g, Protein: 4g, Fat: 16g, Saturated Fat: 10g, Polyunsaturated Fat: 1g, Monounsaturated Fat: 4g, Trans Fat: 1g, Cholesterol: 41mg, Sodium: 103mg, Potassium: 238mg, Fiber: 3g, Sugar: 27g, Vitamin A: 521IU, Vitamin C: 6mg, Calcium: 32mg, Iron: 1mg
Enjoy more cherry recipes and deserts:
We are a participant in the Amazon Services LLC Associates Program, an affiliate advertising program designed to provide a means for us to earn fees by linking to Amazon.com and affiliated sites.