Japanese Teriyaki-Style Glazed Salmon
Our popular teriyaki salmon recipe is one of our reader favorites. Hope you enjoy it as much as we do!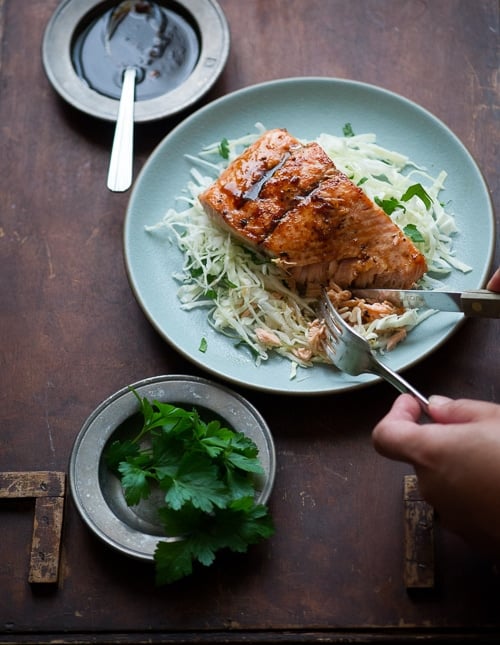 Easy Teriyaki Salmon Recipe
You should come see our kitchen. Actually, maybe you shouldn't because we'd probably kidnap you to hover over the sink and wash a ton of dishes. As of the last two months we've been working on client shoots and recipe testing for personal projects that all involve enough food to feed a football team. Almost everyday we've sent out emergency messages to brothers, friends and dojo folks to come eat. Our messages are often blunt, like , " Don't eat lunch or dinner anywhere today. You gotta come here eat all this food, NOW, while it's still hot and take home any leftovers to friends. Aren't you hungry? You are hungry, right?"
Watch our video making the Teriyaki Salmon: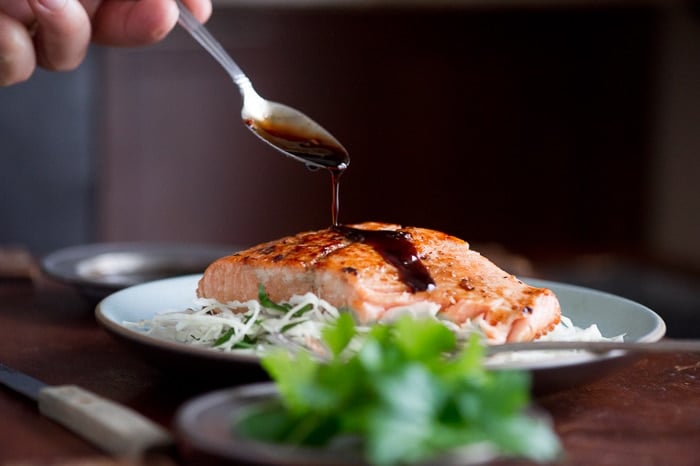 With so much recipe developing and testing going on, it's nice to cook and eat something that wasn't on the shot list. So many times when we are cooking for a shoot we just don't feel like eating it. Even though the dishes are delicious and of rock star quality, were fun to make, others swoon over them, and at any other time we wouldn't hesitate in diving in. We've heard of that happening often, where at the end of a long shift at the restaurant, cooks will head out to fast food, sushi or anywhere to eat other than their own restaurant.
Rather than heading out, we satisfied our craving for something glazed with salmon from some left over ingredients. Teriyaki salmon seemed like the perfect meal because we were hankering for something healthy, something with fish, with lots of flavor and something green. Teriyaki salmon really was the answer to satisfy all our cravings. This salmon glazed with a delicious Japanese style marinade really hit the spot. And it was so simple to make.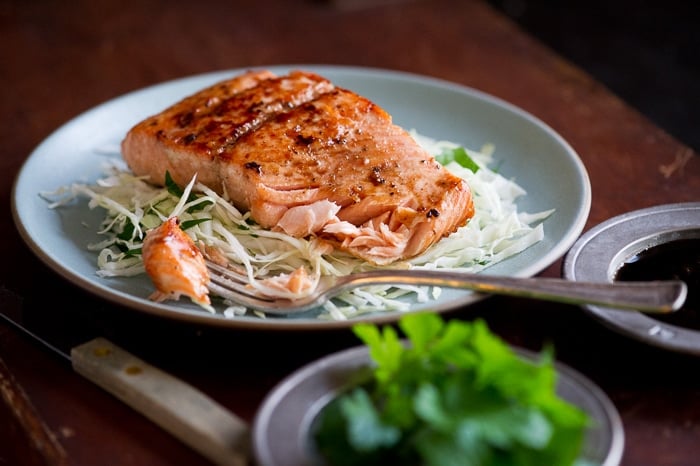 The tender flakes of the teriyaki salmon, delicately glazed with this Japanese inspired glaze, all on top of a bed of shredded cabbage was the perfect fuel to our long days of cooking and shooting. It was low carb, satisfying and truly one of the best teriyaki salmon dinners we've ever had.
Best of all, yes, it is healthy and it feels so great to feast off some fish rather than that platter of chocolate fudge that's staring back at us from the corner of the kitchen. Dessert?
-diane & todd
More healthy recipes to enjoy:
Healthy Foil Pack Garlic Salmon Recipe
This recipe post was originally published in 2013 and re-published in 2019 with updated video. Enjoy!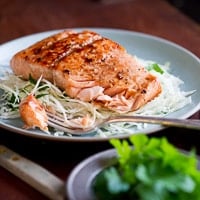 Teriyaki-style Pan Seared Salmon
Quick and delicious salmon doesn't get much easier. Adjust cooking times according to the thickness of the the salmon. The glaze works great on other dishes as well (broccoli, eggplant, pork, etc...). If you don't have sake, there are a few substitutes, but none we personally like as well. Mirin, dry vermouth, maybe a dry white wine would work in a pinch instead of the sake. Serve with shredded cabbage, rice, cooked whole grains (farro would rock with it), or anything else you might like to eat alongside the salmon. If cooking in a non-stick or ceramic pan, you can use less oil to sear the salmon.
Ingredients
four 6 ounce (four 170 g) Salmon fillets
Sea Salt or Kosher Salt
fresh cracked Black Pepper
2 Tablespoons (30 ml) Grape Seed Oil (or other neutral, high flashpoint oil), less needed if using non-stick or ceramic pan
glaze ingredients
1/4 cup (60 ml) Sake
1/4 cup (60 ml) Soy Sauce
1/4 cup (55 g) Brown Sugar
1 Tablespoon (15 ml) Rice Vinegar
1/2 Tablespoon (7.5 ml) fresh grated Ginger
Instructions
Combine glaze ingredients in a bowl and stir until brown sugar is completely dissolved.

Rinse and pat dry salmon fillets. Place salmon fillets in glaze and marinate for a 3-5 minutes, and then flip over and marinate for 3-5 more minutes. Remove salmon from glaze and season with salt and pepper (remember glaze will have a bit of saltiness from soy sauce as well).

Place glaze in a small saucepan. Bring to a simmer over high heat. Vigorously simmer for 5 minutes or until glaze has thickened enough to coat the back of a spoon. Set aside.

Heat oil in a large saute-pan over high heat. Sear salmon in hot pan, turning once, until browned and cooked through to your desired amount, about and average of 3 minutes each side for medium done.

Plate salmon and brush or pour glaze over salmon.
Nutrition Information per Serving
Calories: 385kcal, Carbohydrates: 15g, Protein: 35g, Fat: 17g, Saturated Fat: 2g, Cholesterol: 93mg, Sodium: 889mg, Potassium: 882mg, Sugar: 13g, Vitamin A: 70IU, Calcium: 35mg, Iron: 1.8mg
We are a participant in the Amazon Services LLC Associates Program, an affiliate advertising program designed to provide a means for us to earn fees by linking to Amazon.com and affiliated sites.