Broiled Miso-Glazed Salmon
Love roasted or broiled salmon? Our simple and flavorful miso glazed salmon recipe is perfect for a quick weeknight meal. The savory glaze is fantastic.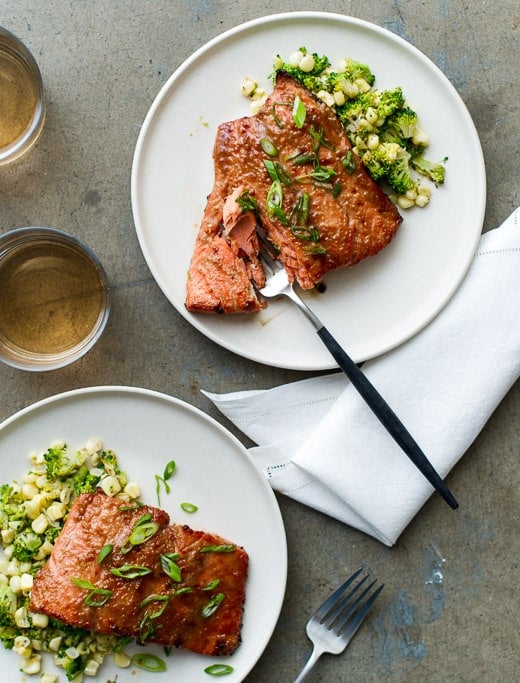 Quick and Easy Miso Glazed Salmon Recipe
Why are we so obsessed with this broiled miso glazed salmon recipe? Because it's so quick, delicious and easy to broil while you're getting the rest of dinner together. Add a handful of small chopped broccoli, cauliflower or zucchini to the pan and it's a sheet pan dinner for the whole family.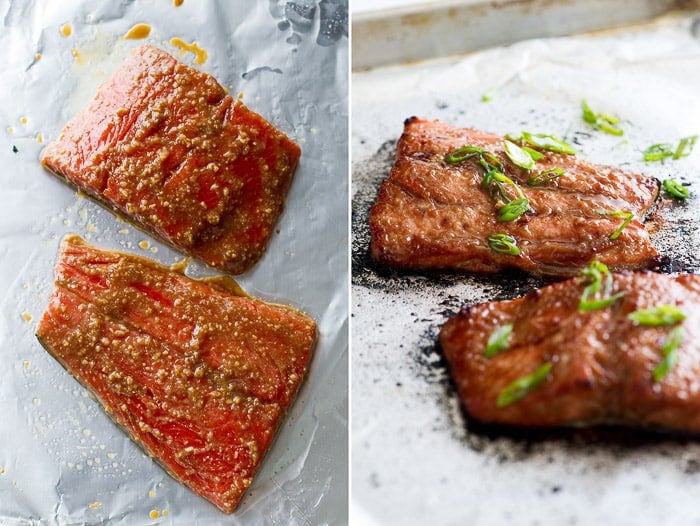 Tips for How to Make Miso Glazed Salmon
Make the miso glaze ahead of time. It's to 3 days ahead of time. It's wonderful to have on-hand for roasting other types of fish or vegetables.
Have your salmon thawed and remove any small bones. When you're ready to cook, the salmon should be thawed and prepped.
Broiling time will vary depending on the cut of salmon. Center cut salmon will take a little longer than tail-end cuts. Monitor the salmon to ensure that it doesn't get overcooked or burnt during broiling.
Different types of salmon will cook faster or slower than others. Atlantic salmon & King (Chinook) salmon are the fattier types of salmon can be cooked a little longer. Leaner salmon like Coho and Sockeye will cook quicker and taste drier if overcooked.
If you want to roast vegetables with the salmon, make sure the vegetables are cut small enough to that they cook around the same time as the salmon. Place them lower in the oven so they can cook without scorching too quickly.
All miso salmon recipe details are in the recipe box below.
What to use to replace sake or mirin?
If you don't have sake or mirin? No worries. You can substitute rice vinegar, distilled vinegar, apple cider vinegar, or water. The vinegar will add a delicious layer of flavor to the glaze. Or if you use water, that will work fine too. Part of the use of the sake and mirin is for thinning the miso so it'll coat without being overly thick. The miso has enough flavor on its own, but the sake and mirin add extra complexity.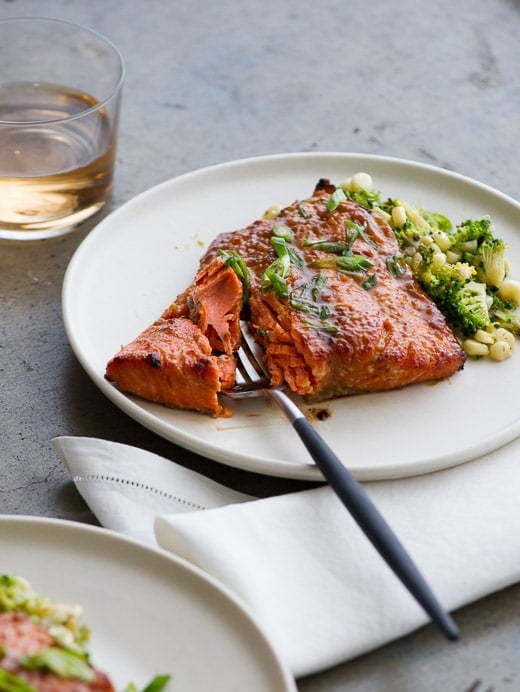 What to serve with this recipe?
On your favorite grain: brown rice, white rice, wild rice, couscous, wheat berries, or quinoa.
In a sandwich! This miso salmon makes an amazing sandwich! Add a nice chopped cabbage slaw for that extra crunch.
Salmon salad! For something more lower carb, add this to a nice bed of green lettuce or shredded cabbage with some herbs.
Hopefully you'll understand the method to our madness. Sometimes, it's so great to have an amazing, healthy and tasty weeknight dinner without too much prep. That way, you can enjoy your downtime in the evenings and catch up to your favorite shows.
diane and todd
Here's another favorite recipe: Japanese Style Glazed Salmon Recipe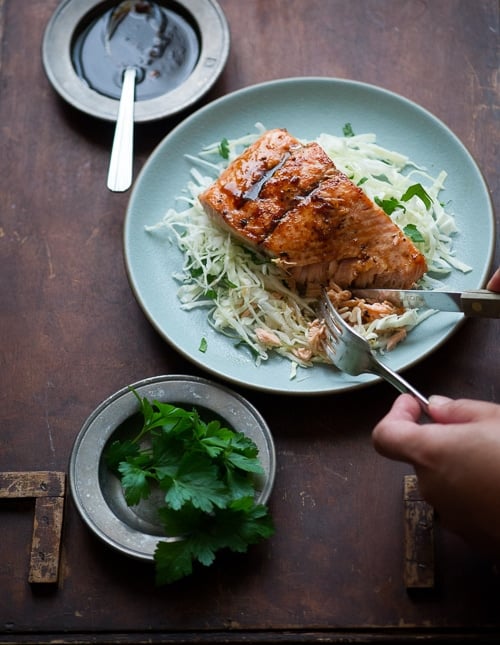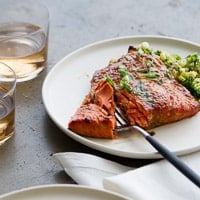 Broiled Miso-Glazed Salmon Recipe
Depending on the heat of your oven's broil, it may just take a touch longer to broil the salmon. You can also roast the salmon if you aren't able to broil. Roast at 475°F for 8-12 minutes.Leaner salmon like Sockeye or Coho will cook quicker than fattier salmon like King (Chinook) or Atlantic salmon.If needed to substitute the sake and/or mirin, the best substitute would be dry vermouth. After that a dry white wine. If you want to avoid using any alcohol, you can use vinegar (distilled white, apple cider, or rice vinegar) or just use water or stock to thin the miso. All substitutions will change the flavor but part of the purpose of the sake is to thin the miso so it coats without being too thick.
Ingredients
12 oz. (two 6-oz./170g) salmon filets
2 Tablespoons (30 ml) white miso paste
1 Tablespoon (15 ml) sake
1 Tablespoon (15 ml) mirin
1 teaspoon (5 ml) brown sugar , or to taste
1/2 teaspoon (2.5 ml) sesame oil , optional
sliced green onions for garnish (optional)
Instructions
Pre-heat oven to Broil. Place rack about 6″ away from the top heat of the oven.

Make the Glaze: Mix miso paste, sake, mirin, brown sugar and optional sesame oil in bowl.

Coat salmon with the marinade and set aside for about 30 minutes to let the flavors marry if you can (if not it can still be broiled straight away and it will be tasty).

Broil for about 5-10 minutes, or until salmon is tender and cooked to your desired doneness. Top with green onions and serve warm.
Nutrition Information per Serving
Calories: 314kcal, Carbohydrates: 10g, Protein: 36g, Fat: 13g, Saturated Fat: 2g, Cholesterol: 94mg, Sodium: 774mg, Potassium: 874mg, Fiber: 1g, Sugar: 5g, Vitamin A: 83IU, Calcium: 32mg, Iron: 2mg
More Easy Seafood Recipes
We are a participant in the Amazon Services LLC Associates Program, an affiliate advertising program designed to provide a means for us to earn fees by linking to Amazon.com and affiliated sites.