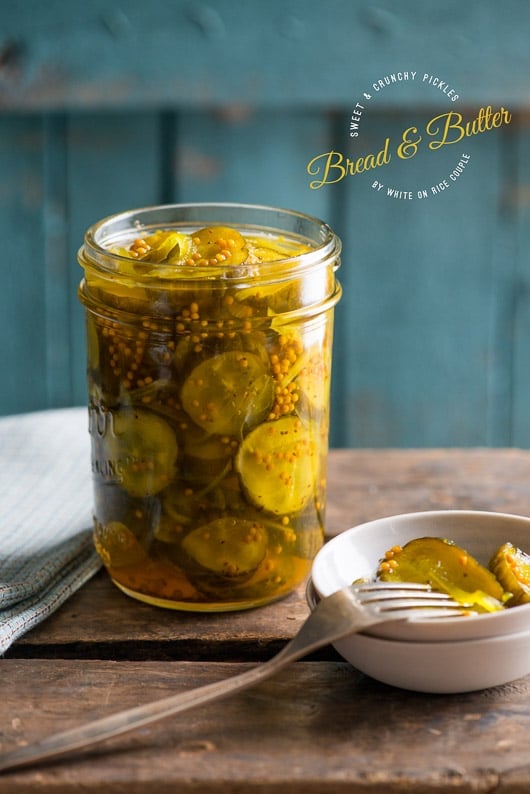 I love bread and butter pickles. That sweet tangy crunch layered into burgers, diced in tunafish sandwiches, or just grabbed straight out of the jar and snacked on. As a kid it was the only pickled thing I really liked. Dill pickles, pickled onions, pickled beets, etc… Ick. Or at least that's what my palate at a minion's age thought.
Since then I've come to love and appreciate many other pickles, especially after spending nearly 2 decades eating Vietnamese food. It seems like the Vietnamese pickle just about anything and Diane's mom and, of course Diane, are seriously good at it. But my first and true pickle love is still the bread and butters.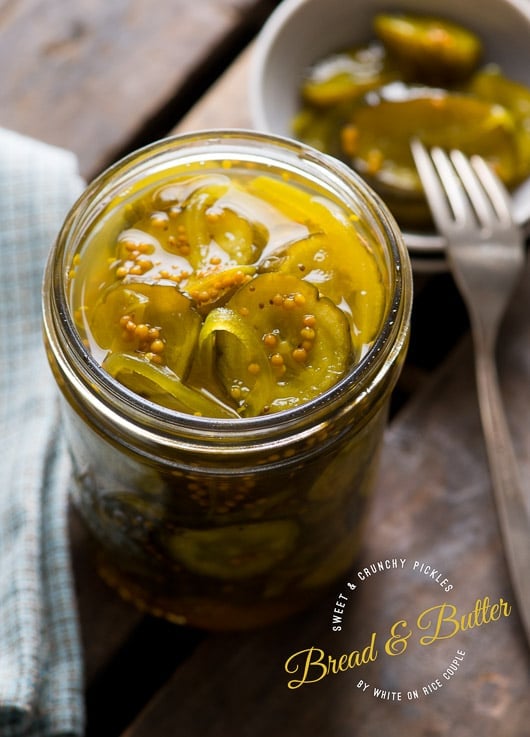 Of course not all B&B pickles are the same. Most all have a good flavor, some just varying in sweetness or maybe given a spicy kick. But the real test for me is the crunch. The make-or-break factor for my favorite pickles is all about a great crunch.
Out of the commercially-made pickles I love Bubbies the most. Their Bread and Butter Chips are always a staple in our fridge. I want to love so many of the different artisan or homemade pickles I've tried but so many times they have a lifeless texture. Where's the coveted crunch? Maybe I just haven't found the right one.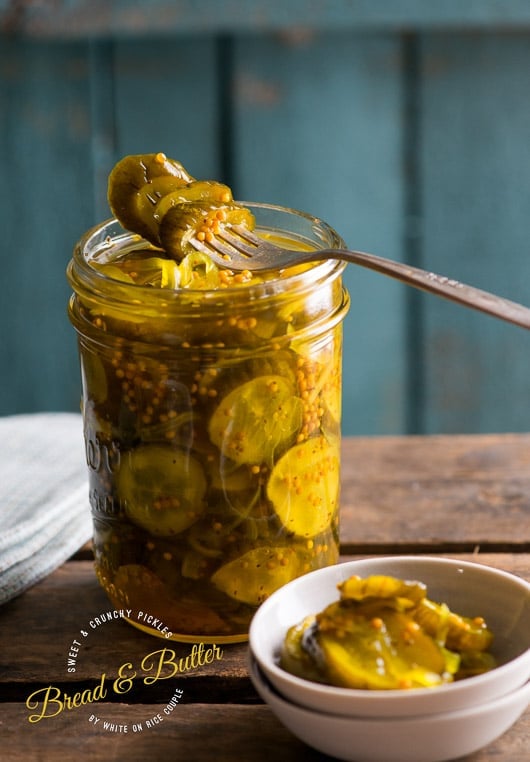 The last few summers we've finally gotten our garden cucumbers to their happy place and we've been getting quite the harvest. Usually growing either Persian cucumbers or Japanese cucumbers (unless the starters at the nursery have been mislabeled – had one of those this year). The Persian and Japanese cucumbers have such a great crunch, even if we lag a little in picking them from the vines.
However I've been a bit hesitant about making pickles out of them. What if I suck at pickling them and they have that lifeless softness? It would be such a waste. How do you keep that crunch when you pickle them?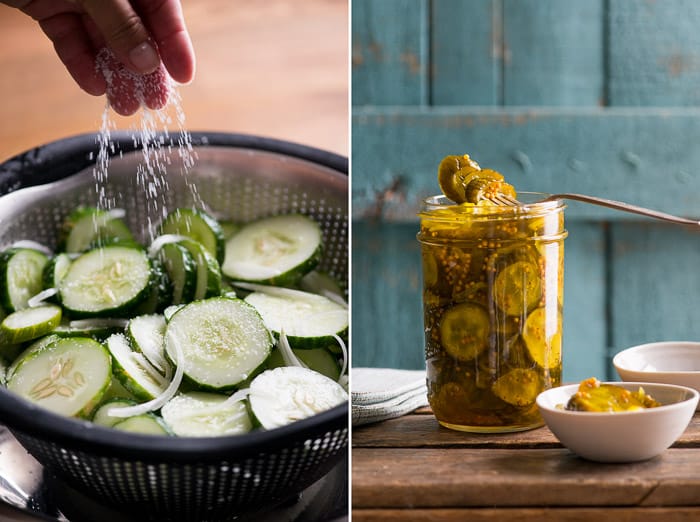 So this summer I was determined to figure it out. After consulting the pickle masters (Diane and her mom, of course- their pickled stuff is the crunchiest), I had a plan of action. Salt it and let it sit for an hour or two. Rinse, pat dry, and then let it sit out overnight to dry out a bit more. Then finish with the pickling brine and jar 'em up.
I'm happy to report that the pickles are badass. Great crunch, great flavor. With the cucumbers growing like monsters in the garden this year, I might not be buying any Bubbies for quite some time. Sorry Bubbies.
Enjoy!
Todd
Here's a quick video we made while making up a batch of pickles!
Bread and Butter Pickles Recipe
Yield: Makes 4-5 cups
Total Time: 2 hours + overnight drying
Use a really crunchy cucumber to start. Either Persian or Japanese cucumbers. Or a good English cucumber if you can't find the other varieties. Personally, we rarely find good, crunchy "Pickling" cucumbers so we always pass on using them. But if you find or grow nice ones, they'd work great too. We let the cucumber slices sit out overnight covered in paper towels after salting them to help them dry out a bit more and develop a nice crunch. They may look a little too dried out in the morning, but when you add them to the vinegar mixture, they will re-hydrate perfectly. If you are pressed for time you can skip the overnight drying, but your pickles won't have the same crunch.
Feel free to adjust the sugar to your preferred sweetness. We've made it anywhere from 3/4 cup of sugar to 1 1/2 cups and have had people prefer it one each end of the sweetness spectrum.
Ingredients:
3 pounds (1365g) crisp cucumbers, sliced 1/4-inch thick
1/2 medium onion, thinly sliced
1/4 cup (60g) kosher or sea salt
2 cups (480ml) white vinegar
1/2 cup (120ml) water
1 cup (200g) sugar
2 tablespoons (20g) mustard seeds
1 teaspoon (2g) celery seeds
1 teaspoon (3g) tumeric
Directions:
Place the cucumbers and onions in a colander resting in a large bowl or in the sink. Toss with the salt and let stand for 1-2 hours (the cucumbers will release a lot of water during salting).
Rinse the cucumbers and onions and then place in a single layer on a couple of sheet pans lined with paper towels. Cover with another layer of paper towels and let dry overnight.
The next day, combine the vinegar, water, sugar, mustard seeds, celery seeds, and turmeric in a large saucepan. Heat to a boil.
Fill your sterilized canning jars with the cucumbers and onions, leaving about 1/2-inch space from the top of the jars. Pour the vinegar mixture over the cucumbers and onions to fill the jars. Seal the jars according to manufacturer's instructions.
Store in the refrigerator and allow to sit for several days before opening to allow the flavors to fully develop. Best served chilled.
Hello! All images & content are copyright protected. Please do not use our images without prior permission and do not re-publish this recipe. Simply link back to this post for the recipe. Thank you.
Recipe Note for Salt: All recipes containing salt are based on kosher or sea salt amounts, not table salt. If using table salt, reduce the amount used to taste.