Quick Pickled Sugar Snap Peas with Mint
Sugar Snap Peas Pickles
'Tis the season for pickling and preserving. We consider this a dedicated season when fruit and vegetables are at a all time high. All this abundance is for making jams and pickles, all of which is an obsession. So today, it's about this easy sugar snap peas pickles . Over the last few weeks, we've been sharing our homemade jams at the studio for client breakfasts and they're always such a hit. The humble jar of jam can bring so many smiles and brighten everyones morning. Now we're on a rage to pickle vegetables because we're in dire need to fill our lunches with a flavorful crunch other than just potato chips!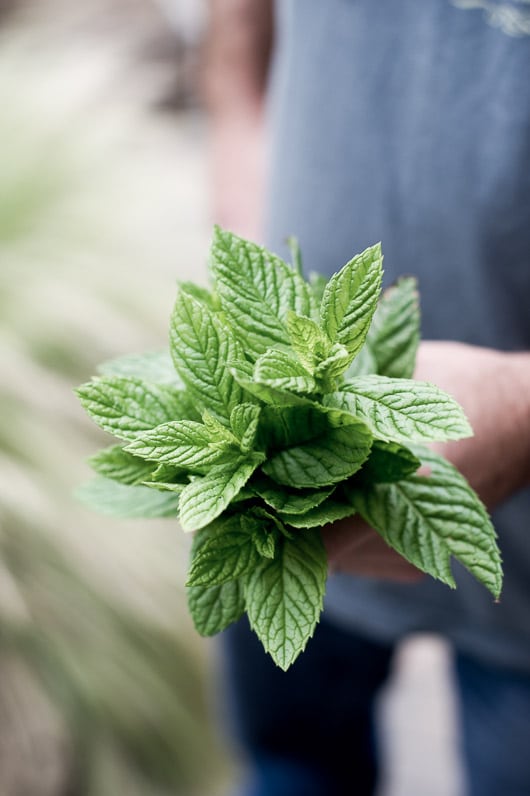 We've always been pickle addicts and it's an understatement to say we can be impatient if we have to wait for a batch of fresh pickles to be ready. Sure good food takes time, but pickling is one of those foods that can be expedited without compromising quality and flavor. In fact, quick refrigerator pickles are a favorite because the vegetables are super fresh, crisp and flavorful.
Quick and Easy Refrigerator Pickles
We created this recipe that is quick, but doesn't sacrifice flavor or texture. When we're in a hurry to make an appetizer plate of cheese and charcuterie for a party, this quick picked sugar snap pea recipe is the answer.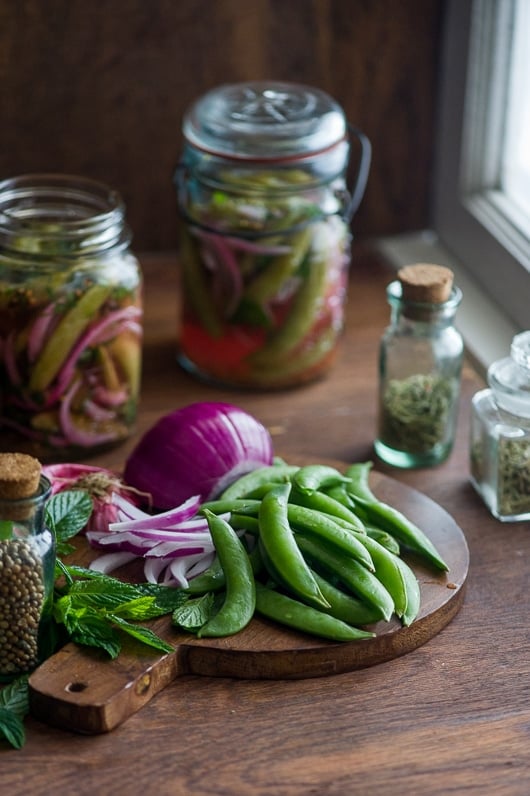 The fresh mint and lemon juice quickly season and pickle the peas to a tangy and flavorful crisp. Even without the cheese platter, these pickles are a satisfying snack that's bright and full of crunch. They're also delicious stuffed in your favorite sandwich in place of regular cucumbers.
Don't feel like you have to be committed to just pickling peas with this awesome brine. Try some celery, thinly sliced carrots, bell peppers or even cucumbers. It's a wholesome recipe that can be adapted to almost any vegetable and it's the perfect snack thats low in calories but high in flavor.
Happy Summer,
diane and todd
If you want to preserve this using the traditional canning method, here'sa great technique.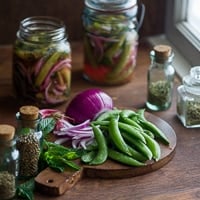 Quick Pickled Sugar Snap Peas with Mint
From our cookbook, Bountiful. This recipe is quick, but doesn't sacrifice flavor or texture. Have fun with different vegetables to pickle such as asparagus spears and thin slices of celery.
Depending on the size of your pickling container and how tight you fill it with veggies, you may need to make extra pickling brine to top it off.
Makes about 2 quarts of pickles.
Ingredients
1 pound (455g) sugar snap peas or snow peas , ends trimmed
1/2 medium onion , sliced thin
1/2 cup (30g) chopped fresh mint
FOR THE PICKLING BRINE
1 cup (240ml) water
2/3 cup (160ml) distilled white vinegar
Zest of 1 large lemon
Juice of 1 large lemon (about 3 tablespoons)
1 tablespoon (15ml) sugar
1 tablespoon (15ml) kosher salt
2 teaspoons (10ml) coriander seeds
1 teaspoon (5ml) cumin seeds
Instructions
In a 2-quart (2-L) jar, layer the peas, onion, and mint.

Make the pickling brine: In a large bowl, combine 1 cup (240ml) water with all the brine ingredients (vinegar, lemon zest, lemon juice, sugar, coriander seeds, and cumin seeds).

Pour the brine into the container with the peas, covering them completely.

Refrigerate for at least 8 hours before eating.
Nutrition Information per Serving
Calories: 20kcal, Carbohydrates: 4g, Protein: 1g, Fat: 1g, Saturated Fat: 1g, Sodium: 439mg, Potassium: 75mg, Fiber: 1g, Sugar: 2g, Vitamin A: 368IU, Vitamin C: 18mg, Calcium: 20mg, Iron: 1mg
We are a participant in the Amazon Services LLC Associates Program, an affiliate advertising program designed to provide a means for us to earn fees by linking to Amazon.com and affiliated sites.