Arugula Watermelon Feta Salad with Your Favorite Fresh Herbs
This refreshing and super fresh arugula watermelon salad recipe is perfect for Summer and all your warm weather feasts. A big bowl of this is also a stunning presentation to the potluck table.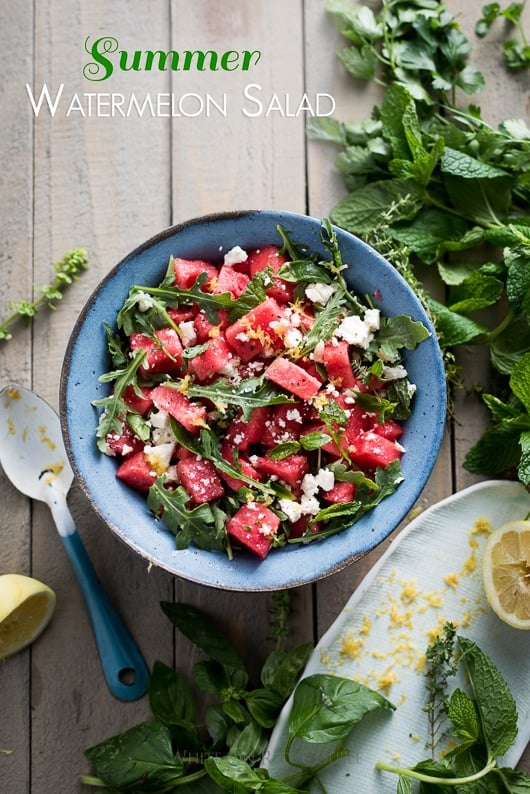 Easy Watermelon Salad Recipe
Do you have friends or family that have an aversion to mint? We know of a few and it's always a good reminder to have alternative herbs on-hand for those last minute emergency changes. With Summer at it's peak, arugula watermelon mint and feta salad is a staple at so many bbq gatherings and Summer potlucks. But we're also very attentive to our friends who gag when they eat fresh mint, so our watermelon salad version is one that is adaptable to everyones palette. There's no reason why we shouldn't be making this salad if *you know who* is coming. Seriously, with fresh herbs growing like weeds this time of year, there's so many other versions of this classic watermelon feta salad to make. The herb possibilities are endless when it comes to adding your own twist this popular watermelon salad.
Watch the delicious video for this Watermelon Salad :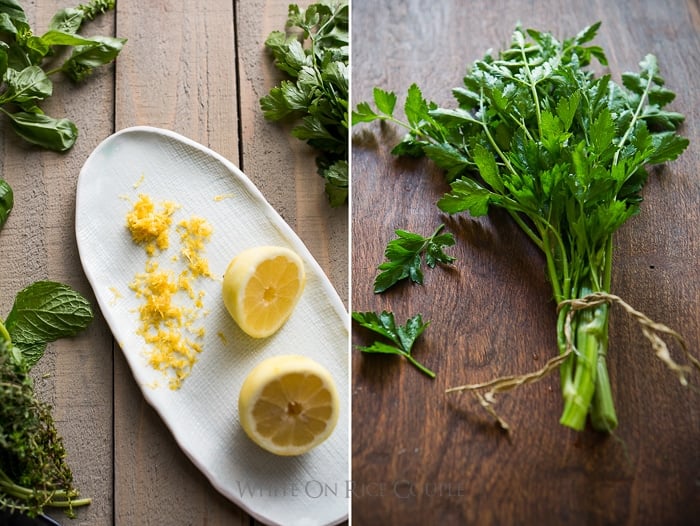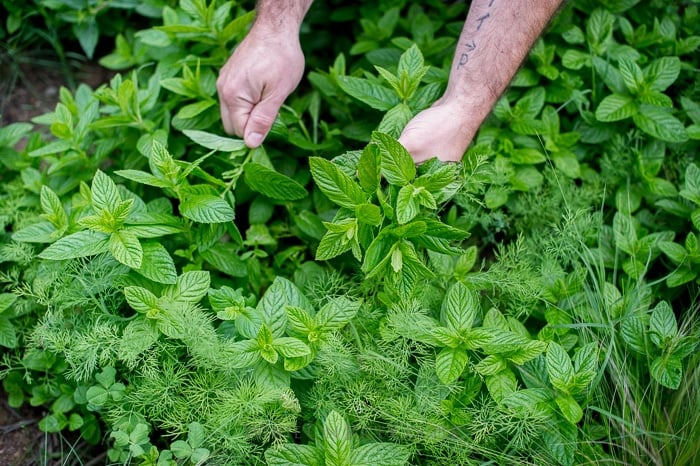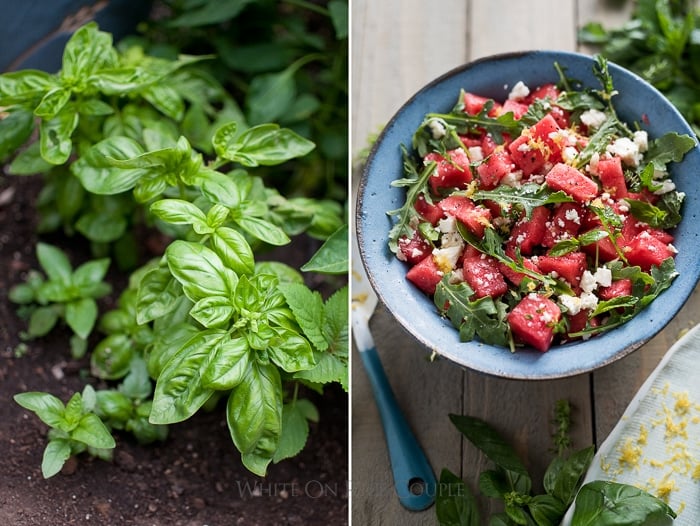 Best Herbs for This Salad?
We've tested different versions of this watermelon salad recipe with a plethora of different fresh herbs and still can't narrow down a favorite. Ugh, we have favorite-salad-problems. Fresh basil alone is a fabulous addition and every bite screams summer. How can it not when every market and practically every garden plot has a bush ready to be plucked? Some folks love parsley and literally add it to everything. So there's a arugula watermelon feta parsley salad version waiting for you parsley lovers. Probably one of our favorites is the version that has everything, literally a ton of fresh herbs. It's the best version for eaters like us who can't decide on singling out an herb. The addition of fresh dill is definitely the one flavor that makes our customized version truly unique. Fresh dill is sometimes the forgotten herb and only thought of when you're grilling seafood. But chopped fresh dill in a salad, on dressing or even grilled food is spectacular.
Speaking of garden herbs, all our plants are going bonkers this year from all the rain. Yes, we're finally out of the drought and the whole garden is coming alive again. We'll be sharing some updates of our garden, plants, design and more. Stay Tuned!
Happy Summer,
diane and todd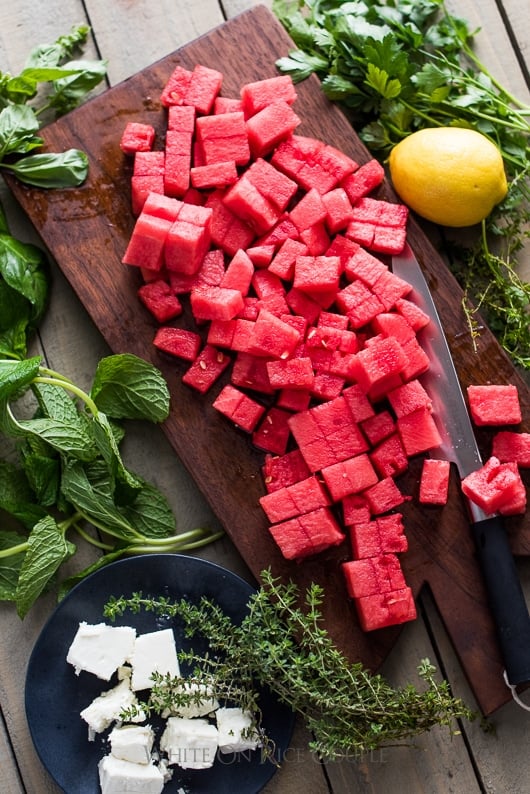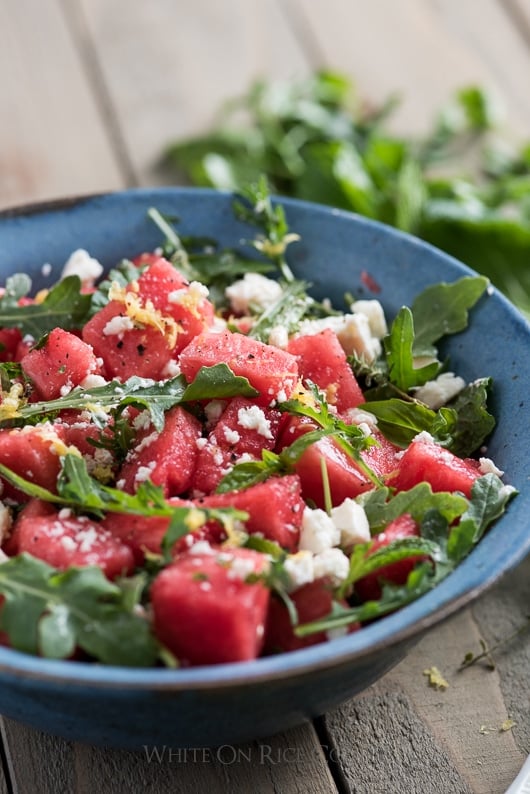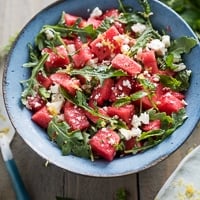 Watermelon Salad with Arugula, Feta, & Fresh Herbs
Feel free to use whichever herbs you prefer. Our first choice is usually spearmint, however it's nice to change it up every once in a while.
Ingredients
about 4 cups (960 ml) watermelon cubes (about 1 inch cubes)
3 Tablespoons (45 ml) olive oil
zest 1 medium lemon
1 Tablespoon (15 ml) lemon juice
1/4 cup (60 ml) fresh mint , oregano, basil leaves, parsley or dill, chopped (reserve a few whole leaves for garnish)
4 ounces (113 g) feta cheese (approximately)
3 cups (60 g) fresh arugula (about 4oz-113g or 720ml)
freshly ground black pepper
kosher salt to taste , optional
Instructions
In large bowl combine olive oil, lemon zest, lemon juice and mint (or herbs or choice). Stir to combine.

Add watermelon chunks and gently stir to coat the dressing in the watermelon.

Add feta cheese, arugula, black pepper. Gently toss to combine all ingredients. Taste for seasoning and add salt if needed. Serve chilled.
Nutrition Information per Serving
Calories: 146kcal, Carbohydrates: 9g, Protein: 3g, Fat: 11g, Saturated Fat: 3g, Cholesterol: 16mg, Sodium: 215mg, Potassium: 172mg, Sugar: 7g, Vitamin A: 975IU, Vitamin C: 11.3mg, Calcium: 121mg, Iron: 0.6mg
Here's Some more fun watermelon recipes to devour. This recipe was originally published in 2017 and re-published in 2019 with updated photos.
We are a participant in the Amazon Services LLC Associates Program, an affiliate advertising program designed to provide a means for us to earn fees by linking to Amazon.com and affiliated sites.