Curry Cauliflower Pickles & Love of salty crunch
These curry cauliflower pickles are perfect for snacking, as a topping for salad or served with grilled meats.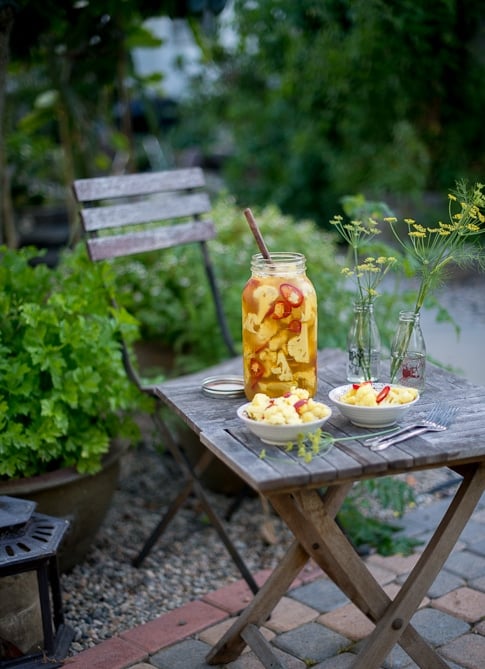 Curry Cauliflower Pickles
I love me plenty of good pickles. Anyone else here in the pickle-loving camp? Please chime in because I'd love to know that there are other obsessive picklers out there. When I eat something off the grill, bbq or a sandwich, I crave a fresh and salty crunch. If the pickles have some extra spice, unique flair or flavor, then I'm double happy! Yes, admittedly I'm addicted to pickles and if you crack open a new jar of fresh homemade pickles, I'll devour the whole jar in one sitting. These curry cauliflower pickles are definitely too easy for me to eat.
A few months ago, Todd and I hosted a fun luncheon at our studio for local food bloggers hosted by KitchenAid. The attendee list was filled with some familiar faces, but mostly brand new people that we've never met and have always wanted to meet outside of our social media circles.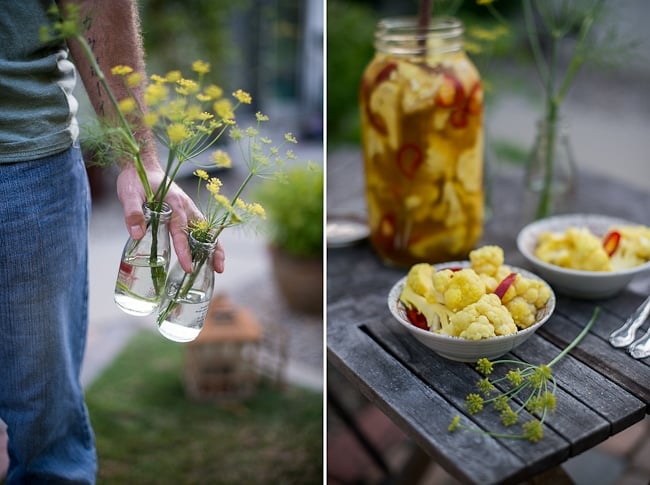 At the lunch, we served up our homemade trio of pickles: spicy korean kim chi, crisp celery and curry cauliflower. All three pickles were a hit and each jar had their dedicated fans. But the pickled curry cauliflower was a major hit and so many people, including Lori, asked for the recipe. Lori was the one who was always on top of reminding me to share the recipe. That's why this recipe is for Lori.
I often wonder why this curry cauliflower pickle resonated with so many palates at the luncheon. Many of the attendees noted that they've had pickled cauliflower before, but never like my pickles.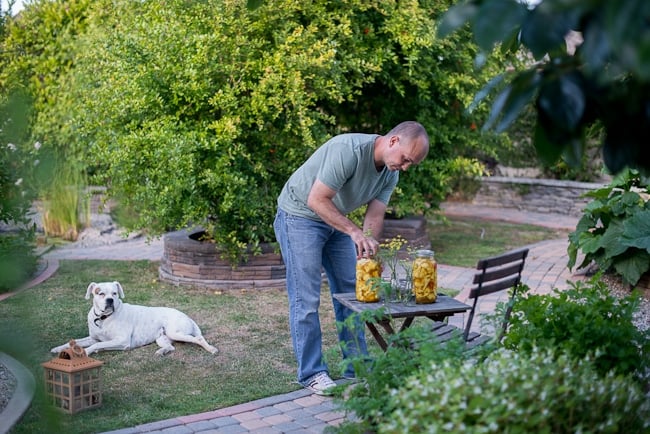 Maybe it was the spice? The intense bright yellow color of the cauliflower? or maybe it was from the depth of flavor of the soy sauce based brine that made everyone coming back to a practically empty jar.
Either way, I re-made this recipe again several times and actually remembered to write the recipe down. Each time, I ate the pickles and realized that my pickle recipe is very flavorful and balanced with spice. I do love spice and flavor and when it comes to pickling, I always want to have each jar chock full of crisp fresh veggies and bright with fun flavors.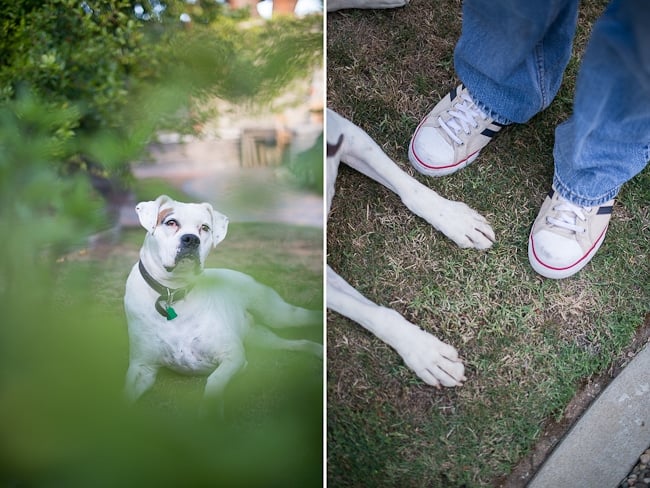 The spice level of these pickles is all up to you. Though I used red jalapeños, each batch was different based on how spicy the chiles were. So before you pickle, please taste your chiles to test their heat level. Or if you don't want to add spice, this recipe is great even without the spice!
So here it is, finally. My flavorful curry cauliflower pickles. Enjoy!
hugs,
diane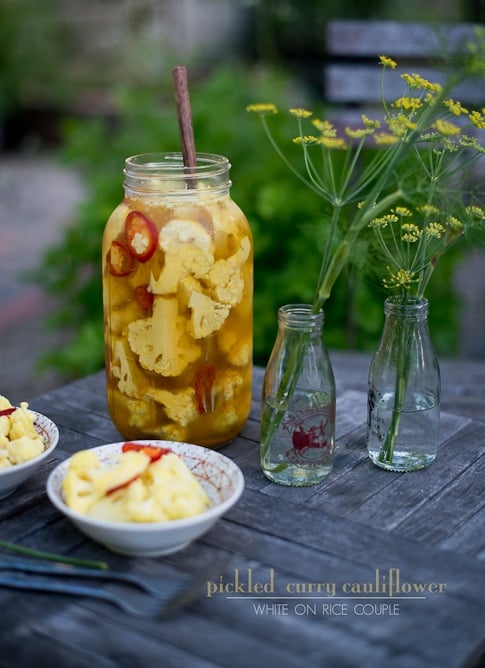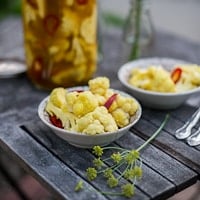 Curry Cauliflower Pickles
The curry flavor in these cauliflower pickles adds a nice savory crunch. Cut the cauliflower in small bite sized pieces. Don't cut the cauliflower too big like you see in our photos cause they take up too much jar space. Since the photos, we've been cutting them into much smaller bites, which fits about 4 (16 oz mason jars). If you have any leftover brine, use it to pickle other veggies! If you need more brine then just add a little more water.
Ingredients
1 medium head of Cauliflower (about 2 lbs), cut into bite small sized pieces
1 large Red Jalapeño (or bell pepper), sliced
3 cups (1500 ml) Water
1 cup (235 ml) White Vinegar
2 Tablespoons Sugar , (omit for low carb/keto version)
1 Tablespoon Salt
1 Tablespoon Soy Sauce
2-3 cloves Garlic , finely minced
2 teaspoons Curry Powder
Instructions
Cut the fresh cauliflower into small 1" bites and slice the chili pepper. Frozen cauliflower doens't work for this recipe.

Make pickling brine. In a large bowl, combine water, vinegar, sugar, salt, soy sauce, garlic, curry powder. Whisk until fully combined and to mix curry powder well into brine.

In jars, layer cauliflower and jalapenos to the top of the jars. Using a large measuring cup (or other easy pouring vessel) fill jars with pickling brine to cover the cauliflower and jalapenos.

Close lids on jars and refrigerate. Allow pickles to brine refrigerated for about 7 days for best flavor and texture. I shake the bottle once a day to make sure the brine stayed evenly mixed. Yes, if you want you can use the traditional canning methods to preserve the cauliflower to seal the containers.
Nutrition Information per Serving
Calories: 24kcal, Carbohydrates: 5g, Protein: 1g, Fat: 1g, Saturated Fat: 1g, Sodium: 1014mg, Potassium: 121mg, Fiber: 1g, Sugar: 3g, Vitamin A: 12IU, Vitamin C: 19mg, Calcium: 14mg, Iron: 1mg
We are a participant in the Amazon Services LLC Associates Program, an affiliate advertising program designed to provide a means for us to earn fees by linking to Amazon.com and affiliated sites.