Traditional Vietnamese Iced Coffee & a Modern Style with Espresso
If you walk into our house or work with us in our studio, you'll end up sipping one of our favorite coffee drinks. It's a Vietnamese Iced Coffee or Cafe Sua Da. For the morning, a manual pressed espresso or cappuccino will start the day. In the afternoon when we start feeling sluggish, a Vietnamese iced coffee is the perfect "pick-me-up". This popular Vietnamese Iced Coffee is acombination of strong coffee and a hit of sweetened condensed milk with ice. Our Vietnamese iced coffee recipe is simple and can be made by various methods.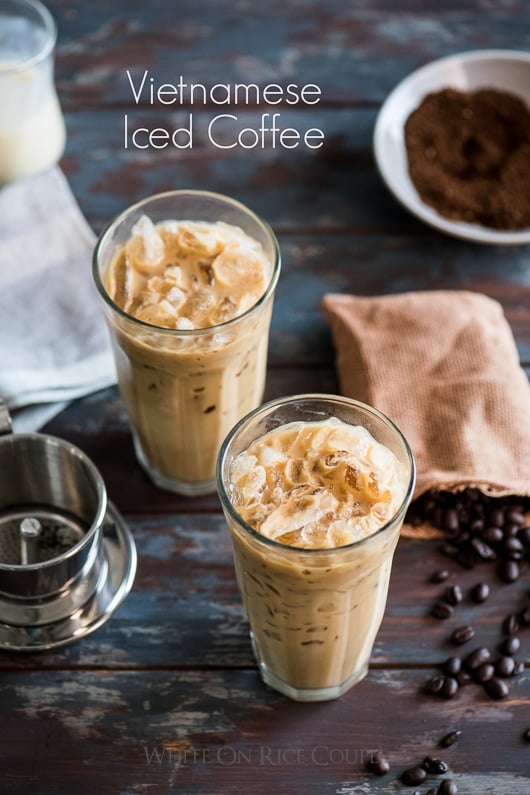 How to Make Vietnamese Iced Coffee and different brewing methods:
Vietnamese iced coffee can be made in an number of ways, so have fun in exploring the different methods. We're here to show you how we make it:
Starting with good coffee grinds: Many Vietnamese cafes or restaurants will use often Cafe Du Monde grounds or they will grind their own coffee. Cafe Du Monde may be thought of as classic, however most of the better coffee shops around in Little Saigon here in Orange County and the shops Diane's cousins took us to in Vietnam use a much better bean. We personally use our favorite coffee beans for our morning cappuccinos which lately have been either from Red Bay Coffee or La Barba Coffee (roasters we discovered on our travels).
Traditional Vietnamese Coffee Filters: For the method of brewing the coffee there are usually two schools. One which does it the slow and poetic way with the Vietnamese coffee filters. If you want to customize each glass and have time to brew it the old fashioned way, this Vietnamese iced coffee filter is a cool to be able to watch the coffee drip into each glass.
Vietnamese Iced Coffee with Espresso
Using Espresso: For the other Vietnamese coffee shops, you'll often see espresso shots being used for each glass. Either the slow traditional filter or being made with espresso, they both make a great Vietnamese Iced coffee. For the classic coffee filter method, there is something beautiful and relaxing in having to wait for 5 minutes while the coffee brews one drip at a time. There is also something quite beautiful in quickly pulling a luscious shot of espresso and then flicking the tip of the spoon to stir in the sweetened condensed milk. Fire up the espresso machine , pull a crema laden shot of espresso and then convert it to a beautiful Vietnamese iced coffee.
The quicker, espresso method also gives the added convenience for when you want to make Vietnamese iced coffee in bigger batches. Pull a bunch of shots then stir in the sweetened condensed milk to taste. You can even do this ahead of time if needed. Then when you are ready serve; ice, pour, and enjoy. Now you have a couple options to make Vietnamese iced coffee for one or for a big party. Quick or slow a meditative. Have fun and drink up while the weather is still warm so you can hydrate yourself with lots of iced coffee!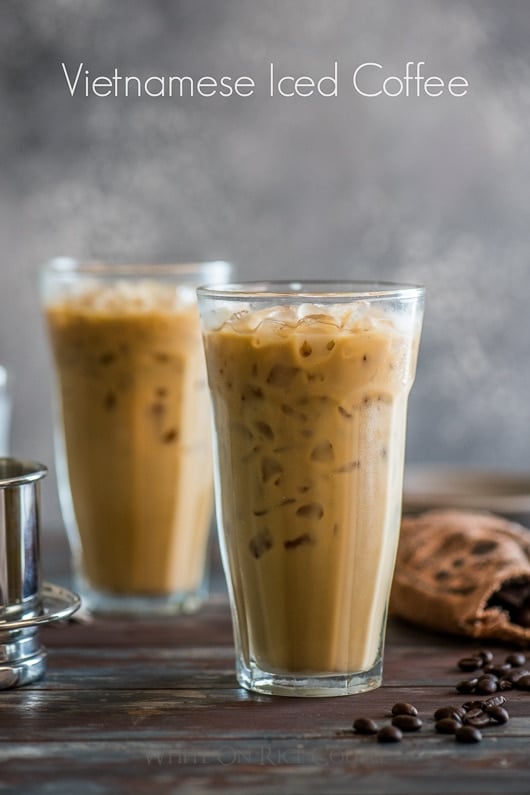 Video: Vietnamese Iced Coffee Recipe (Cafe Sua Da):
Vietnamese Iced Coffee Traditional Style Filters (cafe sua da)
We tend to be a bit obsessive over coffee. Here's some of our favorites for traditional Vietnamese Iced Coffee:
Single Cup Vietnamese Coffee Maker
– Love the solid construction of this filter. Screw down internal filter. Heavier duty stainless steel than most filters.
Vietnamese Coffee Filter
(multiple size options) – Another good filter. Screw down internal filter. Multiple sizes available.
Fellow Pour Over Kettle
– Stylish pour over kettle. Three color options, Matte Black, Copper, and Polished Stainless. Built in thermometer. Love this kettle!
Cafe du Monde Coffee
– You'll often see Vietnamese banh mi and coffee shops everywhere making their coffee with Cafe du Monde.
Trung Nguyen Premium Coffee
– Another popular coffee for shops to use. Ground specifically for Vietnamese coffee filters. Quite and enjoyable cup.
Copper Cow Coffee Single-Use Portable Vietnamese Coffee Kit
– An all in one kit for Vietnamese Coffee. Filter, Coffee, Sweetened Condensed milk. Awesome for on the go.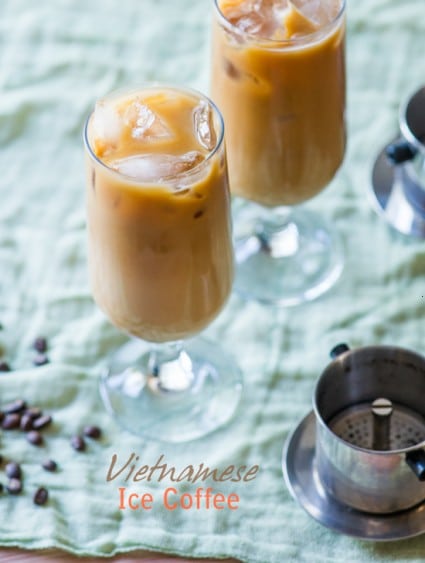 Fun Facts: Vietnamese Coffee doesn't just come sweetened and iced here's a quick summary of common options found in Vietnamese coffee shops:
Cà Phê Sữa Đá (literally – Coffee Milk Ice) This is the most popular Vietnamese Iced Coffee recipe. A base of sweetened condensed milk, over which about 2 oz of potent coffee is brewed using a individual serving size filter. The coffee itself is syrupy and strong, similar to an espresso. Add ice and enjoy. The combination of the caramel sweetness of the milk, the potent brew of the coffee, and the cool refreshing addition of the ice is heavenly.
Cà Phê Sữa Nóng (literally – Coffee Milk Hot) Same concept as above, except omit the ice and in Việtnam they often warm the whole glass in a cup of hot water. Again, the taste is wonderfully rich and sweet, especially when enjoyed over a casual morning taken in small sips at a time.
Cà Phê Đen (Coffee Black) Just the coffee this time, no sweetened condensed milk. Not for the weak.
Cà Phê Đen Đá (Coffee Black Ice) I think you can figure this one out.
-diane and todd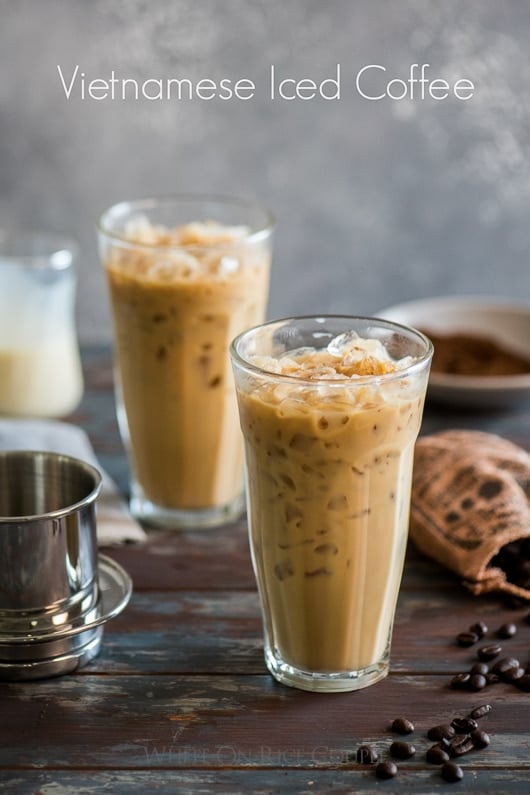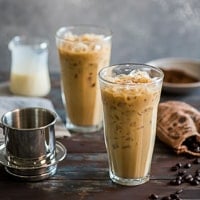 Vietnamese Iced Coffee Recipe (Cà Phê Sữa Đá)
Three main factors effect the taste of the Vietnamese iced coffee. The quality and grind of the coffee and the quantity of the sweetened condensed milk. Find a good coffee and adjust the grind as needed for your filter. Adjust the sweetened condensed milk to your preferred sweetness. We will often mix the sweetened condensed milk with some half and half to reduce it's sweetness a bit. For a quick version, use a shot of espresso instead of the coffee brewed in the traditional filter.
Ingredients
2 Tablespoons (30 ml) Sweetened Condensed Milk *See Note 1
1 1/2 Tablespoons (22.5 ml) coarse ground Coffee (use a roast suitable for espresso, the grind the same as for a french press)
Hot Water (almost to a boil)
Ice
Instructions
Pour the sweetened condensed milk into an 8-10 oz glass.

Remove the top screen from the coffee filter. Put the ground coffee in the filter, screw screen back on, compacting the grounds. Place filter on the glass with the sweetened condensed milk. Pour just enough hot water to cover the grounds and let sit for 30 seconds.

Loosen the filter screen screw at least 2 full rotations. Pour hot water to top of filter, cover and let sit until water has gone all the way through filter (should be @ 5 min. at a rate of 3-4 drips/sec. If it is faster, coffee's grind is too coarse. If slower, coffee's grind is too fine.)

When water has passed though filter, remove filter from glass. Stir coffee and sweetened condensed milk together. Add ice and enjoy.
Notes
Note 1: For a slightly less sweet version, combine the sweetened condensed milk with half and half before adding it to the cup. Usually we'll mix about 1/2 sweetened condensed milk – 1/2 half and half. Note 2: For a hot version, just omit the ice at the end of the recipe. In Vietnam the hot version will often be served in a cup of hot water to help keep it warm longer.
Nutrition Information per Serving
Calories: 128kcal, Carbohydrates: 21g, Protein: 3g, Fat: 3g, Saturated Fat: 2g, Cholesterol: 13mg, Sodium: 50mg, Potassium: 148mg, Sugar: 21g, Vitamin A: 105IU, Vitamin C: 1.1mg, Calcium: 114mg
This was originally published in 2013 and was re-pulished with new photos, video, and recipe format in 2021. Hope you enjoy our Vietnamese iced coffee recipe (cafe sua da) and here's More Beverage and Cocktail Recipes Here.
More Easy Recipes:
We are a participant in the Amazon Services LLC Associates Program, an affiliate advertising program designed to provide a means for us to earn fees by linking to Amazon.com and affiliated sites.