Orange Marmalade Cookies with Orange Zest Icing
These orange marmalade cookies are simple and great to share. They're soft and super unique.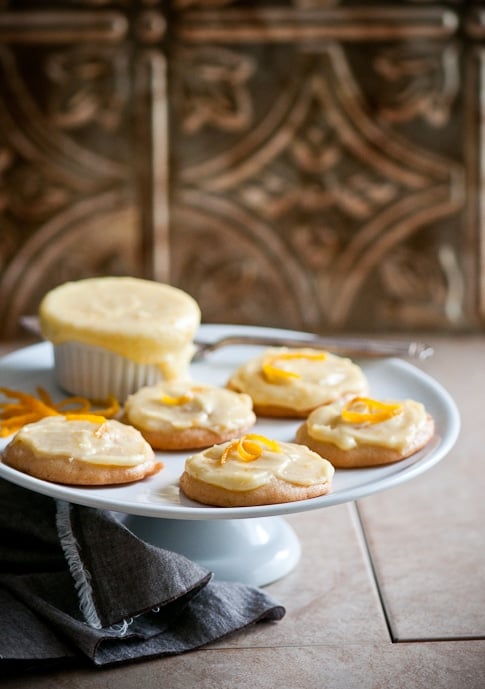 Orange Marmalade Cookies
Rarely does a new cookie recipe make it into our abode's "must make" repertoire.[donotprint] With our household favorites being so loved (like the chocolate chunk, snickerdoodle w/ Viet cinnamon, and oatmeal rum raisin recipes), a new find has to be pretty damn good to pass up baking an old favorite. These orange marmalade cookies with orange zest icing are pretty damn good.
The showstopping goodness of these cookies come from the icing. The cookie itself, despite being quite luscious, is merely a vehicle in which to consume the slightly tangy, citrusy sweet orange icing. Of course it helps that we have slug-the-one-next-to-you-OMFG-these-are-amazing oranges growing in our garden with which to make the orange icing.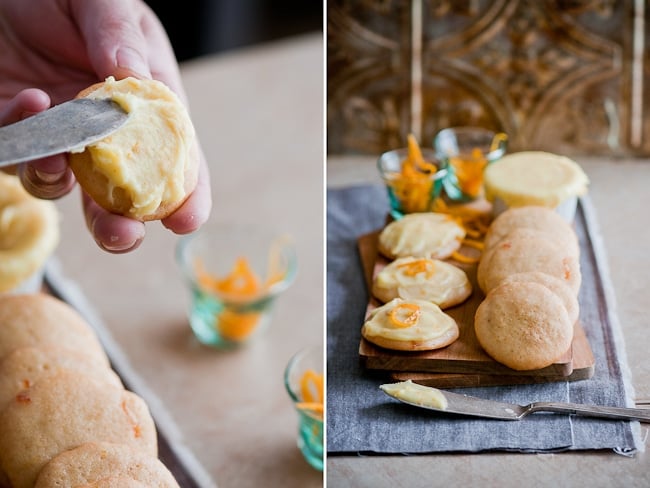 fresh orange zest makes the icing fragrant and fabulous
For this recipe we highly recommending finding the best oranges you can. One incredible orange and one prime lemon for the icing will transform this cookie from "delectable" to "seductively irresistible".
We've played around with different orange marmalades for the cookie recipe. A simple orange marmalade is very nice and gives the cookies a typical cake sweetness, but to add a little creative contrast, consider seeking out a Seville orange marmalade. Seville oranges are a type of bitter orange which have a particularly strong orange taste combined with their bitter or tart bite. They are a marmalade classic and give the cookies' taste an additional dimension.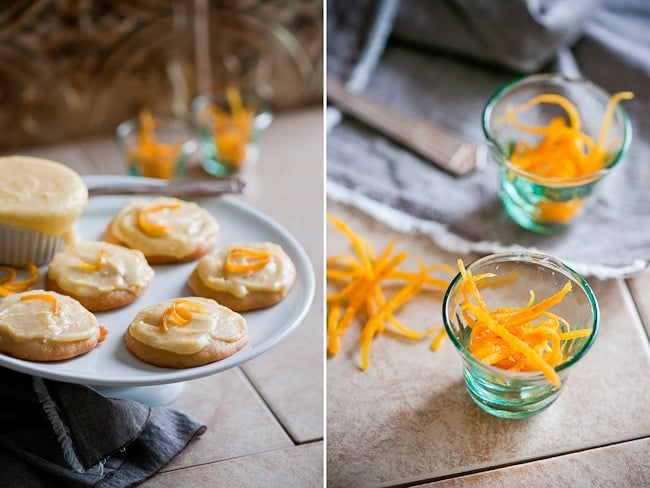 be generous with the fresh orange zest
Icing Recipe with Orange Zest
For the icing, how fine you grate the zest will determine the final mouthfeel. For the photos we zested some larger strips because it is such an highlight of the cookie, plus it looks kinda sexy. But for the zest in the frosting, we used the microplane to get super fine zestlings (doubt that's a real word but it sounds good.) Some people like the thicker zest strips while others not so much.
Unfortunately this one of those cookie doughs which gets adversely affected by freezing. Nearly all of our favorites we can make a batch, roll them into logs, freeze them, then bake just what we need. However this dough tends to bake heavier and drier if used from frozen dough rather than a fresh batch. Too bad, but a least the icing keeps well over a week or so. Make a little extra and add to your favorite muffins, scones, or quick breads!
-Todd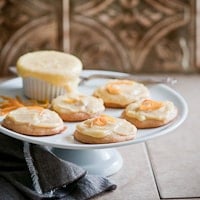 Orange Marmalade Cookies w/ fresh Orange Icing
Adapted from Neiman Marcus Taste.
Ingredients
Cookie Dough
1/2 cup (115g) unsalted Butter , room temp.
1 cup (200g) Sugar
2 lrg Eggs
1 cup (300g) Seville Orange Marmalade (regular Orange Marmalade will work too-Seville Oranges will give a slight bitterness to cookie to offset icing sweetness)
3 cups (375g) all-purpose Flour
1/2 teaspoon (2g) Baking Soda
1/2 teaspoon (2g) Sea Salt
Orange Icing
finely grated zest from 1 Orange
finely grated zest from 1/2 a Lemon
1/4 cup (60ml) fresh squeezed Orange Juice
1 teaspoon (5ml) fresh squeezed Lemon Juice
3 Tablespoon (45g) unsalted Butter , melted
1/8 teaspoon (1 g) Sea Salt
3 cups (375g) Confectioners' Sugar
Instructions
Combine butter and sugar in a mixer bowl and beat with paddle attachment until light and fluffy. Break eggs in a small bowl, whisk to break up, then incorporate into the butter/sugar mix. Mix in orange marmalade.

Sift together flour, baking soda, and sea salt. Gently incorporate into wet mix until just combined. Cover bowl with plastic wrap and refrigerate until chilled (@ 1-2 hrs.)

While dough chills, make orange icing. Combine citrus zests, juices, melted butter and sea salt in a bowl. Whisk in confectioners' sugar until well combined and smooth. Cover and set aside.

Preheat oven to 300° F. Line sheet pans with baking paper or silpats.

Using 2 teaspoons, drop walnut sized cookie dough balls onto prepared sheet pans, spaced about 3" apart. Bake for about 20 min. or until cookies are light brown. Remove from oven, transfer to wire rack and allow to cool completely.After cookies are completely cool, ice them with a small spatula or butter knife.
Nutrition Information
Calories: 152kcal, Carbohydrates: 30g, Protein: 1g, Fat: 4g, Saturated Fat: 2g, Trans Fat: 1g, Cholesterol: 9mg, Sodium: 62mg, Potassium: 19mg, Fiber: 1g, Sugar: 21g, Vitamin A: 117IU, Vitamin C: 1mg, Calcium: 6mg, Iron: 1mg
We are a participant in the Amazon Services LLC Associates Program, an affiliate advertising program designed to provide a means for us to earn fees by linking to Amazon.com and affiliated sites.