Korean Cut Short Ribs w/ Ginger-Soy Marinade
For those uninitiated, Korean Cut short ribs refers to a butcher style of cross-cutting the ribs so that they are about 1/2-3/4″ thick. This is, of course, for the Korean dish Kalbi, which is unbelievably addicting. The ribs cut this way allow you to be able to grill, broil, or pan sear them quickly and makes it easier to eat with chopsticks. This grilled Korean Kalbi recipe is crazy delicious. This korean short ribs recipe was one of our first recipe posts back in 2008.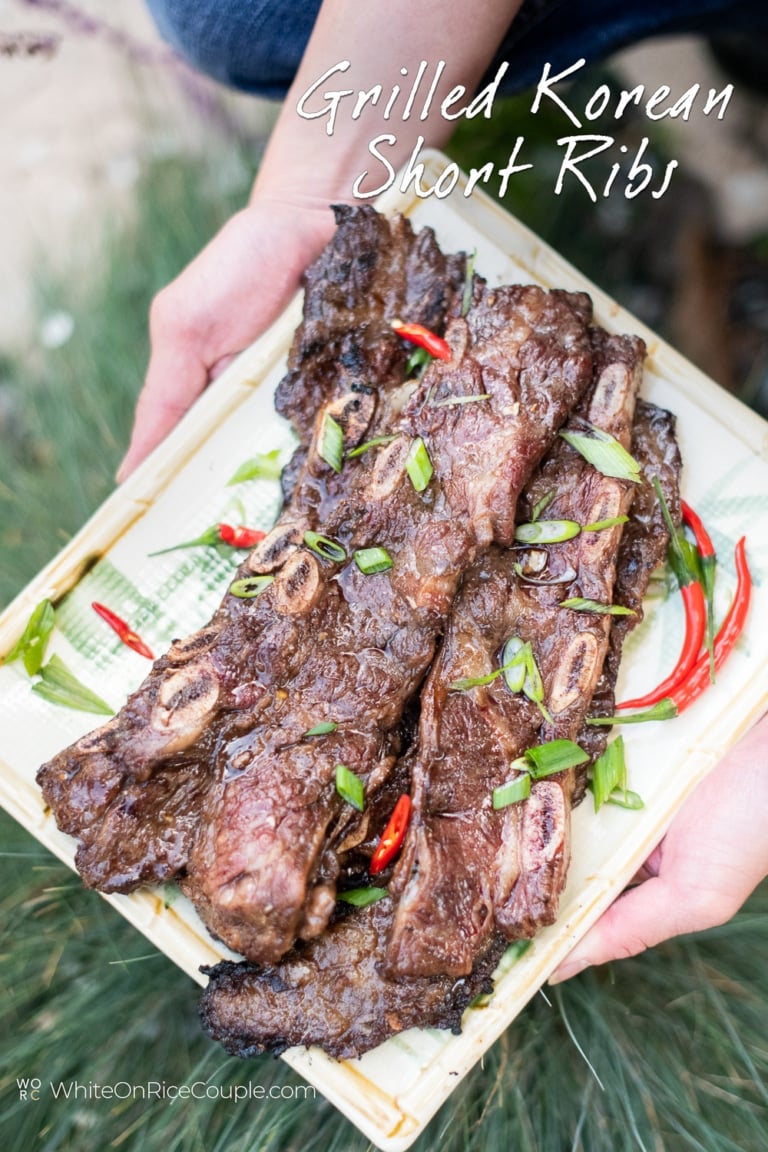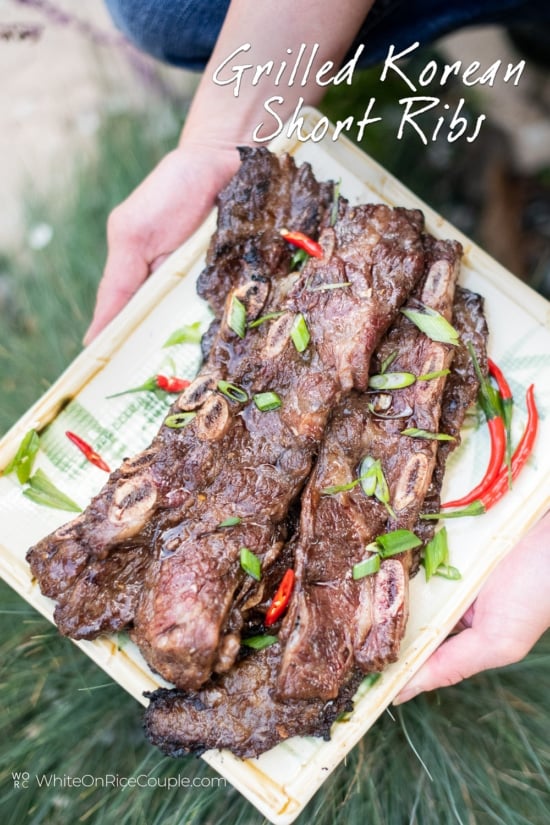 Korean Short Ribs Recipe
Still hazy in my pre-coffee morning stupor, Diane hit me with innocent question, "Are you going to cook that?…" It immediately kicked an, "Aww, dang it!" out of my mouth. Or at least something similar. A few days earlier we had purchased one of our favorite cuts of beef, the Korean-style-cut short ribs and I totally forgot about them in the fridge. Determined to redeem myself, I had my morning cappuccino (priorities, you know) then laid my focus into the short ribs.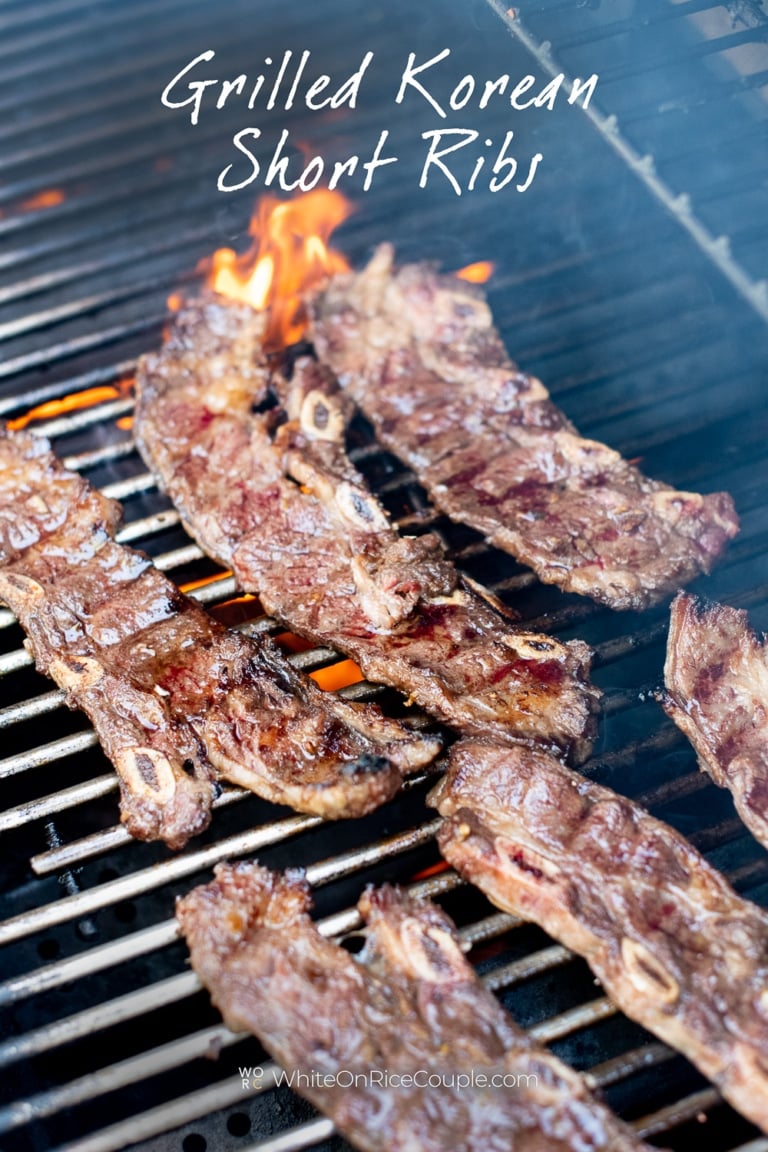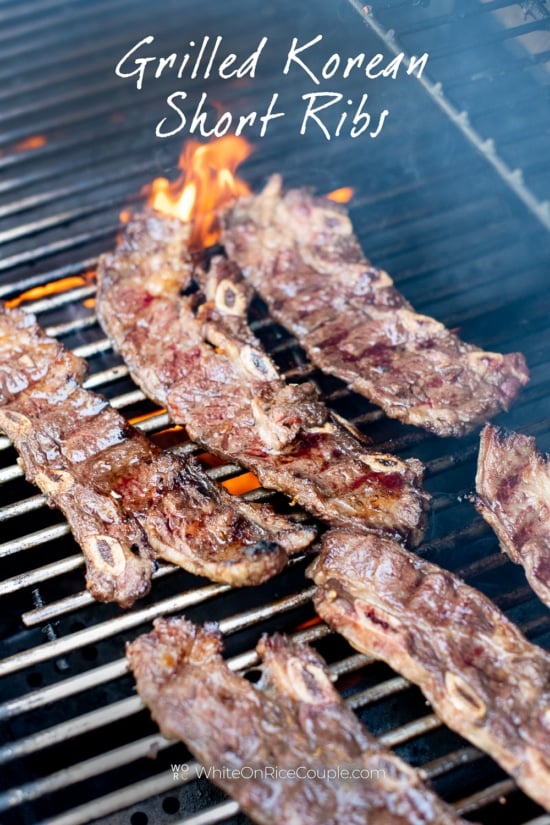 Video: Making the Korean Style Short Ribs on the Grill
Best Marinade for Korean Cut Short Ribs
The Korean cut short ribs are quick and easy to prepare and cook. Sometimes too quick to cook, and if you are cooking on high heat or broiling and aren't paying attention, you can easily blacken them. We love the balance in this marinade for the short ribs. It has a just enough of a brown sugar sweetness highlighted against the saltiness of the soy sauce, the savory character of the garlic and the brightness of the fresh ginger. Not too much on the brown sugar though, we didn't want them tasting sweet.
You can Broil the Ribs in the Oven or Cook on the Grill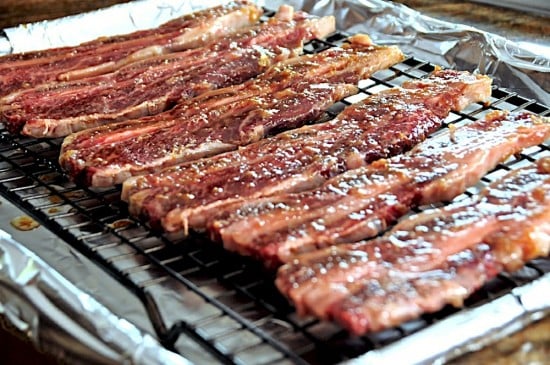 I focused for the whole 10 minutes it took to cook, and the ribs came out quite delectable. We love to broil then in the oven as they cook quick and it gives them a nice sear. They cook just as great on the grill, too. Since then we've made the recipe time and time again. Sometimes in the oven, other times on the grill. Just depends on the weather and if we'd prefer to cook outside or inside. If it is nice weather, grilled Korean kalbi or short ribs are exquisitely good!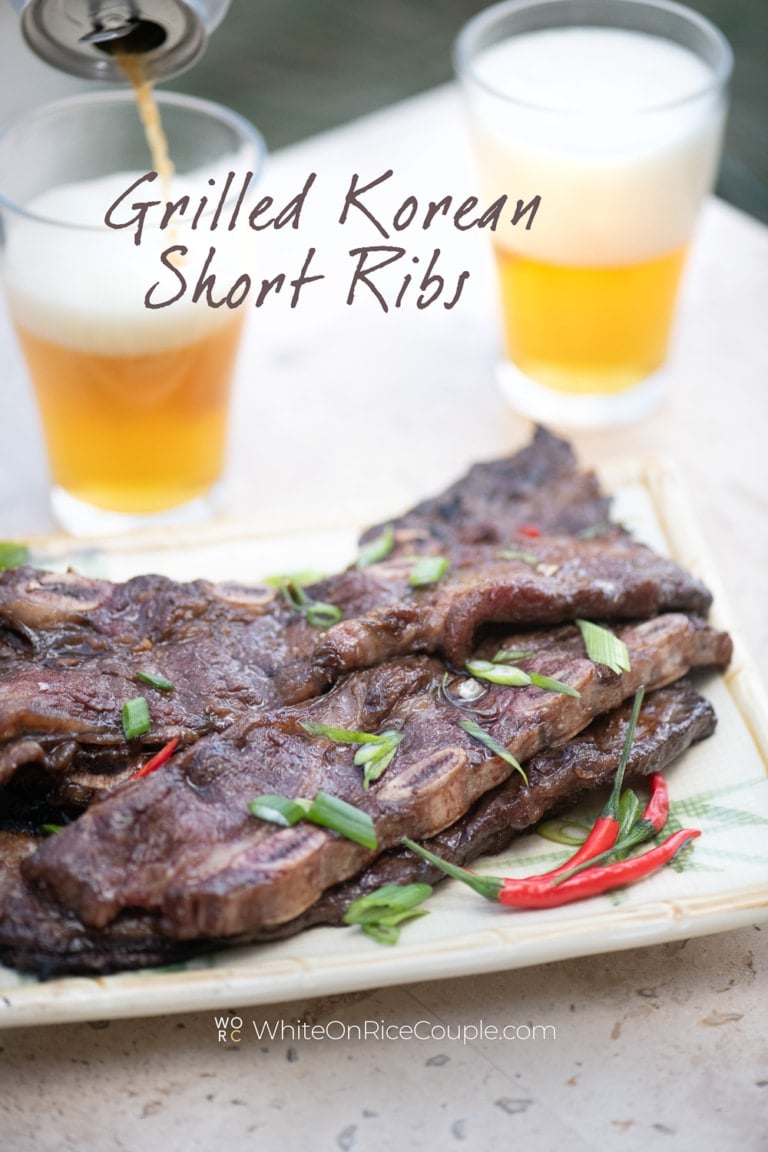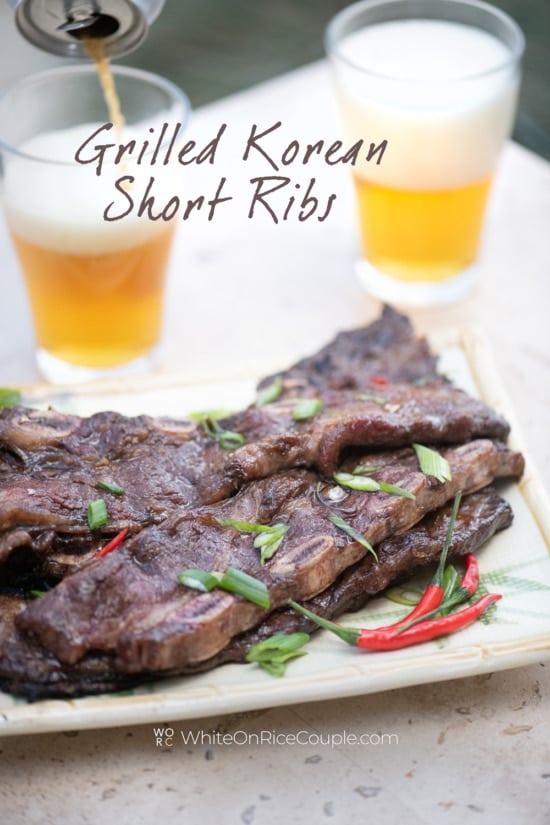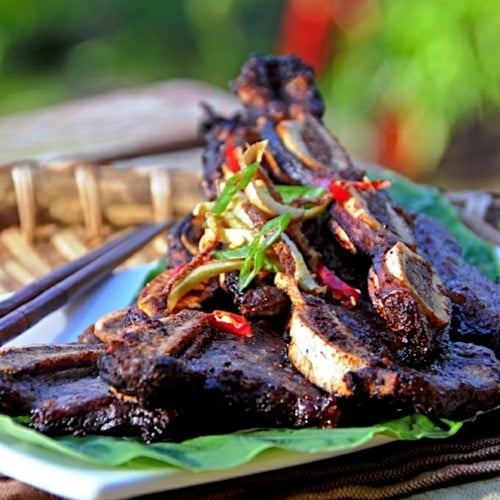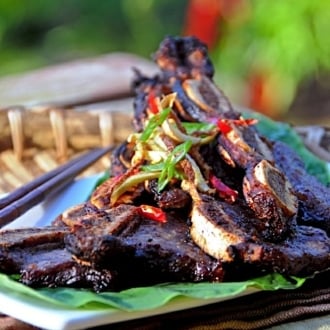 Korean Short Ribs w/ Ginger Soy Marinade
These Korean style short ribs use the cut of beef rib which is about 1/2-3/4-inch thick. You can cook these on the grill or broil them in the oven.
Ingredients
4 lbs Beef Short Ribs (flanken cut) (cut @ 1/2-3/4″ thick)
3 Tablespoons Brown Sugar
1/4 cup Oil , high flash point oil is best like grapeseed oil
3 cloves garlic, minced
2-3 Tablespoons Soy Sauce (depending upon the saltiness of your preferred soy)
1 teaspoon Sesame Oil
1 Tablespoon Fresh grated Ginger
Instructions
Rinse and pat dry short ribs.

Combine marinade ingredients (oil, garlic, brown sugar, soy sauce, sesame oil, and ginger.)

Put ribs in a plastic bag or flat container to marinate them in, add marinate and carefully toss to coat ribs. Allow to marinate for about 30 minutes. (You can leave these out for the 1/2 hour marinade time, but if marinating longer, then you might want to refrigerate them as they marinade)
For the Oven
Heat oven on broil, 550ºF with the rack about 6 inches below the top. Line 2 sheet pans with aluminum foil. Place a wire rack on sheet pans then lay ribs in a single layer. (If your oven only can broil up to 500°F - just cook for a few more minutes or as needed to get them to your liking.)

Broil for 4-5 minutes each side or until cooked through and crispy.
For the Grill
Heat grill (on medium-high to high heat if possible) or light charcoal and set up for grilling over direct heat.

Remove short ribs from marinade and grill short ribs about 3-4 minutes per side, depending on your grill heat, short rib thickness, and personal preference. Serve as whole strips or cut between ribs for easier serving if desired.
Notes
Palm Sugar Option: If using palm sugar, use about 50 g or 3 tablespoons of palm sugar. Combine and warm the marinade ingredients until the palm sugar dissolves.
Nutrition Information per Serving
Calories: 336kcal, Carbohydrates: 7g, Protein: 22g, Fat: 24g, Saturated Fat: 6g, Trans Fat: 1g, Cholesterol: 65mg, Sodium: 409mg, Potassium: 426mg, Fiber: 1g, Sugar: 6g, Vitamin A: 1IU, Vitamin C: 1mg, Calcium: 18mg, Iron: 3mg
You'll Love these other Recipes:
Curious about Gochujang. Here's a great article explaining what is Gochujang sauce.
This recipe was originally published in 2008 and was updated in 2021.
We are a participant in the Amazon Services LLC Associates Program, an affiliate advertising program designed to provide a means for us to earn fees by linking to Amazon.com and affiliated sites.