Prosciutto, Sour Cream & Feta Stuffed Cucumbers
It's time for our favorite stuffed cucumbers recipe. Our garden cucumbers this year are slightly *better* than last year, but still they're struggling a bit. The leaves seem to die off and brown rather quickly, but they're flowering well. What does make to fruit results in such crunchy and fresh cucumbers! If anyone has any advice about our browning leaves, we'd love to hear from you. So what we have been able to collect this year have been wonderful and to count, we harvested seven cucumbers! Five more than last year!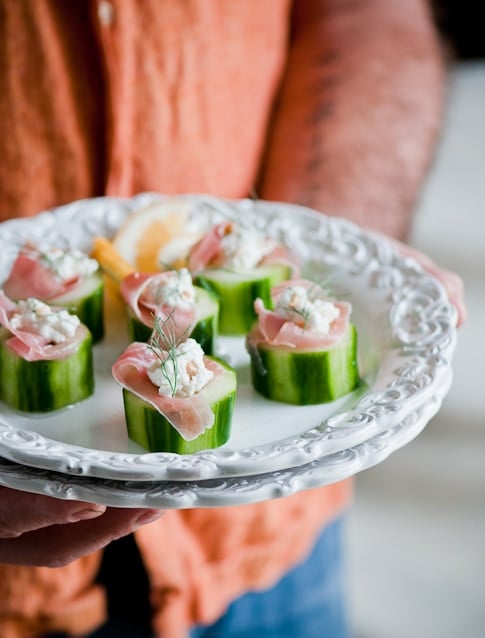 Stuffed Cucumbers Recipe
Cucumbers are so fresh, crispy and refreshing. Our house is rarely ever without cucumbers because they add the perfect crunch and texture to last minute salads, sandwiches and rice paper spring rolls . We're testing some new recipes for upcoming garden parties and decided to play with a batch of stuffed cucumbers. They're so perfect for parties and make great bite sized appetizers.
Sour Cream Filling
The filling for the stuffed cucumbers that we came up with has sour cream instead of cream cheese because we wanted something light and tangy. Season these cute little bites of crunchy freshness with extra paprika for added color and smoky bite. You and your guests will be quite pleased with these at your next gathering. You can't eat just one of these addicting stuffed cucumbers. Make sure you have about 2-3 per guest!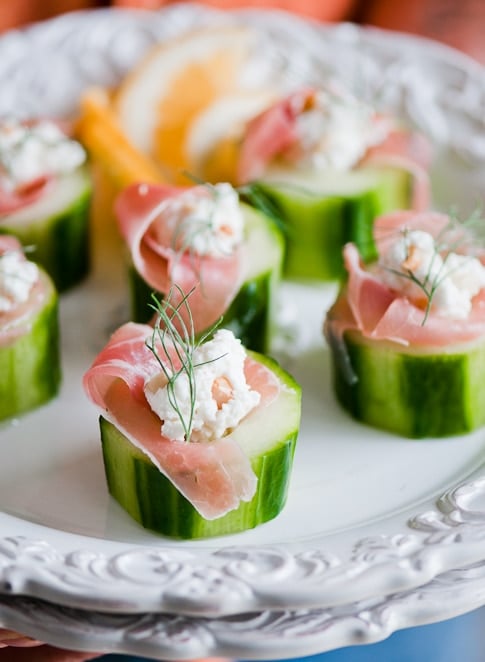 Favorite Cucumbers for Stuffing
With so many different varieties of cucumbers, each has it's own delicious use. For stuffing, we prefer the larger cucumbers that you can remove the seeds easily. Smaller and thinner Japanese and Persian cucumbers are great for salads. They are crunchy and fantastic. But coring them out to stuff is alot of work because they're too skinny. So the larger the cucumber, the easier it is for you to stuff.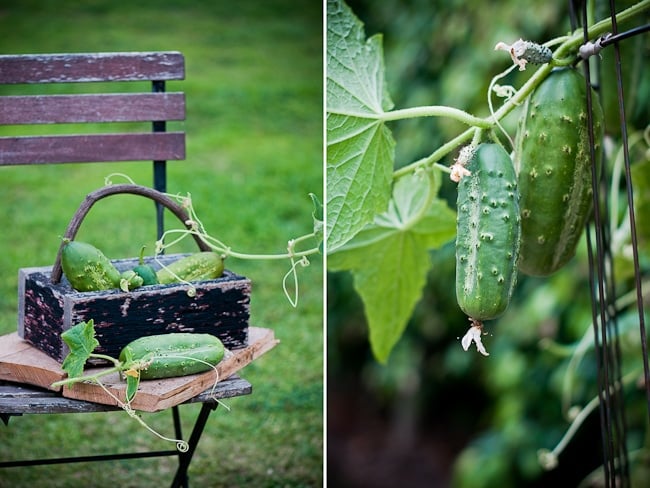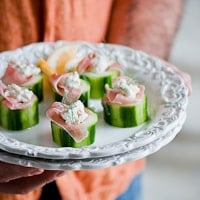 Stuffed Cucumber Recipe
English cucumbers are perfect for this recipe. Not too big or or small when sliced in coins and have an excellent crunch. Persian cucumbers are excellent if you'd prefer cute mini-bites.
Ingredients
1 Large English Cucumber , chilled and sliced in 1/2-1" thick coins
3/4 cup (100g) Feta Cheese , crumbled
1/3 cup (40g) Roasted Nuts , finely chopped
2 Tablespoons (30ml) Sour Cream
1 Slice Prosciutto , cut into 1"x1/2" strips
Dill , in 1/2" pieces to garnish
Lemon Wedges , to serve on the side
Instructions
Combine feta, nuts, and sour cream in a bowl. Have prosciutto and dill prepped and ready.

Core out some of the cucumber coins' centers. Fill with a dollop of feta mix. Garnish each stuffed cucumber coin with a slice of prosciutto and a sprig of dill.

Serve with wedges of lemon for individual squeezing.
Nutrition Information per Serving
Calories: 176kcal, Carbohydrates: 6g, Protein: 8g, Fat: 14g, Saturated Fat: 6g, Trans Fat: 1g, Cholesterol: 29mg, Sodium: 386mg, Potassium: 235mg, Fiber: 1g, Sugar: 3g, Vitamin A: 236IU, Vitamin C: 2mg, Calcium: 170mg, Iron: 1mg
More Cucumber Recipes:
We are a participant in the Amazon Services LLC Associates Program, an affiliate advertising program designed to provide a means for us to earn fees by linking to Amazon.com and affiliated sites.